SNEAK PEEKS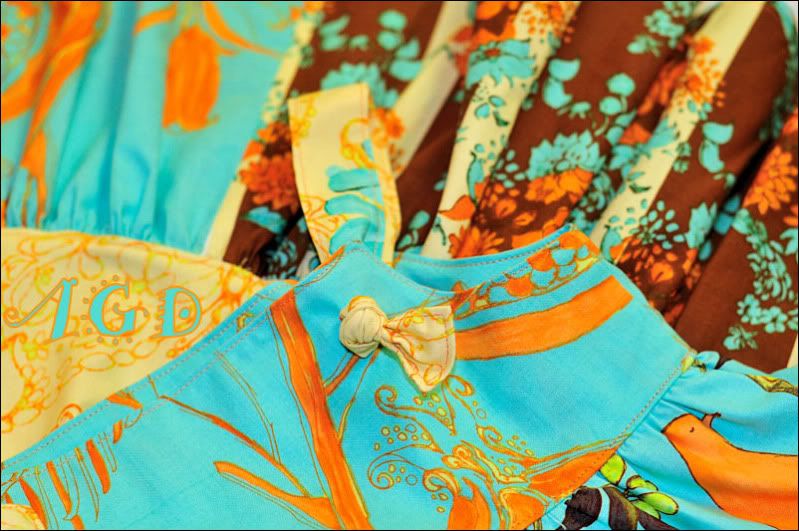 Just wanted to get on here and post a couple of sneak peek shots real quick for ya. These are two new AGD designs that are being introduced as part of the Fall o9' collection. I hope to get the full sets photographed and ready for production in the next week or so. Once I do, I'll post the new images of them here as usual. It's been a while since I've last designed anything new. Therefore, I know you ladies are itchin' for some new goods. The Fall collection is sure to be a hit. Very hippy - very vintage - very 70's - very "let's throw down the peace sign" kinda' look. Ha ha! Just my kind of style. LOVE it!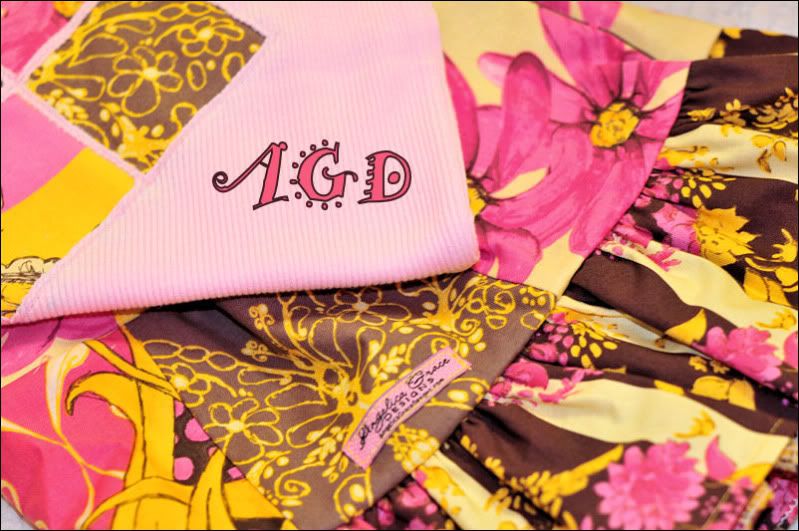 I also just wanted to torture you all a bit with the "only get to see a square patch of the whole outfit" kinda' photo because I know how much you all just L-O-V-E the sneak peek shots, right? Ha ha! Can you tell it's my birthday today and I'm just being as ornery as all get out? Oh you know it! Yes, I'm celebrating the big 3-4 today. This year is a bit depressing given all of the recent medical issues - it just confirms that life is progressing and I'm aging. (even though my Dad did call this morning and reminded me that my heart problems have nothing to do with my aging) Ha ha! Thanks Dad! I can always count on you for a pep talk!

So for now...we are headed out the door to downtown Naples. We are hitting 5th avenue South for a bit of lunch outside today and maybe a big, fat, chocolate souffle ala mode' to top off the celebration. Then, its a wee bit of "birfday" shopping to help smother the depression of turning the big 3-4. I got my incredibly awesome birthday gift a month early from Brent and the kids this year so not a ton of shopping today. Just enough to call it a "gift to myself" kinda' day. Ya know? My parents gave me their gift last month as well before I ever left for Florida. Mom gave me her gifts when she was here with us a couple of weeks ago. And my mother and father in law gave me their birthday gift on Thursday as soon as they arrived. I'll be posting photos of that one soon. They got me the most kickin' handbag EVAH! I love it! You ladies must see it in case you want to go get one for yourselves. All of you animal print lovers will definitely go into convulsions over it. Such a cool bag! Thanks Deb & Ron!
In the meantime, enjoy your weekend and get outside. Summer is here my friends. This is the time of our lives. It's what we waited all winter long for. xoxoxo, Angie (a.k.a. The "birfday" girl!)
PS...Thank you so much to all of you who are pouring in the birthday wishes to me on facebook today. My cell is dinging like crazy as each one of you leave your birthday messages today. It sure does make this 34 year old girl feel good! :)
Labels: children's boutique clothing, Fall sneak peeks, new AGD designs