LITTLE MISS MATCHED
I know all of you Indiana people are still experiencing winter at its finest as well as the rest of you across the Midwest. I'm sure that hearing about the ol' groundhog seeing his shadow once again didn't help your mindset when it comes to hurrying the days along to Spring. Here in Florida, we've got 80 degree temps forecasted on the board for this week. Therefore, we aren't really having that problem right now. I'm just sayin'! LOL! Sorry - had to go there beings that I'm a Hoosier/Midwesterner at heart.
With all that said, I realized that there have been several things I forgot to blog about given the move, teaching photography classes, trying to get my business off the ground here in Naples, etc. With it being so cold in the Midwest right now, I thought many of you would appreciate a good ol' "favorite find" of mine right now. It's been a while since I've shared a favorite find of any kind so I thought now was as good a time as ever. Meet Little Miss Matched! I love this store. These images are of some items I had gotten for Kenidi last year back at the start of winter. Needless to say, we never have really gotten to wear them much down here in beautiful sunny Florida. I had ordered her some things for a few photo shoots back when we still lived in Indy. Little Miss Matched sells cookey miss matched socks, leg warmers, leggings, flip flop socks, etc. for girls and adult women. They have very reasonable prices and are great at running specials too. For any of you considering a photo shoot with your daughter soon, these would go great with some funky high top tennis shoes. We pair Kenidi's with her converse, a cute tutu or skirt and a crazy tee to boot. They are all so adorable.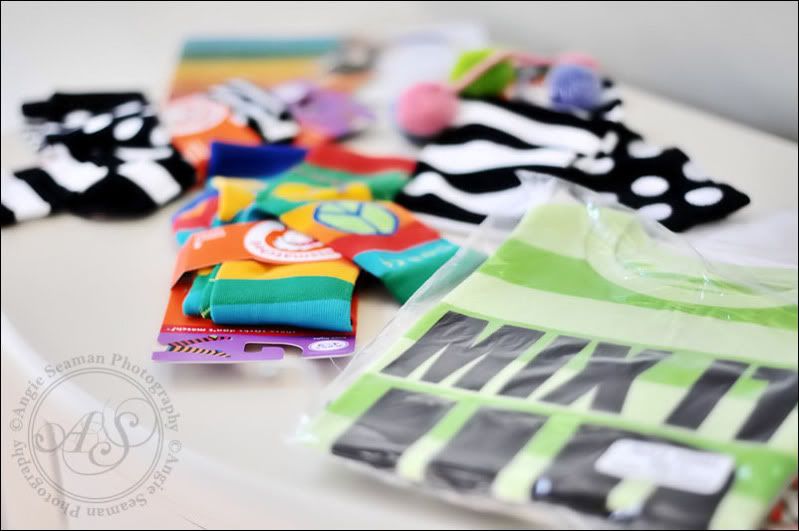 One thing I have done here in Florida is pair the knee high socks on Kenidi with her skirts and short little daisy duke shorts. Again, adorable. I know you guys will love their things. They also sell very cute miss-matched bedding and such too. Definitely a company worth checking out if you haven't already. Have fun!
xoxo, Angie
Labels: Angie Seaman photography sessions, favorite find, leggings, Little miss matched, socks