NO COSTUME FOR THIS DUDE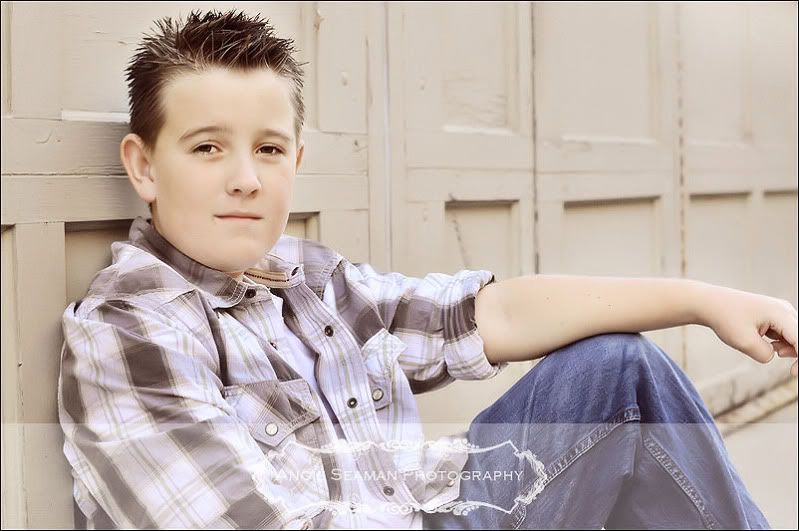 This dude says he doesn't want to dress up tonight. He's grown too big for Halloween apparently. I think I was about his age (age 10) when I gave it up too. He looked at me and said..."I'll just help Kenidi trick or treat for her candy." I'm sure he'll be helping her eat it too. Ha ha! That is quite alright with me though. The less candy in this house the better. :) They just had their shiny white teeth cleaned at the dentist on Thursday and the thought of them sugar coating those pearly whites over the weekend makes me physically ill. A kid needs to be a "kid" though.
Thanks to all of you who have emailed or written me in the past week asking if I'm OK. I guess my lack of blog posts lead you to think something could be wrong. Nope...I'm just extremely busy right now. Our family schedule is only going to get even more hectic in the next three weeks. I'll explain more on that later. I'm also in the middle of a 6 week course for photoshop training and that takes time each day as I must complete classes/lessons and submit assignments every day over the next 6 weeks as well. Fun stuff! So...just bare with me. I'm still here and still blogging but the past few days have been hectic as far as my to do list goes and previous engagements go.
I hope each of you have a great night of goblins and ghosts with your little ones this evening and that all of you stay warm while doing so. It's only supposed to be a high of 50 degrees here in Indiana today so I'm assuming tonight will be really chilly. For that reason, I doubt we stay outside too overly long. If the weather temp is under 65 degrees, I'm a real weenie! A big baby is more like it. In my past life I am thinking that I was birthed in the sand, in the Sahara desert maybe. It's the only explanation I can come up with regarding my dislike with cold weather/cool weather. So look for me to be layered up in multiple layers tonight and my kids as well. Yes, we'll look like Bob Gregory's long lost relatives. No doubt! (Sorry...only you long time Hoosiers will get that private joke)
PS...Have your little ones click

HERE

for some Halloween fun! Happy haunts...Angie
Labels: Brennen, Halloween 2009