SHOW US YOUR HOME - KITCHEN TOUR
Kelly, over at Kelly's Korner Blog, started a "show us where you live" blog party. This week, we are to post images of our kitchen area. If you are like me and love to drive around and look at homes - especially when they open up the interiors of them - then you will love this blog tour. It gives you the ability to get ideas and see inside the homes of hundreds of homes. Should you have a blog and want to participate, feel free. Post photos of your kitchen and then link your blog from Kelly's. I took these shots really early this morning (well most of them anyhow - some were take on a different day - months earlier) and therefore the quality of the images is poor due to the lack early morning lighting. I hope you can still make out the jist of it all though.
I'm bringing you into our kitchen from the outer hallway. It leads from the garage, into our mudroom, and then into this hall.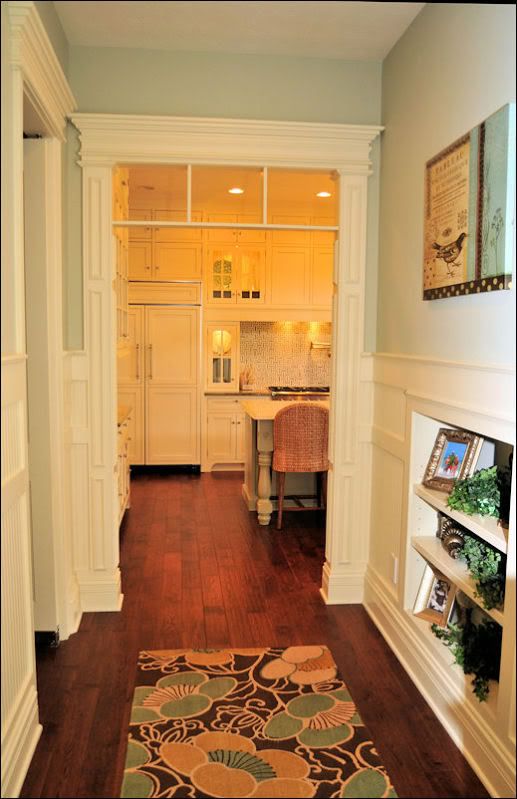 This is a pass thru hall that leads directly either into our kitchen, off to our laundry room, or upstairs. Since we are showing images of kitchens, we will be heading straight into the kitchen itself.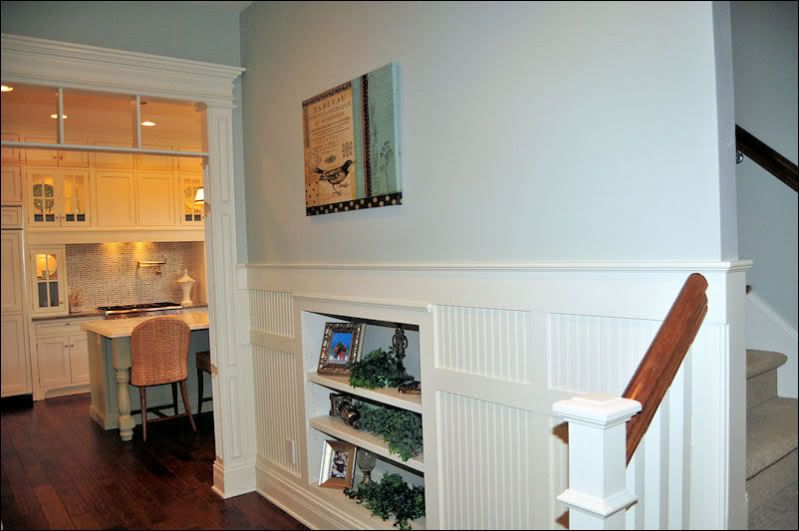 Our "This house believes" sign - shown below - is one of my most favorite things we own. It's actually a cabinet door that has been painted and an old cross applied to it. The open door there on the left leads into the butlers pantry. More on that in a sec...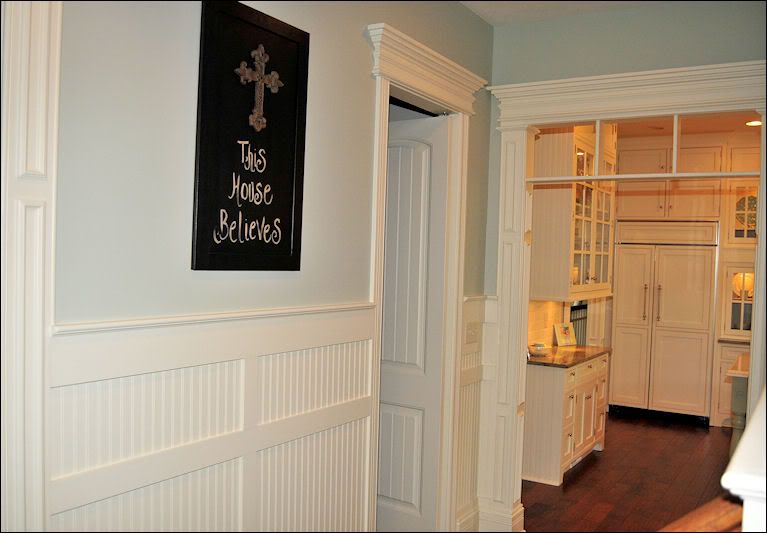 And into the kitchen we go...bad lighting and all...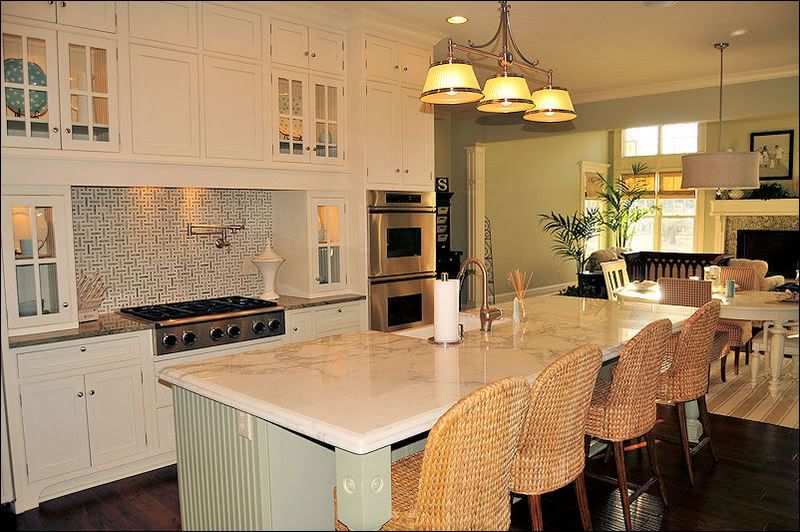 For some reason, the lights look gold and yellow in here with the time of day it was. All of our lighting fixtures are actually silver.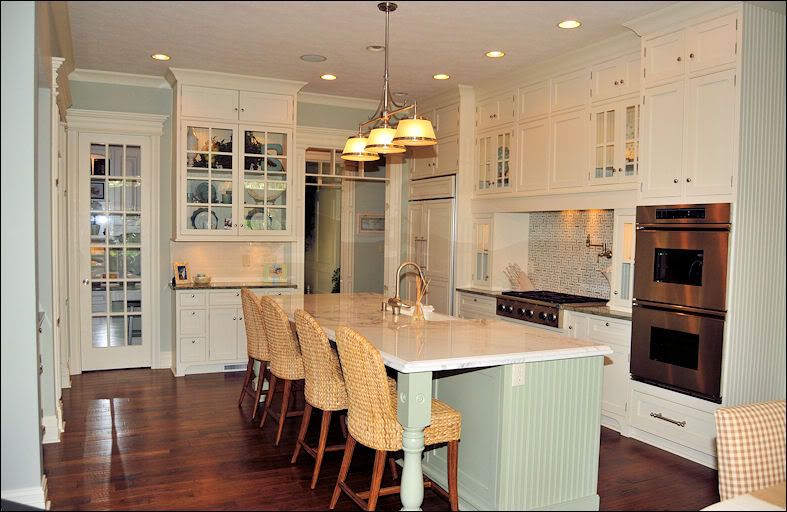 In the glass cabinets, I keep a lot of beach style dishes. Dishes to do with the sea, starfish, etc. Some are white, some are blue. The closed off glass pocket door you see in the picture below is actually where I like to hide from the kids when on the phone. I can shut the door and make calls when I need quiet. There is a desk and more cabinets/draws in there.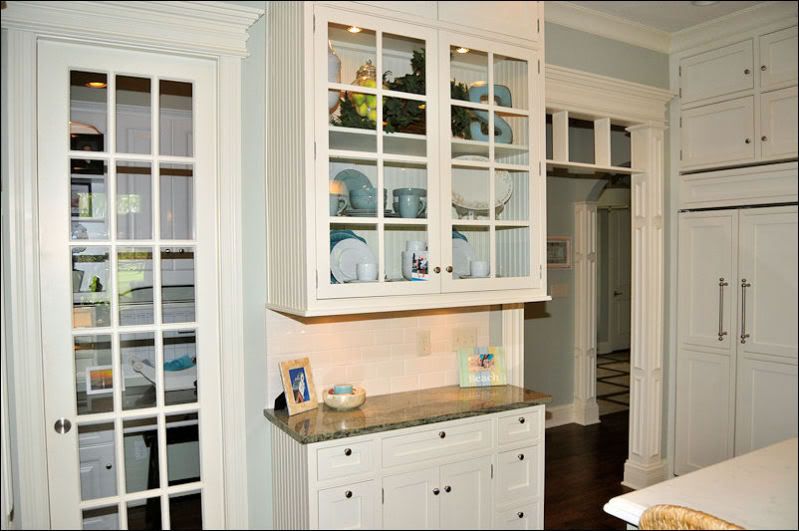 This is a view (below) from the kitchen looking back into the hallway where we started. It leads to the mudroom, or upstairs, to the garage, to the laundry room, and also to the butlers pantry.
This is a breeze way area that leads from our kitchen into our formal dining room - below.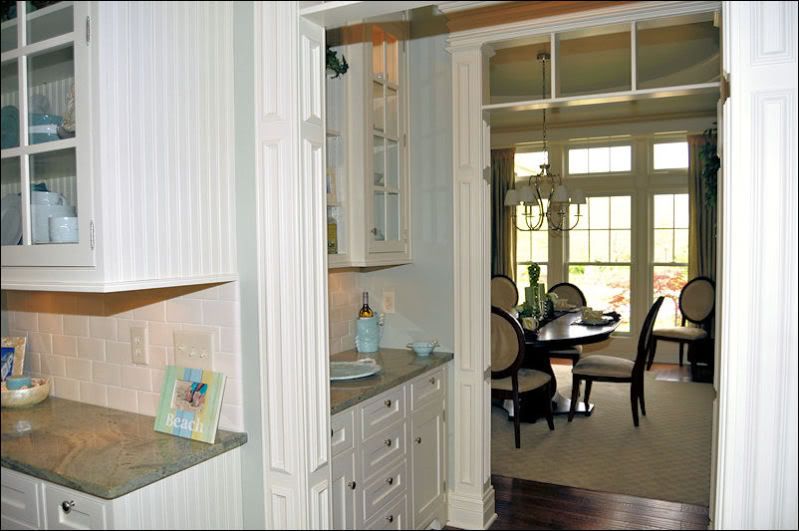 And below we have the formal dining room. We still need a buffet table for the far left wall in here. Unfortunately, I have yet to find the exact piece I'm looking for.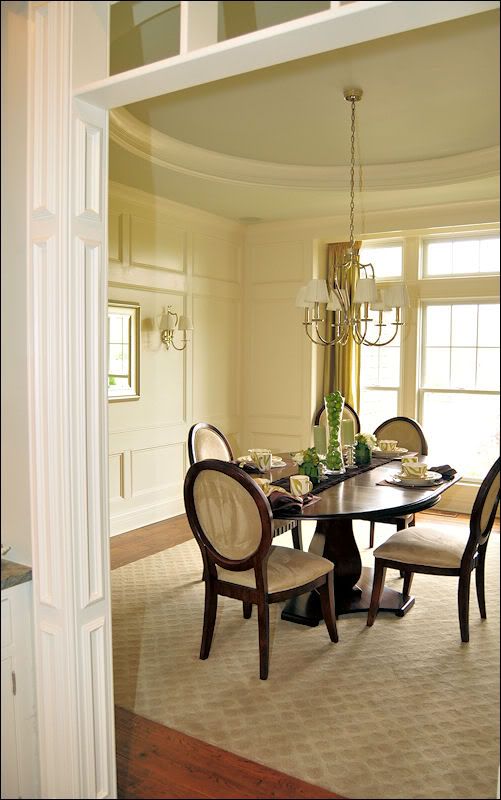 Below...looking at the breeze way hutch from our main foyer hallway/Part of the entry way. The dishes I have in these glass cabinets are my Step-Moms grandmothers dishes. They go beautifully in here. My Dad and Cathy gave them to us when we first moved into this house. They knew that they'd look perfect in that spot and they do! Very sentimental dishes to me. I treasure them each time I walk by them.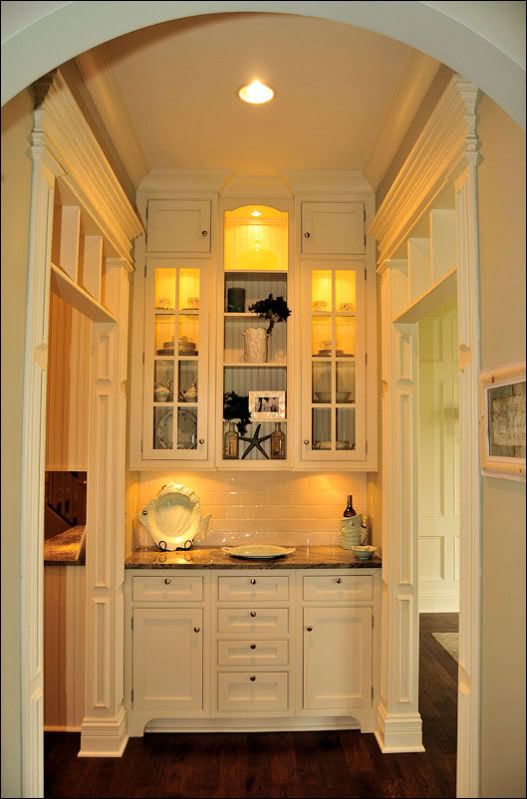 And back to the kitchen...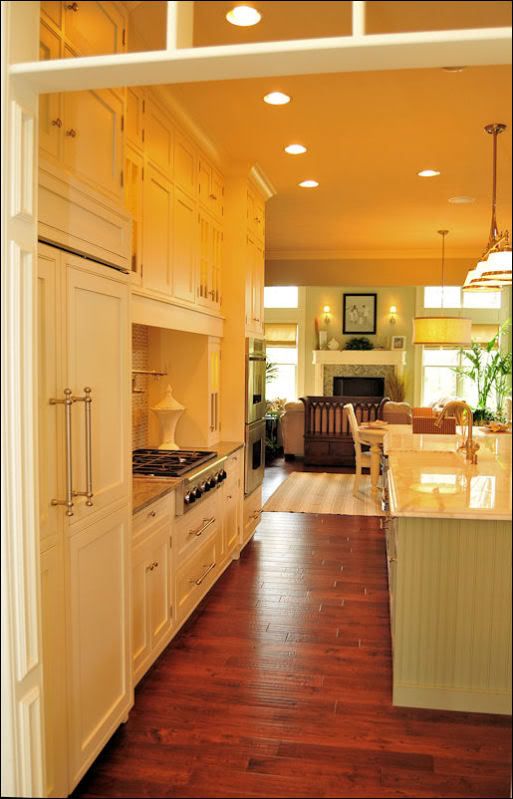 Next up -back to the butlers pantry (below). Normally this door stays open unless we are having company over. If people are here, I close it.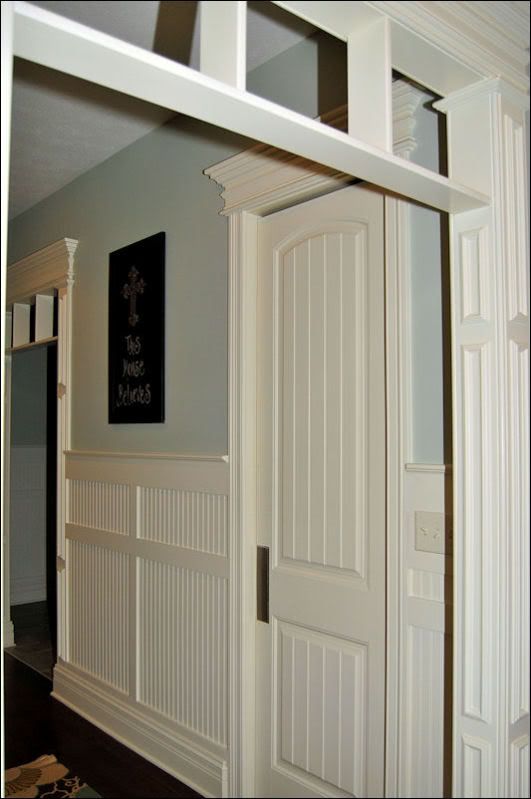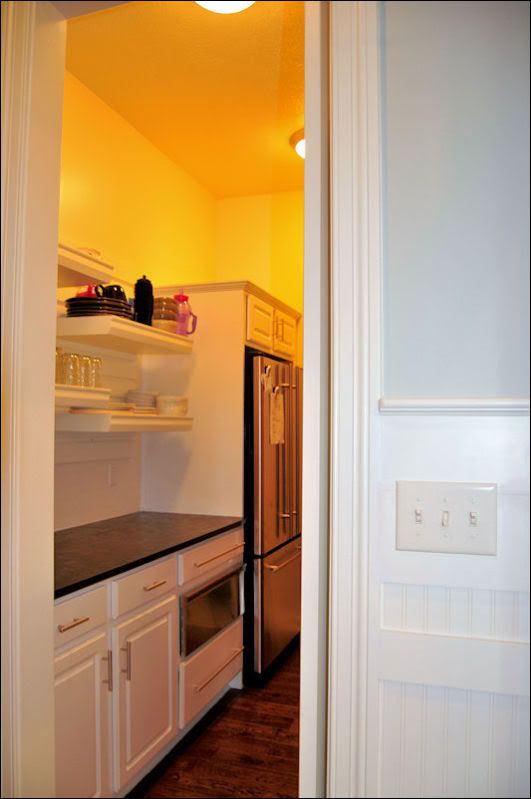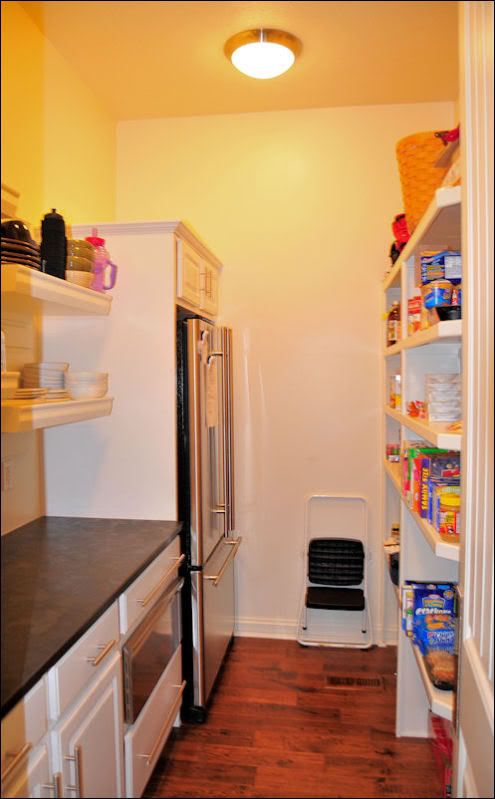 All of our pantry food items go in here on these shelves. I also keep lunch boxes, baking supplies, (not that I use them), etc. in here.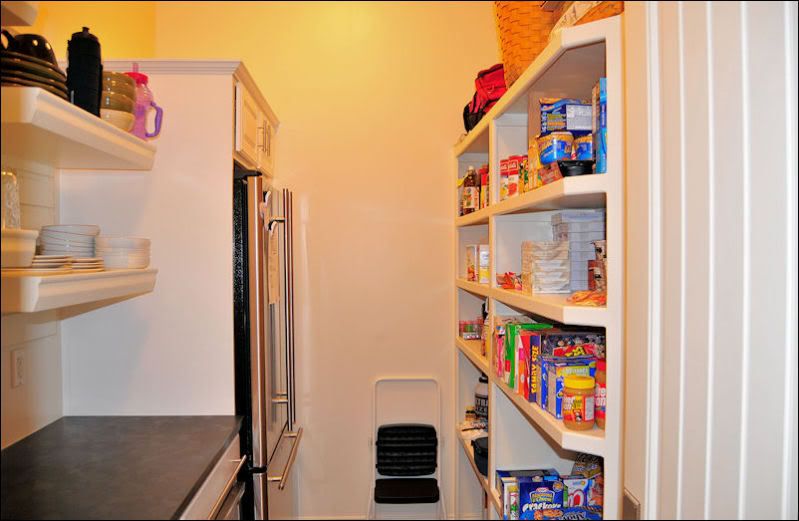 Again, below...we are back to the kitchen over looking the hearth room and the great room. I am one that doesn't care for things sitting around on my counter tops. I like to have open and clean space. Wide open areas. No clutter aloud.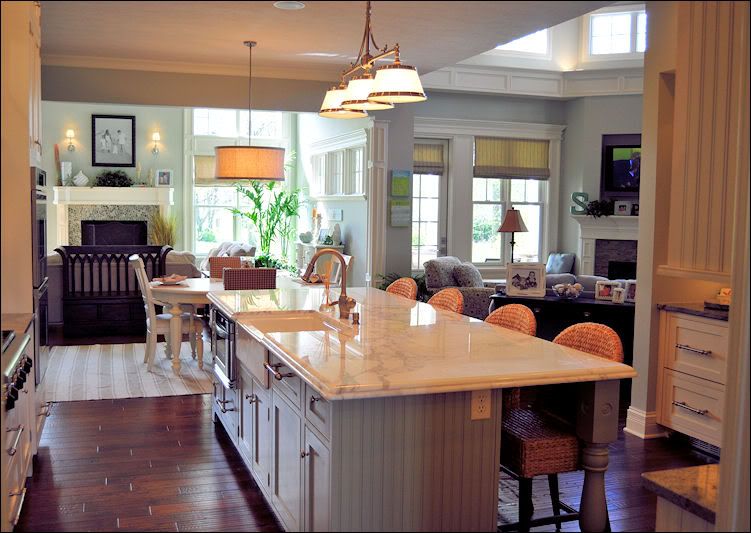 Below, this is the hearth room. It's where the kids spend most of their time when I'm in the kitchen.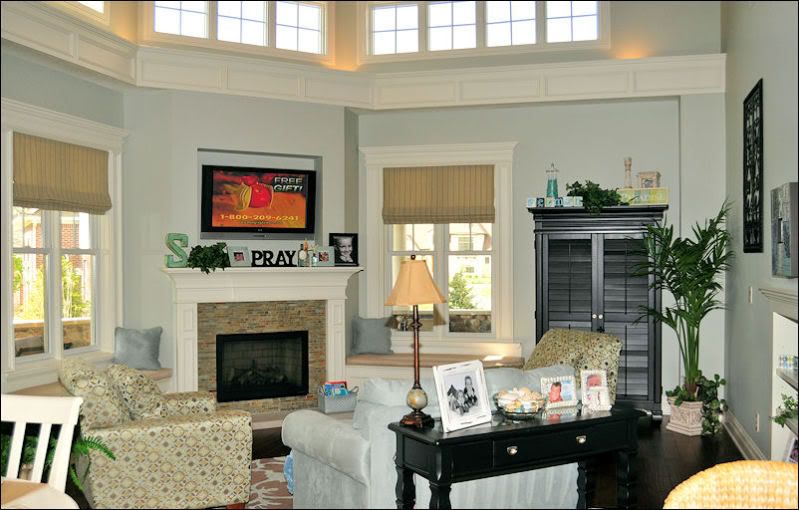 Looking back into the kitchen from the eat in dining area off the kitchen. Truthfully, we rarely use this vanilla table. Because we are a family of four, we fit perfectly at the counter stools in front of the sink when eating.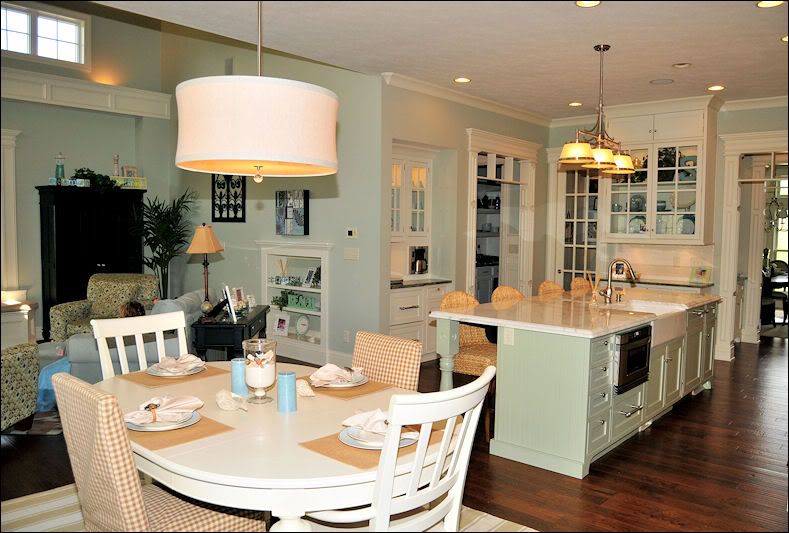 I love the striped rug under the vanilla table. Definitely gives off that beachy vibe that I soooooo love!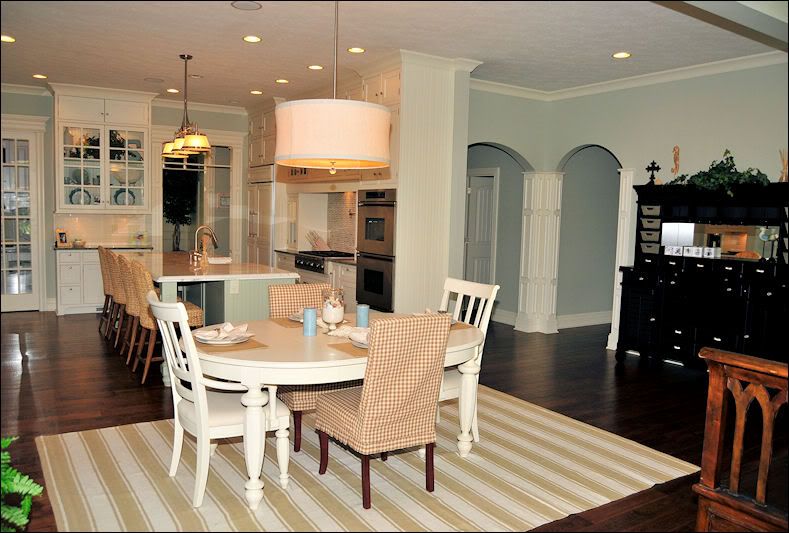 Below we have a view from our guest bath hallway looking around the corner of the kitchen into the heart and formal great room.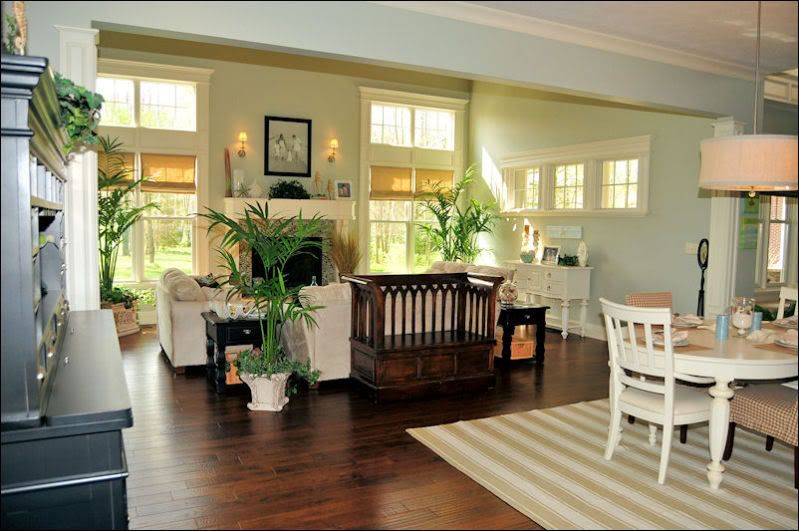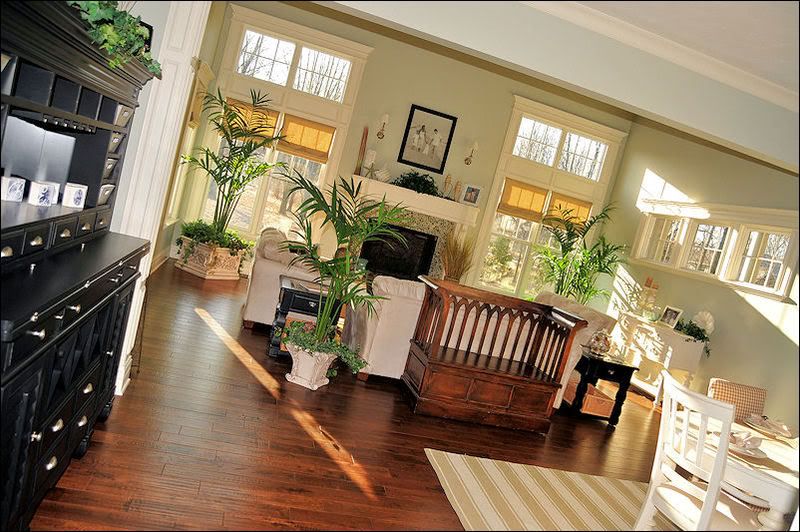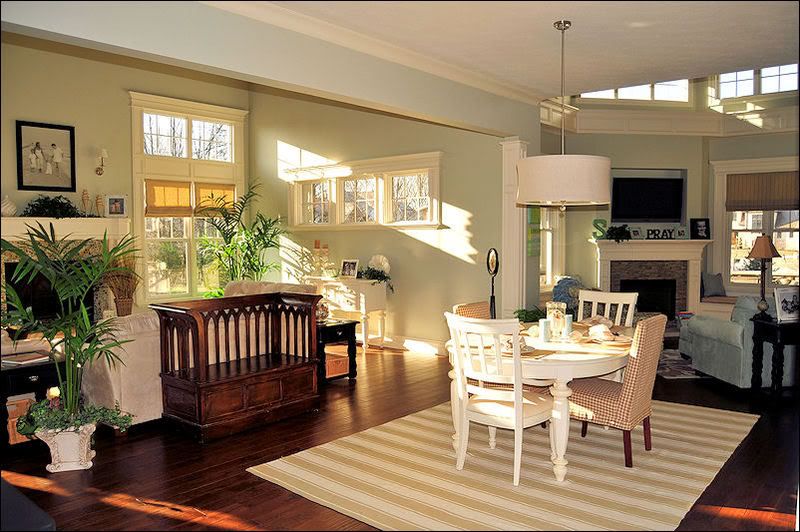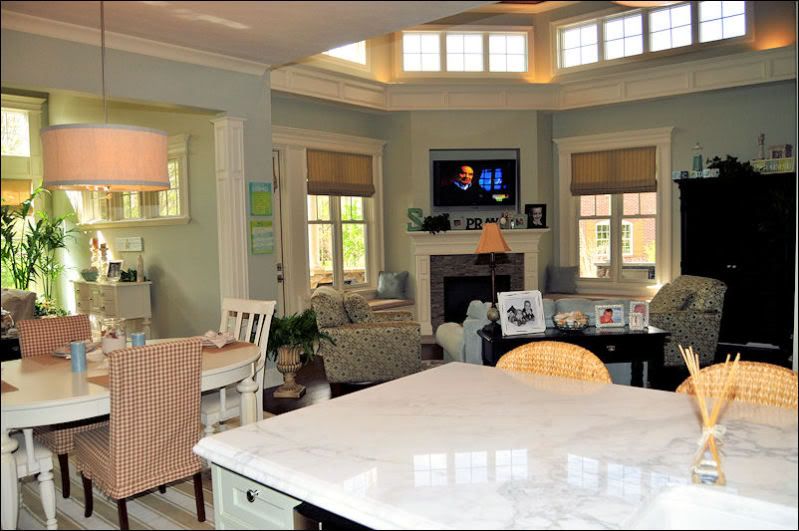 Below, I'm standing on the left side of the great room looking into the kitchen. Our great room is another favorite area of my house. I've tried to give it a very seaside vibe. It's a work in progress.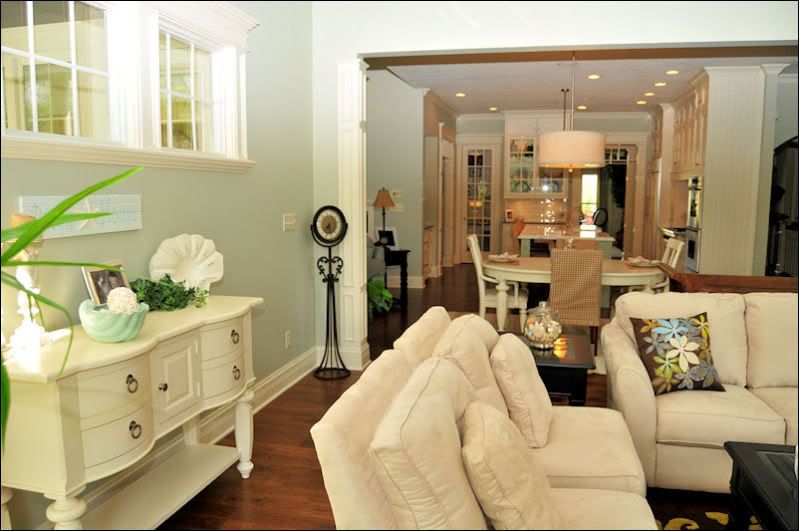 Remember that coffee table book I told you I got a couple of weeks ago? Well, it goes in here...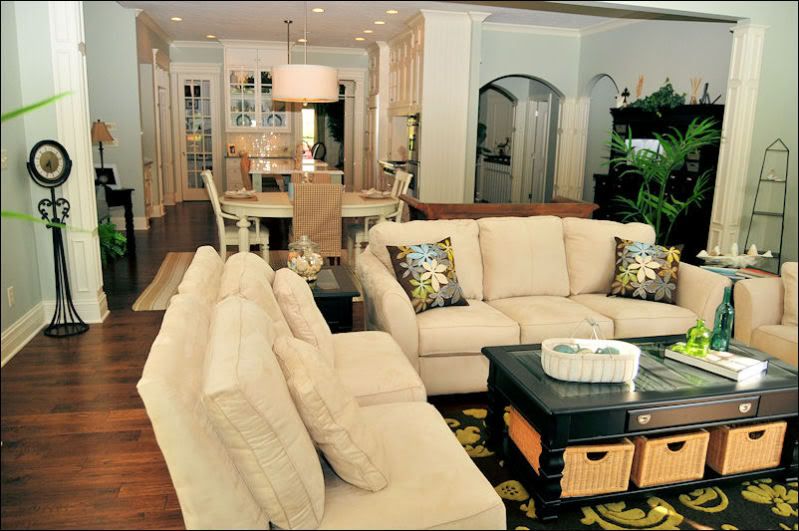 And there you have it...the kitchen and surrounding areas. I think many of you have seen our kitchen before but I don't think I've ever shown the view from our great room and such. I can't remember for sure. Either way, thanks to Kelly for a fun set of home tours. I've had a blast looking at everyone's kitchen pictures. You should check them out too. Click HERE to see all who are participating. Enjoy the rest of your Saturday. Brent just picked up lunch at 'Noodles' restaurant for us so we are off to chow down.
xoxoxo, Angie
Labels: Kellys Korner blog, kitchen tour, show us your home Friday