FLORIDA - PART 5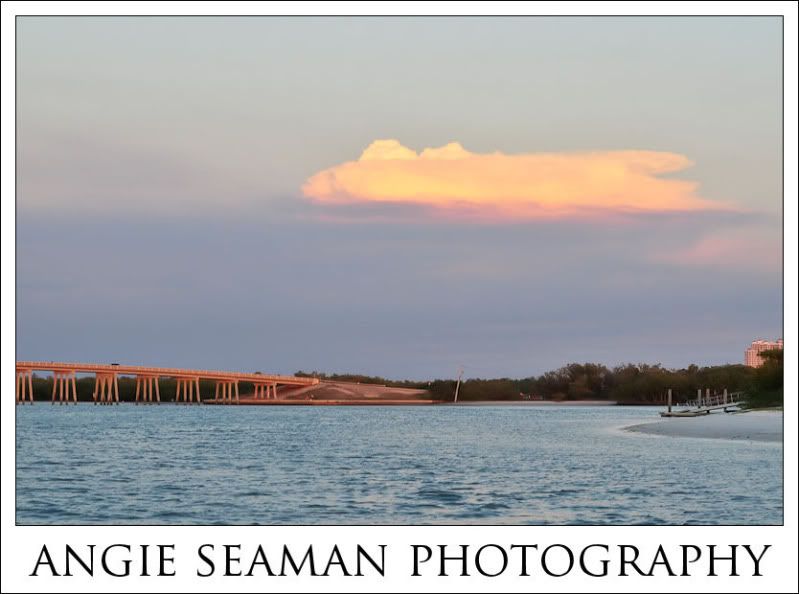 Look closely...does anything look odd about this image above?
Focus in on the cloud in the sky. What do you see? We saw a fish! Does it look like a fish to all of you as well? Too funny, eh?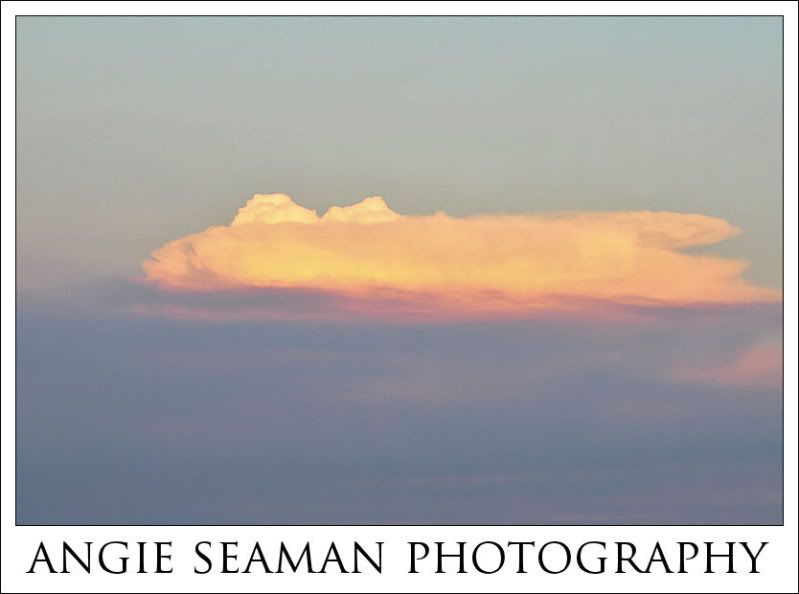 Above is a close up for you. See it now? Tamara noticed this cloud formation when we were on the boat - enjoying our sunset cruise in the back bay of Bonita Springs one week ago last Friday. It was too perfect to NOT take a picture of. If that doesn't look like a fish, I don't know what does. :) And below, you can see where it begin to break apart as the clouds lost their shape.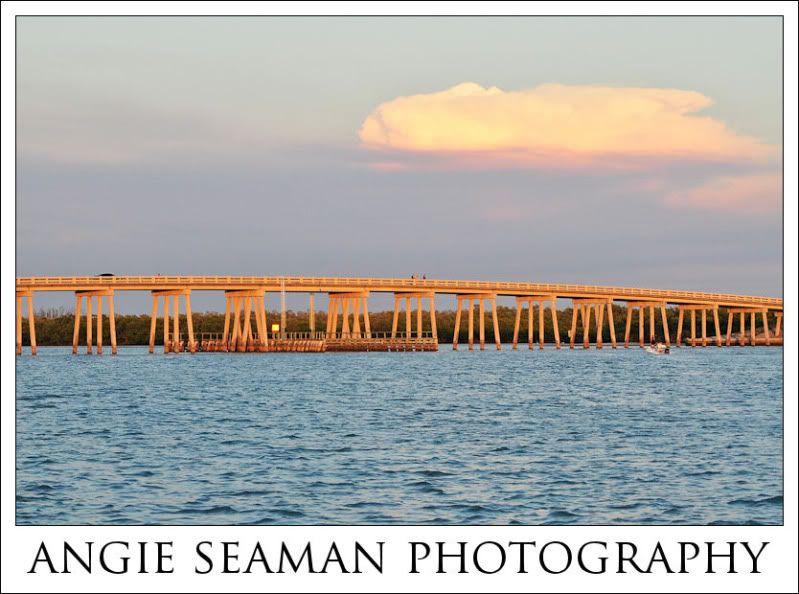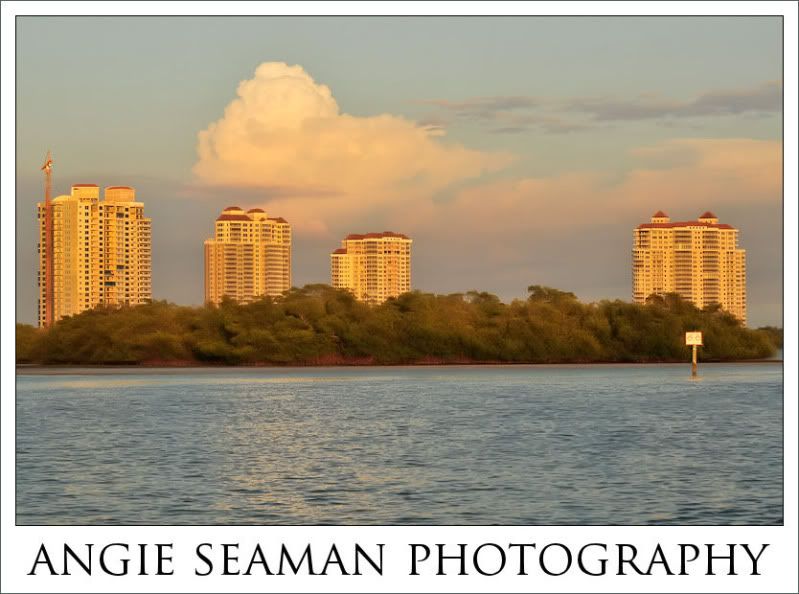 While on the crusie, we even got to get right up on some adorable dolphin pairs swimming along together in the back bay. They were so incredible. There were actually two here in this photo but the other went under again before I could snap him/her with its buddy.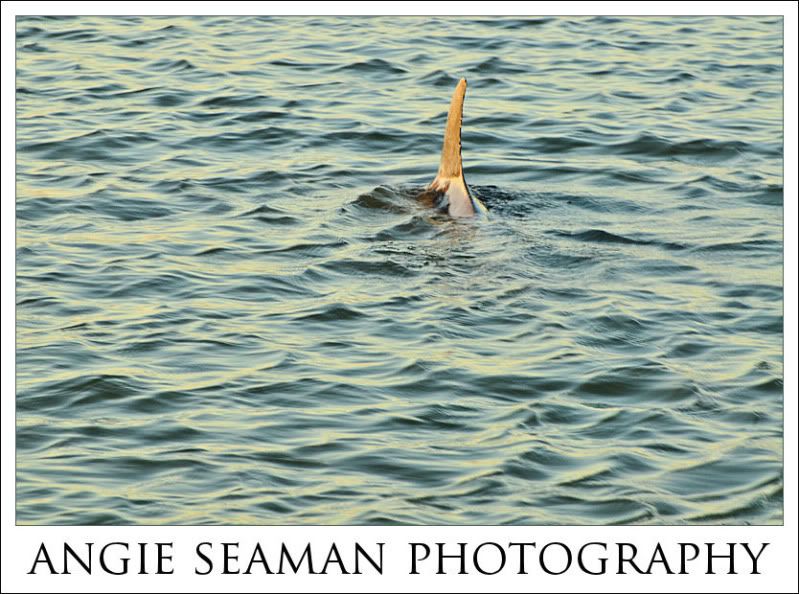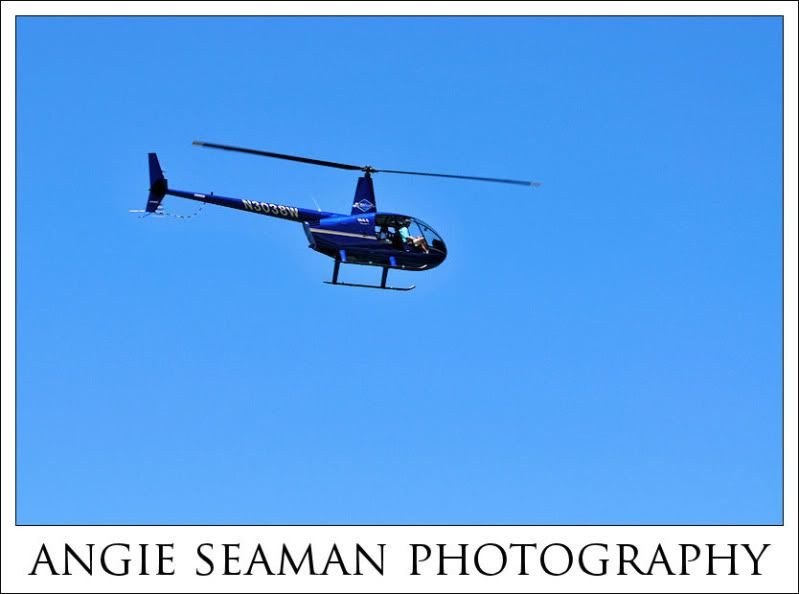 One afternoon while on the beach, a scenic tour guided helicopter flew over and I was able to catch a glimpse of them with my telephoto lens. Gotta' love that 70-300mm lens. It has a tendency to make you feel like the CIA in a way. You can watch but people have no clue that you can see them that close. I've managed to capture some pretty fun shots from unsuspecting individuals. HA! This shot below was as the helicopter passed by on the beach and everyone watched in a sort of "amazement" as if it were an alien space ship about to land. Me included. Heck, I even took their photo for evidence. hee hee!
I'm ready for some more sunsets like the one below. This shot was also taken while aboard the sunset cruise that Friday evening.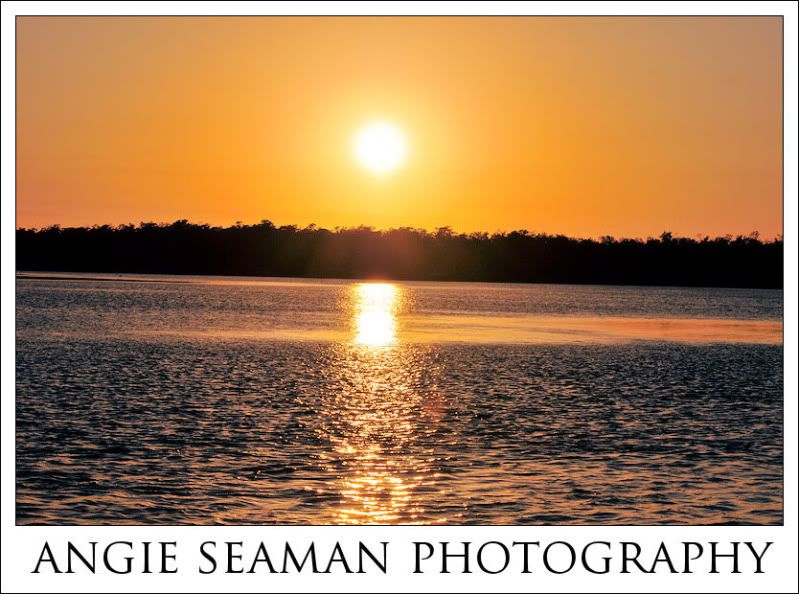 Although it is sunny here today in Indy, it's cold. I'm tired of the cold. Really tired of it, the rain, the snow we finally got rid of last month, etc. We have 11 more days until we get back to this sunset seen above. Next Friday the 29th, the kids will go to school for half the morning. They get out at 10:50am that day. It is their last day of school for the summer. Freedom reigns come the 29th. Mama is a happy girl! So are the kids! They'll come home from an early dismissal day that morning, I'll get them off the bus, then we'll throw our suitcases in the car and head back to the Indianapolis Airport where we will fly out from that afternoon as we head back to FL for the summer. My Dad and Cathy will be joining us for about 4 days during the start of the trip. They'll then fly back home Monday and come join us again at the end of the month of June for a week. I'm feverishly working hard to get all the laundry done here at home, suitcases re-packed, get painters finished up in our home as they check off things on our walk thru list today and tomorrow, travel to dr. appointments, and meet up with friends one last time before heading out for the summer. It's pretty much chaos here right now. The next 11 days are cloudy for me. Very busy - actually beyond busy! I can't even keep track of my to do list because I'm running so fast. Trying to slllloowwwww downnnnnnn...just a bit at least. So much to do and so little time to do it in.
No matter what, I just cannot even begin to express how excited I am to get down there and take pictures all day long - all summer long. I'm beaming with excitement actually. As a photographer in Indiana, the backdrop just isn't the same. Photographers in the South, or NY, or CA, etc. have no idea how good they have it. Their backdrops are amazing and so effortless. Here in Indiana, we have to look and look far and wide to find a good backdrop. In those tropical states or states with nostalgia such as Chicago, IL or New York, they just fall into your lap and jump in front of your feet. To be a photographer full time in one of those areas would be pure pliss. Instead, I'll keep shooting the yellow fire hydrants while a hoosier. HA HA!

Hope you are all enjoying your Monday. I know I am - even though I'm cold with a zip up hoodie on today. Never fear though...I AM WEARING FLIP FLOPS! It's never too cold for flip flops my friends! NEVAH! And how bout' the finale starting tonight on Dancing with the stars? I'm rooting for Melissa all the way. I'd love to see her win that whole thing. And as for American Idol tomorrow night...GO KRIS ALLEN! I'm faithful that you can shock the world and win! :)
Hugs, Angie
Labels: American Idol 2009, Bonita Springs, dancing with the stars, dolphins, family vacation, Florida, kris allen, melissa, mothers day weekend 2009, sunset