RANDOMNESS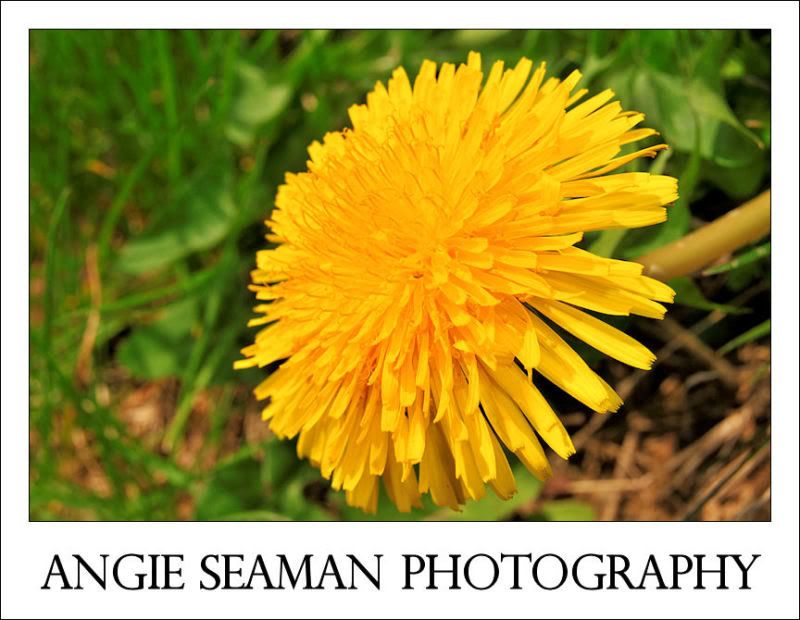 Don't ask me what this post is for - because truthfully - I don't know. I was just so happy to get out for an hour today and take my camera with me that I just started shooting anything and everything that I could possibly get my hands on. It was a sunny and almost 70 degree day here in Indy today. Therefore, I began to notice all of the colors that were popping amongst the sunshine this afternoon. The normal mundane and not so pretty things, were actually pretty for once. Or at least I thought they were anyhow. :) Doesn't take much to impress me now does it? Few red stop signs...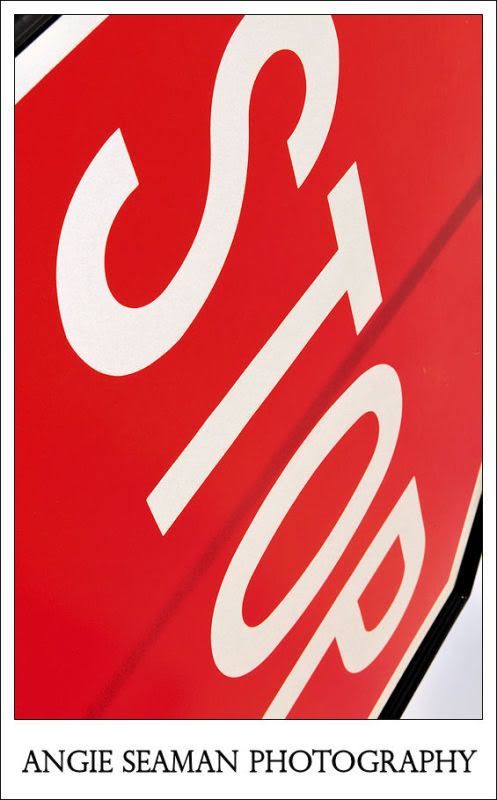 At different angles of course - never head on and straight...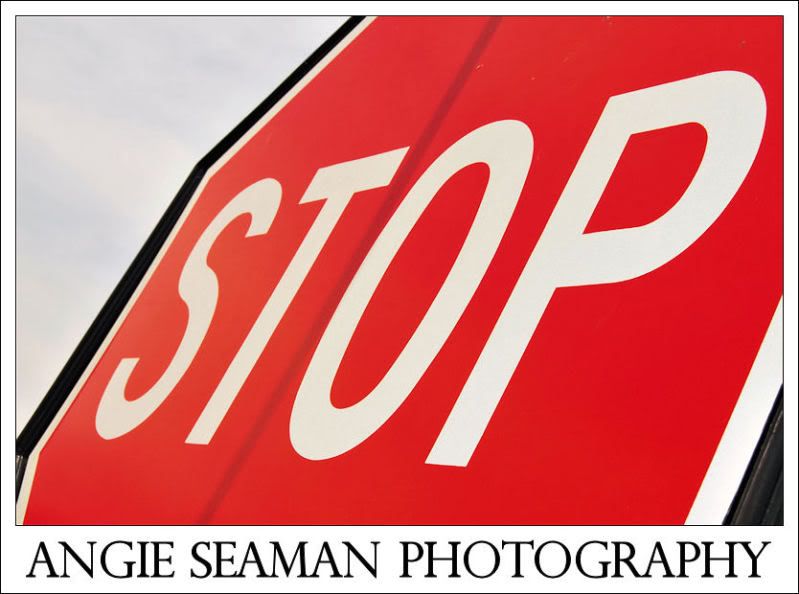 And some pretty lines. I love lines. Love architecture. Amazing how much "leading lines" can do for a photograph. I'm always thoroughly impressed with the simplest of lines. Just the normal everyday - usually way boring - stuff.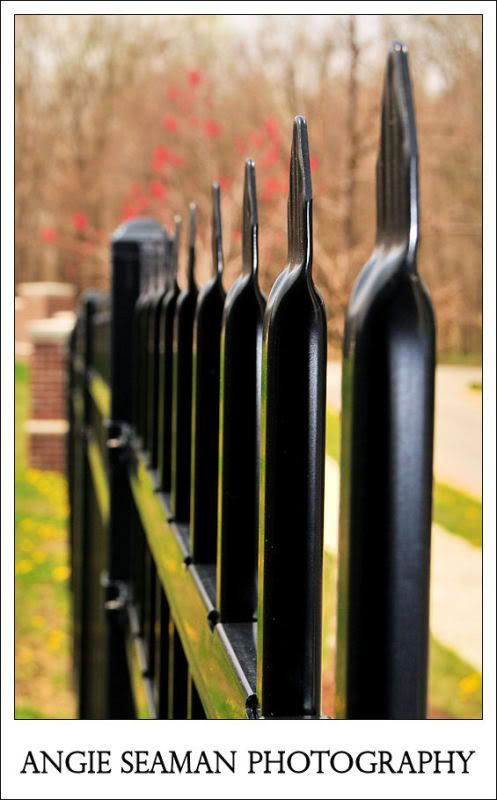 Like these typically hideous dandelions that we all detest to see as they begin popping up when Spring hits. I found these in an open field across the street from our house because gosh knows Brent would never allow a dandelion to live and breathe in our yard. Ha ha! They just seemed to scream at me today from across the way. So bright. So vibrant. So cheerful. Even though they are normally known as being "pests" in the spring time, I loved getting down on my belly and snapping these at their level today. Now...my neighbor thought I was nuts as she came by pulling her son in his wagon. But hey...I've never claimed to be normal - let alone sane. ;)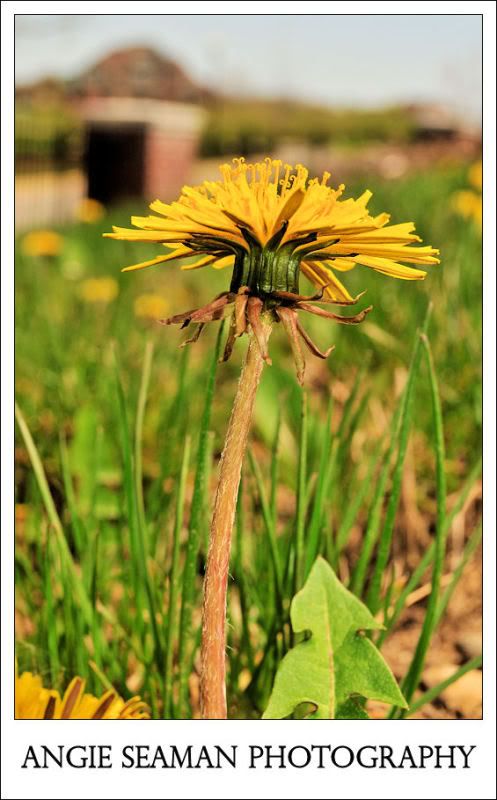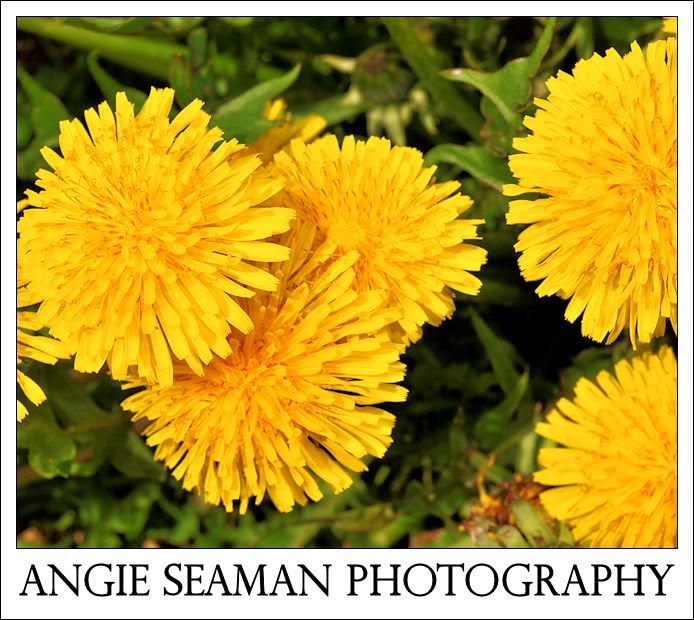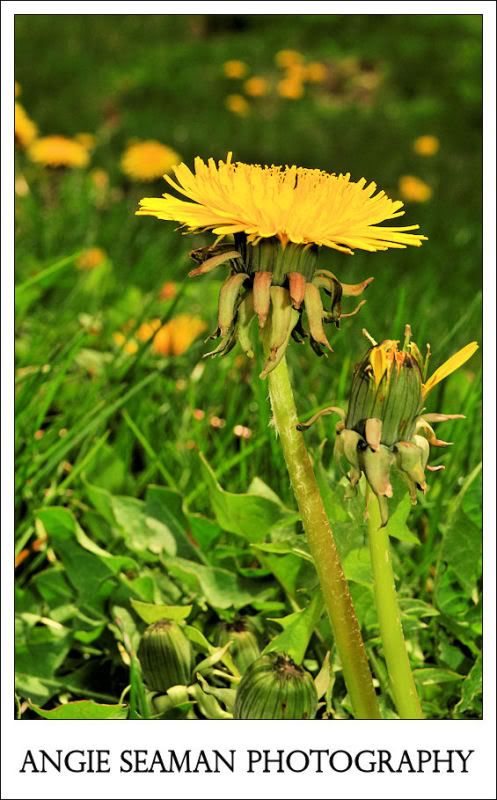 And lastly...you really know that you are itching to photograph something in the Midwest after old man winter has cooped you up indoors so long that you begin snapping shots of none other than...
You guessed it...
A fire hydrant.
I've been eyeing this bad boy out my den window for weeks just dying to get out there in an effort to try & come up with a neat angle or a neat shot for this bright and oh so yellow guy. Today was the day. Again, my neighbor thought I had completely lost my mind. At one point, I even began to question myself as onlookers and passer bys slowed to try and figure out what on earth I was doing with my camera on a fire hydrant. At one point I just began to laugh out loud at myself and shake my head. The whole scene got real comical there for a bit. But hey...at least I had my moment in the sunshine today with Big Papa, right?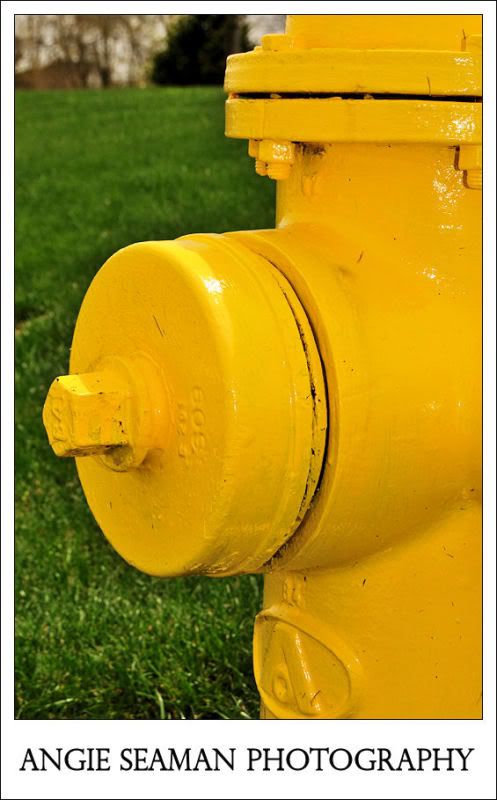 On a final note...I just wanted to thank all of you for your blog comments, private emails, and your facebook messages last night and today regarding my post about the book "GIFT FROM THE SEA." So many of you ran out to buy the book today, purchased it on eBay, or had already read it previous to the topic here last night. I'm so very glad you guys are getting your hands on it. Your comments in your emails about friendships and family members really confirmed that I am not alone. I'm thankful for all of you and your transparency. Maybe it is our age - where we are all at in life - who knows. Obviously though, many of us are coming to the realization that it is time to fill our pitchers back up and shed the negative. And on another note, I plan to begin reading the book "

Cold Tangerines

" tommorow. Should any of you want to read along with me, I'd love to do a book club sort of thing and get your feedback on it when we are all done reading it. Should you have any interest in joining me as I dive into another highly recommended novel, shoot me an email and let me know. OK?
Until then, enjoy your night. We just got in from the park and are ready to enjoy dinner with Daddy. I hope all of you are enjoying your prelude to this stellar weekend we have ahead.

Much love, Angie

PS...No cheap shots at my fire hydrant images either. I know where your minds are going. Sicko's! HAAAAAAAAAAAA!
Labels: dandelions, fire hydrant, photography, randomness, thru gods lens