NEW FROM AGD - SHABBY VINTAGE JEAN SET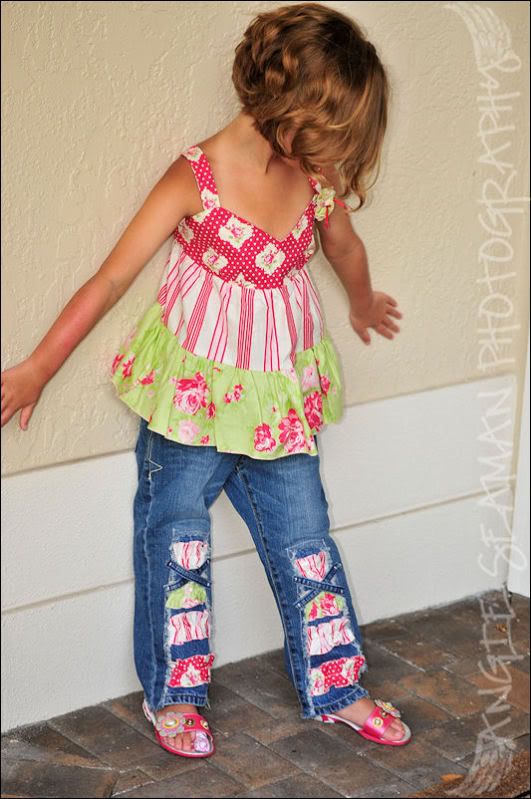 This friends...is the third new design from the AGD Spring collection. This one is themed "Shabby Vintage." This happens to be yet another one of my new favs just because of the worn, vintage look of the jeans along with the shabby details within the legs and the dress top. The top can tie in either the back or the front...it's your choice.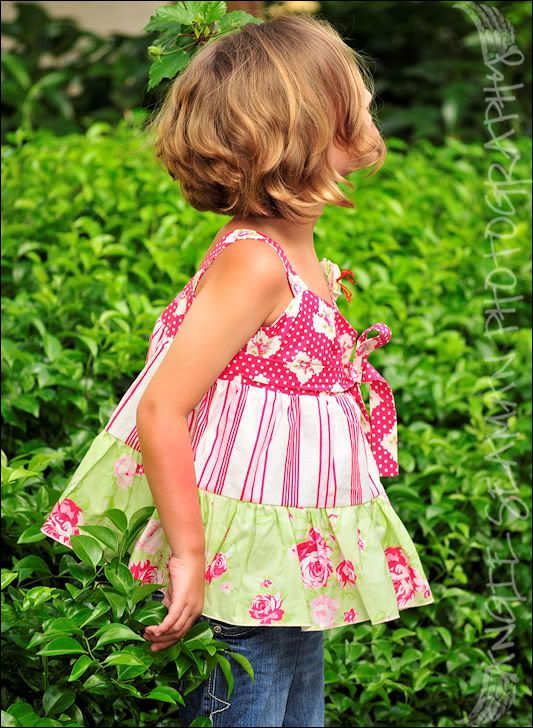 The color combo screams spring and summer is 2 degrees past total "to die for-ness!" The summer weather brings tan skin and warm tones. This set helps to make those tones POP! The top would also look FAB paired with your favorite jean shorts or even colored (red or lime green) shorts). There are so many options with this set. In the cooler months, you can pair it with a red or lime green long sleeved layer tee and make the outfit carry her thru fall and winter as well.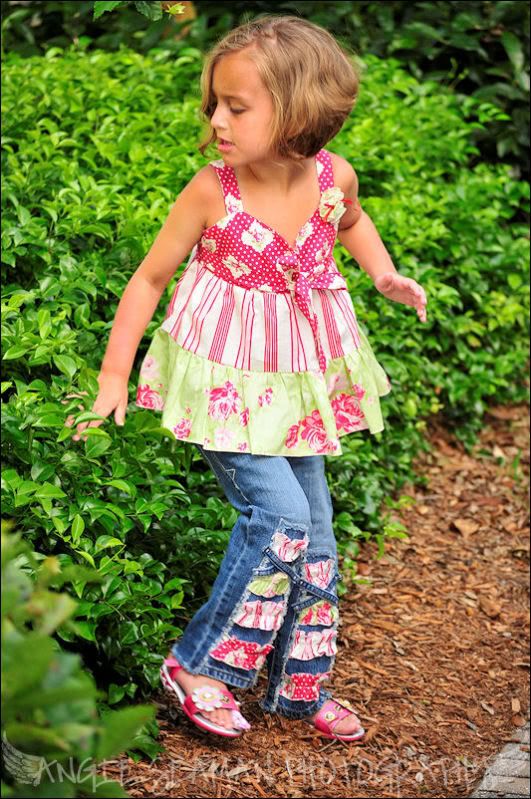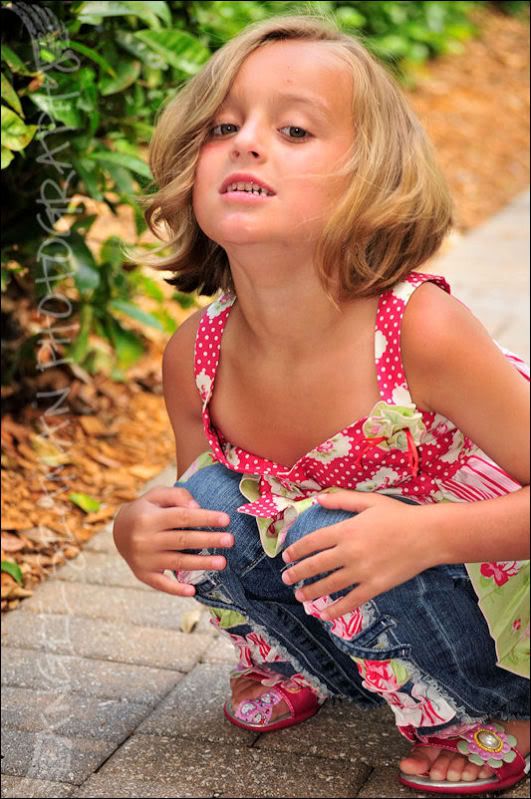 Your little princess is sure to be a HUGE hit when wearing this ensemble. It's got that "OOhhhhh...wonder where her Mom got that at?" look to it. You know the look. We've all been there. We've all seen something on another child before and thought..."Oh goodness...I need one of those for my little Sophie. Or Mary Alice. Or Lindsey, etc." Well this time, you'll be instigating the "coveting" on your block. We promise!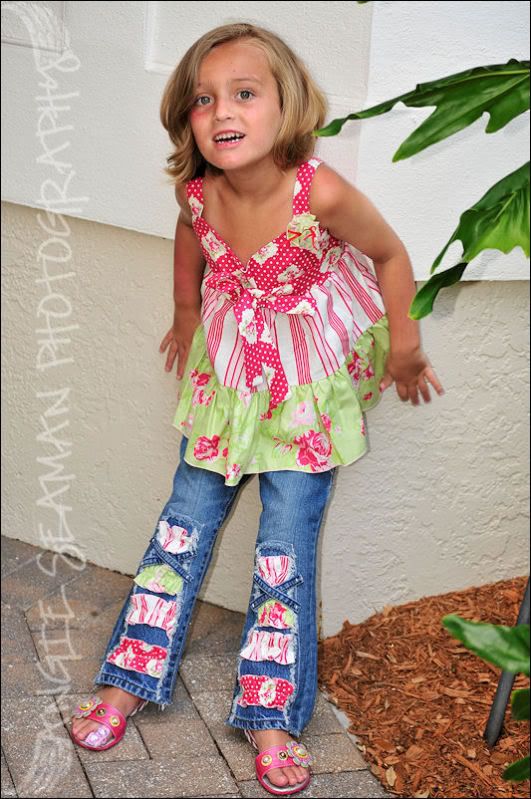 I'm not one who normally designs much in the way of the "shabby fabric" lines. You know me...I'm more of a funked out, ripped up, zebra done, fabulicious, out of the box, design type of girl. However, this season has proven to be the season of "shabby" details and I couldn't walk away from the obsession my heart felt when seeing these swatches. Thus, why this and the "roses in bloom" set were born.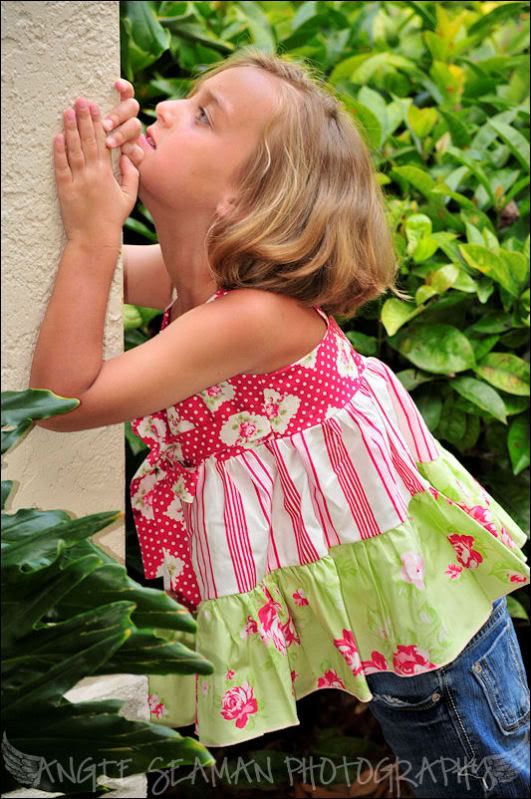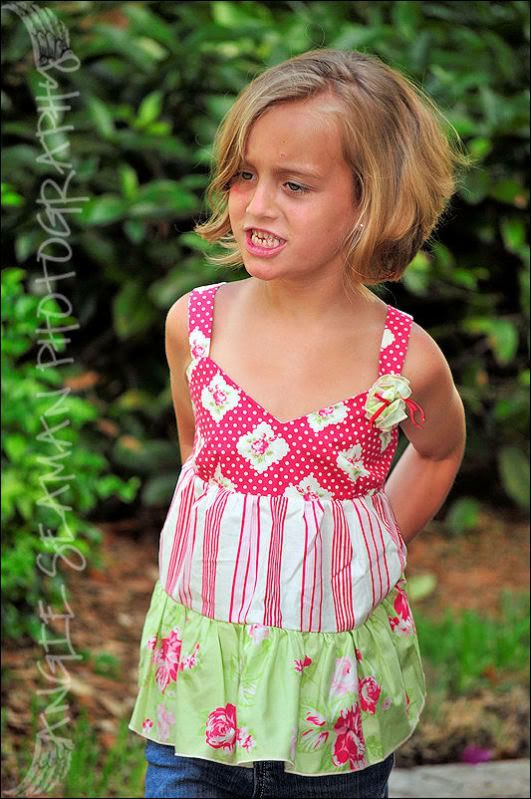 This last picture (above) is just for all of our friends and family who know Kenidi so well. They always hear me talk about how much I love her little under bite. You can really see it here in the image above as she was talking. My all time favorite NBA player has always been Reggie Miller from the Indiana Pacers. I miss him in Indiana basketball more than I miss the beach at times. (and that is saying something) Pacer basketball just hasn't been the same since he retired. Either way, Reggie had a major under bite but it was what made Reggie - well Reggie! So...we like to call Kenidi our little "Reggie Miller" in this house. Not only because of the similar under bite but because of her drama as well. Anyone who watched or knew of Reggie, knows that he had some serious drama dishin' when it came to the court. He could fall down and fake or emphasize a deserving foul like no player I've ever seen before. Yeap...miss that - miss his drama-fied antics! So...if you are ever around us Seaman's and hear us refer to Kenidi as our little Reggie Miller...
(Reggie at his farewell game - his last night in Conseco Field house. Awesome image/photography by slherbst/flickr)
..now you'll know why. Wink wink! ;)
Click HERE to purchase the new Shabby Vintage Spring/Summer set. In the meantime, enjoy your weekend. Tomorrow is supposed to be HUGE for Indiana. 73 degrees and sunny. Now that is what I'm talkin' about! Seems as though Mother nature has decided to let up on us a bit. Just a bit...
Love that sunshine, Angie
Labels: new AGD designs, new from AGD, shabby vintage jean set, spring collection