NEW FROM AGD
UPDATE AS OF 3/18/09 - SOLD OUT! Both the winged cross & winged guitars are now on backorder. I'll let each of you know when more arrive back in stock. (approximately 3 weeks)
OK...can you feel the thunder as I jump up and down with glee over here in Indiana? These new necklaces make me just want to run up and hug a stranger on the street! Big, HUGE, thanks to my dear, sweet, rockin' girlfriend Shan...for the lead. I now have a new supplier that makes these awesome pendants for me. Each one is handmade and is truly one of a kind. No two are alike - they all vary from pendant to pendant. There is a ton of detail in each piece. Very time tedious as I like to call it. I've decided to create three strand pearl necklaces to place them on with a toggle clasp at the back. If these don't scream AGD, I don't know what does.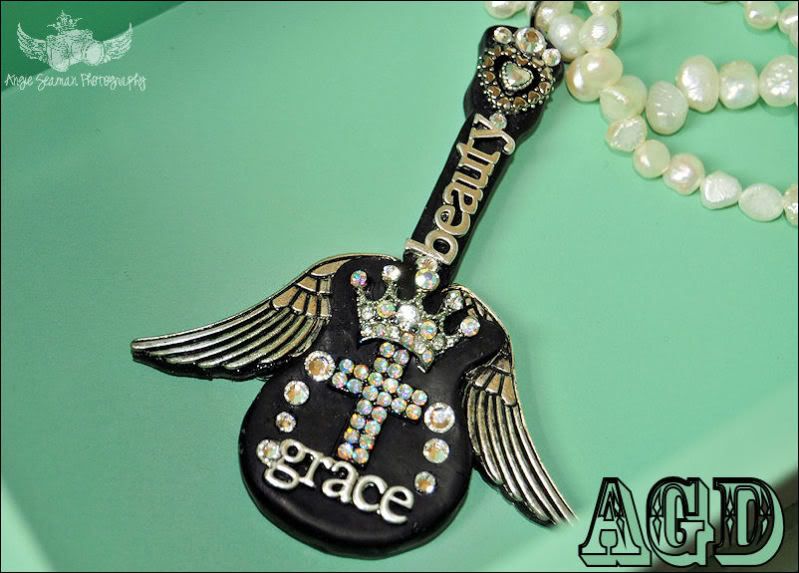 I've been sporting this winged guitar necklace as well as one of the winged crosses shown below around town. When I say that I can't get 10 feet without someone stopping me about it, I mean it. People on the street are going crazy for these necklaces and I totally understand why.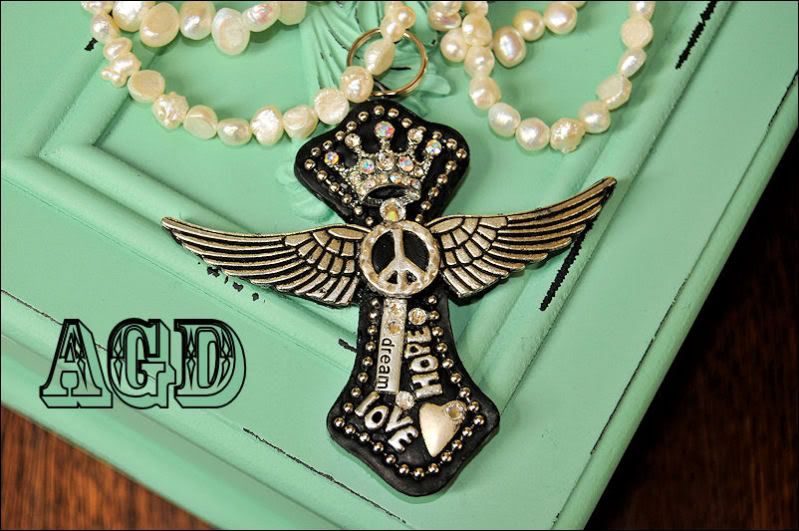 I've already sold several of these and now only have four remaining...2 crosses and 2 guitars. I plan to place another order very soon for the pendants but if you want one...you'd better jump on them. To say that they are going fast would be an understatement. More like lightening fast!
Don't be fooled by the pictures...these crosses and the guitars are massive. The pendants themselves take up the whole palm of my hand in reference to size. They ROCK with a tank top and jeans. They also go great with a long and funky style peasant dress and jean jacket. There are tons of options and ways to wear this necklace. It carries itself though. No need to get too busy in the wardrobe department with it. The pearls against the edgy, funky, guitar/cross mix romantic with trendy. Sweet with sassy. Shy with wild. I love the variation of the two together. This is a signature design that is sure to become your statement piece. The back sides are done in an artistic fashion as well. Again, no two are alike.
These necklaces are like no other. You aren't going to see these around someone else's neck. Be a trendsetter and ROCK it out with one of these new designs from AGD. I cannot even begin to tell you how much I love these. They are one of my new all time fav's. Truly the epitome' of what the AGD name stands for. Different, funky, out of the box, edgy, rock star-ish, eclectic, and bold. I love, love, love em'! To purchase one for yourself, go to AGD's online boutique or my ETSY store. Enjoy!
xoxo, Angie
Labels: new AGD designs, winged cross, winged guitar