GOING, GOING, GONE...
Oh today is a bitter sweet day for us here in the Seaman Family. Today is the day that our home on the South side of Indy will officially become someone elses. Yes, our home down south sold and the new family took possession of it today.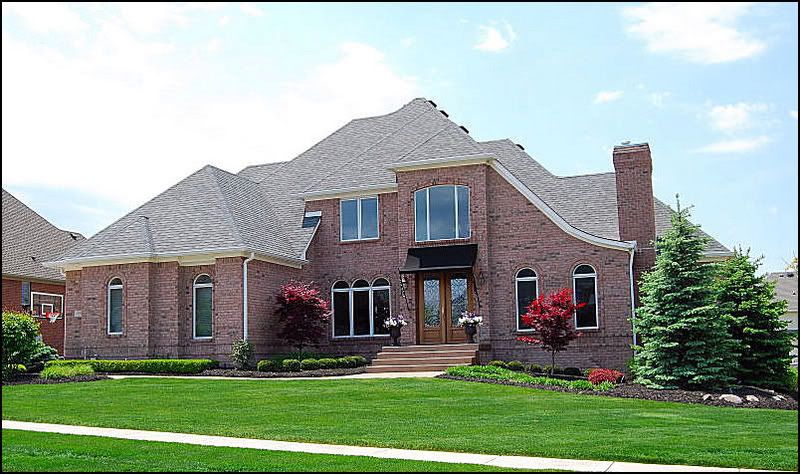 I love that house - always have. And if you remember correctly, I never wanted to move from it. However, with the persuasion of Brent wanting to move North because of his drive back and forth to the office each day as well as the events that took place in Kenidi's old school toward the end of last year, (CGES pushing out the special needs class in order to make room for an honors classroom), I finally gave in and let God be God. I had prayed that if it was the right decision, we'd end up North. And we did! Here we are - loving it up on the North side of Indy.
We lived in the old house for a little over 5 years. We put it on the market at the end of June last year. We were told by our realtor to remain patient - that because of the market and the size home it was - we could be sitting on it for a year or so. Then, when the market dropped and housing issues became what they are now...we thought we might just end up sitting on it for a couple of years. Scary - I know. We are praising God today for him bringing the right couple to us after only 6.5 months on the market. Although I won't miss paying double mortgage payments each month now, I will definitely miss the home itself. We have many fond and wonderful memories in that house and it breaks my heart to let it go. Really. It does!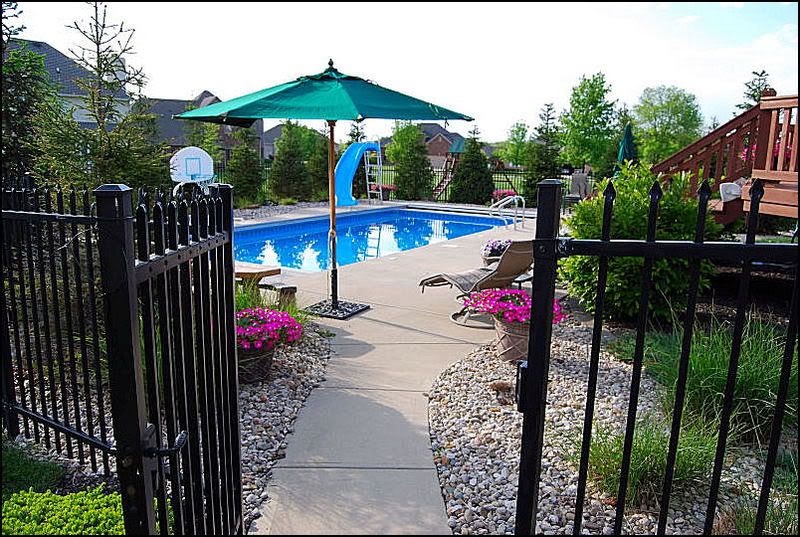 We spent many summers by the pool with friends and family. This backyard held some great parties and some incredible laughs. I have many a photographs of friends goofing off on that slide. I see them in my head as I flash thru these old pictures today.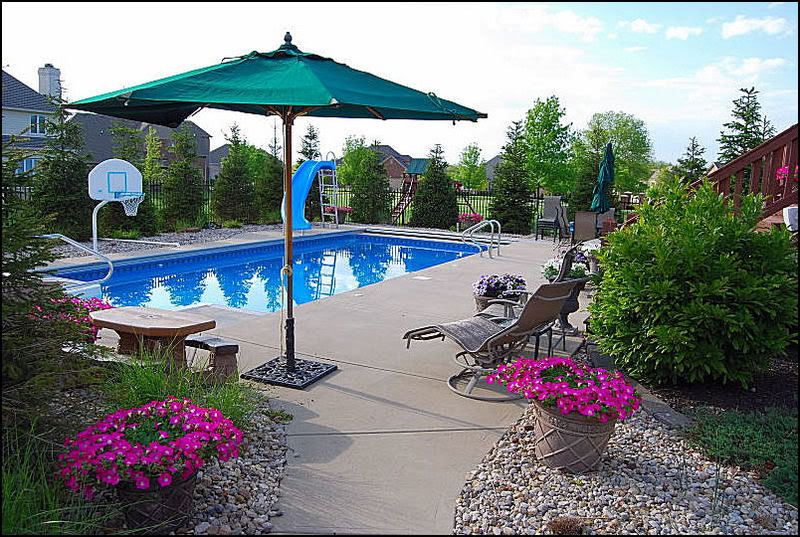 Brent had the landscaping there at the house in superb condition. If we heard it once, we heard it a thousand times, in regards to people stopping to compliment our yard. We were known in the neighborhood by some as
those people with "that yard."
Or some called us the "
mum
" house because they remember our yard one fall when Brent had these HUGE mums planted all over our yard. It was always too funny to hear people go..."Oh you are the ones that live in the Mums house..."
We loved it there. The house was good to us. The neighbors were good to us.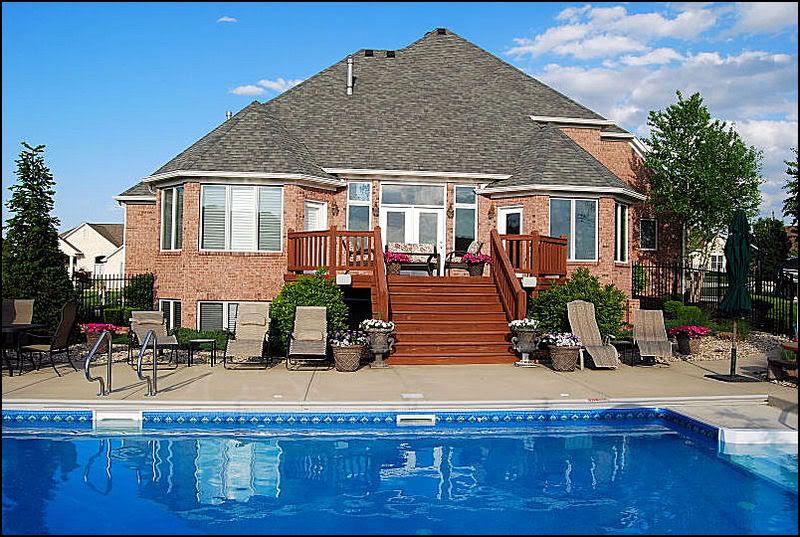 The pool was especially good to us.
I teared up a bit today thinking about the last time we were all in the pool together last summer. I teared up thinking about how last week was the last time I'd ever be in that house again. I teared up thinking about last summer was the last time I'd ever laugh and try to shoot hoops with Brennen in the drive again. I teared up thinking about how we'd probably never get the chance to meet another neighbor like our "smiley face in the yard" neighbor. You remember Wayne? Yeah...the one who mowed a smiley face in our front yard when we were away on vacation just to get Brent's goat because he treasured the grass so much. See the smiley face in the picture below...? Classic. We laughed until our sides ached when we rolled up at home that night from the airport. I never even noticed it but Brent saw it IMMEDIATELY - in the dark mind you.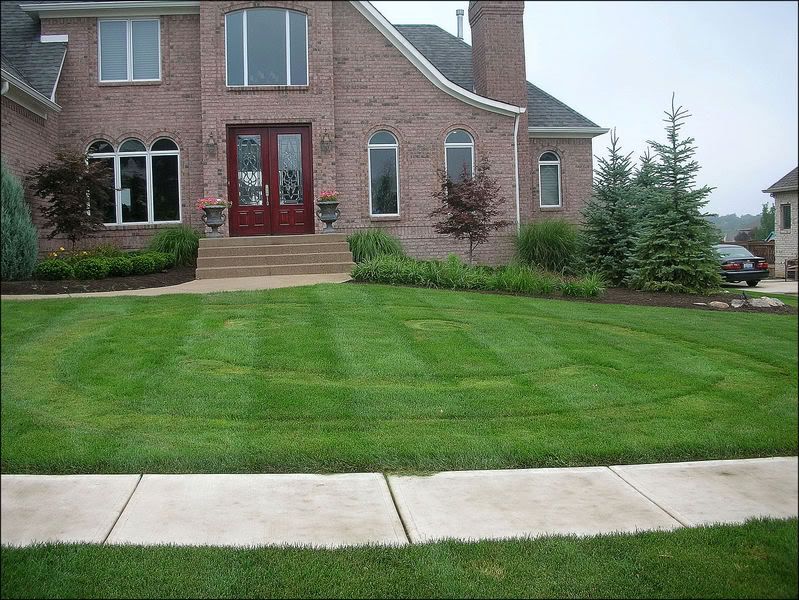 That's OK...we got them (the neighbors) back by doing a chalk outline of a dead body on their drive way and wrapping their house with yellow caution tape a short while later. Good times~Good times! We'll miss everyone on that street. Our street was really the only street in the neighborhood that had kids all the same age. Young kids anyway. Brennen loved his little neighbor pals and still does.
In the end though...we established that change is GREAT. Not just 'good' anymore but GREAT! The decision to move to the North side of Indy turned out to be one of the best decisions we've ever made in our lives. We are overly happy up here. The schools are incredible. The neighborhoods are fantastic. The ambiance isn't even comparable. The restaurant choices and shopping are out of this world. All in all, it's just a great place to raise a family and we are so glad we made the decision we did. Looking back, as scared as I was to move, I realize once again in life that God had it all planned out. It worked out perfectly - just as he planned it to.
We pray the new homeowners will love our old house. We sure did!
...Ang
Labels: family, personal, sold, southside house