FRIDAY PHONE DUMP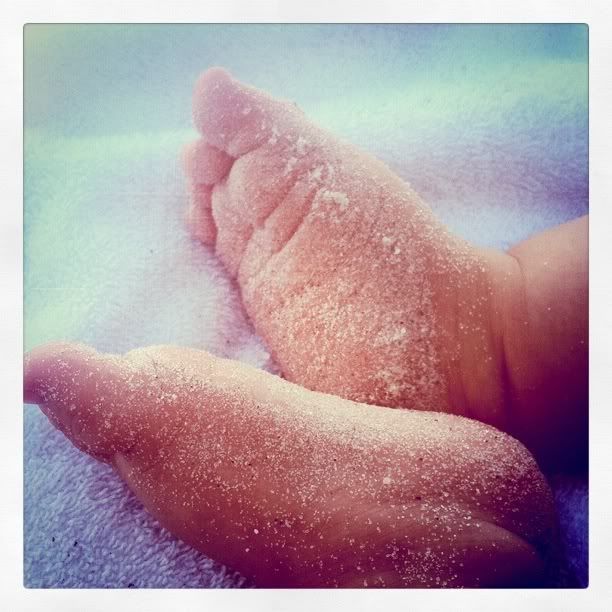 It's Friday again. That means it's phone dump day. I've started sharing a few photos taken with my cell phone throughout the week here on my blog. The above shot was taken just this morning. Kross and I got his other two siblings off to school and then we hit the beach for a little "sugaring of our toes." Kross has it down to a science. No need to teach that certified beach bum how to do up the beach. He's mastered it already.
When we got there, I was carrying him and a big beach bag. I looked down and saw the shadow of my legs and captured my big ol' Mommy yoga pants flappin' in the sand via the reflection. Snapped the moment.
Although Hurricane Irene was originally heading right for us, it turned right and suddenly started veering up the East coast of Florida in stead. The beach was quiet and serene this morning. The water was dirty, sand brown, but the clouds and sky were still and beautiful as ever. You can tell a storm is brewing somewhere though. Mother ocean was roughed up, brown, and clearly ticked off.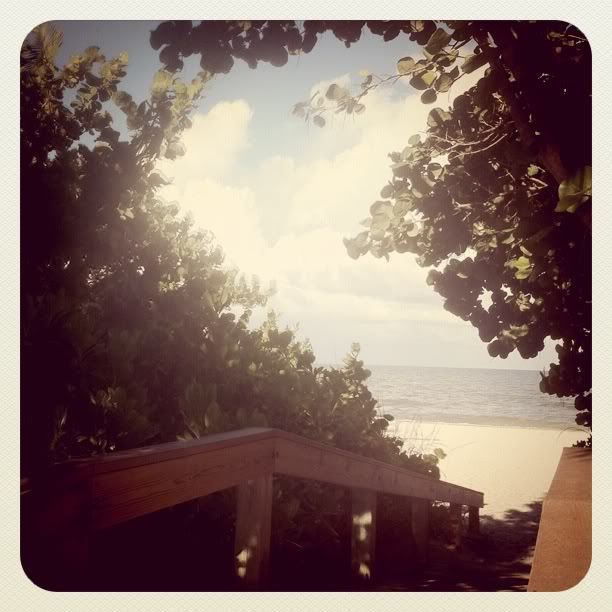 The black and white version adds a bit more drama...wouldn't ya say?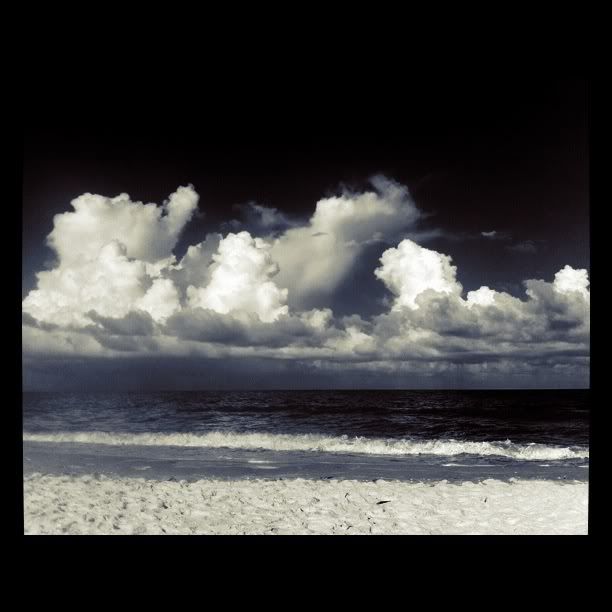 This is what the sky really looked like...crayola blue as always...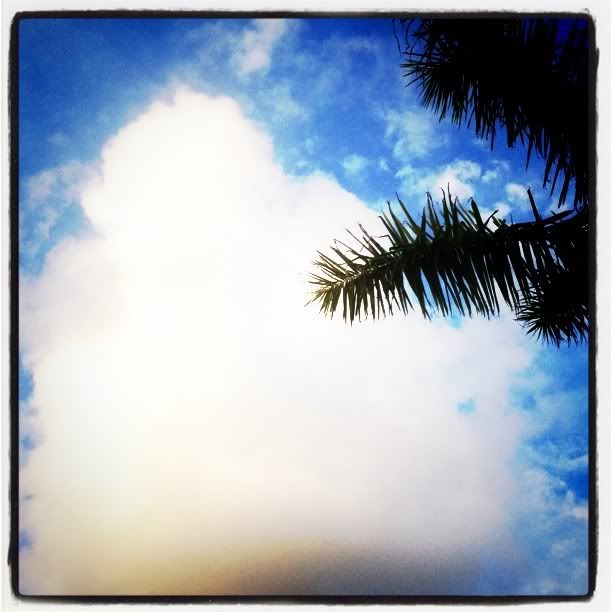 Without rain though, there are never any rainbows. For any of you who know me well enough, you know that is one of my favorite quotes and has always been listed on my facebook page too. We are still in what is considered the "rainy season" here in South Florida. That means it rains at least once a day for about 30 minutes to an hour and then dries up and becomes as beautiful as it was before the rain. After one of those downpours off the ocean the other night, I captured this rainbow as the skies began to clear...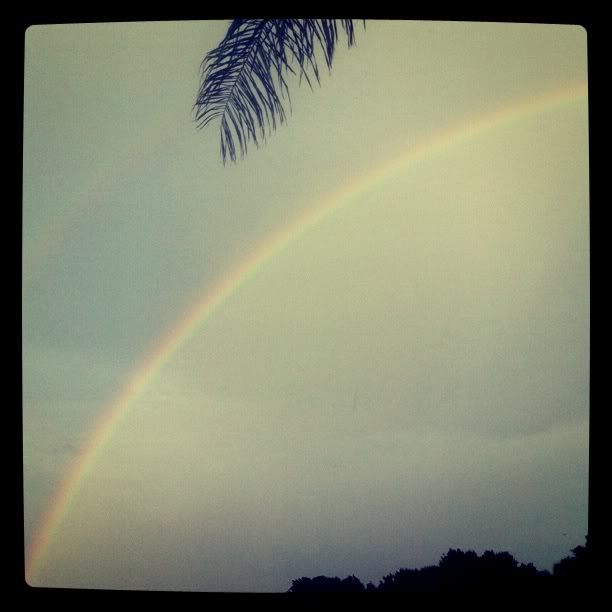 My favorite time is after the storm passes when the whole sky opens up and the brilliant orange colors pop out and shine this gorgeous golden light down on us...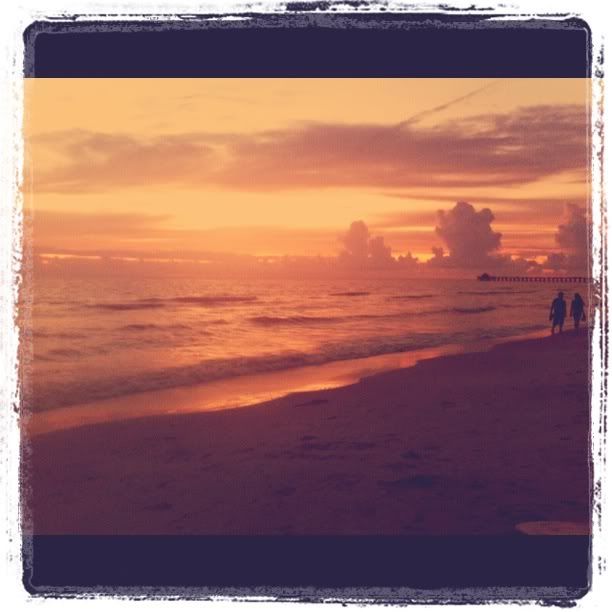 When I came out of Dillard's the other night, the whole place was lit up like an orange fire ball. You can see that yummy golden light creating palm tree shadows on the front entrance of the mall in this shot below...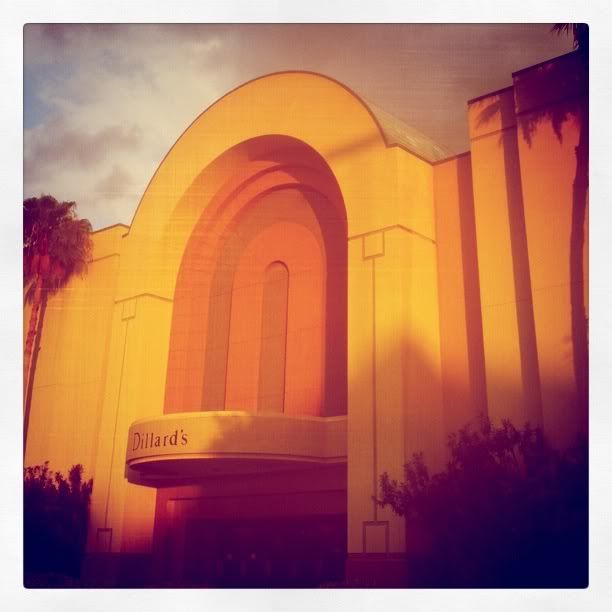 GAW-JUS! Love me some golden hour light. The light right before the sun sets. Amazing stuff
I always love to shoot in the morning around here too. More amazing stuff. I took the image below straight out the roof of my car the other morning as Brennen and I sat and ate our Starbucks oatmeal right before I took him to school. Yes...lucky for him (and me) there is a Starbucks almost in the parking lot of his school. Dunkin donuts too. Shame. Oh the shame. LOL!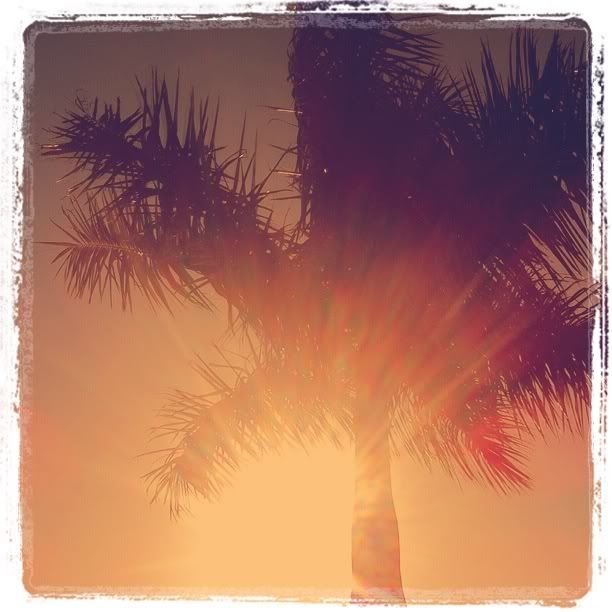 The sun flare was magnificent on this morning and my iphone LOVES sun flare. Anytime I can capture some flare with my phone or my real camera, I'm all over it. I believe that sun flare is just another gift to us from God. Embrace the flare. :)
For now, I'm off to go finish editing some sessions. Can you believe that my brand new laptop is already in the shop? Won't hold a charge. The charge jack/port won't work when I charge it with my cord. Dang the bad luck. I swear laptops hate me. Yes, I said the word HATE as much as I "HATE" to. HA HA! I'm cursed when it comes to these computers. They are my work horses and I truly work them to death. Literally. Anyway, it's gone for two to three weeks so I'm back to editing in my office which I detest. So does Kross. That little dude is on the move and wants to be everywhere but holed up in my den right now. He has life so rough.
Have a great weekend and check back next week. Lots happening on the photography front. Lots of good news. Lots of cool shoots. Life is good. Love you guys.
Angie
Labels: beach, Florida, Friday phone dump, hurricane, hurricane Irene, Kross, Naples, shadows, sun flare