THE GRISWALDS ARRIVE IN INDY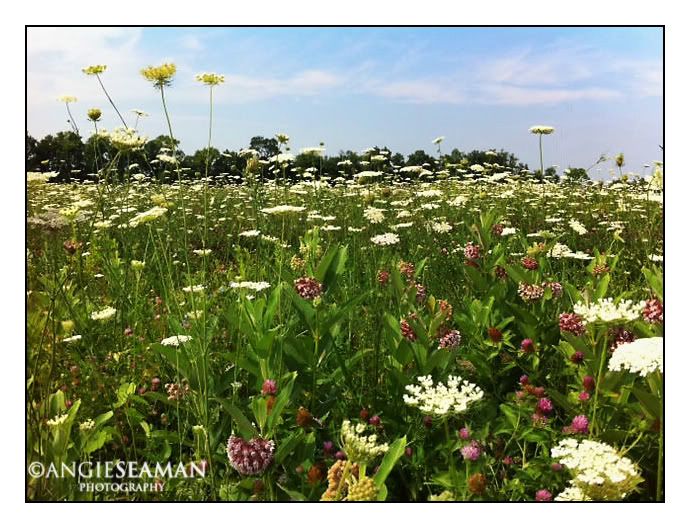 We made it to Indy. The fields full of Queen Anne's lace were standing tall to greet me when we crossed the state line. People often ask me what I could possibly miss back in ol' Indiana - aside from the obvious friends and family - now that we live in paradise everyday. One of my answers is in the image above.(taken with my iphone4) I miss the fields full of wheat and the fields peppered with wild flowers in the summers. I miss the butterflies and bumble bees that run rampant on top of them. (They make for great macro images) This particular field will be used as a backdrop in one of 5 photo shoots that I have while in town this time. I can't wait for the golden evening light to shine down on this spot. It's going to make for gorgeous images with my clients.
Of course the 18 hour drive sucked - we drove straight through this time which was NOT planned. The five of us almost killed each other in true Griswold style before all was said and done but once we made the decision to just keep driving...we all regrouped, had some Starbucks, and trudged forward with great success in real Seaman family fashion. As I always like to say...all was good in da' hood. :)
In the short two days I've been here, we've been able to visit with both of my Grandma's who are ailing. I had worried I'd miss being able to see one or both of them before I got home the next time. By the grace of God, both are hanging on strong and I loved being able to touch both of their hands yet again. My Grandma DeNease - my Dad's Mom - also got to meet little Kross for the first time on Sunday. Another great grand child for her. Although she can't see, I made sure she was able to feel the smooth touch of his soft baby skin in her hand. Life - it's such a precious gift, isn't it?
Aside from the 5 photo shoots I have lined up while in town, I am planning lots of visits with my girlfriends of course. We also have lots of doctor visits while here. Ya know...those favorite doctors and my dentist that I refuse to let go of just because I live in Florida now. I try to get the kids in and myself to see them anytime we are here just to keep us current in their patient files. LOL!
I hope all of you are enjoying your week thus far. Until my next post and the next flood of Indiana images, stay safe and smile. Smile lots!
XOXO, Angie
Labels: Florida, Indiana trip summer 2011, Indiana wheat fields, Queen anne's lace, The Griswalds, wild flowers