WHAT IN GOD'S NAME HAS HIT THIS HOUSE???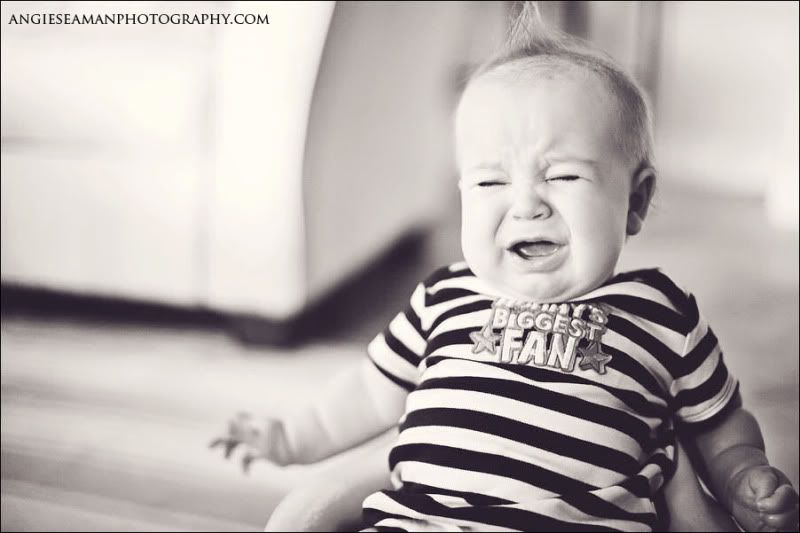 It's 2:40am and I'm up - wide awake - with a 5 month old sound asleep on my lap, an almost 8 year old princess in the bed asleep with Daddy (keeping my spot warm for me) and a 12 year old in his bed, sick yet again. It's been a helldacious week here in our household and it doesn't seem to be letting up anytime soon. Kross's face in the above photo gives way to the feelings were are spewing in our house these days.

Brennen was home sick on Monday. High fever and vomiting. He went back to school Tuesday feeling somewhat better. Tuesday afternoon while holding Kross on my tummy during my eye-brow arch at the salon (he likes sitting up on my belly when there), he rared backwards, arching his back and hyper-extending his arms as I clutched his little hands. He rared back with such a quick forceful movement that it immediately resulted in this God awful sound. I heard a POP! Not a good POP either. I knew right away what had happened. Two hours and several hundred dollars later, the doctor at the Emergency room had popped his elbow back into place like a pro. It took all of 2.2 seconds which is good considering how Kross was NOT happy about it. Can you blame him? They call it "nurses maid elbow" and I know it fondly because the same thing happened to Kenidi when she was a toddler. She was holding my hand as we stepped off a curb together. She pulled one of those "I'm gonna drop to the ground and make Mommy carry me" stunts as she was stepping off the said curb. By doing so, she went down and I was still holding her hand - which resulted in that same familiar POP. While at the ER with her that time, they told Brent and I it was very common in babies thru toddlers. I guess it happens a lot as their bones are growing and locking into place. The doc here in Naples told me the same thing when we were there with Kross on Tuesday. It was awful. This child never screams but that day - he whaled. I felt like the "suckiest" mom on the face of this earth. There goes my Mom of the year award. :(
Once his elbow was back in place, he was a happy camper again - instantly.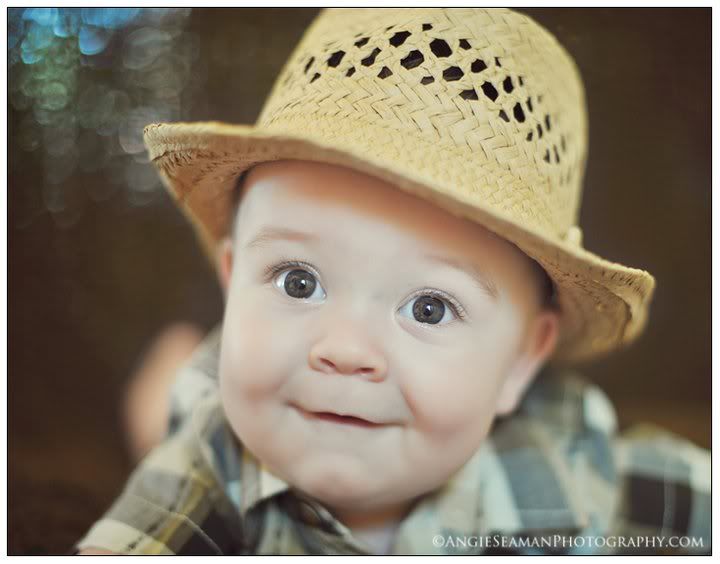 I wish I could say that our night got much better from there but it didn't. While in the ER with Kross, Brent calls to tell me that Kenidi's school had been trying to reach me at home. She was apparently in class vomiting. Needless to say, she came home sick. High fever just like with Brennen the day before. I was supposed to go out with my photography friends that evening but began questioning whether I should just stay home at that point. I got home and no sooner did I utter the words..."Boy I hope Kross doesn't get what you guys have" did little Mr. Kross himself puke all over me. I knew then that it was God's way of telling me..."STAY HOME ANGIE!" And so I did. I couldn't bare to leave Brent home fighting that fire with all three of them sick. I cuddled with my sweet babies and prayed that God would heal them both. Today was a better day for Kenidi. She seems to be on the up and up. Kross has some congestion and a runny nose but no more vomiting. However, que the 1:30am wake up from Brennen as he is making a mad dash to the bathroom because he is vomiting again. WHEW! I'm clueless as to what bug has taken over my kiddo's but I'm praying it exits our household FAST!
I have two of my girlfriends coming in from Indiana this morning. I pick them up at the airport at 9:30am. It's 3am now and I'm still wide eyed and awake. Go figure. It's the Mom in me that can't sleep. I keep going in to check on Brennen and make sure he's ok. Amongst the chaos this week, he's learning how to swallow pills for the first time ever. When he has a headache or has been ill in the past, we always gave him tylenol melt-a-ways. Well they've apparently taken those off the market now. It's no fun trying to co-erse a sick 12 year old to swallow tylenol pills while they are in the middle of being so ill. I tried all kinds of tricks. In the end, he broke them in half and chewed half of them on the way down. Gross!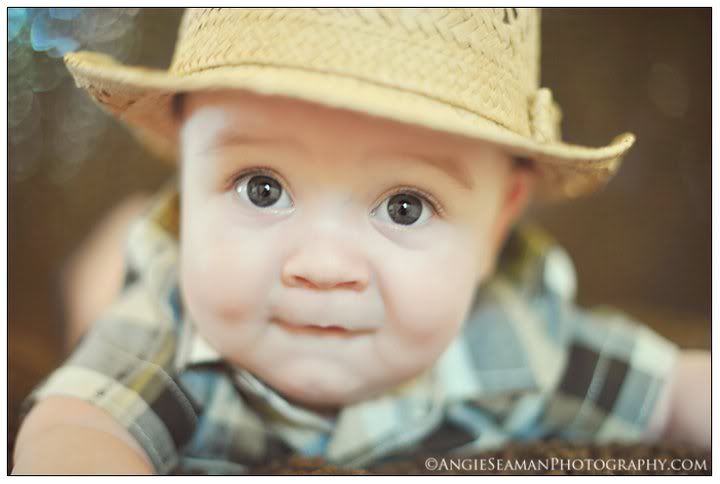 I'm hopeful that the lysoling I've done and disinfecting I've embarked on will be good enough to rid our walls of the germs before my girlfriends arrive. I definitely don't want them (or me) getting sick too. No. no. no. Speaking of the sickies, my laptop is in the shop because it has the sickies too. It's been gone for a week now and I seriously feel like my right arm has been removed. It won't be back for another week to two weeks so I am basically going into convulsions as I wait on its return. Talk about torture. This is one of those times in life when you really find out what you're made of and how strong you really are. LOL! Just kidding! Ok maybe I'm not. :-) Either way, I need the next two weeks to cruise by so that my laptop can come back home to Mama realllllllll quick! I have photos similar to this one to edit...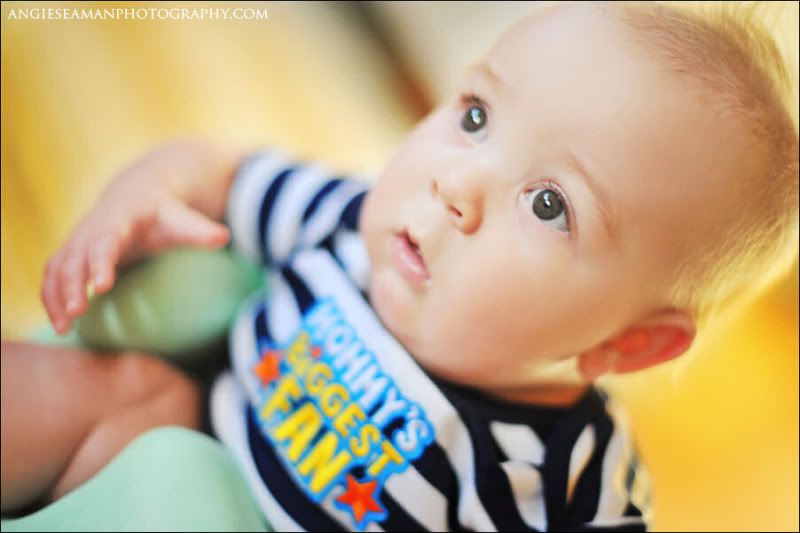 Mama likes editing best on her laptop instead of my desk-top even though I realize it's a no-no. Since when have I ever been one to obey the rules anyhow?
For now, I'm off to snuggle with my boys while my princess is resting peacefully. I'm trying to be quiet so that I don't wake everyone but of course we always become a total klutz when we try to traipse thru our houses like mice. Don't we? You know, tripping over the sick 12 year olds shoes and backpack. Dropping silverware in the sink even though you tried to place it in there gently and ever so softly. Let's face it - being up and wondering around any house at 3am is never good for the additional occupants in your home. I'm thankful I have a fan club here and that they forgive me - a lot!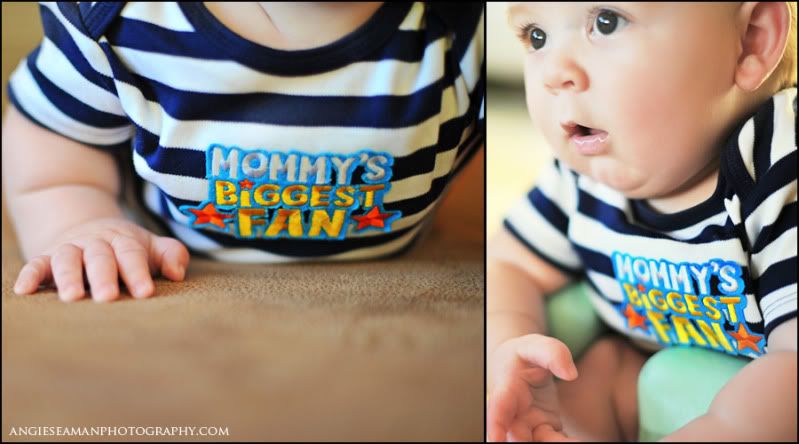 Have a FAB Thursday! Much love, Angie
Labels: Brennen, Kenidi, Kross Anthony Seaman, sick kiddo's