KROSS ANTHONY SEAMAN - 4 MONTHS (NAPLES, FLORIDA CHILDREN'S PHOTOGRAPHER)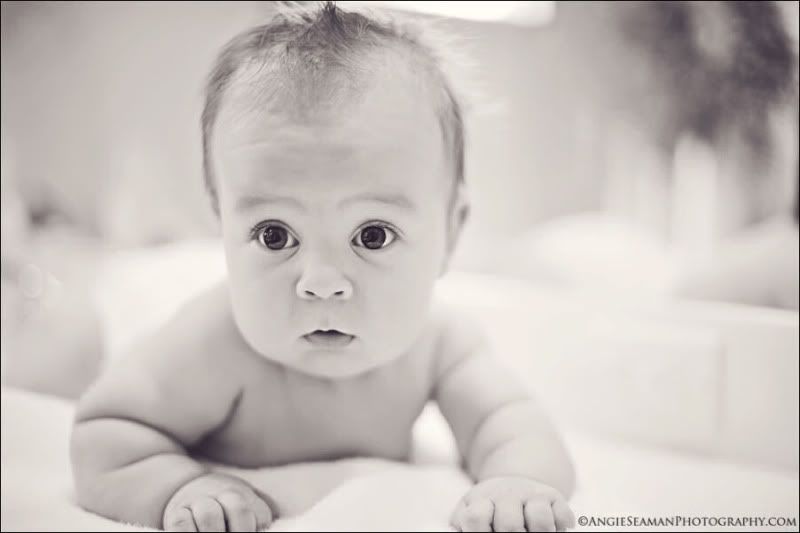 Little Mr. Stud-man, Kross Anthony, is 4 months old as of this week. It's crazy to me that this wee lil' one of ours is already four months old. He's really come into his own personality now. He's smiling, belly laughing, cooing, gooing, melting our hearts by the minute. And as for any concerns or worries that I might have once had regarding him being born with the same condition Kenidi has, well he's put that to rest. This baby boy has a ton of strength. No low muscle tone here. When I put him on his belly, he is already army crawling across the floor. He's scootin' on his belly like nobodies business. Aside from that progress, he still has the one tooth trying to bust through on the bottom as well. The amazing thing is just what a happy baby he is. Rarely does he ever cry and if he does, its generally at night in his car seat now or if I should leave him with someone he's not overly happy to be with. LOL!
In other randomness, our whole house is recovering from being sick. That Indy trip and the cold temps there really kicked our butts. I was so out of it this weekend that I finally broke down and went to the doctor which is soooooooo out of character for me. Kenidi and Brennen are healing up now and Kross's ear infection is on the mend. What a helldacious week its been. WHEW!
Speaking of doctors, I am having to go back to my cardiologist here in Naples tomorrow morning and get hooked up to another holter monitor. When I was in Indy, I had an appointment with my regular cardiologist and she was concerned because my pulse was racing again and they couldn't get it to come down. It was another episode of synus tachycardia that I'm so very, very familiar with. The weird thing is normally I can feel that when it's happening but on that occasion, I had no idea. Therefore, I'm off to be tested tomorrow for another 24 hour period to see if my heart is running at that pace all day or if its in spurts or what. The goal is to find the root cause and get it corrected. I'm praying it was just a fluke thing that morning in Indy and that my test will reveal good news. Can I ask that all of you keep me in your prayers as well? I'd greatly appreciate any you can take the time to send up.
And just because I'm so very proud of him...I wanted to send a shout out to my ROCK STAR son, Brennen, for making the honor roll yet again this nine weeks. He came home with straight A's and a 4.0 GPA on his report card today. He's worked so hard since moving to Florida and getting acclimated to a new world here. Brent and I are extremely proud of his drive, determination, and will to succeed. His teachers are all constantly bragging on him and telling me what a great kid he is and how glad they are to have him in class. He's been recommended for some honor classes next year but we are having long discussions on whether or not he should accept those offers. I personally don't want him to have to spend his whole life studying and stressed out. He has enough work now so I worry that putting him in the advanced classes will make it even that much worse. We've got some time to mull all that over though. I don't want him feeling pressured one way or the other. CONGRATS on all of your awesomeness B-Ster! We love you so very much and are elated at your accomplishments!
For now, I'm off to go work on some new branding and designs for my photography site. My web gal, Crystal, is in the process of helping me re-vamp and freshen up my photography site, blog, etc. It's been 2 years since my last change up and you know how I like to keep things new and vibrant. I'm excited to share the new look with you guys once it's all completed. So many great things are happening here in Florida for me and my photography business so I want to make sure I stay ahead of the game and always "awake" when it comes to knowing and "nailing" my personal style. I believe that in order to stand out in this industry, you must know and "own" your style. Branding is a huge part of that personal style. So...stay tuned for a new, fresh, funky, modern, yet sophisticated look. In the meantime, my classes are starting back up again at the end of this month. If you are interested in beginner online photography classes or beginner photoshop post processing classes, go HERE (on the classes page) to sign up. I hope all of you are having a FAB week. Until next time... Angie
Labels: 4 months old, Angie Seaman Photography, Kross Anthony Seaman, Naples Children's photographer