THE LAUNDROMAT SHOOT - NAPLES FLORIDA ENGAGEMENT PHOTOGRAPHER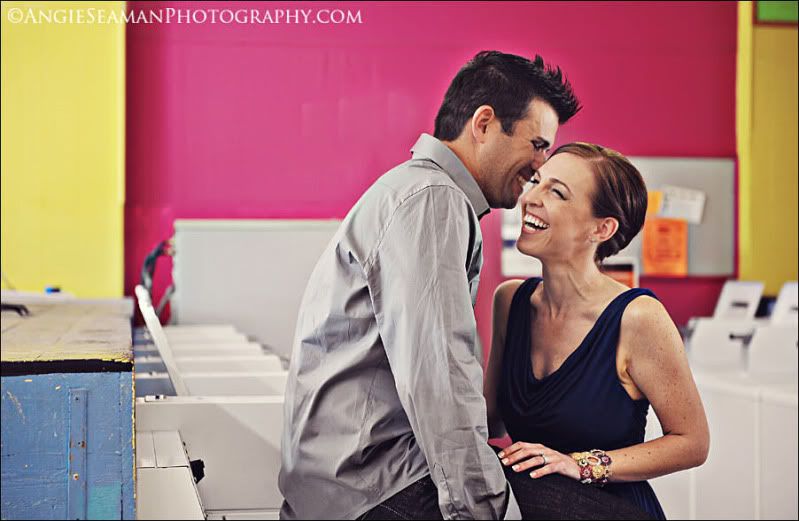 I have had this "dream" of shooting in a laundromat for a very long, long time. I've yearned for the look of beat up old vintage dryers and the rows and rows of washers in the backdrop of one of my shoots forrrrrr-evahhhh! When I moved here to Naples, I couldn't get over how many old and rustic laundromats were around in the off beaten paths - the uncharted areas of town. I began my search several months ago for a laundromat that would allow me to shoot there. Unfortunately, a lot of the owners were all men and had no desire to participate in a having their establishment as the backdrop of a shoot. It wasn't until we stumbled upon an owner who happened to be a female that my luck changed and she approved the shoot. Que Maria, the owner from Suds and Duds here in Naples, Florida. I owe her my right arm for helping me make my dream of shooting in a laundromat come true.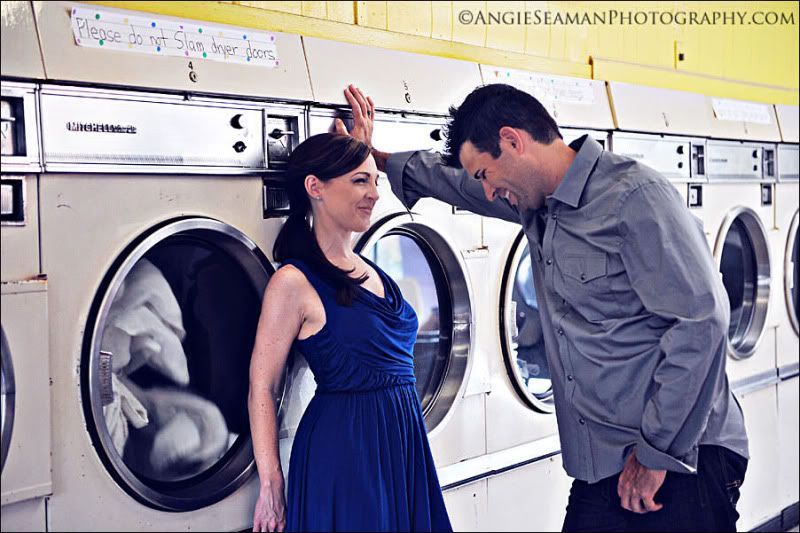 Thankfully, I also had very willing clients. No, they didn't meet in a laundromat. There are actually already married to one another as well. This was just a fun location that was different and unique, out of the box, and totally out of the norm. I was fortunate enough to find such willing participants for this idea. Que Brandon and Angela. They live here in Southwest Florida, in the Ft. Myers area actually. Angela was all for making the trek from Ft. Myers down to Naples for me. We hooked her up with Maray Delgado, a make up artist who worked her magic on Angela for the afternoon. Maray's website can be found HERE. I've lucked out recently on having the men in my shoots be extremely cooperative. Brandon ROCKED this session with Angela as if they had done this all their lives. Like they were professional models or something.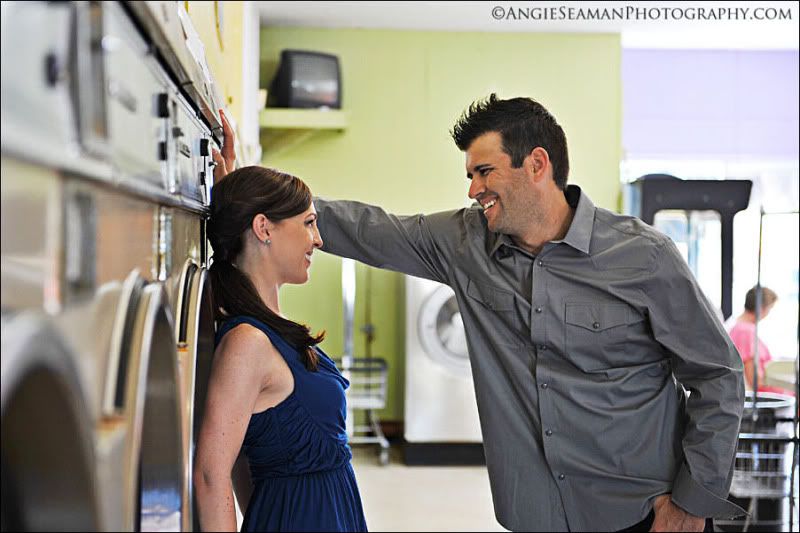 Angela and Brandon were married just this past November. Therefore, they are true Newlyweds. So....when we said "kiss one another," they had no problem tackling that mission. LOL!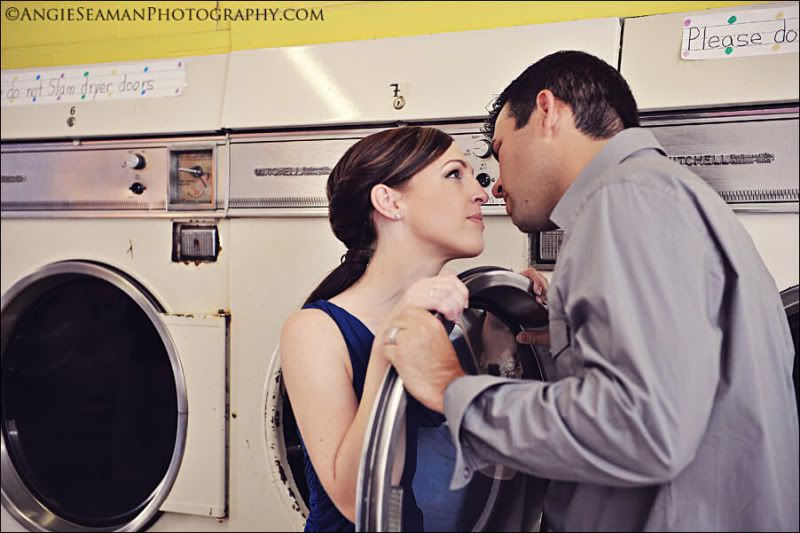 Yes, this laundromat even had the old school "rollie carts" as my friend Megan likes to call them. Fun stuff!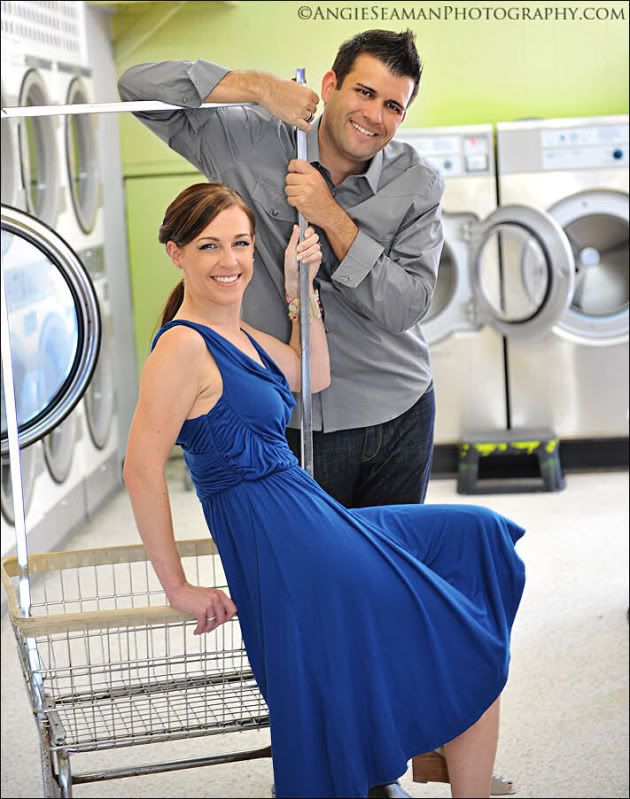 Something a lil' steamy... :)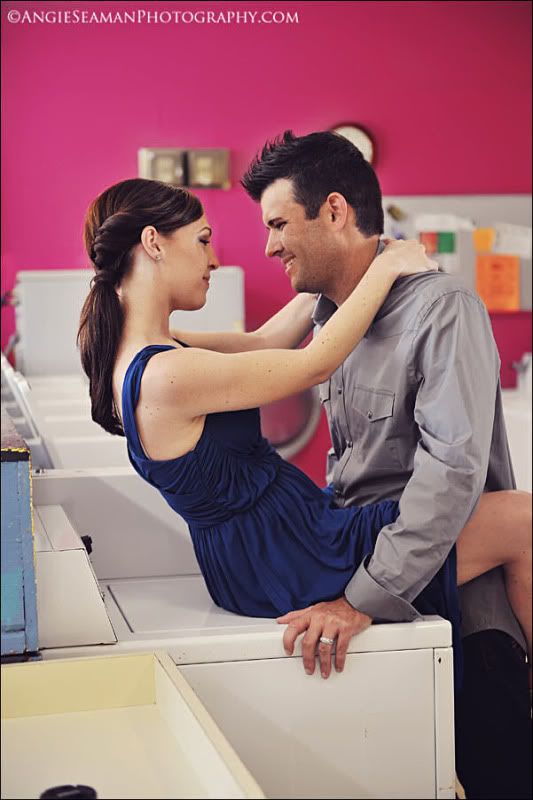 The lighting inside this location was gorgeous - as you can tell by the shot below. There was so much natural light beaming thru the front window of the laundromat that it could have been deemed "criminal."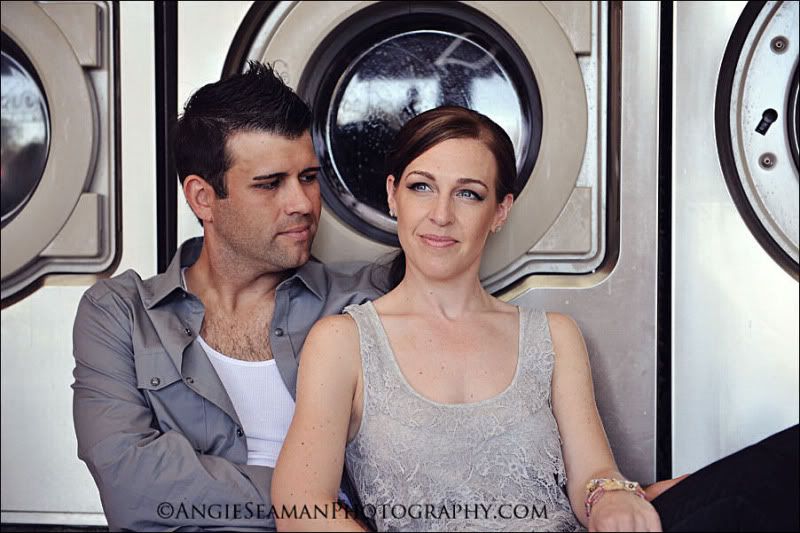 I absolutely love how Brandon is gazing at Angela in the image below.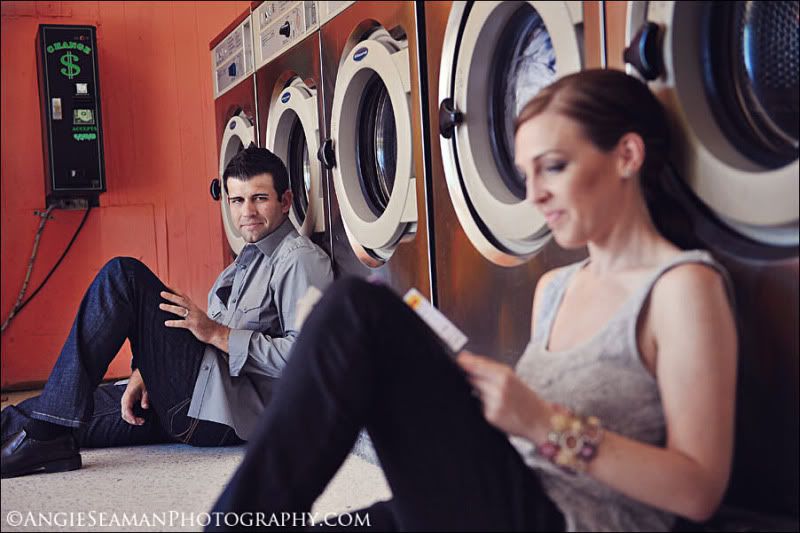 And this shot...the shot where she is grabbing his shirt and pulling him closer all while he carries that wonderful grin...priceless! Their laughs throughout this session were sooooooo amazing. Nothing looked forced - they have such great body language - great chemistry together!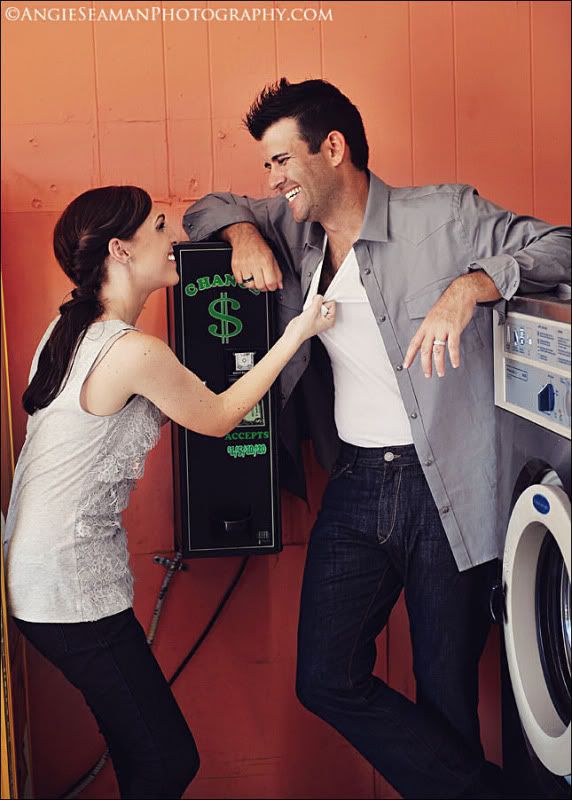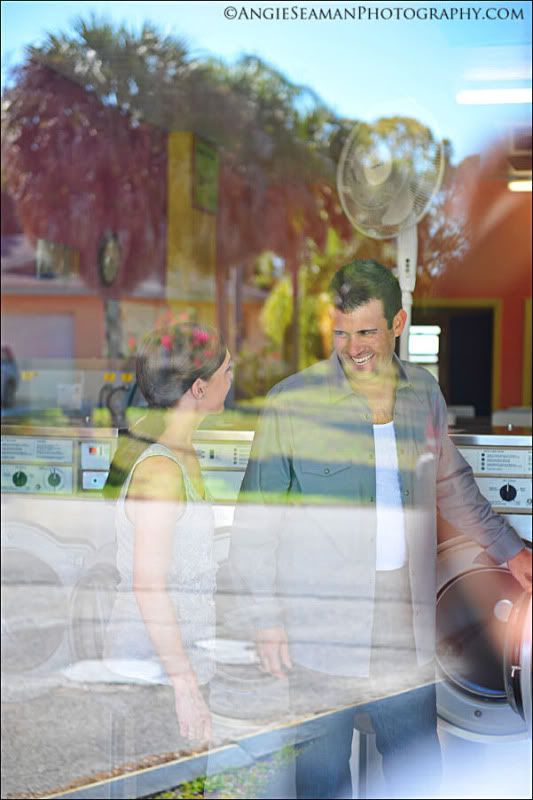 This shot above??? Let me explain. I stepped outside the laundromat to check out the lighting from outdoors if I were to shoot from there into the inside. They didn't realize I was still shooting so in turn...I captured this totally off the cuff and candid moment between the two of them. It is one of my favorite shots from the whole session. I love how you can see the inside as well as the reflection of the outdoors on that one window.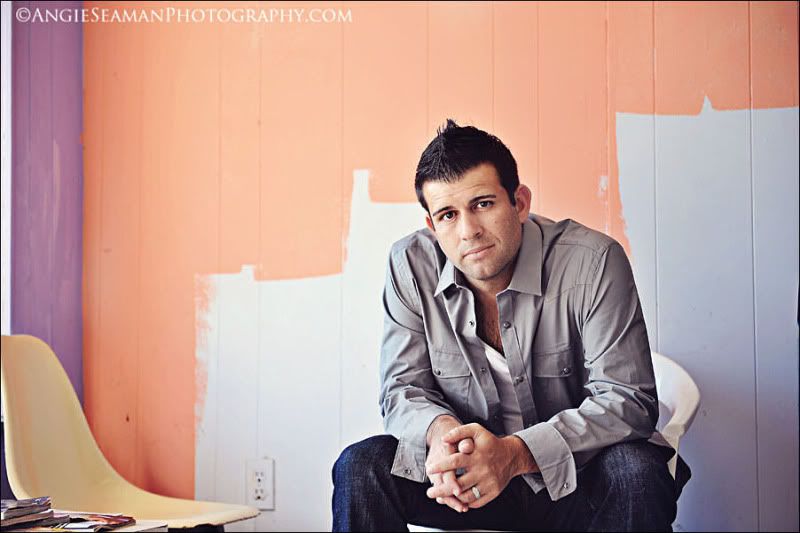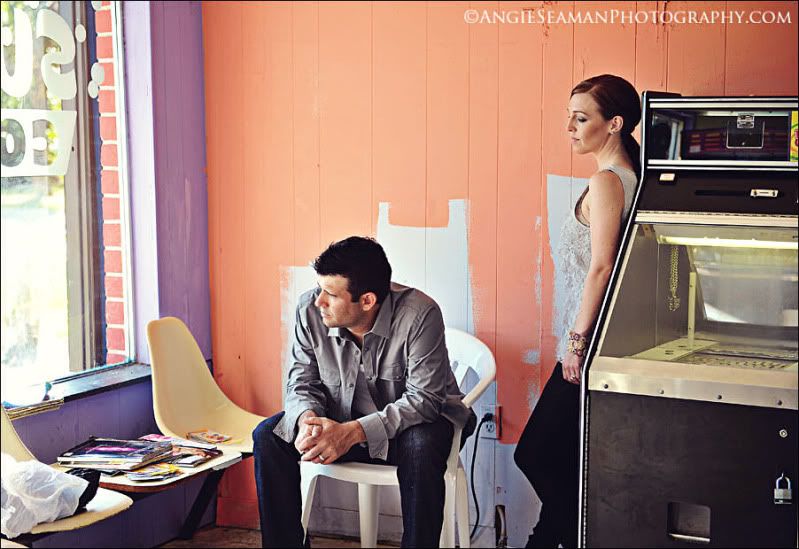 They look like something out of a magazine in the shot above.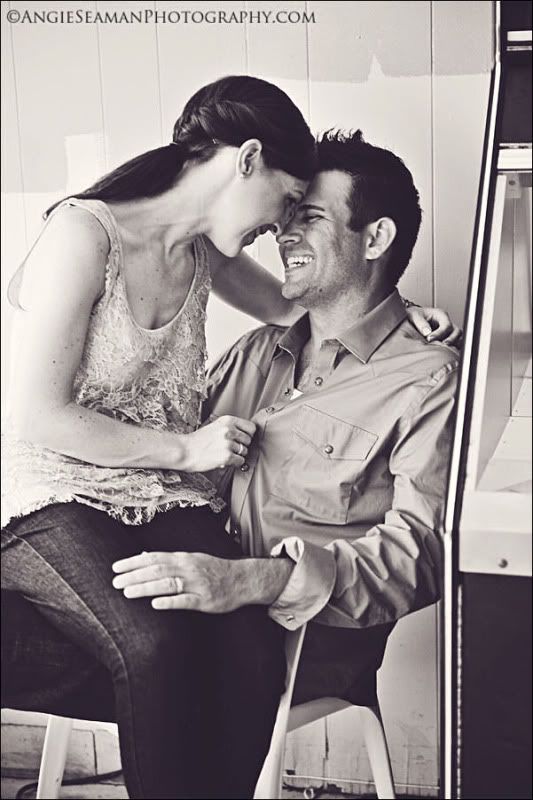 ABOVE: There is that chemistry again. :)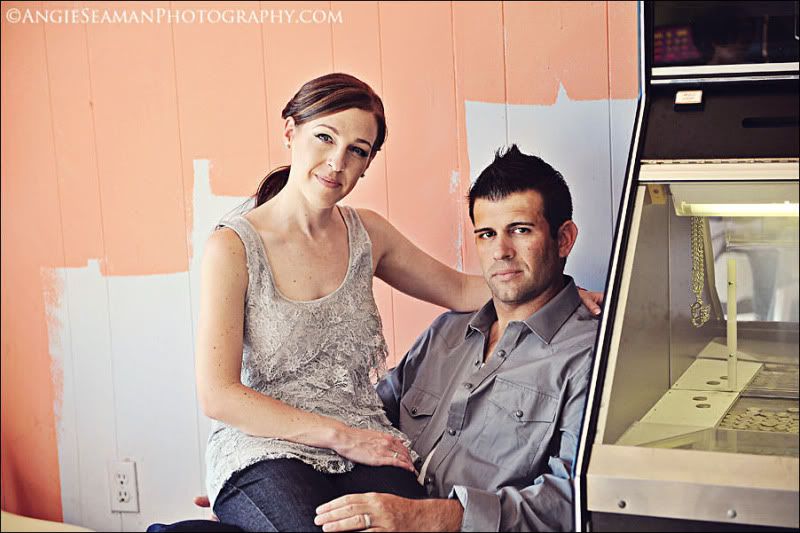 Such a HOT couple! My girlfriend said the image below looks like an ad for Sunglass hut. :) We broke out the alien bee light kit for those shots and totally canceled out that harsh sun on their faces. Amazing!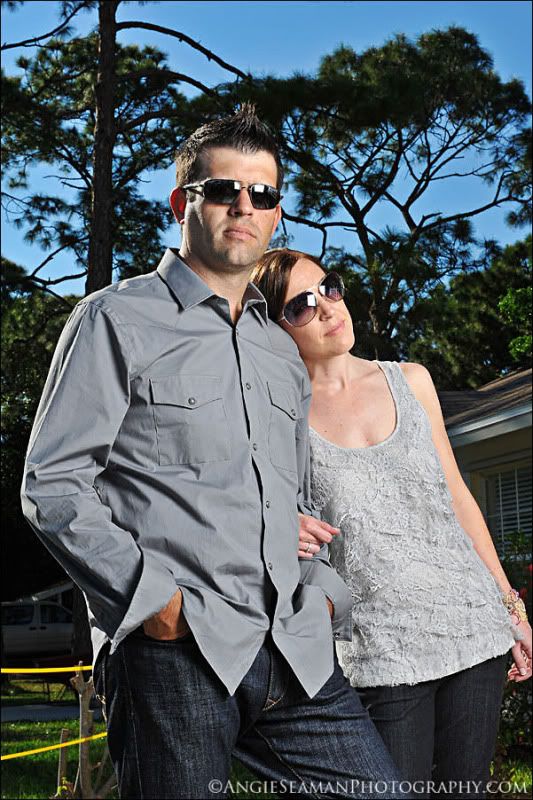 And this next picture below, I was standing inside the laundromat, they were outside. I took the shot from in between the "Suds and Duds" lettering on the windows.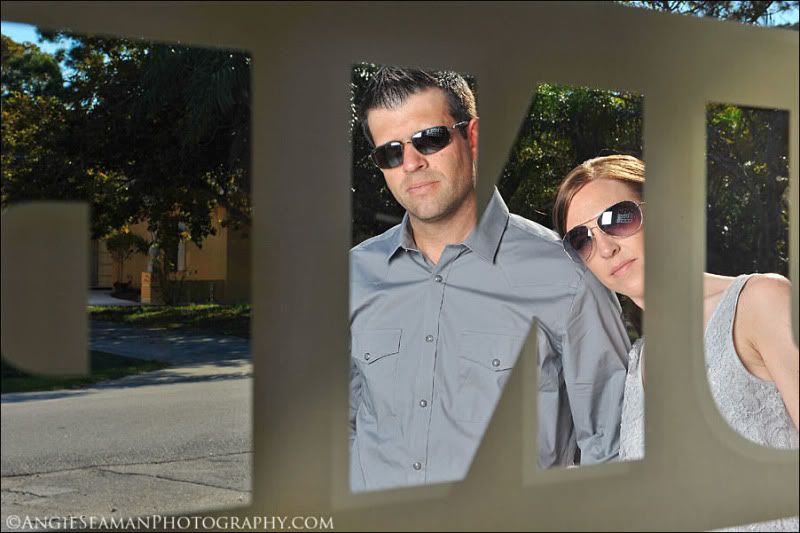 At one point I walked around back and found an old bike with vintage handlebars. I knew right then that we had to find the owner and put her on the handlebars for a photo. Thankfully the owner was inside the laundromat and agreed to let us borrow his bike for the shoot.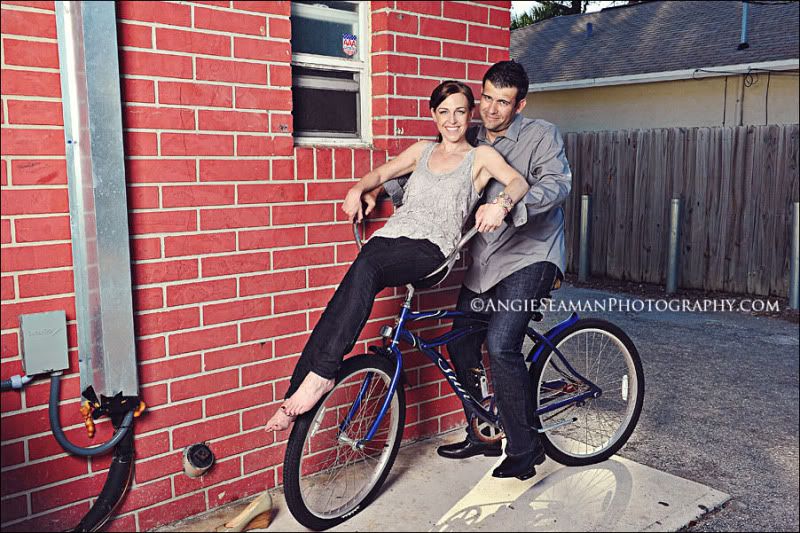 I snapped this one thru the foggy dryer door...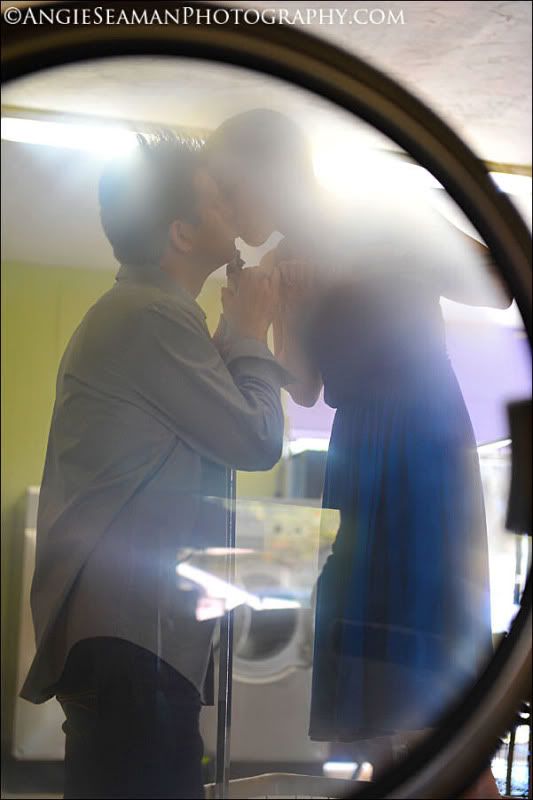 And this last one...well it was taken outside as well. The sun was beating down and I was trying desperately to find a spot on the wall of the building which would show both of their shadows together. Thankfully with Brandon's help, we found a large enough light spot and pulled it off. How cute is this???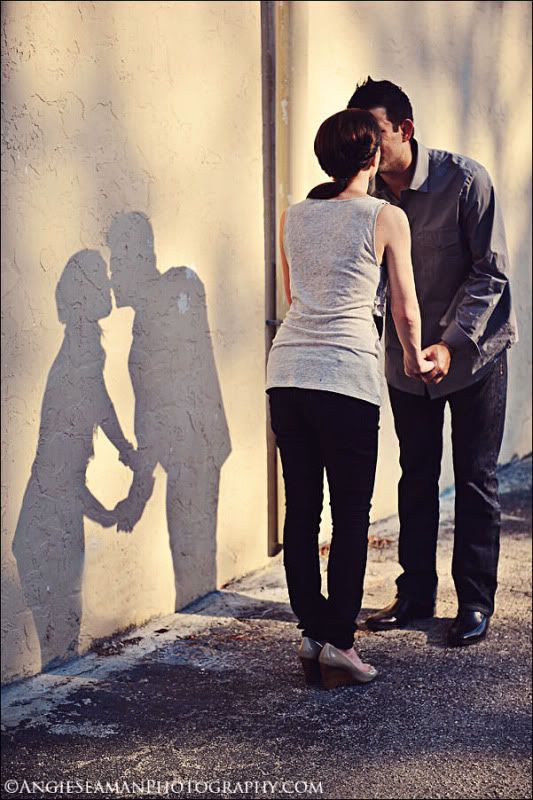 I loved everything about this shoot. The location, the clients, the final images. It all was pure RADNESS as I commonly like to say. Thank you to the laundromat owner, Maria, to the make-up artist, Maray and to the clients who helped make this happen. Good times! Good times!
Much love, Angie
Labels: Angie Seaman Photography, Florida, Laundromat shoot, makeup artist, makeup envy, maray delgado, Naples, Naples Florida Engagement Photographer, Suds and Duds