MORE FAVORITE BABY FINDS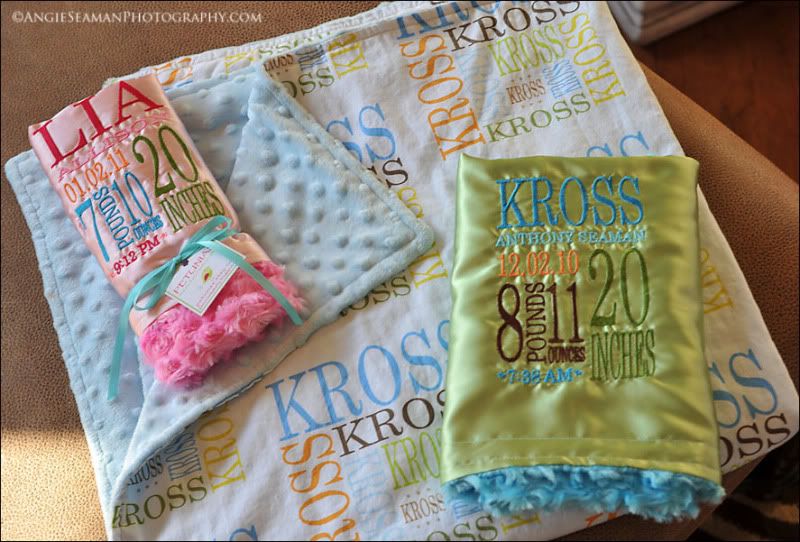 In keeping up with the promise that I would continue to blog about my favorite baby finds since Kross's birth last month, I couldn't continue sharing items without sharing these incredibly beautiful baby name blankets first. Beings that I am a "sewer" myself, I really appreciated the uniqueness of these blankets when I stumbled upon them on ETSY. In my height of the AGD days, we designed and made many baby blankets. However, none were as cool as these in my opinion. Kelly, from Petunia's, has been phenomenal to work with. Beings that I am always impatient, I requested rush items on these blankets each time I ordered one. And each time, Kelly had the blankets done and shipped out to me within two days of my order. The larger KROSS blanket took longer to order due to the rare name fabric but it still arrived sooner than I expected it to.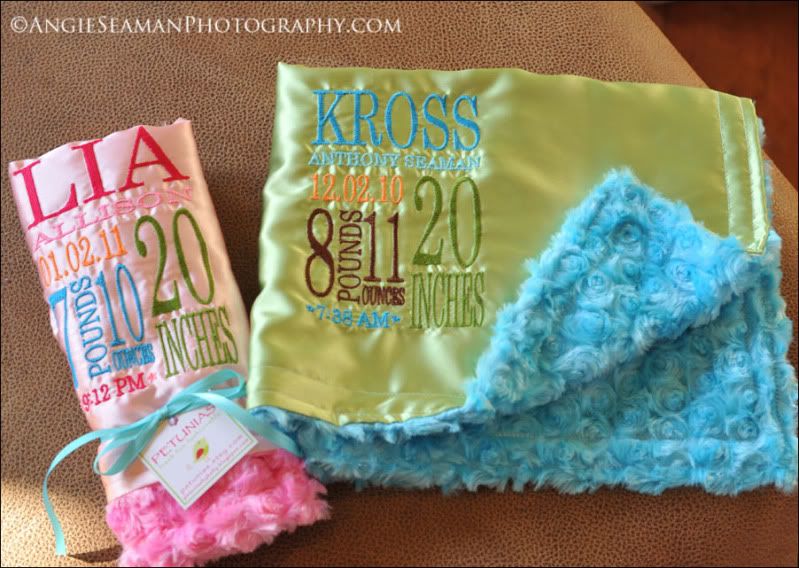 The smaller two blankets are car seat/stroller blankets for the little ones to play with. They are both somewhat folded up here in the pictures shown but they are the perfect size for your babies to hold onto. (15 x 17) The pink one is a baby gift for my dear friend from high school, Sarah, and her new little girl Lia. Lia Allison was born just one month to the day after Kross. Both of our pregnancies were a surprise to us and both of us are considered AMA (Advanced maternal age) when talking pregnancy. That means we are 35 or older. LOL! Sarah and I changed the AMA title to "Awesome Mom Again" instead though. We thought it was way more fitting for the two of us than that cruel term of Advanced maternal age. :) I wanted to photograph Sarah's blanket before sending it off to her so that you could see the variety that Kelly from Petunia's has to offer. These stroller blankets are gorgeous and so very soft and cuddly. Kelly calls these "Little fluffy" blankets in her shop.
The above blanket that Kelly made Kross for when he was born is one that we get TONS of compliments on when we are out and about. I throw it over him when he is in his car seat and stroller. Many people have stopped us to question where we got it. I absolutely L-O-V-E it. Kelly calls this one the NAME GAME MINKY BLANKET in her shop. Both styles of her blankets are just so very different. If you have a new baby or need a unique baby gift for a baby shower or something, these would make for a great gift item. Pay Kelly a visit by going to her ETSY store located HERE. Her customer service is phenomenal and her products are absolutely adorable. Thanks Kelly! We love all of our Petunia's items and will definitely be back for more in the future.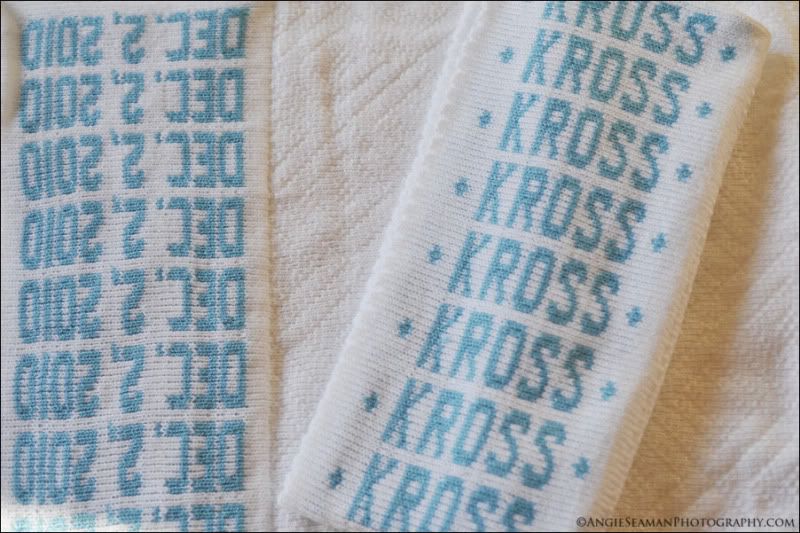 And last but definitely not least, this knit blanket you see above with Kross's name and birth date on it is an item that Brent's cousin and his wife sent us as a baby gift for all three of our kids. When our children were born, they gave us one of these blankets for all of them. Julie, Brent's cousins wife, has a Mother who is extremely talented in the knitting department and she makes these for us. Julie's Mom is named Judy and we can't thank her enough for always making these beautiful heirlooms for us. The blanket has Kross's name on the front side and his birth date on the back side. We kept these blankets in Brennen and Kenidi's rooms until they got bigger. Now they are inside their memory trunks for safe keeping. I am so glad to have Kross's now as well. A HUGE thank you to Brady and Julie for incredibly awesome gifts to us such as these blankets each time we had a new baby. We really appreciate it you guys. You are too, too, kind to us. :) If this style of blanket is of interest to you, let me know. I can contact Judy to see if she is up for making "more" for others. :) (Judy resides in Indiana but I'm sure the blankets could be shipped if you reside out of state)
And speaking of the memory trunk that I mentioned above...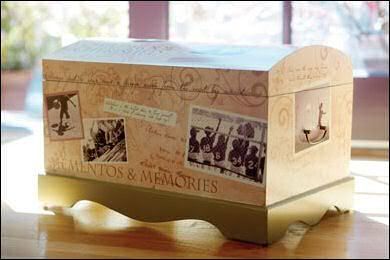 This is what it looks like. I have three trunks like this...one for each of our children. I just got Kross's in the mail last week. I made sure to order his right away as we already had his birth memorabilia stacking up and the items needed a place to be stored. These memory trunks are where I keep their accolades from school, sports, etc. I keep old report cards, awards, art projects, their yearbooks, their baby items such as hospital bracelets and blankets/clothes they wore home as a newborn. Also in there are their first hair cut boxes, their lost teeth - you name it - its in there. The trunks are nice sized - (22 x 14 x 13.5) and keep all of your sentimental memories nice and neat. I'm an extremely organized person and I like to be able to find things when I go looking for them. These trunks are great when you want to quickly find and peruse thru old childhood memories related to your babies. The memory trunk comes from a company called "Once upon a family." If you've never heard of them, check them out ASAP. They have amazing products that help you remember those meaningful moments in your life. You can visit their website HERE.

I hope these items are something that interest you guys. I love all of them and totally recommend the sellers to each of you. The quality of the products above are superb. You can't go wrong with any of them. Happy shopping. Tell them Angie sent ya'!

Much love, Angie
Labels: baby items, baby shower gifts, favorite finds, Kross Anthony Seaman, memory chest, memory trunk, once upon a family, personalized baby name blankets, petunias