THE PUJ TUB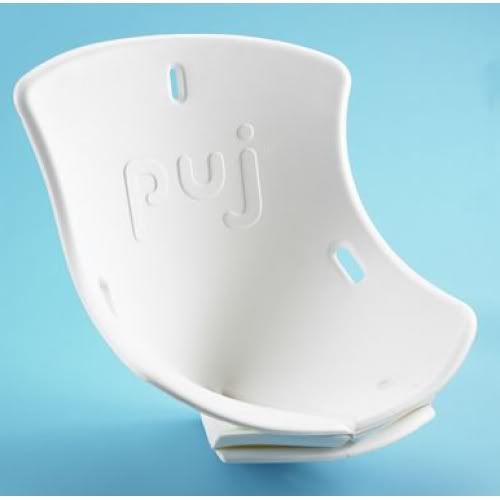 I promised each of you that I'd be sharing some of my new "favorite finds" in the baby department over the next few posts. This just happens to be one of those posts devoted to a new favorite product that we are using here in the Seaman household since Kross's arrival. It's called the "Puj tub." If there is one thing I detest it is big bulky things that take up way too much room in my house. Thus why I was on the search for a decent baby bath tub this time that wasn't the size of Texas. Que the puj tub. The puj tub is not only light weight and little enough to fit in any size sink successfully, it is also storeable - completely flattened and non-invasive when it comes to taking up space.
As you can see by the image below, Kross loves his Puj tub. This is him getting his bath the other night in my bathroom sink...(Ignore the white balance being off in my camera for all of you photogs. LOL!)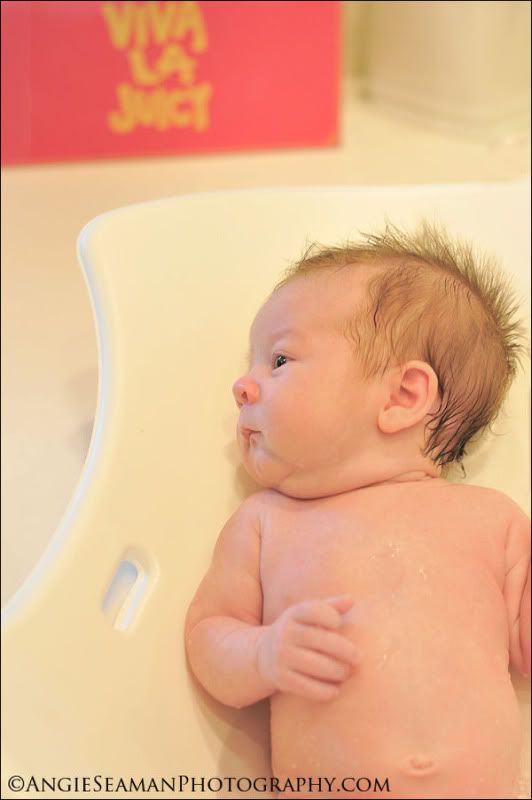 The pictures below are ones I found on the internet. They give you a great idea and visual word picture on how this awesome baby tub works...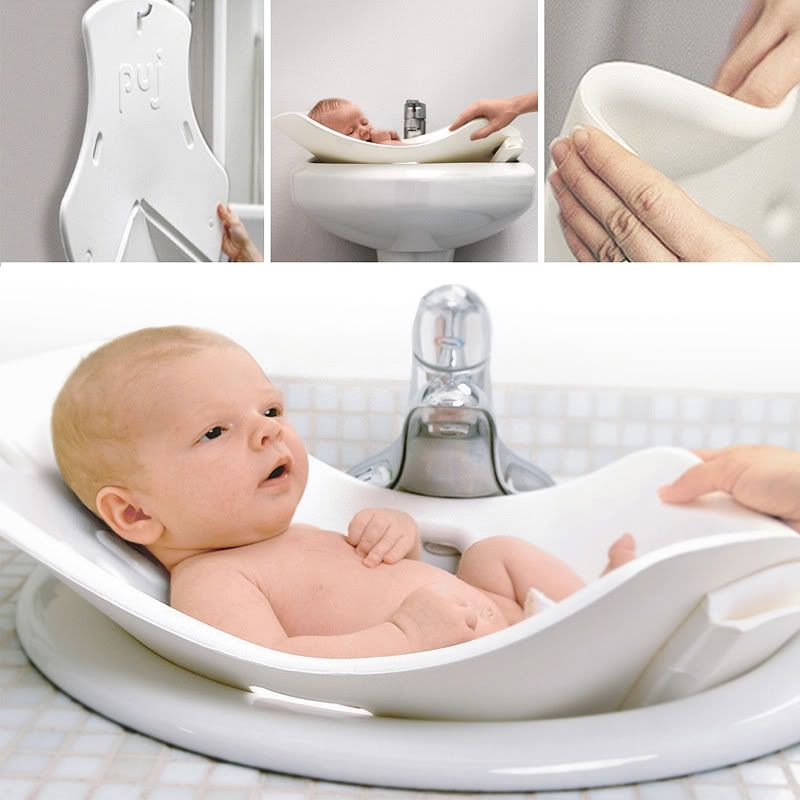 This tub feels like a rubbery foam material. It can be hung when storing (which is how we store it) and then it folds up and clicks into place when ready to use it.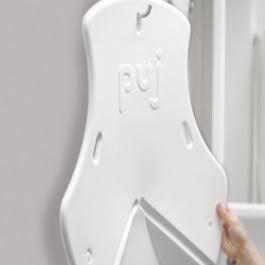 The series of shots below show you how to place it in the sink when ready for use. It takes mere seconds to click it together and get it ready for use. LOVE!!!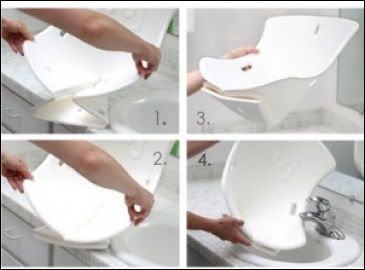 I personally love how the tub conforms and cradles your baby allowing you to wash him/her with both hands free. You can store the tub by hanging it on the back of a door or something when finished using it. The water dries off of it within minutes due to the foam material. The foam protects your little one from the cold feeling of a normal plastic baby bath tub. This tub was an incredible product for a c-section mom like me. It allows me to bathe Kross without having to bend and lean over a tub following my surgery. This tub is suitable for newborns up to 6 months.
Again...Kross is happy and content in his. That makes Mama a happy girl too...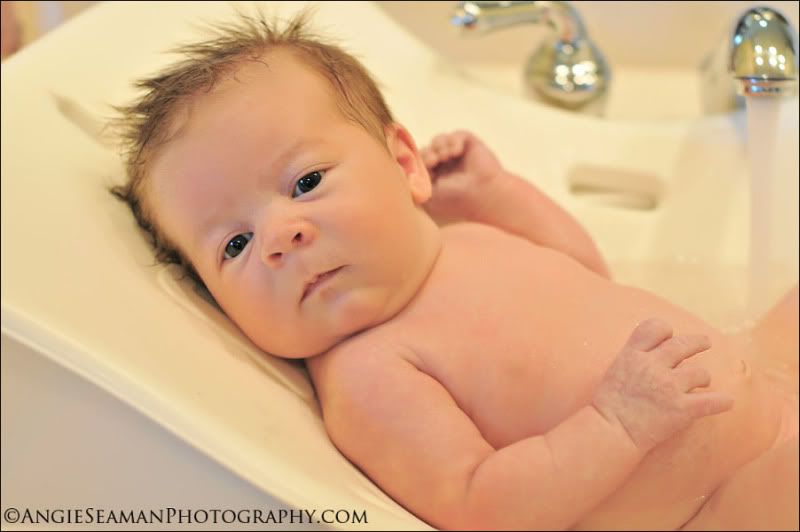 The puj tub will run you approximately $30-$40 new. I found ours online and am so glad I decided to go with it over any other bath tub.
On that note, I'm off to finish some laundry. We discovered a great app on my iphone today called "white noise." It has a blow dryer sound which helped put baby Kross right to sleep today. That one app allowed me time to do laundry, unload/reload the dishwasher, shower, take the Christmas tree down, etc. It was a God send. So...while we are discussing some of my newest favorite baby finds, check out the white noise app if you have an iphone and a new baby. It's amazing! Now, if there was just an app to keep his big sister quiet while he is sleeping, we'd be doing GREAT! LOL!
I'm also off to lather up in aloe vera lotion. Two nights of tanning after having not tanned in 9 months left me looking like a total Florida tourist right now. That or a lobster that escaped from the bottom of the ocean. I AM FRIED! And before anyone jumps my case about it...I only tanned for 10 minutes each night. Needless to say, this tanning spa has great - very strong beds - and I am one pasty white ghost. Put the two together and you have a "tourist" look going on. Sooooo not pretty. Nor does it feel good on your back, legs, and stomach when trying to sleep. Add a scratchy nursing bra to the equation and life really sucks. It's a darn good thing I remembered to cover my incision site with my towel and my nipples with my nursing pads. #Iamasmartgirl! Ha ha!
Much love, Angie
Labels: baby bath tub, Kross Anthony Seaman, Puj tub