ONE WEEK OLD - NAPLES, FLORIDA NEWBORN PHOTOGRAPHER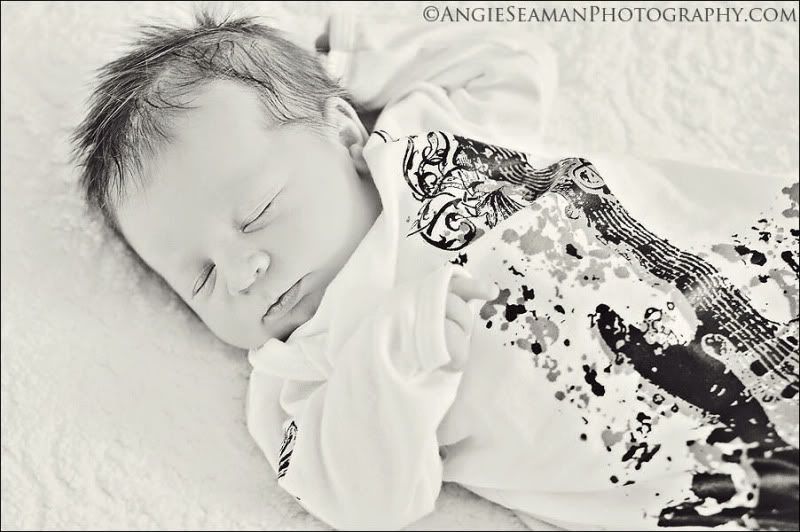 It's Saturday afternoon. I just said good-bye to my parents as Brent walked them out the door to take them to the airport. They are headed back to Indiana today. Needless to say, I'm an emotional wreck. After a year of living here in Naples - apart from them - you'd think it would get easier to say "until next time" but it hasn't. If anything, the departures get worse. Of course it's bad today because I'm dealing with postpartum hormones that make me crazy sappy too. My Dad and Cathy were such a huge help over the past 11 days. Cathy did every stitch of laundry in my house the whole time and even wrapped all of my Christmas gifts for me that I had shopped for so that I wouldn't have to bend over and wrap them myself following my c-section. Her and my Dad made multiple trips to the grocery store for us as well as Target - getting food and such things as newborn items for me that I needed for Kross. They cooked for us at least once a day - sometimes twice a day while here too. Food like homemade dumplings (one of my favs), Cathy's famous chicken salad (another one of my favs), her chicken burritoes that ROCK, and so forth. In a nutshell, we are completely spoiled now and will be going thru some serious withdraws as they make their way back home to cold Indiana. I miss them already. My heart aches to have them here with us all of the time - to watch Kross grow - just like they did every week with our other two children. I have tremendously involved parents and the same goes for their grandparent roles. Unfortunately they won't get the chance to watch Kross grow as they did with Brennen and Kenidi. In the meantime, AMEN, Hallelujah, and thank you God for Skype! :( My problem is that not only do I have very loving and supportive parents but I also have "fun" parents. I mean how many other Dads do you know that will walk the "maxi pad" aisle with their daughters and laugh with her while she jokes about how gross "pads" in general are and how I don't have a clue which ones to buy for the "after child birth" fun. We laughed together as I told him that I should've sent Brent in here to buy them for me just to embarass him. :) How many Dads do you know that will help talk their daughters into a hospital suppository when she has gas pains so bad from surgery which kept her constipated and unable to barely move following a c-section. My Dad talked me into it and gladly left the room when they came in to administer it. LOL! Just keepin' it real peeps. Not only that but he walked the hospitals hallsways with me during those first few times they had me get up and walk following the surgery. He walked slowly and supportively with me - as he always has - during those night time hours when I was trying desperately to feel like "Angie" again so I could go home a day early from the hospital. How many Dad's do you know that you can nurse/breastfeed in front of and not feel "weird." I'm close with my Dad - very comfortable with myself and my life around him. Why? Because he has always put me on such a pedestal as his daughter. He helped give me the self esteem and the self confidence to reassure me that I am good enough in this world. On a funny note, he had me "autograph" all of the magazine layouts/spreads that I've photographed for recently and have had published. He wanted his own copies to take back to Indy with him. I signed one of them like this: "To my buckethead Dad...thank you for being my biggest fan!!! I love you so much! ~Angie"
My Dad makes me feel worthy. He lets me know how much I am loved just by his constant show of encouragement and support for me. I can't thank him enough for teaching me that "I've got this." (whatever "this" might be from day to day in this world.)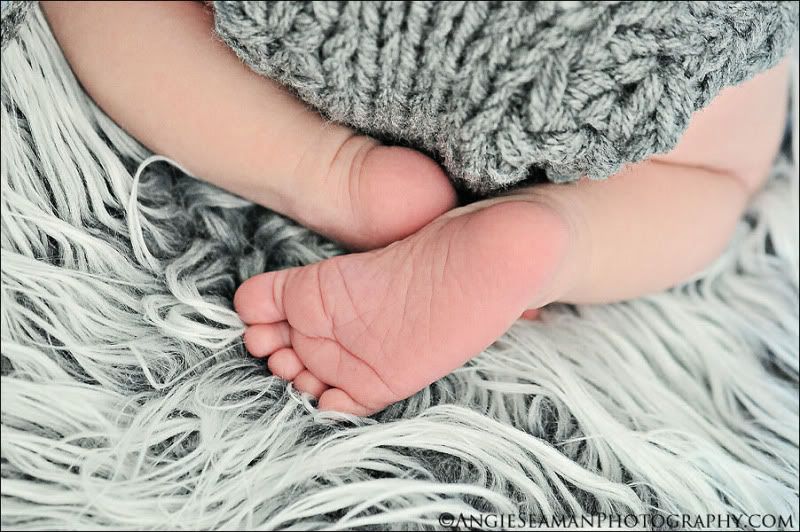 As you can see, I finally got out my camera yesterday and managed to snap some images of Kross by himself. It was the first chance I've had because of a lingering fever and flu like feelings since this past Monday. After a quick follow up at my OB's office on Thursday, she determined that the fever isn't from my surgery or incision and that it could either be a normal virus coming on or the start to something surrounding breast feeding. Earlier today, after the last 24 hours of a very sore throat and raging hot/cold, hot/cold, hot/cold chills and such, the doc called in an antibiotic for me in hopes of curing strep throat if that is what I have. Brennen and Kenidi had it last week so it only makes sense that I could now have it as well. Of all times to get sick. UGH! I go back to the OB on Monday to get the results of some blood and urine tests that they did as a pre-caution. Either way, Kross is great - and is such a good baby. He is becoming more and more alert with each passing day. His beautiful blue eyes make my heart melt and the love our other two kids have for him is just priceless. I've said it before but I'll say it again...we are so very blessed!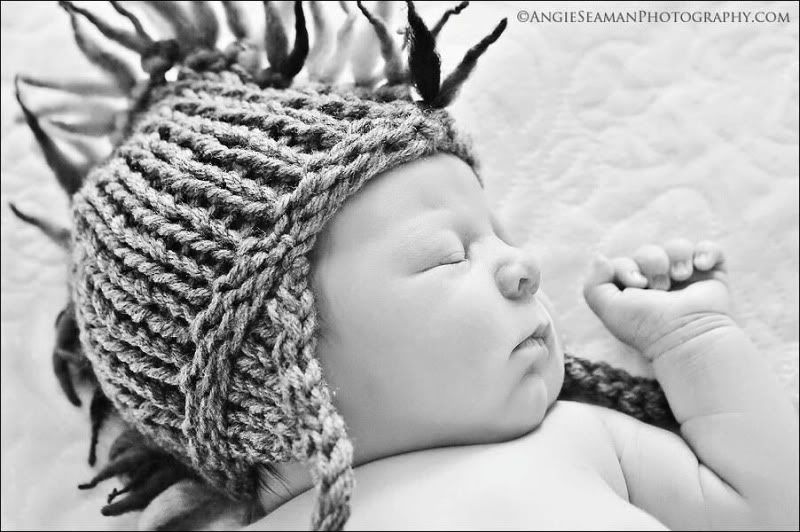 Due to feeling so crummy, I haven't blogged or photographed much at all. I'm hopeful the antibiotic I started today will take care of that and heal me right up. I got in some really cool newborn photography props yesterday and I'm dying to use them with Kross. That child really has no clue what he is in for. LOL! #PhotogMama :)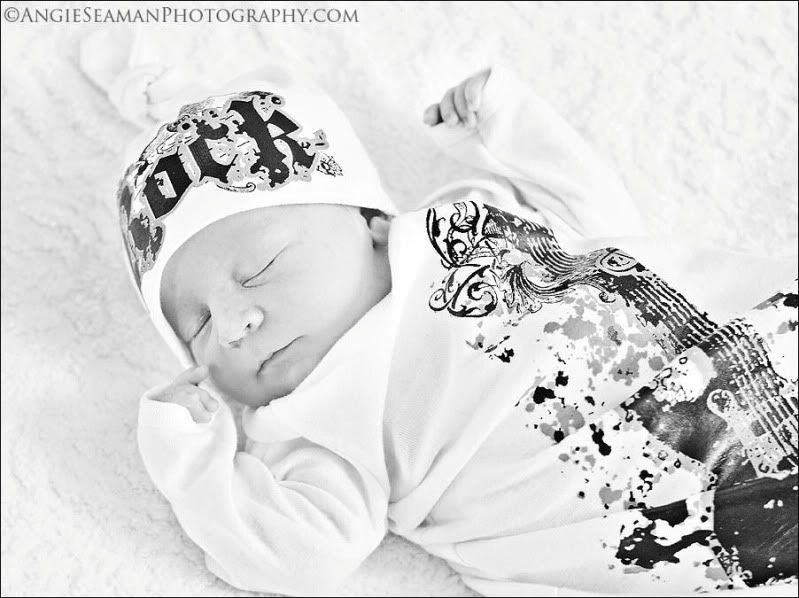 We found out that the pediatrician thinks Kross was weighed wrong at the hospital the day he was born. When he had his first follow up visit this week, his weight was 7lbs. 14 ozs. I knew he didn't feel like my other two 8 lb. babies did. He is such a little peanut - so very tiny compared to what I'm used to. He's nursing well - although still struggling to latch on pain free for muah! I'm confident that he will "get it" eventually. For now, I just press on - grinning and bearing it - when he does latch on. After a few seconds, he is where he needs to be and it doesn't hurt as bad. We are tag teaming it together - so far so good. The pediatrician said he has the "Kurt Douglas chin." Too cute!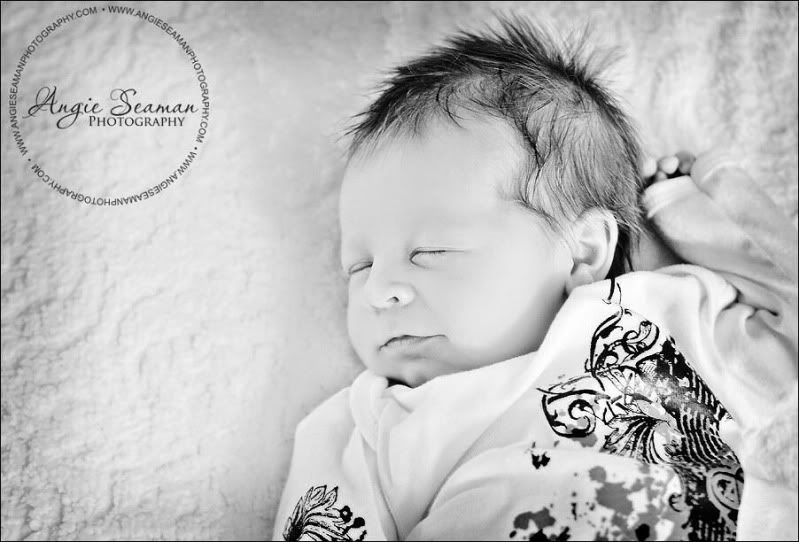 As Brent dropped my parents off at the airport, he was also there picking up his own Mom, Debbie, for her arrival. Perfect timing! Debbie is now here and will be here helping us from tonight thru next Saturday. I don't know what I'd do without all of their help. I'm so thankful for all of them. My Dad just called to say that they got to see and talk with Debbie briefly as she was getting off the Indy plane and they were getting ready to get on it. The plane she flew in on is the plane they fly back on. Deb left cold weather and snow for sunny Florida today. My Dad and Cathy are unfortunately leaving here and headed back to that arctic Indiana chill.

For now, I'm off to go dry my eyes, wipe off the mascara that I've cried off from my Dad's departure, and veg with the family now that my Mother in law is here. I will be glad to bust out of this house come Thursday when I'm released to drive on my own again. I'm going frappin' stir crazy at this point. I also don't want to take Kross out and about for another couple of weeks at least. Therefore, we've been totally cooped up. Thankfully, I'm braving a photography shoot with my fellow Photography Naples peeps this coming Saturday. We are photographing a band on the streets of downtown Ft. Myers. It's going to be a new challenge - photographing a band - and I'm sooooo up for it. It will be my first shoot since my c-section so I'm praying my abdominal muscles hold up nicely for the event. I've missed being able to lay on the ground and shoot from angles while on my stomach sooooo bad for the past 9 months. No matter what...I'm just ready to get out and photograph again. Poor Kross is taking the brunt of my down time. He'll detest the camera by the time he is 2. LOL!

Hope everyone has a fantastic weekend. Much love, Angie

PS...Just when I finally quit crying and get all of the mascara off my face, my Dad texts me this...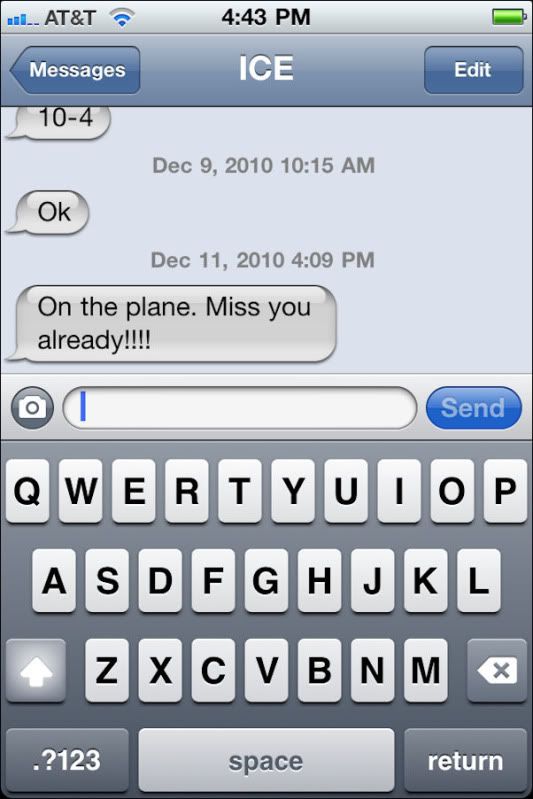 Round 2...Crying some more. :(
Labels: Angie Seaman Photography, Kross Anthony Seaman, Naples Newborn Photographer, newborn, One week old