NEWBORN FINGERS & TOES -- NAPLES, FLORIDA NEWBORN PHOTOGRAPHER
It's Tuesday morning. Around 10:30am. I'm watching Kross sleep beside me on my bed. He loves my pillows. He curls up like a little rolly polly bug next to them and hunkers down to zzzzzzzzz land as if sleeping was like hitting the lottery for him. Brennen and Kenidi are at school. Brent's Mom is up and about working on more of our laundry for us as it seems this house has nothing but laundry now. It's almost like someone suddenly says..."Oh you are a family of five now - well guess what - that means five times the laundry now too." BLAH! God knows how much I detest laundry. I avoid it like the plague. I'm good about getting it into the wash and into the dryer but folding it in a timely fashion and putting it all away is my weak side. I suck at that part. Suck really bad!
Today is the first day that I've finally felt like the real "Angie" again. The antibiotic the doc gave me over the weekend is definitely working and my swelling is almost completely gone now. I actually have ankle bones again and my toes no longer resemble snausages dog treats. Life is good! Although exhausted, I'm feeling much much better. I get released to drive again come Thursday. I can't wait to put Kross in the car and just drive down the street, along the coast/shoreline and smell the beach filled sea salt air again. I'm like a trapped rat right now - ready to go all rabid on anyone willing to go head to head with me. I don't like to be held down nor do I like to be out of control. I suck really bad at that in life too. I'm a "do-er" - not a sitter/squatter. Thursday can't come soon enough.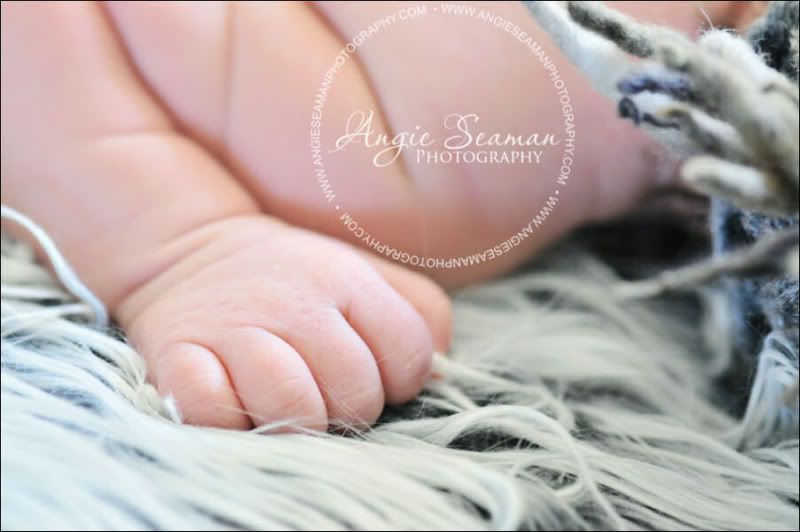 Because I love the perfect imperfection of scaly newborn skin, toes, and fingers...I thought I'd share Kross's lil' hands and toes today. He is such a shrimp - so very tiny. His fingers and toes are no different. In the pictures, he looks wayyyyyy bigger than he really is. Even my Mother in law commented on how tiny he was compared to what she was expecting after seeing his pictures. They always say the camera adds 10 pounds. LOL!
Speaking of that, I got to watch a slide show video of Kross's birth session from the hospital yesterday that my friend Megan made for us. She took all of the images that she captured and rolled them into an amazing video for us coordinated to music. It is truly the most beautiful slide show I've ever seen. She captured so many things that I would've missed with my own eyes that day had she not been there. I watched the video over and over again. I bawled like a baby. Not only were the images of Kross's arrival spectacular but I loved the shots she captured of things like my Dads hand holding my arm immediately following the surgery. A zoomed in shot showing nothing but Kenidi's hand locked with mine in the hospital bed. Shots like the one where Brent leaning is leaning over me in the hospital bed with a huge smile on his face as he stroked Kross's face for the first time. She captured some of the most heart wrenching tender moments amongst my family and I that I've ever seen. Brent watched the slide show from work and quickly emailed me back with an email that just read only these words:
"Crying...with Kleenex. You look beautiful! KK and Brennen are so precious."
I got his email and cried some more. That was after I'd already literally cried my eyes out while watching the video alone the first 50 times. He was right - Brennen and Kenidi were absolutely precious in the slide show images. Especially Brennen - watching over Kenidi while they awaited their baby broters arrival. He is such a nurturer with her and it really showed - A LOT - in this slide show Megan made for our family. It was like raw footage of the beginning of a life merging with those who've come before him (my parents, my other two children, his Daddy, etc.) Megan captured images and angles that helped to tell the story in a fabulous and very sentimental way. I wish I could share it with all of you but my big as a house appearance should be spared. No really. I was three times my size in those images - swollen to the max. I'll keep that video private for now. Maybe someday. I got on the scales this morning for the 2nd time since giving birth. I have 12 more "baby pounds" to loose before being back to my pre-preggo weight. However, the havoc wreaked on my bodies appearance in general will take months to return to normal. Months with a whole lot of walks on the beach and a whole lot of clean bland no fun foods. I'm up for the challenge though. I have to get some head shots taken for my website, for the magazine I'm doing work for and I've also done a stupid thing by promising Brent that we will have a family portrait done this year with the five of us. He is demanding that we get one done and I had to fold and comply. He's right - it's been too long since I've been in front of the lens myself. I'm ready to own that and make good on my promise to him. It's a scary thought - one that makes me want to vomit. However, I gave my word. I'm working on more new images of little "K-man" as well as Brennen and Kenidi. Now that I'm feeling better, I'm working on images for our Christmas/New Years cards as well as for Kross's thank you cards. My lab that I use for my client orders recently ran a Christmas special over the weekend with a huge discount code so we went canvas-ordering-crazy in our house this week. I'm finally getting my portrait wall pulled together of my kiddo's. I can't wait to share it and the canvases in general. My parents even ordered three new canvases of each child during the sale. They saved a ton by doing it when I placed my orders so it was a win win for them. Keep in mind - I'm an only child so my kids are my Dad and Cathy's only grandchildren. They wanted photos of each of them for their great room walls. I'm excited to see them hung up in their house when we go back home next time. (Hopefully over Spring Break if the planets align properly) :)
Kross is still sleeping so I'm off to finish paying some bills while I have the down time. Fun stuff - bill paying. Highlight of our lives, eh? As they say, life must go on. Enjoy your Tuesday. I'll be back with more pictures soon. Much love, Angie
Labels: Angie Seaman Photography, Kross Anthony Seaman, Naples Newborn Photographer, Newborn fingers and toes