MIA - MISSING IN ACTION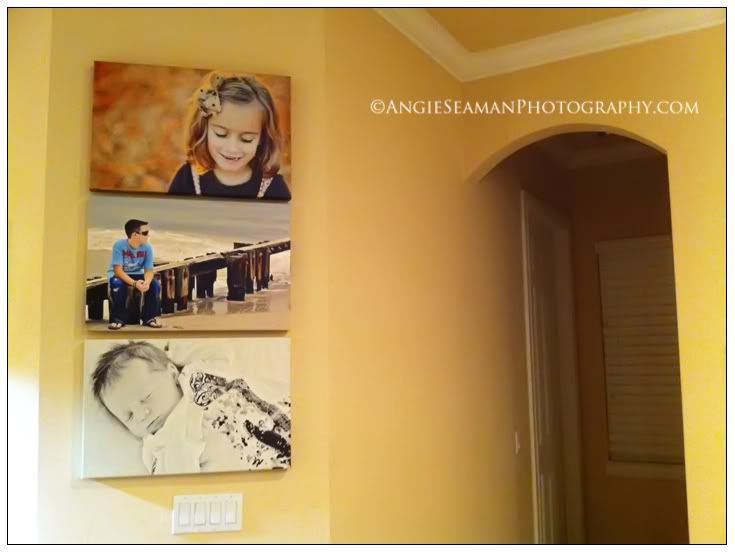 I think this was probably the longest I've ever gone without blogging. Can you tell that all of my "new baby help" has gone back home and I'm trying to find a routine now that my lazy butt is on its own again? Yeap, after being waited on hand and foot by my Dad and Cathy as well as my Mother in law, Debbie...my world is being ROCKED as I dive back into real life again. Brent's mom went home last Saturday so Brent and I have been learning to hold down the fort on our own yet again. I know this sounds crazy but I swear having three kids is waayyyyyy harder trying to stay organized with 2. LOL! I feel so out of whack and as if I am chasing my tail constantly to try and keep up. With two kids, I had this party down to a science. But for some strange reason, now that we have three kiddo's...I feel totally out of control and sooooo NOT organized. Maybe that feeling of nailing a routine will come eventually but right now...I suck at running this household in an efficient manner. Hey...on a good note though...at least I was organized enough to get my wall art finalized with three gorgeous 16x24 canvases of my three blessings from God (shown in the top photo above). These are proudly hanging in our great room. I managed to get those ordered not only for our great room wall but these same three photos now grace my Dad and Cathy's entry way wall and Brent's Mom's wall in her house as well. The grandparents wanted canvases of their grand kids and so they got them. When it comes to fulfilling those wishes, I clearly don't suck! I followed their orders and efficiently had those puppies shipped and delivered to their doors within a week. They received them a couple of days ago and all was well with the world. Each grandparent loved them. I'm sooooooo glad!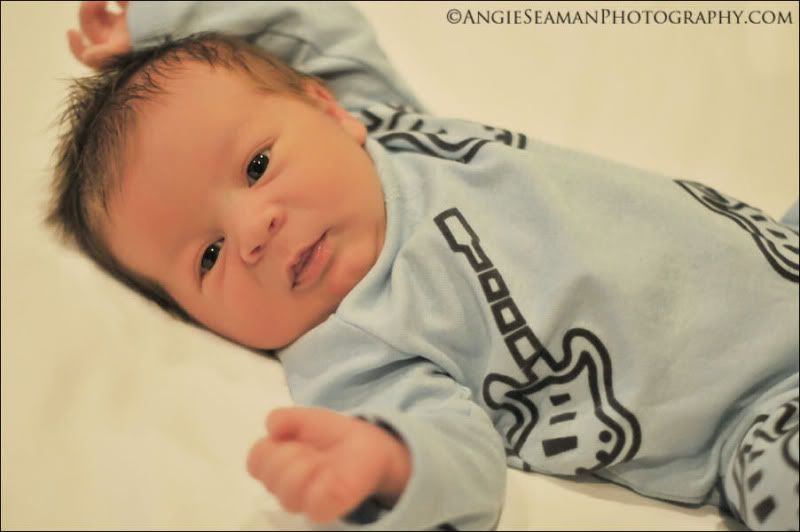 These pictures are some out-takes that I took of Kross in the past week. Over exposed and totally not professional quality but I still had to share them. I have a ton more pictures to come but these are the only ones uploaded to my computer thus far. Between trying to finish my Christmas shopping, finish the wrapping, and just stay awake in general due to late night newborn feedings, my butt is dragging. I just now managed to get over to the nail salon tonight and get my wretched nails filled in after 3 weeks of them looking like I took a sledge hammer to them. It was my first chance to break away and get them whipped back into shape after being on post baby lock down for 21 days. I had planned on going tanning for the first time tonight too but I found myself missing some lil' 8 pound short boy after only an hour of being away. My nail appointment was enough - I had to rush home after that because I was going into convulsions due to withdraws of being away from that little hunk of newborn sweetness. I'll tan tomorrow. :)
I took Kross to the store with me today to finish some last minute gift buying and we ended up getting mobbed by all of the "snowbirds" that are here in town for the winter. Every 3 feet, one of the elderly stopped me and ooo'ed and awwww'ed over him. They were all so very sweet - one gal even telling me that he looked like something straight out of a magazine. Needless to say, albeit worrisome because of germs, they made our afternoon. I now understand why the pediatrician warned me about just staying inside though.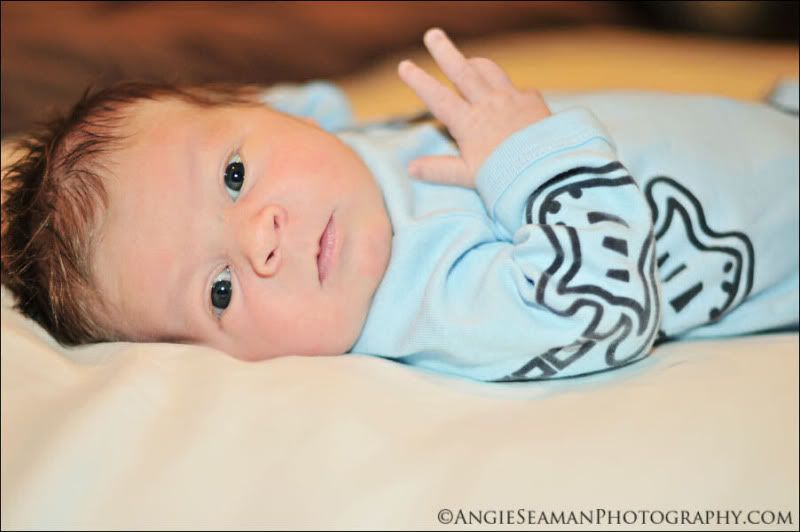 As I type, I take every few minutes to stop and stroke this cute little guys ear. It's so soft and so precious. He's asleep in my lap as I blog. I think about Christmas this year and what a beautiful gift God has given us. Who would have ever guessed that HE would be our present for 2010? What a gift he is! Another over exposed image but just had to share...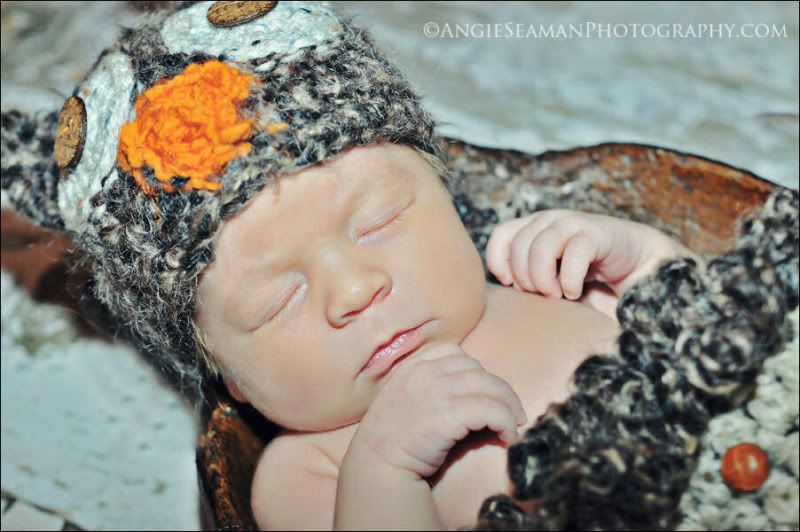 Christmas is going to be spectacular this year. I've got everything I've ever wanted laying right here in my bed with me right now. All three of my kids are sprawled out and lounging with me as we watch "Eclipse" for the 1000th time on Apple TV. OK OK...well maybe one thing is missing - one person I'd like to have wrapped and under my tree this year - but I don't want to be greedy. Robert Pattinson would be a nice added extra if God really wanted to bless me this year. HA HA! Edward under my tree would really be the kicker to a FAB year, wouldn't he? Boy oh boy...you can tell my strung out postpartum brain is really fried at this point, can't ya? Hey...a girl can wish, can't she?
Speaking of awesome guys...my husband scored some brownie points this Christmas. He got together with two of my photographer friends here in Naples (Thanks again Megan and Alvaro for beings so sneaky with him) and found out which photography light set I'd been dying to have and then ordered that said light kit as a surprise for me this Christmas. I am now the proud owner of the Alien Bee 1600 flash unit as well as an innovatronix battery back-up for it to use on location during my shoots. I realize this doesn't mean jack diddley to most of you but lets just say that the hubs scored some major brownie points for this set of gifts. :) I can't wait to get out and use it.
Speaking of said awesome spouse, we are hunkering down getting ready to watch a different movie on apple tv for the evening. Speaking of movies, if any of you are on Christmas break and want to watch some good shows while off, rent "The Town" with Ben Affleck. It's an incredible movie - LOVED it! We just watched it twice over the weekend. We also saw the movie called "DEVIL." Although somewhat freaky, it leaves you thinking long after the movie is over. It centers around sins in life and how forgiveness can change things. I wouldn't call it a "scary" movie but more less one that just kind of freaks you out a bit. On another note, I watched "The other guys" this past weekend too. I thought that movie was as stupid as stupid gets. I wouldn't waste your time seeing it if you haven't already. Dumb! Just plane dumb! I love Mark Wahlberg and Eva Mendez but was so disappointed in their roles in that film.
Until the next post...Merry, Merry Christmas to each of you!!! XOXO, Angie & family