KROSS ANTHONY SEAMAN IS HERE!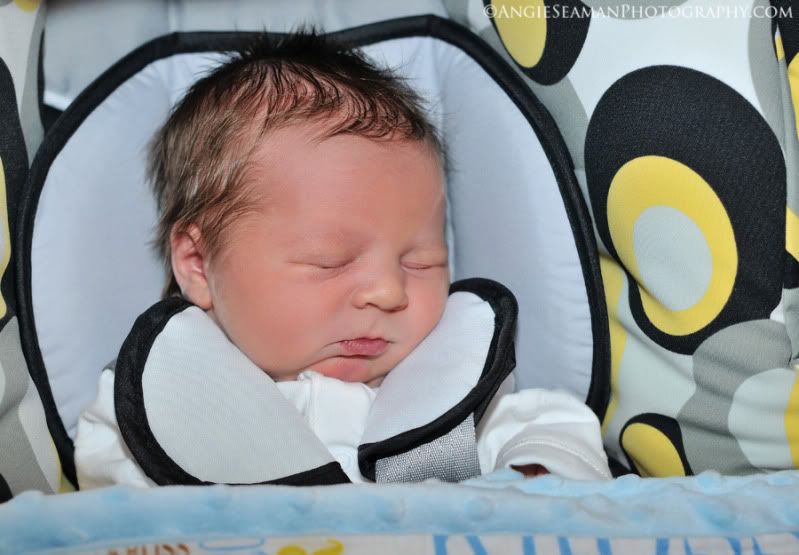 He's here!!!
Kross Anthony Seaman entered this world at 7:38am on December 2nd, 2010. He weighed in at 8 lbs. 11 oz. and was 20 inches long. The above picture was taken on the way home from the hospital Saturday while in his car seat. Yes, my doctors ROCKED and gave me a pass to go home a day early. I was only there for the typical 48 hours instead of 72 as usually enforced with a c-section. The pediatrician and my OB had to approve my departure after only 48 hours in the hospital given that I had a c-section. I was so thankful. Being stuck there - away from my other children - is tough. Baby Kross and I were extremely happy to bust out of there early. :)
I've gotten so many emails and so many facebook posts with questions so I'm going to try and touch on all of them. First off, we've been bombarded with love and support from all of you. We can't begin to thank everyone enough. I was in tears at one point as I sat reading all of the posts and CONGRATS messages from you guys. My heart is so full at this moment and all of you really helped me get there. I apologize for not blogging sooner. The hospitals internet was down for 2 days while I was there. JUST MY LUCK! I went thru some serious withdraws during that time. I couldn't even get the emails off my phone because we couldn't pick up a working wifi in the hospital. It was such a pain.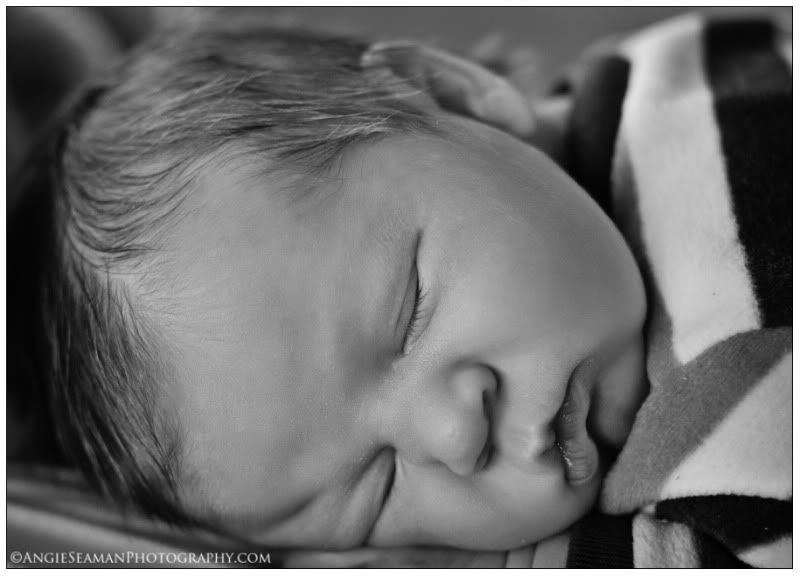 I got to the hospital at 6am last Thursday morning. By 6:30am, the nurse I had got my IV in my wrist on the first try and I was a happy camper. THAT NEVER HAPPENS! I told her that she was my hero fo' sho'! LOL! At 6:45am, they had me walk back to the OR - in a gown that didn't fit my huge body which left me almost showing my backside to everyone I passed in the hallways on the way there. It wasn't a pretty sight. I promise you. I hopped up on the OR table and of course the room was freezing. They made Brent wait outside until after the spinal was administered. And who did I get for my spinal anesthesiologist, a "training student." Oh yes...you read that right. The person who gave me my spinal was a resident in training. Talk about anxiety. The young man had a hard time getting the needle in the area where it was supposed to go in my back but thankfully the head anesthesiologist was there to help him slow down and re-work his steps - eventually accomplishing what we all came there for. I was SURE that I'd either end up with a spinal headache or some sort of freak out once the numbing began after his inability to land the spot on the first try. By the grace of God though, neither of the two happened. Funny enough, during the process of him trying to get the needle in the right spot of my back, I looked down and realized I still had my iphone in my hand. The OR nurse looked at me and said, "You gettin' ready to call somebody?" We all just started laughing. It was too funny. They took my phone and handed it off to one of the nurses as they laid me down and stretched my hands/arms onto the boards beside me. Thankfully this time my hands weren't locked down during surgery. Due to my heart condition, the team of anesthesiologists had a bit of a time getting my heart rate under control before they began the surgery. They wouldn't allow Brent into the OR until they got me stable. After adding several doses of additional medicine into my IV line, they assured me they had me stable and where they wanted me. I was beginning to get nervous because I could hear everything they were saying above my head and I think that only made matters worse. Brent was eventually brought into the OR and was able to sit down beside me - up by my head. He stood up a few times to grab some photos over the curtain like this...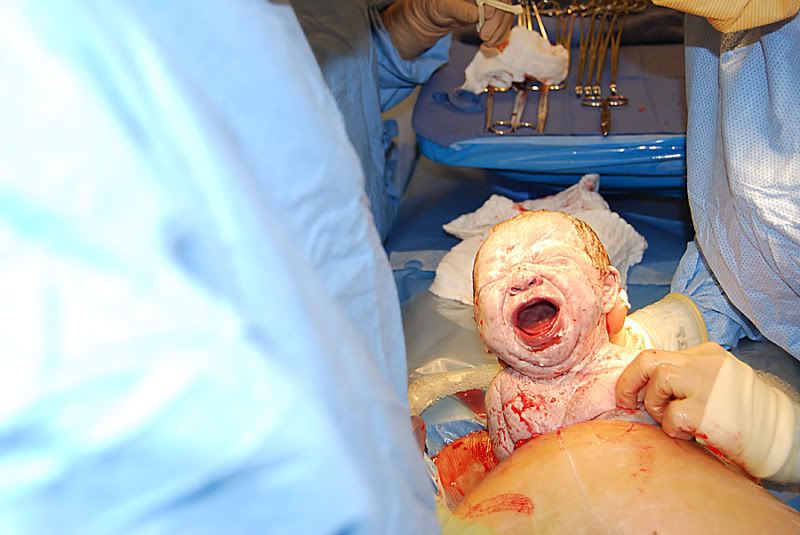 Sorry for the gory shot. I know some of you weren't expecting that and are about ready to kill me now. LOL! However, what an amazing picture. This is literally Kross's first breath of life and Brent captured it. Although gross, it makes me very emotional when I see it. My stomach is filleted open like a fish here but I move quickly past that and on to the emotion his little face exudes as he enters this world. God is soooooo good! The doctors had him out of my stomach within 10 minutes of being in the OR. Once they cleaned him up a bit and weighed him, they brought him to me. I was instantly in love - as all Mothers are when they see their children for the first time. I was able to kiss him quickly and then they took him and Brent up to the nursery together. I remained in the OR until they were finished stitching me up. It seemed like that part took an eternity. All the while, I was praying for God to make me more comfortable on the operating room table. The spinal was something that scared me a bit and I'll admit that I was fearful of it and it's effects. I had moments of feeling as though I couldn't breathe very well but it was more so due to being congested rather than the symptoms of the spinal. I was given oxygen to help that feeling subside but at times I felt it only made it worse. Once they finished in the OR, I instantly began shaking. It was that uncontrollable shaking from the anesthesia. That lasted in the recovery room for about 30-40 minutes before it went away. They had every warming device on me possible. Brent was able to come down into the recovery room with me for that hour. My memory of all that is vague. The whole process was like an out of body experience for me. The anesthesiologist even played Christmas music off his ipad in the OR during my surgery. Therefore, the song Silent Night will never be the same for me ever again. As that song played along in the background, my mind wondered into this surreal place - listening to the OR machines beeping and the doctors talking about Christmas gifts they've gotten their family members as they cut me open & sewed me back up. I stared at the ceiling and all of the surgical "blue" shades in the room for the longest time as the Silent Night song drug on and thought...this is like something out of a movie. Like I'm not really here. It totally felt like an out of body experience as I concentrated on praying that God would make the process go quick and that he would help me to remain calm even at times when I felt it was possible to have a panic attack on the table. The power of prayer is an amazing thing. That mornings events proved no different. Between all of your prayers and mine as well, God walked calmly beside me and I survived the ordeal that I had dreaded for 9 long months.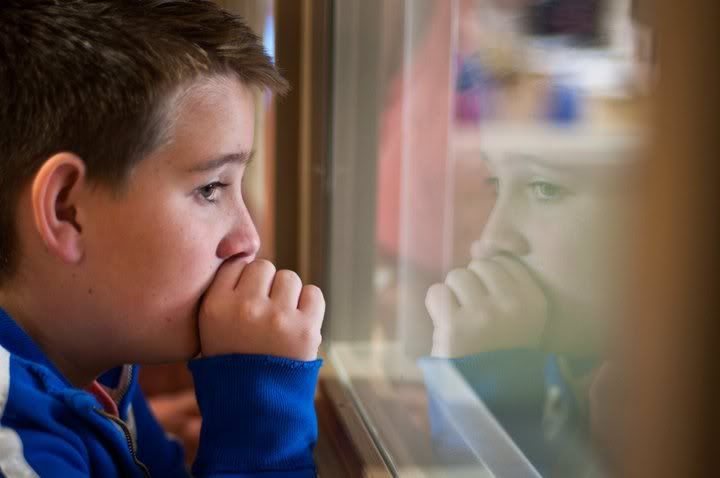 This image above is one I just had to share. It was taken by my friend Megan in a photojournalistic approach. The shot is of Brennen - looking thru the nursery room window - anxiously awaiting the moment when he gets to hold his new baby brother. Megan's image shares so much emotion here. I just love everything about it. His reflection in the glass, his emotion that is so prominent and so forth. I'm very thankful that Megan and my friend Rochelle were there to be my "eyes" that morning beings that I wasn't able to see these moments myself. What they captured on camera for our family are priceless memories and many of them I would've never seen had they not been there to document the morning for me. Thank you Megan and Rochelle. Both of you ROCK! I can't wait to see the rest of the images you guys captured. :) We are now home and three days into this new reality of becoming a family of five. How sweet it is! My parents are here and I'm in heaven. The picture below is one I took yesterday while Kross slept on my Dad's chest for almost 2 straight hours. He was so very comfortable there. To see my Dad with him melts my heart. As all of you know, Kross now carries my Dad's middle name (Anthony). We were thrilled to honor my Dad with this surprise when we learned I was having another boy. Dad keeps calling him "LT" for fun. (Little Tony. My Dad goes by the name Tony.) Speaking of his name, I'm so glad to hear all of the awesome comments about Kross's name. You guys really expressed how much you love his name and how different and unique it is. I am so thankful to hear that the name we chose was a huge hit. Many of you have asked for me to explain how we came about that name. Truth is, I've had that name in my head since Kenidi was born. If Kenidi would've been a boy, she would have been named Ashton Kross. However, she turned out to be a girl so we went with Kenidi Grace. :) I've always loved the name Kross though and basically just came up with it because of my love for crosses. Many of you know I collect crosses and somehow that name just clicked for me when I thought of it one day about 8 years ago. I also felt like it could be my own way of giving glory to God for such an amazing blessing. The love for that name never subsided and it turned out to be an easy name that Kenidi could pronounce as well. Therefore, it just stuck. We felt like it was a good fit. So...Kross Anthony Seaman it is. Not only does Kross fit his look well, but he carries the name "Anthony" very well too.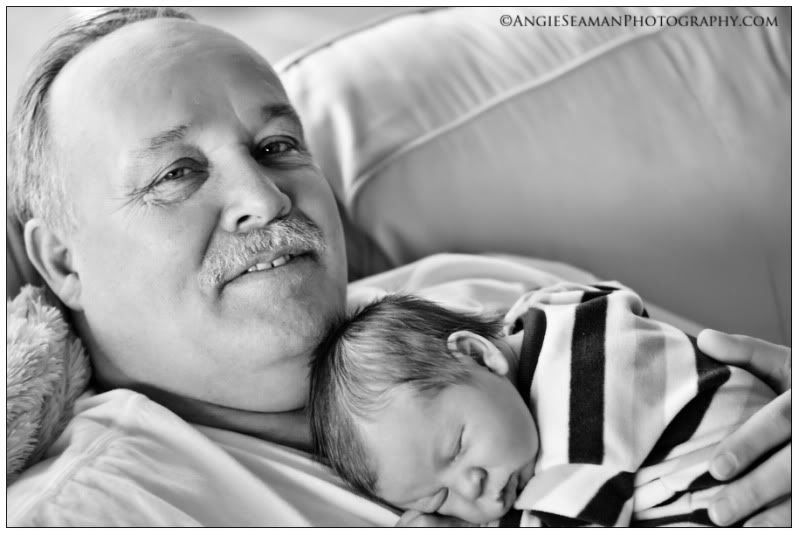 Unfortunately, I'm moving very slow at this point. I'm still very sore from my incision and my legs and feet are swollen up like an elephant. No joke! They are HUGE. I put a call back into the hospital today to ask them about the swelling being so bad still at 5 days out. I'm hoping it is all normal and that it goes away QUICK! I can't stand that swollen up feeling. Because of being so uncomfortable, I've had very little time to capture many images. However, I'm hoping to change that this week. I've got lots of newborn props I hope to try out on Kross and also plan to do an impromptu shoot with him and my other two blessings from God int he next couple of days. I will share all of them once I get them taken and uploaded. I can't wait to share Kenidi and Kross together. Kenidi is madly in love with her baby brother and refuses to leave his side. Same with Brennen though. We actually fight over who gets to hold him next. Ha ha! Yes, he is already waayyyyyy spoiled. Kenidi has been very motherly to him and helps me pat him on the back when he needs burped and does things such as hold his hand while I'm changing his diaper. She is in heaven. We've noticed her having a couple of "emotional" moments here and there when the attention wasn't directly on her but those come and fade fast. Overall, she is doing very well with his permanent status. Brent and I are trying very hard to keep her up on the pedestal she is most familiar with and the top priority we've always made her. We sent photos to her teacher at school today of her with her baby brother as well as some photos of just him alone. Her teacher emailed me already today and said they put the photos up on the projection screen so that she could show off her new baby brother. The teacher said Kenidi "beamed" when she saw the photos come up. Again, God is soooooo good to us. Although exhausted, I'm still standing after these first few days. I'll slowly adjust to this new normal and hopefully get in a new routine that flows well for our family. Most importantly though, I couldn't be happier than I am at this moment. My God is a BIG BIG God and I'm proud to serve him.
Thanks again to all of you for your prayers, cards, calls, emails, well wishes, CONGRATS, gifts, flowers, etc. Your words have left me very emotional and so very thankful for each of you. Stay tuned. I'll be back soon with a new post and lots of new images to share.
Much love and many thanks. XOXO, Brent, Angie, Brennen, Kenidi, & Kross
Labels: Kross Anthony Seaman, newborn