WE ARE DOING THE PEE PEE DANCE!!!
Above image found on Internet
For two years, I have prayed and prayed that Kenidi would become potty trained. Given her special needs, we've been warned that she might not have the muscle control to handle pottying as a normal child should. Brent and I knew better. For two years she has given us glimpses of hope that she completely understood the process and what it was. However, for two years she has continued to need pull ups and even thicker diapers for night time hours because she refused to go on the potty. At the end of kindergarten, her teacher (Mrs. Alison) had her going on the potty but by the end of the school year, she became spooked by the toilet and totally quit going on it. It took us at least 8 months before she would even consider sitting down on it again.
For two years we've tried bribing her with candy, books, DVD's and even tried helpful tools such as the "potty watch" to try and have her make the connection. In turn though, she has had zero desire to get out of those diapers and had continued to remain quite comfy in them from what I could tell. At the beginning of the school year, Kenidi's now teacher asked me what our main goal was for her this year. I expressed to her how badly I wanted her potty trained. I told her it was hard for us to work with her at home for 4 hours a night to then go to school and wear diapers all day while there. I told the teacher - well really begged the teacher - for help. I asked them to work with us - for Kenidi's sake - while she was in their care. Her teacher told me this was a request of most all the special needs parents in the class this year and so therefore they would really be focusing on this while in class. I was hopeful but in all honesty had heard this from her last two teachers so I didn't hold my breath. All I knew was that I had a newborn on the way and the thought of having them both in diapers together was draining. My goal was to get Kenidi potty trained one way or another so that I had just the one baby in diapers - as he should be.
Fast forward to the past couple of weeks. Low and behold, Kenidi's teacher has been sending home notes with her progress on the potty situation. She had noted that Kenidi would go here and there on the potty - not consistently but she WAS going. This was HUGE considering how at home she still refused to sit on the potty for me. Ironically we had a conference with Kenidi's teacher yesterday morning. She had emailed me asking if I wanted to come in and talk with her before the baby was born in the next few weeks because she had some ideas to help us transition Kenidi for her new lil' brothers arrival. Brent and I were all about it. We know we are going to need all the help we can get preparing Kenidi for this newborn that is fixing to take over her throne. LOL! We met with the teacher - whom we LOVE by the way - and she had some brilliant ideas to help us transition Kenidi with not only the new baby but with other things that typically cause her melt downs as well. For example, leaving places that she doesn't want to leave. (i.e., the beach, the rocking chairs at Cracker Barrel, the carousel at the mall, etc.) Her teacher was a wealth of info for us and we couldn't have been more pleased with the meeting. She explained to us that Kenidi was the most advanced in her class and that she was a highly intelligent child who is just trapped inside a body that can't fully verbalize via speech yet. She said that she was confident if we could get her talking more that it would rid away some of the behavior/melt down issues. We totally agree! We can't wait to try out some of the new ideas she gave us when leaving places that Kenidi isn't ready to exit yet. While there though, I expressed to the teacher how puzzled I was that Kenidi was going to the potty at school intermittently but that she wouldn't go on it here at home. Que the "pee pee dance." It was at that moment that her awesome and totally RAD teacher stood up and began to do a dance and sing the words to a song titled the "pee pee dance." I didn't know whether to laugh or cry. It was hysterical. Here she was - this 50 something year old woman showing dancing and singing in front of two grown adult parents to the theme of peeing in a toilet. She explained that when Kenidi goes potty at school, they bring her out of the restroom and the whole class then celebrates with her by singing and doing the pee pee dance together. As most of you know, Kenidi has mad skillz' in the dance department. The child can move and groove like no one I've ever seen. Even her teacher yesterday commented on how well she can "move." LOL! Therefore, her reward of getting to do the pee pee dance has clearly left a lasting impression on her.
Yesterday, following our conference with her teacher in the morning, she came home with a note from school stating that she had stayed dry all day long and for the first day ever - pottyed on the potty every single time with success. I was thrilled. I was so thrilled that I said to myself..."SELF...this is it. Today is the day. Today is the day that we are going to run with this potty training thing and make it stick. So we did. Kenidi got home from school - still dry - so I took her to the potty. When I asked her if she wanted to go potty, she told me no. But when I told her we'd do the pee pee dance if she went on the potty for me, her eyes lit up and she marched right in there on her own. Needless to say, she went potty on the potty immediately. We danced around that bathroom, high fived, shook our hips, gave two thumbs up, and literally screamed with excitement. I don't know who was more excited - me or her. (or baby Seaman in my tummy) I then proceeded to take her diaper off and put some big girl panties on her. Hanna Montana ones with guitars on them - because she LOVES guitars. In a nutshell, she stayed dry the rest of the evening going on the potty a total of 6 times before she went to bed at 9pm. She then proceeded to stay dry thru the night - woke up this morning and willfully went back to the toilet and pottyed again. We were yet again doing the pee pee dance at a bright and early 7am in our house this morning.
I proceeded to email her teacher with the good news this morning and told her that I'd owe her my "life" if this success stuck with Kenidi and it ultimately meant we were well on our way to being potty trained. I worried all day today about how she was doing and if she was still dry after all this time. I couldn't wait to get her home, rip open her backpack and read the daily notes from her teacher in regards to how she did.
She rolled off the bus at 3pm today - backpack in hand - and I literally drug her into the house so I could get inside it and see what it said.
And this my friends, is what the teacher wrote to me today...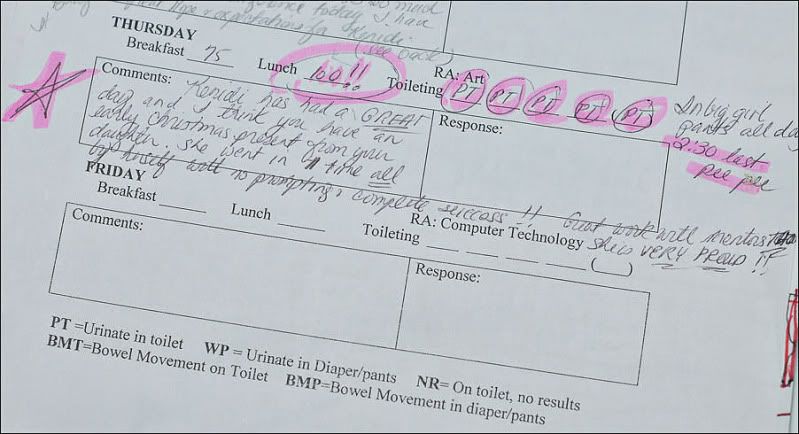 Since she has been home, she has been in big girl panties and pottyed twice on the potty. I'm like a crazed lunatic right now. I've got the pee pee dance memorized so well in my head at this point that I find myself getting ready to stand up and do the dance after I pee even. No, it isn't a pretty sight - however - the pee pee dance is working. If someone had video taped Brent and I in the past 24 hours doing the pee pee dance with Kenidi, you guys would all vote to send us to the looney bin at this point. We look like complete idiots but Kenidi loves it. She never wanted candy, toys, books, etc. for pottying...she just wanted to dance. That is the only reward that has stuck with her and one that she continues to sign that she wants "more" of.
Of course it is still too early to make any promises but right now...this house is rockin' out to the pee pee dance and will continue to do so if that is what it takes to successfully potty train this beautiful little girl of ours. Stay tuned... this story is to be continued. In the meantime, please pray to the heavens that Jesus allows this to be the end of a very long and painful 7 year journey for not only Kenidi but for us as her parents as well. We've known all along that she was smart enough to do this and that she had the muscle control to compensate for it even though she suffers from low muscle tone (hypotonia).
Big high fives today... Angie
Labels: hypotonia, Kenidi, low muscle tone, potty training a special needs child, We are doing the pee pee dance