NEW FAVORITE FINDS
It's been a long time since I've shared any new "favorite finds" with all of you. I get tons of emails asking why I don't do the favorite finds feature anymore and to be honest...it just boils down to time. I haven't had much time to devote to blogging like I used to let alone to devote topic specific posts each week. However, this new favorite find of mine is too good to not share. As many of you know, we have a 7 year old special needs daughter who has yet to be fully potty trained. Therefore, she is still in pull ups. I send Kenidi to school in a dress or skirt almost every single day. Because she is unable to understand how a little girl should sit properly when in a dress or skirt, we like to put some kind of shorts on her to keep her diaper area covered. Not only does it look better but it also protects her dignity around other school children who might not understand why Kenidi is still wearing a diaper at her age. Up until now, we used to look for cheap shorts from Target or something to stick under the dresses. I was always frustrated because I couldn't find every color to match the attire she had on that particular day and I disliked how the shorts were thick and bulky under her pretty little skirts and dresses. Well low and behold, we found the solution. An awesome one at that!
Que "Monkey bar buddies." Monkey bar buddies are a silky tight fitting pair of shorts that come in every color in the rainbow and fit nicely under each dress or skirt. Kenidi can run, play, jump, swing, etc. with these on and they never cause any discomfort or bulkiness. They are so soft and comfortable that I wish I could have a few pairs of my own in adult sizes to scoot around the house in. Not only does the monkey bar buddies company make shorts for sizes 2T-10 but they also make leggings to go under the garments our girls are wearing now days as well as baby buddy diaper covers which are made out of that same comfortable material. Any of these items are great for not only playground situations but also for girls dance classes, sporting practices, etc. We just love this new find in our house. Brent even thought they were so great that he sent me back to the boutique where we initially found them and had me get each color we needed for her. As a Dad, this puts his mind at ease when it comes to privacy for his little girl.

Each pair of monkey bar buddy shorts has little coordinating bows sewn to each side of the leg. It's just another added touch that make them that much more cute although still very easy and simplistic. The color choices are endless. There are 10 different colors to choose from as well as approximately 3 patterned versions too.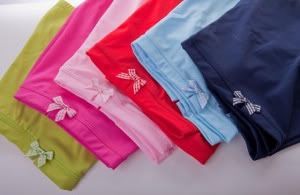 Visit the Monkey Bar Buddies website for more details or to search for a retailer near you. If you live in the Naples, Florida area...I know that Gigi's children's boutique carries them. If they don't have your size in stock, just talk with Kristy or Cherae about ordering them in the sizes you need. They are great store to work with and have a phenomenal staff. :)

Much love, Angie
Labels: gigi's children's boutique naples florida, Monkey bar buddies, shorts for under little girls dresses and skirts