BEAUTIFUL SIGHTS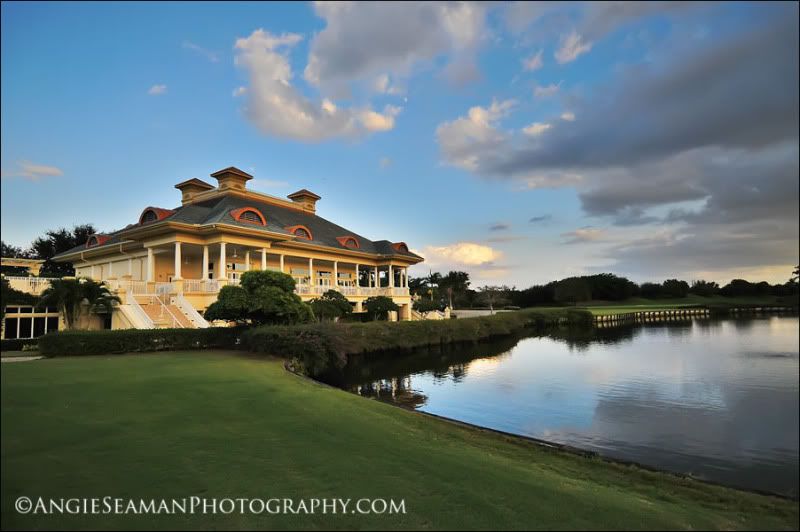 I had the honor of photographing a family of five here last night. This is "The Estuary Country Club" here in Naples. It was our backdrop for this particular photo session. I couldn't have been more excited and more pleased with the look of this setting. There were so many different nooks and crannies to explore and use for photography backgrounds. I loved it. And did I mention that it turned out to be a spectacular evening with an absolutely stunning sunset. You know that kind of sunset that is nothing short of one big humongous large round ball of pink and orange fire??? Yeap, that kind of sunset. It was phenomenal.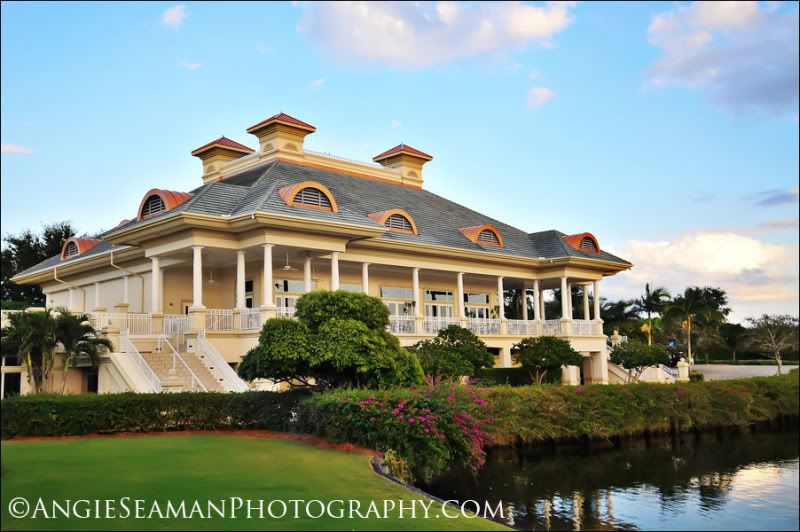 This is actually a golf course and I had to fight my way to these pictures at the end of this session because I was standing on the 18th hole and some golfers really wanted to hit their balls. In fact, I'm sure that they were probably aiming for me if truth be told but I managed to get off the course without getting nailed by an oncoming golf ball. I refused to leave there without a shot of this club as the sun was approaching its "cotton candy" sky appearance. I had visions of the grounds keeper and security guards having to carry me off the course kicking and screaming if I didn't accomplish what I wanted. :) The family I photographed was perfect in every way and was a true pleasure to work with. I'll have their images up on my photography blog in the coming days. Feel free to check out that blog from week to week as I'm always posting recent sessions there. I've decided not to post the sessions here on my AGD blog and instead keep both businesses/blogs separate. It's just easier that way.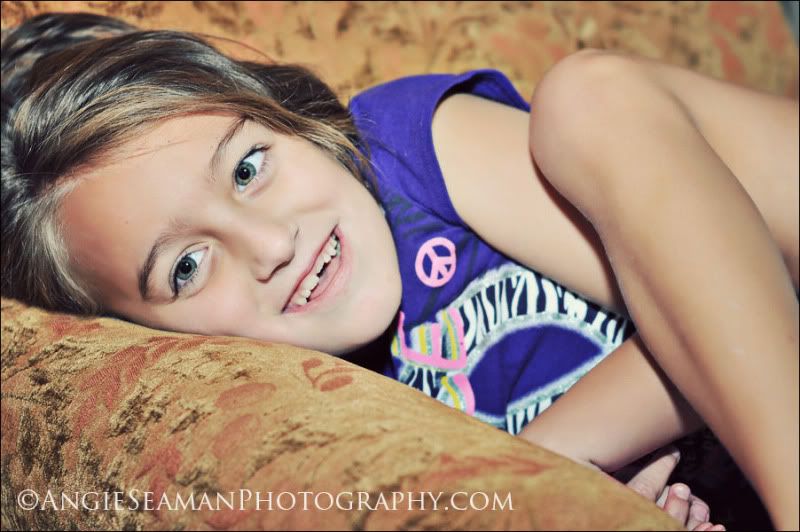 And speaking of photography, I snapped these candid shots of Kenidi yesterday as she was getting out of bed. Her new permanent teeth are coming in and they just crack me up. They look so big compared to her baby teeth. I was trying to capture her smile and those new "teefers!" And who doesn't love such cute little pale white tootsies??? I am in love with her little toes. Still so tiny and scrawny. :0)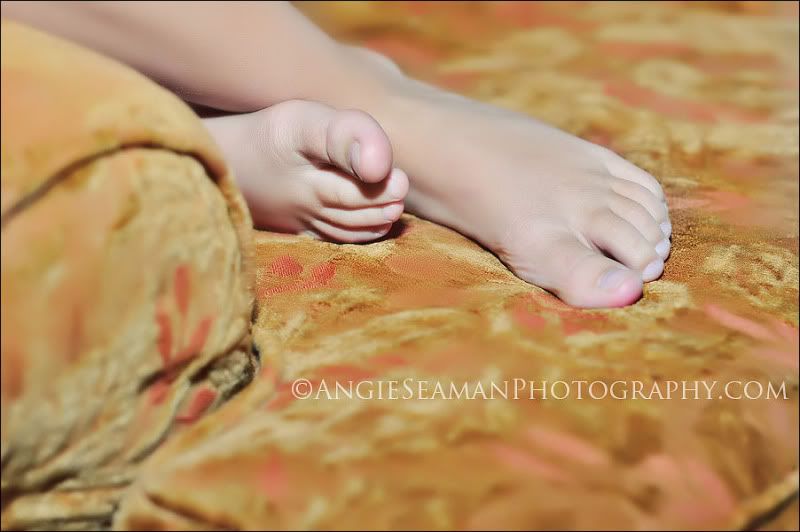 The week ahead is going to be a busy one. I have two shoots lined up for the local magazine here in Naples again this week. I am also shooting for Kenidi's horse therapy facility tomorrow morning. On Wednesday morning, Brent and I are meeting with Kenidi's teacher to discuss some ideas on how to make her transition a bit easier for when baby Seaman arrives. Her teacher has some ideas and has offered to share those with us in hopes that it will cushion the blow a bit when Kenidi learns this new baby is REALLY coming home to live with us - FOR GOOD. LOL! We think she might be acting out here in the last week or two due to the hustle and bustle as we prepare the house and our lives in general for this new baby. I'm sure she is sensing my anxiety and stress over the future with her AND a newborn under the same roof. Therefore it's probably playing out in her behavior now so more than ever. To say this is going to be interesting is an understatement.
On Friday evening we have dinner plans with friends and on Saturday, you will find me pinging off the walls with excitement. My Naples photography friends and myself are all participating in a Senior High shoot out where we'll be photographing seniors (in high school) on Saturday afternoon and on into the sunset that night. We have a really cool location lined up where we will be shooting. I can't wait to share the event itself and all of the images from it with each of you. So fun!
I hope each of you are having a wonderful start to the week. Stay tuned for lots more to come as this week rounds out. Much love, Angie
PS...To my "anonymous friend" from Scarborough, Ontario...
You might try Googling the word "sitemeter." It's a really cool web tracking feature that technology has blessed us with today which happens to be great for website and blog owners such as myself. It helps to ensure that "anonymous" people do not remain so "anonymous" for long. Oh yes...IP addresses get revealed, locations of those anonymous wanna-be's and sooooooo much more. Technology is a FABULOUS thing. It's so fabulous that it allows me to see your ever so frequent visits to my blog and your curiosity into my life. Not only that, but it allows me to know who you are when you

attempt

to post anonymous things on my blog. Have a superb evening my friend. Wink wink! :)
Labels: beautiful sights, Florida, Kenidi, monday randomness, Naples, The Estuary