SUNSET SESSION - NAPLES, FLORIDA BEACH PHOTOGRAPHER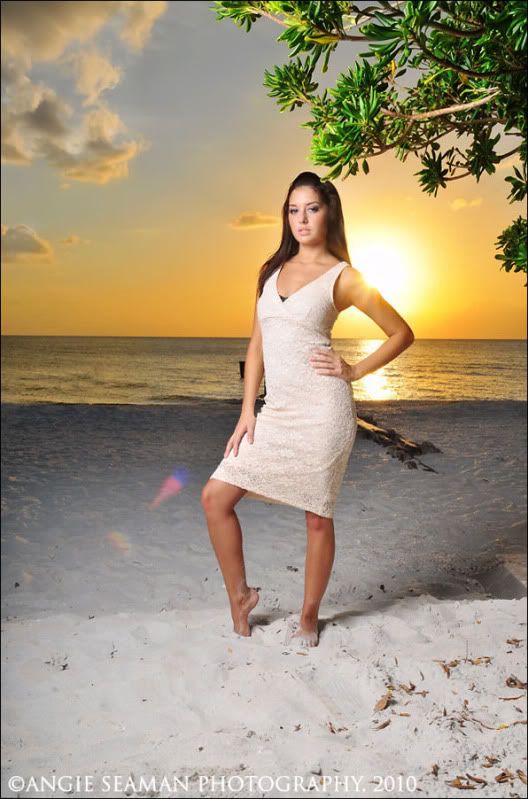 Last week I got the honor of photographing a young girl for her modeling portfolio. This was the first time she had ever done photographs for a modeling spread. However, you'd never know that by looking at her images here. She seemed like a natural and could have fooled me. If you were watching her, you would've thought that she had done this 1000 times over again. She didn't seem nervous or stiff to me in any way, shape, or form. In fact, she was very footloose and fancy free in my opinion. That type attitude always makes for a very laid back and casual session with no pressure. Her relaxed demeanor plays out big time in these images...
We went to my favorite spot here in Naples...what I call Secret beach. Secret beach is near the location that my friend Lacey gave me a heads up about when we first moved here last year. Her parents live here in Naples so she had told me about a spot far out of the way where little to no public traffic is present. When you go there, there are usually very few people. And when you walk farther south, you run into the end of the coast line and it opens up into nothing but vast ocean. It's a great place to go and feel God's utmost presence. It's just you, him, and the sea. I absolutely love it there.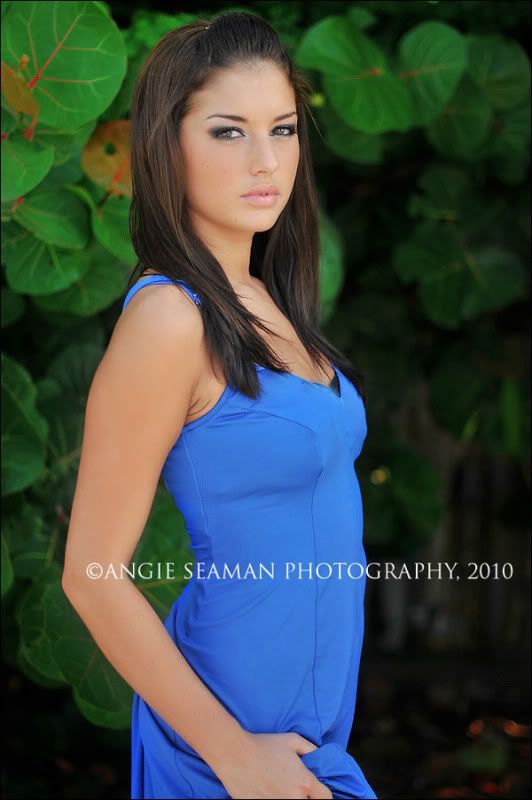 On this particular night though, "Miss A" had a stalker. LOL! I chuckle about it now but at the time it really wasn't funny. Long story short, we were approached by a very strange man on the beach who started out inquiring about why I was taking photographs of her. He tried to pull the "Oh yeah, I majored in photography" card so that he could continue chatting a bit longer. He moseyed on down the beach for a bit but came back to us a short time later. "Miss A" was changing her clothes and while she was away, he approached us again and this time asked if he could "join in on some shots with her. If so, he said...I can position my knife I have on me to be hanging out of my mouth during the shots with her." He also mentioned something about getting in the "bushes" and taking some shots with her there and so forth. Needless to say, we were quite spooked at this point. Luckily we had another male photographer who had joined us for the shoot that night and therefore, we weren't alone with this idiot. After explaining to him that his ideas weren't an option, he eventually left but not after having stood there for what seemed like forever - just not going away. UGH! For Naples, this kind of individual was a rare breed. I've not encountered anything like that before while here. He clearly reeked of alcohol and was not from around here. By the time I got to my car that night, darkness had completely fallen and I found myself repeatedly thanking the big man upstairs for keeping us out of harms way. That could have turned into a really scary event had someone not being watching over us.
Aside from that ordeal at the end of the night, the beach was as beautiful as ever during this session. If there is one thing I can be sure of, it's that we live in paradise everyday here in Naples. I've said it before and I'll say it again...I'm so blessed to be able to call THIS my "office."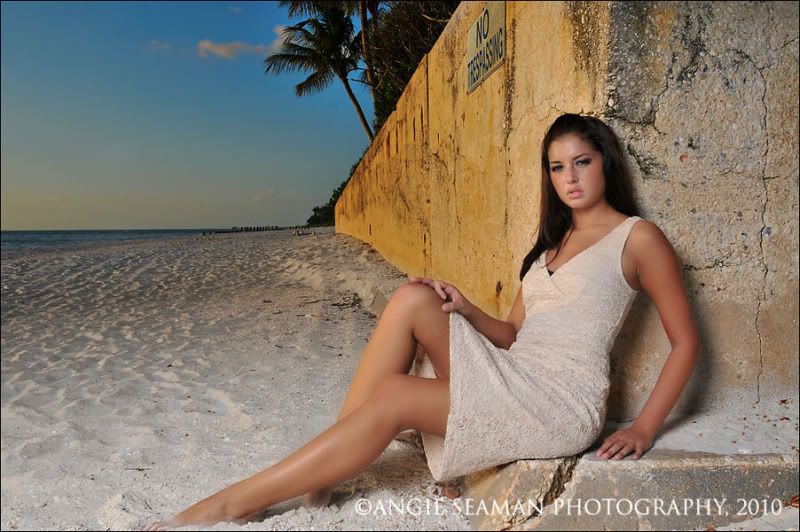 And I'm even more blessed to photograph clients that know how to work it...like this...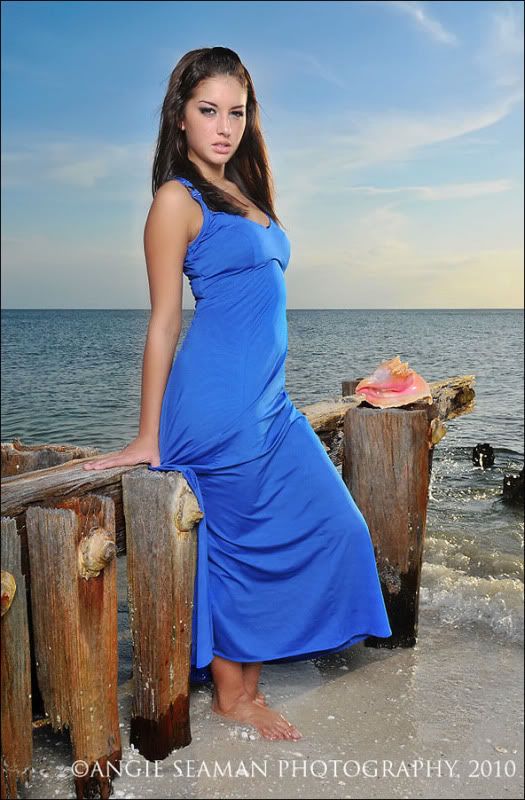 As I listen to everyone we know back in the Midwest talking about how the temps are cooling down and Fall is approaching...I find myself remembering that this is why we moved here. It's this time of the year that Florida is known for. From October thru May, it is the place to be. And here "we be." I'm so looking forward to Florida's Fall temps and the weather cooling down a bit. It's good to know that we'll be far far away from the snow and ice of the Midwest this again this year. Being on the beach during this shoot that night reminded me even more of why I love the shoreline so very much. How could you not love the beauty of the sand and the sea?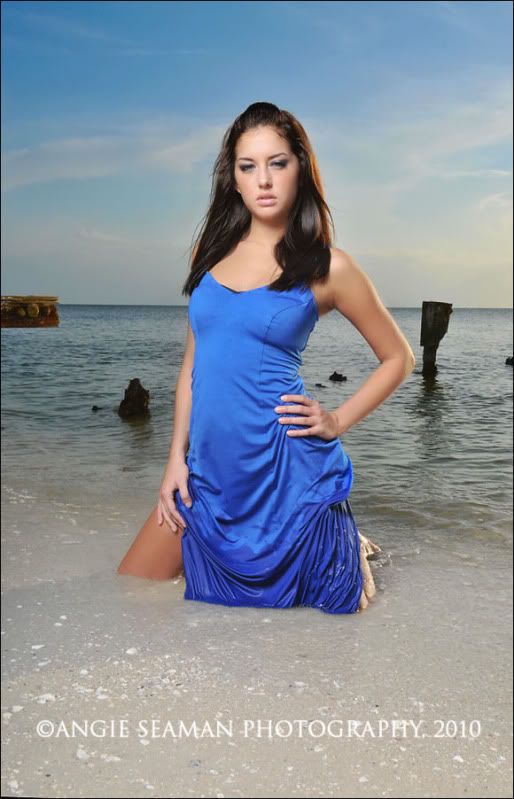 And for the end of this particular session, we broke out some paint. Yes, paint. This client was up for the challenge and totally ROCKED the paint idea. I mean can you get anymore gorgeous??? Just look at her...
I had a ball! Thanks Miss A. for allowing me this opportunity to work with you. I just hate it that you don't live here in Florida so that we could plan more sessions on a regular basis - minus the scary weird dude of course. Ha ha! You were way too much fun!Let me know if you are ever back in the area and want to hook up for some future sessions.
As for this evening, the "hubs" and I have dinner plans with some friends. I'm off to go conquer some errands before we head out tonight. Tomorrow, I have a fun job in another city within Florida - shooting at a Pirate Festival. I can't wait to see what kind of fun images come from that event. Then, I have a family session scheduled for this Sunday morning. Lots going on. Good times ~ good times! Hope all of you have a spectacular weekend. Until Monday, tu ta lou! XOXO, Angie
Labels: Angie Seaman Photography, beach photography, Florida, Naples, Naples Florida Beach Photographer, paint, sunset session, Trash the dress photography