OH JOY!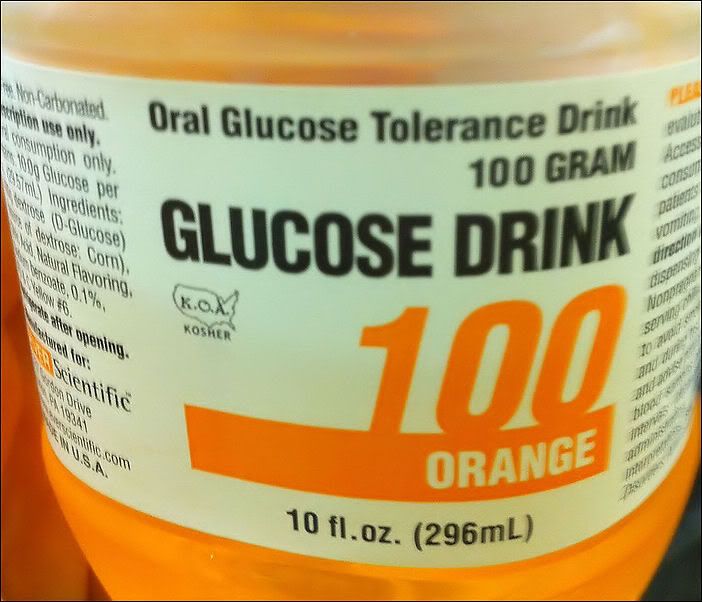 Yeap...you guessed it. Here I sit - in my car - blogging on my laptop - hoping to kill some time while I "RE-TAKE" my glucose intolerance test. Otherwise known as pregnancy's gestational diabetes test. Rumor has it that I failed the one hour test last week so now I'm back for the three hour one. That three hours consists of 4 blood draws and fasting since 9pm last night. Thus meaning that I can't eat again until after 12 noon today. I'm S-T-A-R-V-I-N-G! I don't eat read meat very often but today...I'm thinking a nice, juicy, cheeseburger and fries from Five Guys burgers is really going to hit the spot once I can bust outta' this lab. :) The real torture came at 6am this morning when I had to get up and make the famous guacamole dip for a class project that Brennen had due today. Yes, for his consumer science class we had to make a family recipe that we all love, write about it, and send it in for a grade today. Talk about going insane. Have you ever been so hungry you could eat a horse all while having your favorite dish right in front of you but you can't even taste test it while making it??? I thought I was going to die. I just wanted to curl up in a fetal position over in the corner and cry. I'll be making up for this fasting come noon today though. Don't you worry! Funny thing is...the lab told me that I was only allowed to go as far as their parking lot while waiting out this three hours. I am not supposed to leave. Well of course in true rebel style, I bolted and snuck out during the first hour of the test. I thought to myself..."Whata' they gonna do? Follow me???" LOL! So...I strategically parked far enough from the receptionists window so that she couldn't see me leaving. I got in my car, went and filled up my gas tank and then ran home to my own restroom. The lab restroom is GROSS. Last time when I was here taking the one hour test, I heard another patient come out and inform the staff that he had spilled his urine specimen all over the sink and floor in their bathroom. There is only ONE bathroom. Needless to say, the idea of going back in there and touching door knobs, sink faucet's, etc. makes me physically ill. So...when a girls got to go, she sneaks out of the lab and goes at home. HA! I made it back in plenty of time and I don't think they ever realized I was gone. I told my parents that I felt like a kid in school skipping class or something. It was too funny. What does failing the first glucose test mean you ask? Well it means that if I don't pass this next three hour test, my life is over as I knew it. If I fail this one, I'll be put on a strict diabetic diet throughout the remainder of my pregnancy and will have to prick my finger for blood tests/readings each day. YUCK! As you can imagine, the thought of no junk food such as cupcakes during the remainder of my pregnancy almost seems criminal. I can't bare the thought. I'm praying I pass this test with flying colors and can put all this behind me and just pretend it never happened. I should know mid next week whether I passed or not. Cross your fingers for me, will ya?
Going from bad to good news...I did have my 7 month/28 week check up this week with my OB. Other than me failing the first glucose test and my iron levels being low (from not eating red meat), all looked and sounded very well. She has graduated me to every two week appointments now and with the next appointment on September 29th, we get another ultrasound which I wasn't anticipating. She said they do it for Moms 35 and over whom also have heart problems or are on heart medication, etc. I'm so thankful for another chance to see our little man on the ultrasound screen. Sending up prayers again that he still looks healthy and well. The OB officially scheduled my c-section for December 2nd at 7:15am should I make it that far. I'll be 39 weeks on that day. (a week earlier than my due date) What an early morning that is going to be. I have to be at the hospital by 6am to prep for the surgery. I get butterflies just typing that part. WHEW!
UPDATE: I survived the 3 hour glucose test. Won't know my results until mid next week but until then, I'm pigging out in fear that they are going to call me and tell me that I failed that one too - leading to this strict diabetic diet. Therefore, I'm living it up until I get the confirmation that I did or didn't pass. And in true rebel style, I left the lab and headed straight for Five Guys burgers as mentioned above. This was my way of making up for that 12 hour - really 15 hour - fasting nonsense...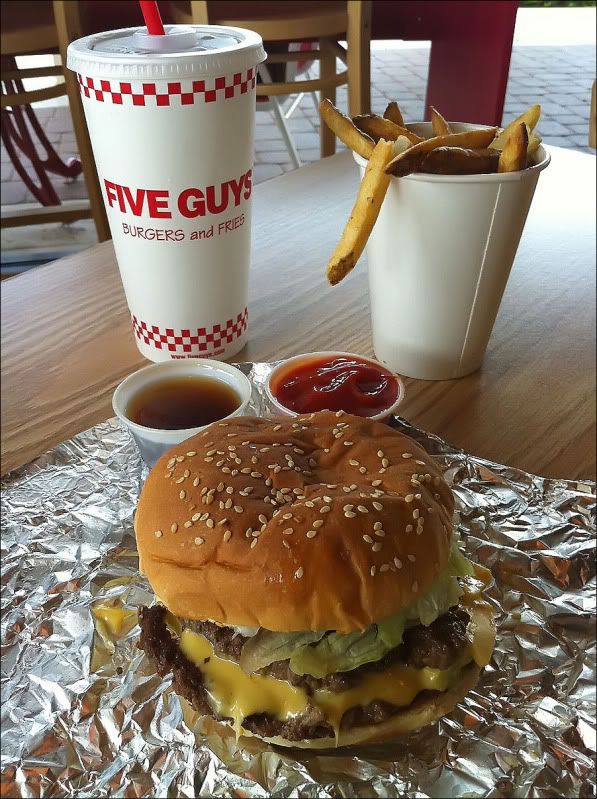 This is BIG for me because I am not a red meat eater. Rarely will you ever catch me sinking my teeth into any kind of animal actually. I'm by no means a full fledged vegetarian but with each year that passes, I become more and more close to that. I don't care for meat let alone red meat. Give me pasta and carbs and then I'm a happy, happy girl. However, when you haven't eaten in 15 hours, your body craves some crazy junk. Today it was a fat, nasty, cheeseburger. I tried to resist the urge but finally caved to the weakness. It was a total artery clogging and truly disgusting meal when you get right down to it but daggone - it sure tasted good! One of those every once in a while can't hurt a girl, right??? I'm back home now and ready to start editing some images from last nights shoot at the studio. I had a blast with my Naples Photography peeps again and can't wait for our event next week. (Night photography on 5th avenue - YAY!) Until the next post, go eat a big, fat, artery clogging cheeseburger and enjoy every minute of it. I know I did.
PS...Just wanted to send up prayers for the families of my two girlfriends who died tragically in a car accident 21 years ago today. I know I've blogged about them here before. Some of you might remember those posts explaining the details. There isn't a year that goes by where this date doesn't haunt me. Tracy Jones and Ann Grube were taken way too soon from this earth. I pray heavily for their parents and what pain they must go thru on a daily basis let alone on the anniversary date of their accident each year. We were freshman in high school when the accident happened. Too young to die. They've been dead longer than they were ever alive at this point. For me, that is so very hard to stomach. I can't imagine what it does to their parents. I know that their parents have access to my blog and we've tried to keep in touch with them somewhat thru the years. If the Grube or Jones families are reading this post, know we are lifting you up incessantly in our prayers today and always. I know I've told you before but I'll say it again...they are gone but never forgotten. All of the girls within our group will always remember Ann and Tracy and the loss that is still felt even today from their passing all those years ago. :(
Much love, Angie
Labels: gestational diabetes test, glucose tolerance test, pregnancy