I KNEW I WASN'T CRAZY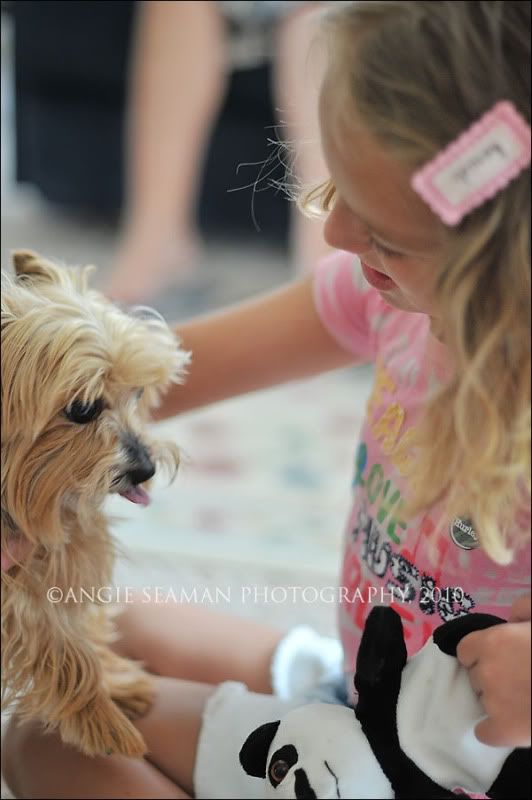 A few weeks back I was paying Brennen and Kenidi's lunch money online via their schools website. I happened to briefly notice that Kenidi's grade level was noted as a 3rd grader within the lunch site I was on. I found that odd but didn't think a whole lot about it at the time. I figured it was a typo and left it alone. Since then, I've seen several papers come home that referred to Kenidi as a third grader again. Finally, last week, I broke down and looked at Brennen one day and said..."What grade is your sister in?" His reply immediately was - "2nd grade." Good, I thought. I was right. She's in 2nd grade. I again chalked the 3rd grade notations up to a typo. Then, she came home with a paper from school yesterday and it was a cute little project that they had crafted in class. It had her hand prints with a big sign that read: "I am in third grade this year." It really threw me back a bit and I seriously began to think I was loosing my mind. Was Kenidi really in 3rd grade this year - and not 2nd as I've always thought she was? Was I soooooo pregnant that my brain had turned to mush and I was confusing her with a 2nd grader when she is really a third grader? I didn't know for sure but suddenly I began to second guess myself and started to think I was wrong and that the school was right. I asked Brent the same question I was asking myself..."What grade is your daughter in?" He then began going backwards and trying to recollect teachers she had and for what grade she had them. At one point, I almost picked up the phone and called her old teacher (whom we love) back in Indiana and said..."Alison, what grade did you teach Kenidi?" LOL! I seriously had to stop and wrap my brain around the last few years, her age, and what teachers went with what year. I had Brent so confused that he finally picked up the phone at 9:30pm last night and called his Mom. He looked at me and said..."We'll call Grandma - she'll know." HA! I mean how bad is it that we as parents couldn't be sure that Kenidi was either a 2nd grader or a 3rd grader. In our defense, with her special needs classrooms, they put multiple grades together (such as 2nd & 3rd) in the same classroom. Therefore, it isn't like a regular peers class that is specifically labeled as third grade or second grade, etc.
Right away...without hesitation...Grandma Debbie replied to Brent's question with "2nd grade." We knew then that the school was wrong. For some reason Grandma Debbie knowing the grade level of Kenidi helped us "know" the grade level of Kenidi. Don't forget that Grandma "D" was a school teacher up until this year. She just recently retired. Not that it mattered when it came to this particular question. We just knew she'd know. And know correctly at that. Thank goodness she (Grandma D) has been by the phone when we needed her several times this week already when it came to Brennen's 6th grade math homework too. Lawwwddddd....help Brent and I in regards to middle school homework. Brennen is in trouble with us as parents. What does the rest of America's parents do without Grandma D's that were teachers when it comes to homework for their child??? Are we really that dumb or do the rest of you struggle like we do with this homework business? When it comes to proper and improper fractions, I'm out. I know nothing! NOT-A-THING! Ha ha!
Anyway, back to not knowing what grade my daughter is in... :0)
This morning I decided I'd better make some calls to the school. Sure enough, I get a hold of someone in the front office who informs me that Kenidi's data shows her as a third grader. I began explaining to them that she moved here at the last half of the year last year from Indiana and to our knowledge, she was still a first grader when we arrived here in Naples. Thus, making her a 2nd grader this year. I told the gal that she is only 7 - she can't be a third grader, right??? I immediately noticed the un-sure quiver in my voice again. I was looking for her to confirm that. She told me that they would have to get in touch with the gal who inputs all of the data for the student database and then have this woman correct all of Kenidi's info back to 2nd grade. Craziness. I got off the phone and realized that they would have advanced her to middle school a year sooner had we not caught this. My mind was racing. I don't want her going to middle school as it is, let alone a year sooner. I was panicked. I then went so far as to call her old school back in Indiana just to confirm that they had her listed as a first grader when we left there last year. Sure enough...they did. Their records backed up my Mommy brain - proving that my daughter was in 2nd grade - not third grade. I KNEW I WASN'T CRAZY!!!
Seriously though, if you knew how much this ordeal has stressed me out today, you'd laugh. I suddenly feel much better knowing that she has 4 more years until she hits the middle school instead of just three. The whole scare of middle school a year sooner than I had remembered - had my mind wound up so tight that my brain cells were like crazed lunatics at this point. I was freaking out.
As I look at the picture above, taken back in Indy just a month ago with my Dad and Cathy's dog, I think to myself..."Look at her Angie! How could you possibly ever think she was already in third grade??? She is still your little baby." My peanut brain played some tricks on me in the past couple of weeks for sure. Amazing how someone or some thing can really cause you to question your sanity at times, eh? Is this a direct result of motherhood at its finest? Maybe it is solely to do with my pregnancy and how fast this baby boy of ours is going to be here. I'm 27 weeks today - that means we have 12 weeks to go until my c-section. Where have the past 7 months gone? Who took my brain and scrambled it up like an omelet in a cast iron skillet? I was loosing it for a bit there.

Aside from that, yesterday marked the 12 year anniversary of my due date with our first child. The baby girl we lost back in 1998. Alexa Briane would've been 12 years old sometime this month had she lived. God had other plans for her. Clearly. Each year around this date I think about the what if's? What if she would've been healthy and made it to term? Brent even said last night..."If she would've lived, do you think we'd even have Kenidi right now?" Truth is, I don't know for sure. If Alexa would've been born healthy and then we would've had Brennen, who really knows if we would've ever even tried for Kenidi. I do know this...Alexa is waiting to meet us someday and the same goes for us. I tell Brennen all the time that he has a big sister waiting to taunt him in heaven someday. :) It helps to know that she is up there looking out for her 2nd baby brother while I carry him to term. The pain of her loss never goes away. As a Mother, many of you know what that experience feels like. In the end though, I know God's plan was written in stone for a reason. I trust him. As painful as it is, I trust him. Back to my life motto that I live by everyday..."There will be years that ask and there will be years that answer. In the end, God NEVER "wastes" pain." If I was a tattoo girl, I'd totally have that tattooed down my back in huge letters. I'm not an "ink" girl though so instead I have to inscribe it into my brain every second of every day.
Sorry for the deep post today. With the trash the dress images over the past week and my absences here on the blog recently, I realize you guys haven't had the chance to read my journaled ramblings for a while. Many of you are probably thankful. Unfortunately today, I unloaded. My brain needed purged. Really it did! :) I still have more photography sessions to share. No worries. I just thought I'd take a quick detour today and get back to my personal blogging style rather than my working blog content centered around photography. Stay tuned...more fun stuff and plenty of images to come. For now, I'll leave you with this quick image of some cute little goodies I got for Baby Seaman today. Shopping for newborn little man clothes made my heart swoon this morning. Our time is ticking. He'll be here before we know it. I even broke out the "hospital check list" this morning. 12 more weeks to go. 84 more days actually but whose counting, eh?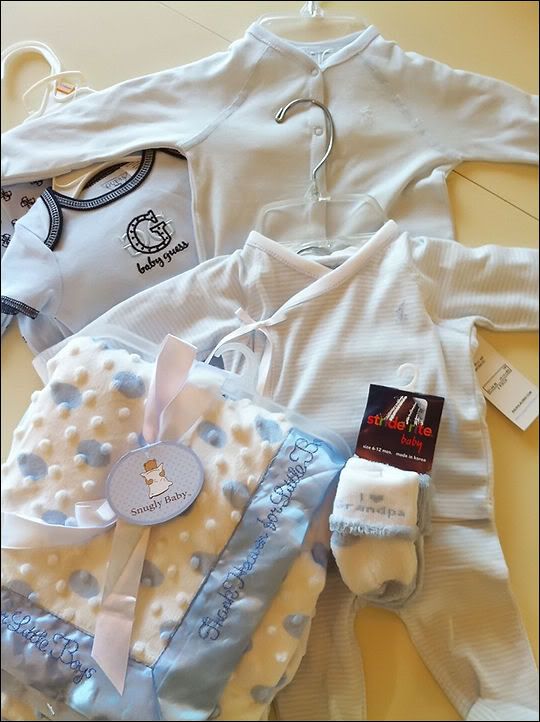 (above image shot with iphone 4 camera)
And the cute lil' socks...they are for my Dad. They say "
I love Grandpa
." I figured they'd make a great addition to his wardrobe beings that we are naming his middle name after his Papa's middle name. :) I don't like boy clothes with dogs, bears, turtles, giraffes, etc. on them. I'm all about solid colors/plain or clothes that have that rock star look to them. You know...the peace signs, guitars, skateboards, surf boards, etc. instead. If I walk into a store and see one more boys section flooded with boys clothes that have animals all over them, I'm going to croak. What's up with that? Here soon I'll have to share some pictures of the little rock star(ish) outfits we plan to bring him home in. Thank goodness for the online boys boutiques that believe in 'out of the box' attire. Although few and far between, they are there if you dig for them. :) This mama needs something a bit more stylish than alligators on her new little man's clothes. Hee hee! If you guys know of any cool boys boutiques online that you can forward to me, by all means...let me know. I'm always on the hunt for something unique.
Until tomorrow, enjoy your evening. Much love, Angie
Labels: baby boy boutiques, baby seaman, I knew I wasn't crazy, Kenidi, newborn clothes, rock star