HER LOVE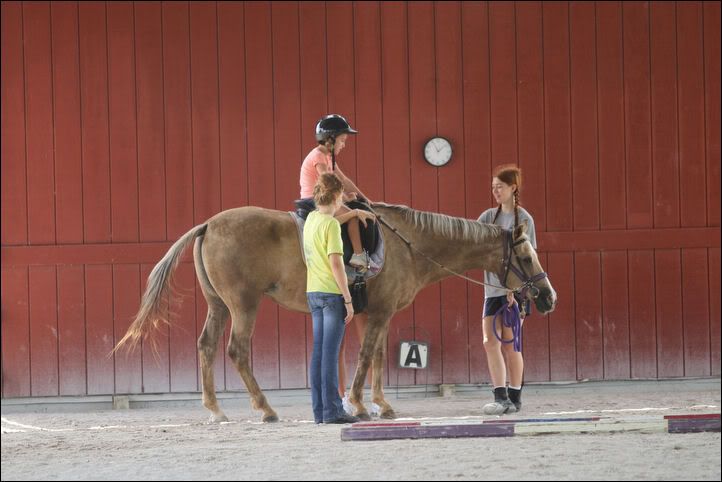 Last month, Gulfshore life magazine came out to the horse stall's where Kenidi has therapy each week. They photographed Kenidi riding her therapy horse, Dotty. (photography by Brian Tietz) They also had a journalist there who interviewed me as her Mom and what I thought about the program. The photographer was nice enough to share these images with me afterward so I thought I'd share a few of them with all of you. The top image is my favorite. There is just something about the wide angle and her little bitty body up on that big horse against that really red barn. And the clock. Well the clock would normally distract my eye as a photographer. But in that shot, it somehow seems significant and just fits.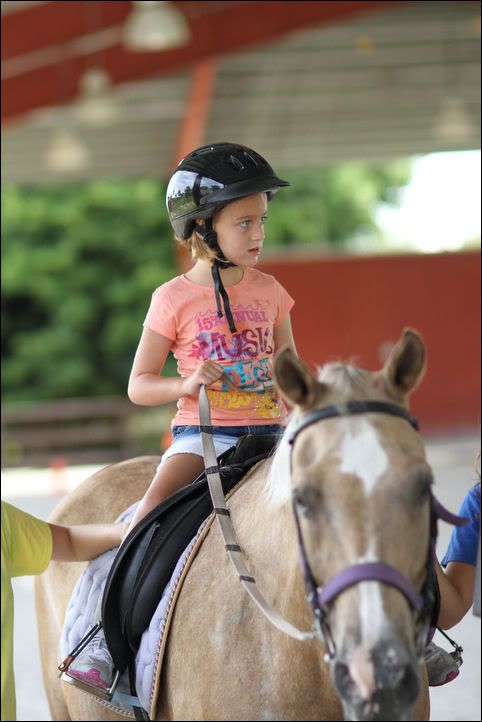 It's amazing what riding these horses for the past almost 2 years has done for her. Just her posture alone is so very evident. She sits straight, tall, and refined when riding. When you watch her, you might think that she had been riding all of her life if you didn't know any better. Riding her horse is the one thing she asks about consistently. She loves horses. She will wake up asking to ride and could go to sleep asking to ride. She loves "Dotty" and as Brent always says...It is the one activity in her life that brings her tremendous joy. His words..."it's what makes her happy." When she climbs onto the horse to ride each week, she morphs into this completely different child. I love to watch her excitement which starts the minute we put on her riding hat and pink cowboy boots at home. She immediately knows where we are headed. On this particular day she was wearing her jean shorts and tennis shoes but normally she dons the cowgirl attire for the event and everyone rants and raves over those famous pink cowgirl boots of hers. Needless to say...she eats it up by the spoonfuls. :)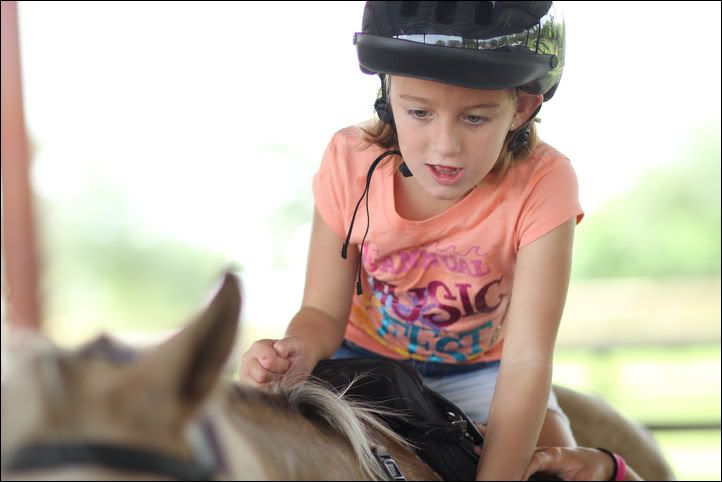 Kenidi hugs on Dotty and pats her down every chance she gets. When she exits the horse, the side walkers literally have to pry her hands away and off of Dotty in order to get her out of the barn. She can take an additional several minutes just to let loose of the horse and say goodbye to her until that next week.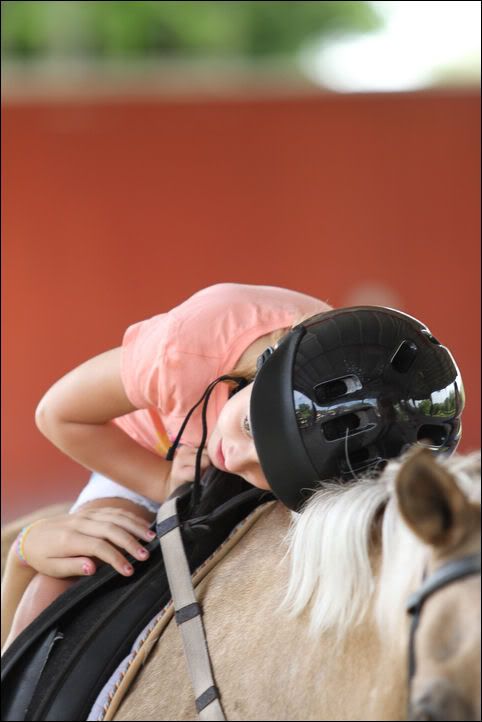 It is because of programs like this that Kenidi is where she is today. Without her hippotherapy, I'm quite confident that she wouldn't be near as far along in her progress as she is. For her, the horse therapy isn't "work" so to speak like the regular physical therapy once was for her. She is passionate about her horse and she loves to be able to ride. No matter what they have her doing while on that horse, she doesn't view any of it as "work." Instead, she LOVES it and begs to keep going back. And for that reason, we'll keep taking her.
It's Sunday night now, about 7:15pm, and she is crashed out beside me in our bed already. She had a long weekend. Our out of town guests/friends from Michigan flew home this afternoon and we are now settling in for the ruckus of what Monday will bring. If you can, keep me in your prayers this week, will ya? I have several opportunities that have presented themselves regarding my photography and I couldn't be more excited - although a nervous wreck all at the same time. I have some meetings this week in reference to these opportunities and I'm praying that they go well. On top of that, I'm also still awaiting the results of my gestational diabetes test for my pregnancy though. It's a lingering annoyance that will reign until I get that call with a yay or nay confirmation that I passed the 2nd test. More details on that outcome as I receive them. Until then, I'm off to assure that my 11 year old son gets his 60 minutes of reading time in tonight for his language arts class so that I can sign off on it for him. Can I mention how much I love his teachers and school this year as well? Although I'm over the constant nuisance of class projects and/or book reports he has due, I'm thrilled with his progress and his teachers there at the middle school. For something that seemed so worrisome, he appears to have this whole gig down pat with a vengeance and is pulling in the best grades I've ever seen from him thus far. We can't ask for anything better than that. God always has a way of softening the fear of the unknowns and leaving us with such peace when his puzzle begins to fit together, doesn't he? Brennen is in a good place. Kenidi is in a good place. "We" are in a good place.
In his grip, Angie
Labels: dotty, Hippotherapy, horse therapy, Kenidi