TRASH THE DRESS PHOTOGRAPHY - PART ONE (NAPLES, FLORIDA LIFESTYLE PHOTOGRAPHER)
I'm still alive. No worries. It's been almost another week since my last blog post but I'm really here - just way bogged down at the moment with my kids school events, photography sessions, editing, feeling like dog crap due to a horrendous sore throat and cold like symptoms, etc. However, the positive in all this is that I'm still moving.
With that said, I'm going to be sharing some really cool photography shoots with each of you over the coming days. I had the "RADDEST" day ever this past Saturday when I shot 6 different brides and some prom girls for a few "Trash the Dress" sessions. If you are unfamiliar with what "Trash the Dress" photography is, the new fad now days is to get married and then do a photography shoot where you literally "trash" your wedding gown for the fun of it. Some old school brides cringe at the thought of this but the younger women of today want to ROCK out their gowns one more time and put it to good use on a separate day other than their wedding day. I personally wish I could have had that experience back when I got married. My dress sits in a beautifully wrapped storage box with my coordinating vail and has been there for almost 16.5 years now. It's just sitting in there - doing nothing but collecting vintage time. I've had it out of the box twice in that entire 16 years. What a waste. Therefore, I think the Trash the Dress brides are awesome and totally cool for wanting to destroy their threads even after spending thousands of dollars on them in today's age.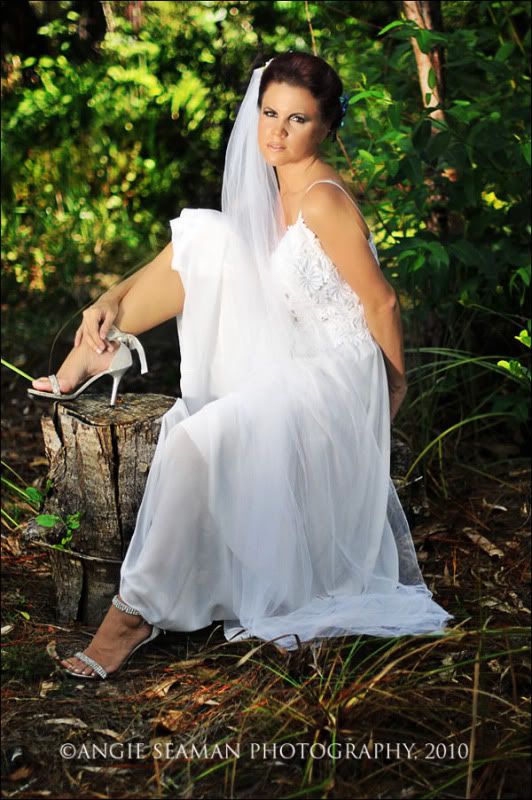 For these sessions, we were granted permission to use a sanctuary type area behind a local church. The sanctuary consisted of a marsh type area with lots of wooded swampy paths. Total snake territory but thankfully the only snake I've heard of was the one in my garage - UNDER my car - last Friday night. Brent claimed he killed it once he got it "shooed" outside into the driveway. However, 20 minutes later, that "dead" snake found life again and was gone. Yes, I'm paranoid that he is now plotting revenge and looking for a way into my house at this point. So much for my snake killer husband. Epic fail! LOL!
Anyway, back to the shoots...the first hour we kept the brides "clean" and didn't do too much trashing. The images I'm showing you today are of one of the brides who stayed pretty clean for the most part. The dirt will come in the shots I share later in the week. And when I say dirt, I mean mud and alligator infested type swamp water. Oh yes...we got down and dirty in some of these shoots. Today's images were shot in the marshy type area off the beaten path. By the time I was done with this session, I had blood rolling down my legs and had sucked down two bottles of water. The blood was from the wild plants in the foliage we kept climbing through and the heat was so intense that this 6.5 month pregnant Mama was about to kill over and die. I think someone said the heat index that day was 105 even in the shade. You should have seen how sexy I looked by the time I got home. Covered in mud, blood, swamp water, and sweat. Oh yeah...I was a real beauty. The stuff we photographers do for a shot. I tell ya'!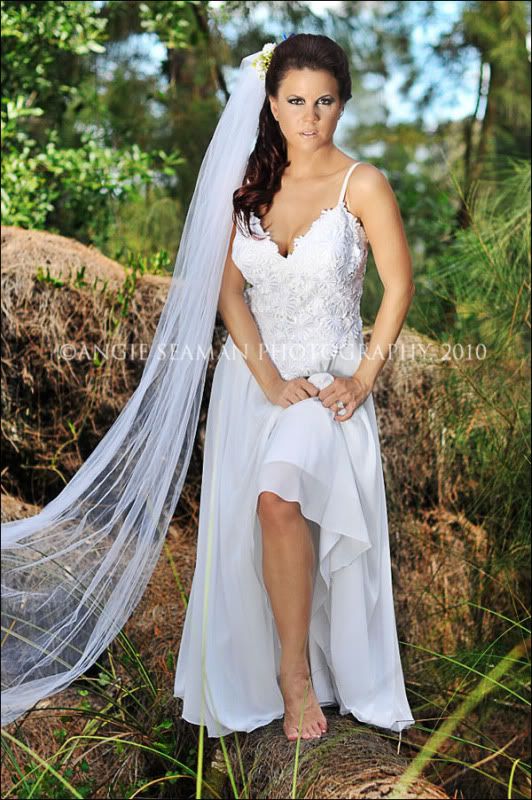 The backdrop for these shots was incredible. The whole property was a photographers dream. I was in total heaven - even while fearing a snake would come hissing out from underneath a log or that I'd go home with some parasite from swamp water after all was said and done. Yes, I've watched one too many episodes of "The Monsters within me" on cable. Ha ha! The fear was transferred into an absolute rush in every sense of the word. I was on a complete high throughout the whole experience. The event has had me pinging off the walls for the past 2 days.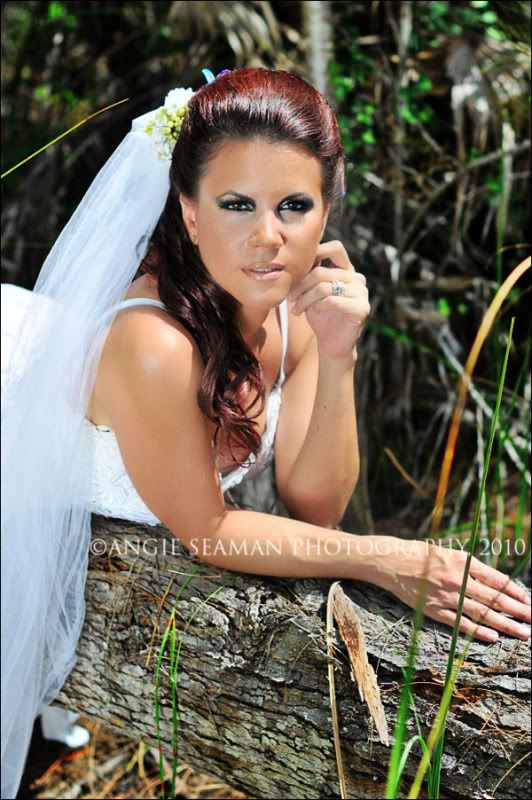 I commend this bride for climbing on tree logs and through marshy areas barefoot. She never complained and her make up stayed perfect in that heat. It was amazing. I looked like a drowned rat from how much I was sweating and here she sat - beautiful and untouched from the elements. In a nutshell, Mrs. A ROCKED this session to the fullest extent.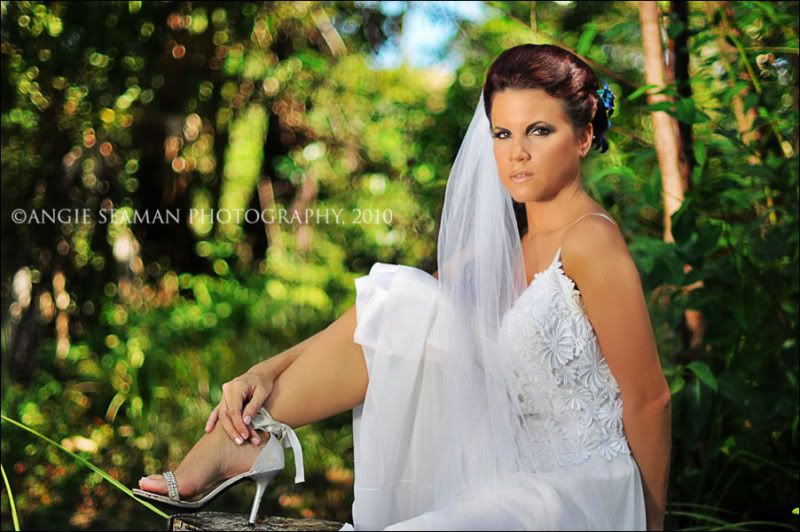 A huge thanks to Mrs. A's make-up guru, David Frohmberg from Salon International here in Naples, for his time and energy that afternoon. He did a fantabulous job. I'd kill for eyes like what he gave Mrs. A. Stunning! And Carol from Salon International did her hair. Beautimous! Beautimous!
Aside from the heat, the day was spectacular. There were a few times where my eyes glossed over and went all spotty - just like you see the moment right before you pass out. Each time that would happen, I made it a point to go sit down in the shade with some water and regain my composure before shooting any further. I knew I had to take it easy with baby Seaman in my tummy. Thankfully, I got thru all the shoots without any mishaps. An hour after getting home and re-showering, I felt like I was coming down with the flu or something. Immediately my brain went to a parasite embedded in my scalp or something. LOL! Actually, it has just knocked me back a few steps with a really bad sore throat and chills, etc. I'm praying it makes its exit in the next day or so. I'm over feeling so blah and yucky.
In the meantime, stay tuned for the remaining "Trash the Dress" shoots to be featured here on the blog this week. Thank you to Mrs. A for the opportunity to work with her. Such a fun shoot!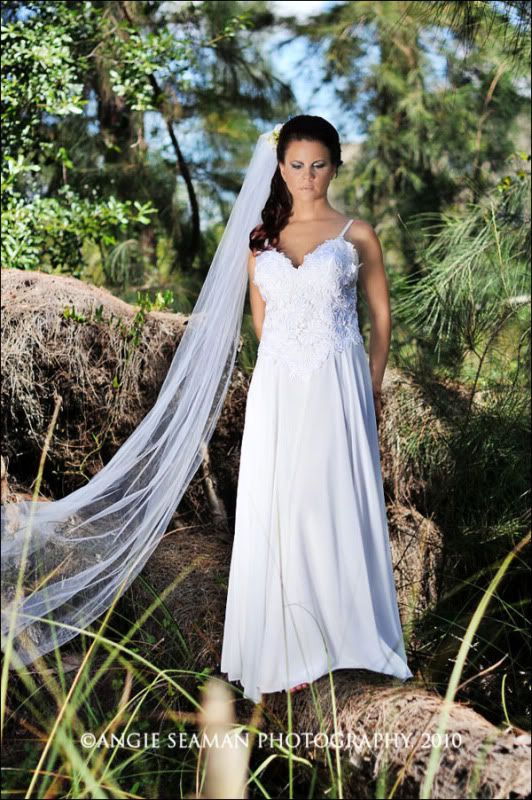 Much love, Angie
Labels: bride, David Frohmberg, Florida, marsh land, Naples, Naples Florida lifestyle photographer, Naples Florida wedding photographer, Salon International, swamp, Trash the dress photography, wedding dress