GUR-FRENS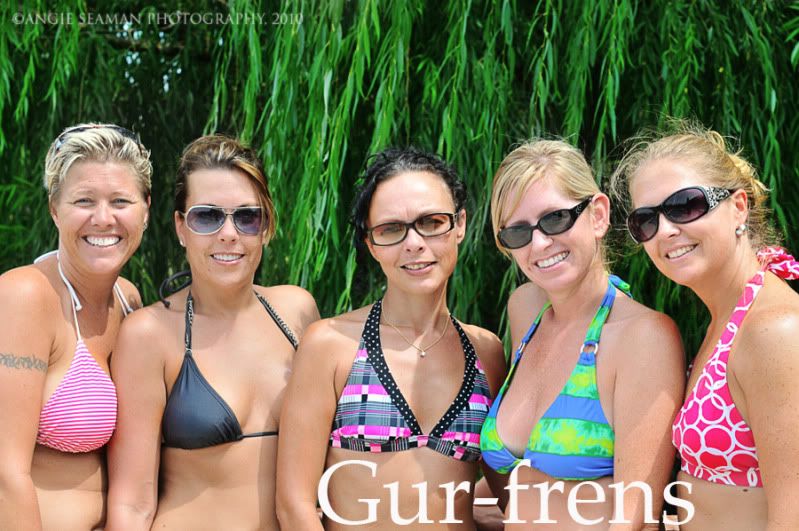 First and foremost, I don't want to hear anymore garb about how ticked you guys are that I'm not showing my big, fat, pregnant self in any of these photos. Trust me, I heard enough about it on facebook. So...just enjoy my girlfriends beautiful faces and promise me that you won't be hounding me about where I'm at in these pictures. You all know where I'm at...behind the lens...hiding. LOL!
As all of you know, I got together for a sleepover with 6 of my dearest friends from high school this past weekend. We were missing a couple of girls and we were totally bummed that they weren't there. However, hopefully we can all catch up again very soon. We spent Saturday night at a local restaurant for dinner and then came back to my girlfriend Lori's house for the sleepover. We hung out outside around her pool into wee hours of the night and then brought the party indoors and stayed chatting it up until 5am the next morning. We finally went to bed but all of us got right back up, climbed in the car, and went to breakfast at Sophia's restaurant for some good ol' french toast - looking like something the cat had drug in. I prayed the whole time I was there that we wouldn't run into anyone we knew with me looking like a MAC truck had made my body his weigh station that morning. I promise you that it was not a pretty sight. LOL! After breakfast, we slowly made our way back to Lori's house and laid by the pool until like 4pm that afternoon. All of us were so very tired and swore that we would nap in the sun but of course...like always...we chatted and laughed the hours away until it was finally time to call an end to our fun. :(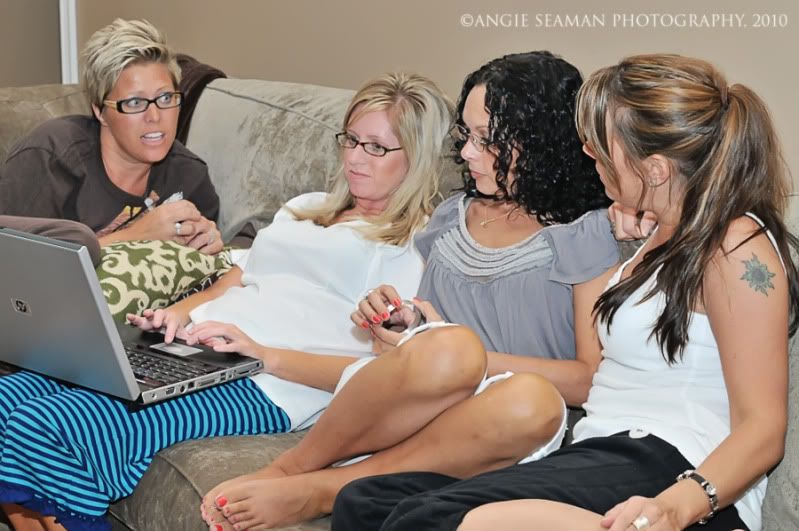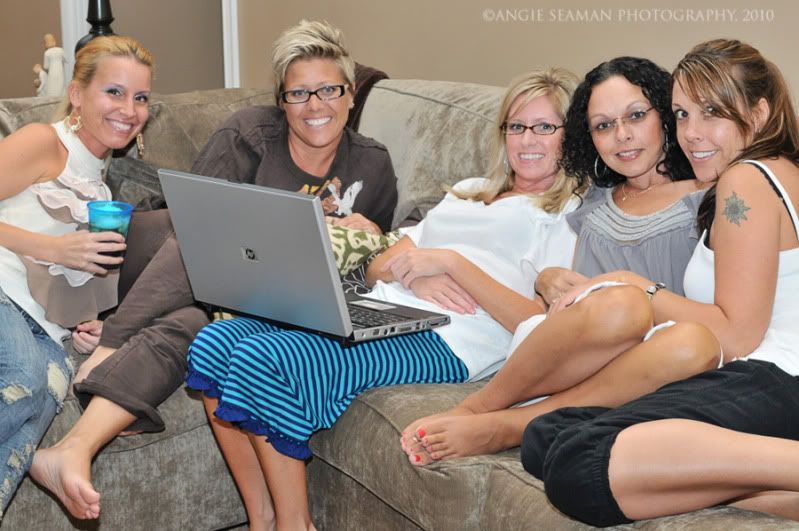 In the above image...from left to right....Sherry, Kari, Lori, Nicolle, and Krissie.
I've known Sherry since middle school. She was truly one of my best buddies growing up. She was also the one I recruited to come with me to my Dad's every other weekend on many occasions. Sherry loves my Dad & Cathy and both Dad and Cathy love her right back. And if you can believe it or not, Kari and I hated each other in high school. Truth be told, we actually had a knock down drag out fight in the middle of a road one night over a llleewwwssseeerrr of a boy whom which we can all laugh about now. Thankfully after some maturing over the years, Kari and I are 'gur-frens' now and I truly value her friendship. There is never a dull moment with her around which means she is always the first to make us laugh. I got to know Lori via her brother, Brad. Brad graduated with me and like Lori is such a sweetheart, her brother was always a good guy. They hated no one and were always as nice as nice can be. Lori is still that way to this day. Thus why I love her. She is a genuine gem who is good to everyone she meets. Nicolle and I have known each other since the 4th grade. We've seen elementary, middle, and high school together. There is so much history there that it is hard to imagine her not having been in my life thru the years. We were just laughing the other night about old times together, certain memories, etc. and it is always so good to have such moments to reflect on. And Krissie...oh how best do I describe Krissie? I've known Krissie since middle school and we were two peas in a pod in high school. Actually we were with other peas that were involved in our pod too but not all are pictured here. :0) Krissie is my friend that calls and 30 minute conversations turn into 3 hour long talks. She is my friend that tells you the truth - like it is. Good bad or ugly...she is honest about whatever the topic at hand is. She and I can debate a topic and still love one another at the end. That is rare. She is my forensic files marathon partner who loves those mystery shows as much as I do. I've never known anyone who can watch as many of those type shows as me with the exception of Krissie. We could spend hours talking about forensics, how they captured certain individuals, etc. It's a true sickness and we realize that we probably aren't right. However, for now...we enjoy it. :)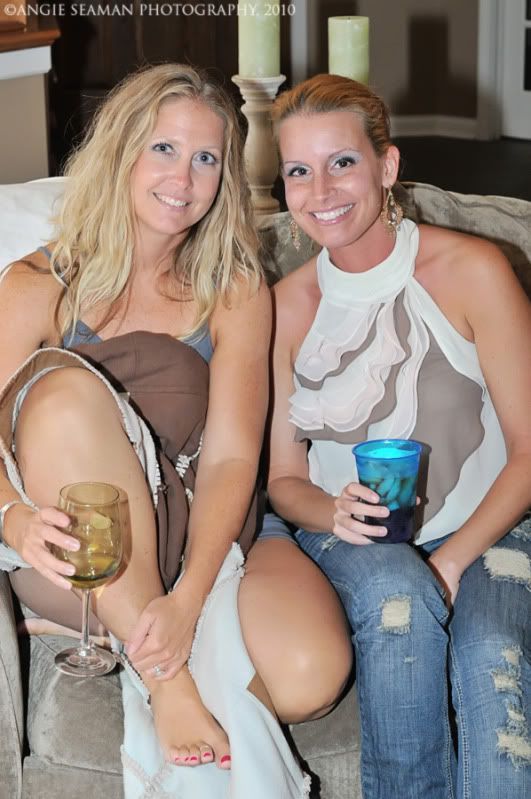 In the above shot are Diahann and Sherry. Diahann was and always has been one of my dearest besties. We were actually supposed to room together in college until "life" (a.k.a Brent) happened. I was headed to college with her where my intentions were to major in foreign language due to my flight attendant plans. However, Brent and I ended up getting married a year after high school and those college plans fell through. Diahann has always been in my life though. Always - in some way, shape, or form. She was in my wedding. I was in hers. I can remember when she first came to our middle school in 8th grade, our click of girls totally tortured her and called her "Farrah." As in Farrah Faucett. Her maiden name was "Faucett" and she had hair at the time that was blond and feathered just like the real "Farrah Faucett." We were mean to her initially but she held out and held her own until we finally broke the pattern and welcomed her with open arms into our tight knit circle. Looking back now days, I don't know what we did without her - before she came to our school. Our lives wouldn't be the same without Di.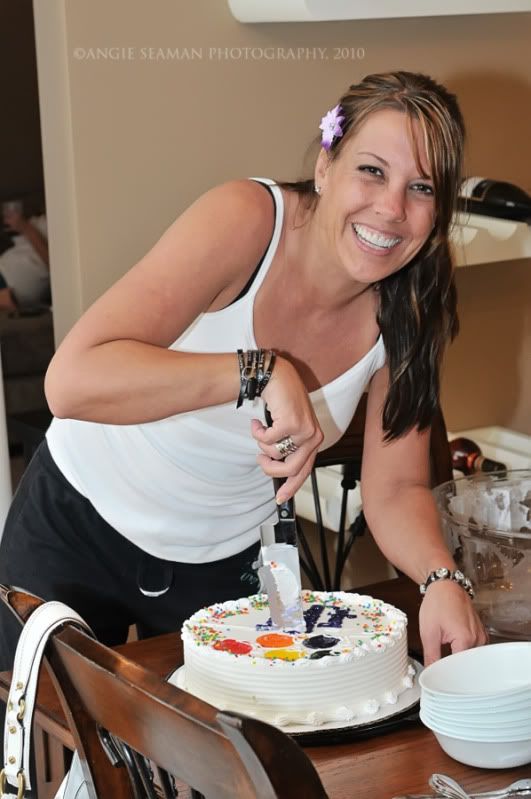 Above and below: Krissie cutting my ice cream cake that she and Nicolle got me for the night of the sleepover. It was a cake to celebrate my birthday since I wasn't home in Indy to celebrate with them back at the end of June. (when my birthday actually was) Now that is a friend...buying me a cake over a month later. Ya'll know how much I love my cakes and cupcakes. Ha ha! And below...Lori is with Krissie - helping with the cutting - or maybe just getting the next piece. I can't be sure. LOL!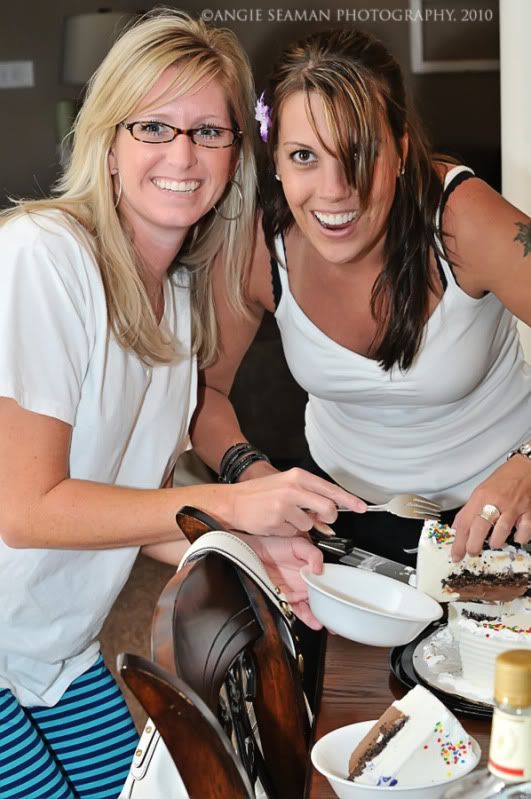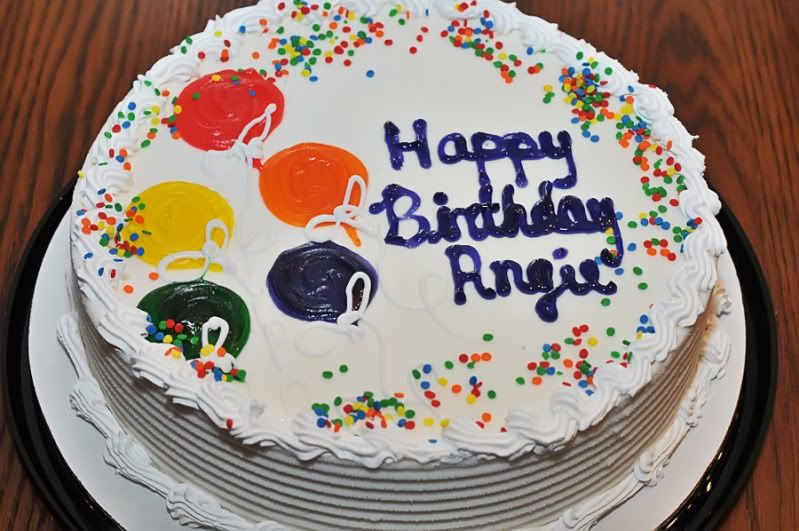 Below: Kari, Krissie, and Di in the pool on Sunday. Good times! Good times!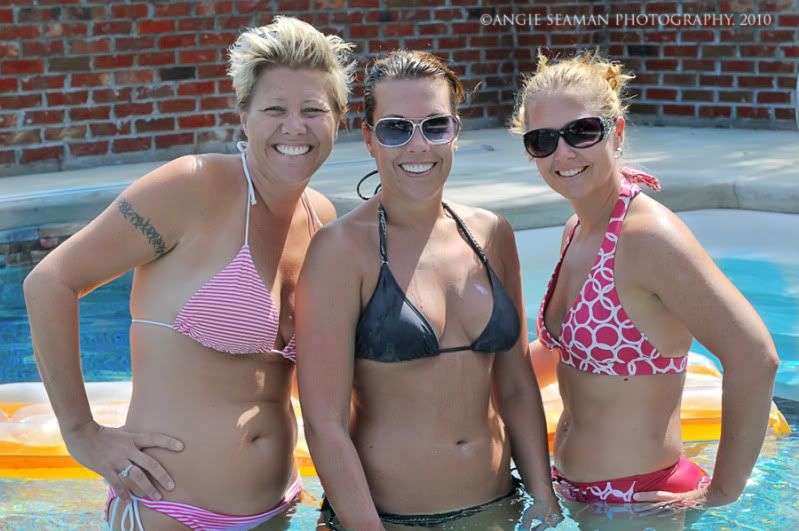 And here is Lori...underneath a towel with her laptop, trying to find me a specific blog that she wanted to share with me. We finally found it thanks to her mad skillz and her determination in the sunshine. Hee hee!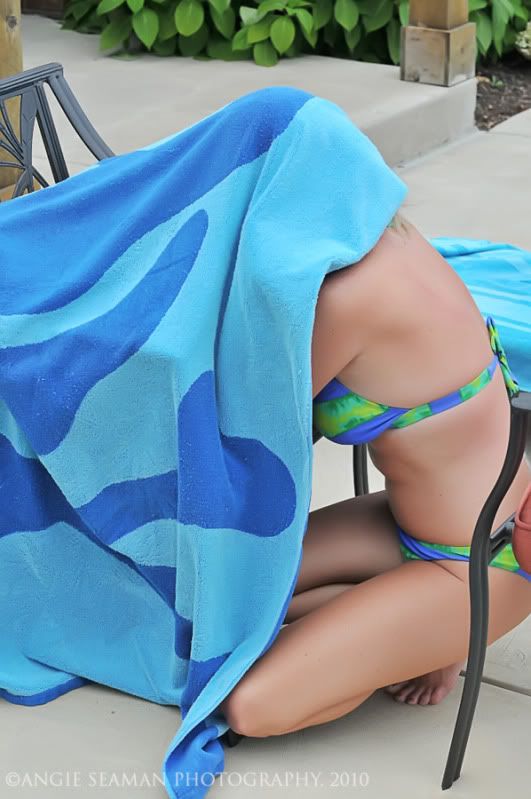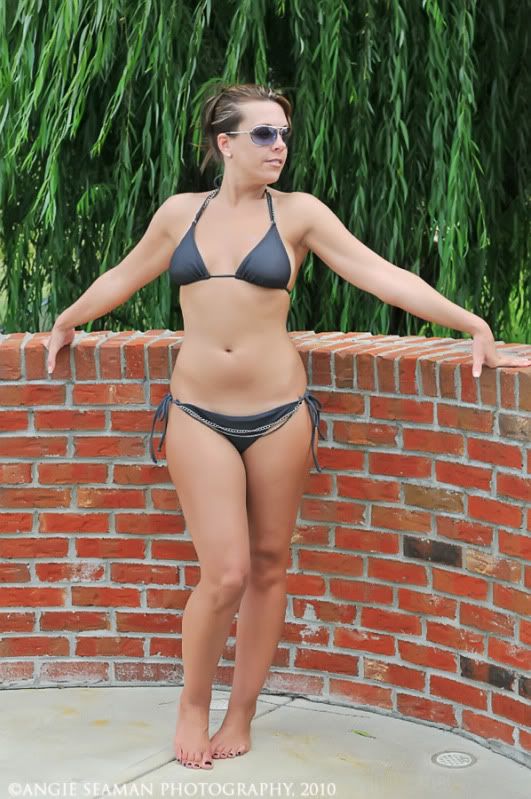 And here are Krissie (above) and Kari (below) posing it up. We were saying this weekend how much Kari's hair do reminded us of the Russian chick from the movie Rocky 4. I love Kari's hair cut. In this shot while she was wet in the pool though, she soooooo looked like that Russian's wife. Thus, the pose. Love it!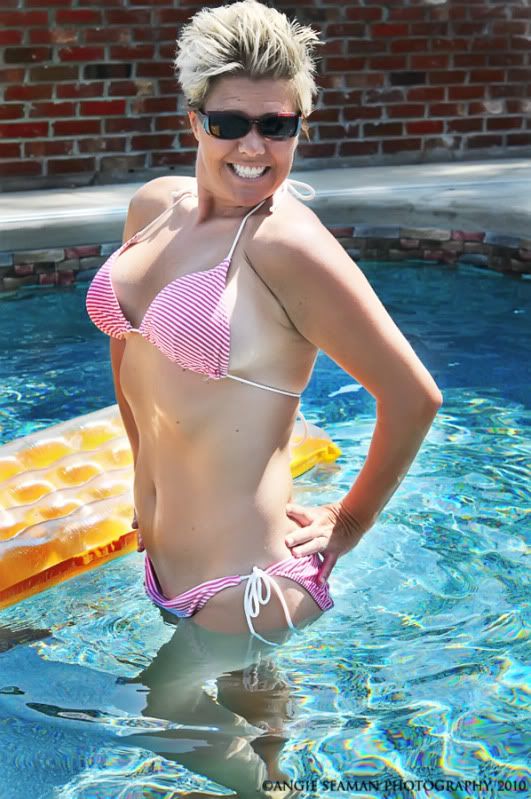 Needless to say, we all had a FAB weekend. I am still paying for that 5am bedtime though and I'm quite convinced that I might never recover from it. Ever! In the end though, it was all so very worth it. :) I am so blessed to have these girls in my life. Their friendships mean the world to me. Unfortunately a couple of our gals couldn't be there for the sleepover and I soooo missed them. However, they are always in my heart. Always.
A huge thank you to Lori and her husband Trent for letting us use their house for the big event. Trent actually took their 3 boys away for the night so that we could have the time to just us girls. How cool is he???
Aside from fun with my girlfriends, we've had a blast with my parents. I'm so sad to think that we are heading back to Naples in two days. I am missing our palm trees though but unfortunately I don't think the palm trees will make up for my Dad. :( In the past week & a half, we've gotten to see some of my Dad's friends as they've made it a special point to come by and visit with us while we are in town. I can't begin to express how much I appreciate them coming by to say hello while we are here. They've taken time out of their busy schedules to drop in and it truly means the world to me. As I said on facebook the other night, thanks to my Dad and Cathy's homies/peeps for being so good to me all my life. Love you guys! :)
For now, I am off to get ready for a photography shoot this evening. Fun, fun, shoot ahead. I'm so excited. Stay tuned for the images. Until then, enjoy your evening. Blessings, Angie
Labels: CG girls, girlfriends, gur-frens, pool day, sleepover, slumber party