ULTRASOUND IMAGES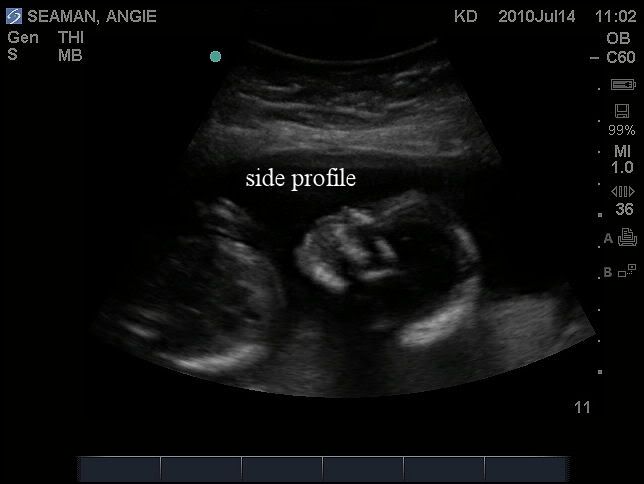 Meet baby Seaman in his alien form at 19 weeks. :0)
He cooperated quite well for the ultrasound tech yesterday which made me a happy Mama. He even gave us a cute little foot shot below...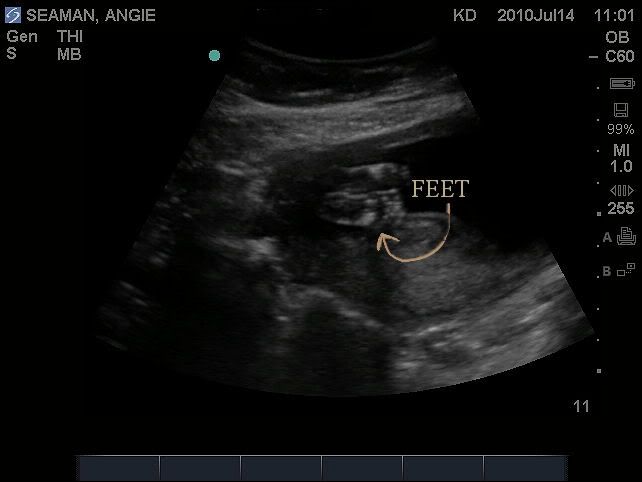 What I was most concerned with was making sure he showed his lil' parts so that we could learn the sex of who was in there. And like a pro...he did...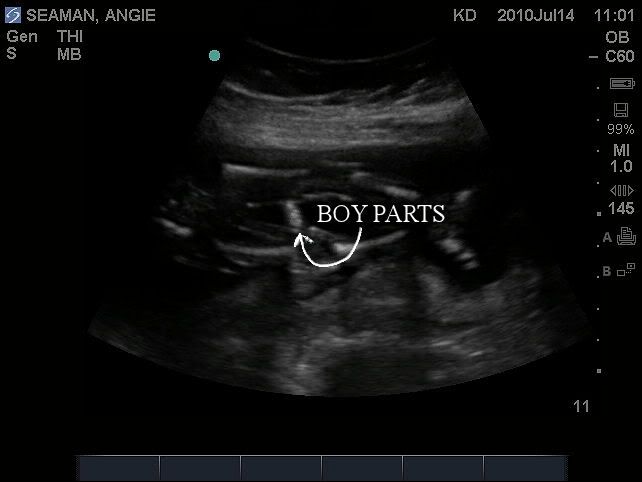 And like the pro's that all of you are, I asked for a vote on facebook yesterday evening regarding the four boys names I liked the most. Out of those four, one of them was a "maybe" in Brent's eyes. So...after you all came in droves like the good people you are to vote on the names and help us out a bit, the names have clearly been narrowed down to just two now. After well over 100 different facebook wall posts from each of you, there were two names that were neck and neck - in a tie with one another - after your votes and input. Those two names are Beckett and Kellen/Kellan. 99% of you voted for us to pick either Beckett or Kellan as our little boys name. Brent likes one of those names better than another but we are still undecided and accepting ideas. For the moment though, we are tentatively leaning toward one or the other unless something else comes along in the next four months. Beckett was the first name that came to mind when I began looking at boys names. I loved it immediately. I think it can sound like a nice strong jock name as a young kid but it can also sound like a big wig executive as he grows older too. Kellan came from the Twilight star "Kellan Lutz" who plays Emmett in the Twilight movies. I think it totally sounds unique and goes well when you say it as Brennen, Kenidi and Kellan. However, Brennen, Beckett, and Kenidi sound good too. As you might remember, his middle name will be my own Father's middle name (Anthony). We have to get our Italian heritage in there somewhere. LOL!
The other two names I had listed as options on facebook didn't even make the cut. You guys pretty much nixed those ASAP. I think maybe four of the 100+ people voted for one of them (which was Channing) and the other name got ZERO votes (which was Draven). Draven was beat up pretty badly with one person telling me that "friends don't let friends give their kids bad names." NO ONE liked that name at all. Funny thing is, I love it. I still do. And I love it even more so now that I know everyone else dislikes it. It's that "out of the box" - "wanting to be different" part of me that insists on being the rebel that I am by going against all of the favorite votes. ha ha! I'm a freak that way. Why be Normal, right? No other kid I know has the name Draven and I like that. :0) So...we'll see where we end up. We've got four months left to make a decision. I totally appreciate all of your input though. It really helped to hear why each of you did or did not like the names. It gave us some good insight into several things we hadn't thought of before. Thank you, thank you, thank you for helping us out and taking the time to give us your opinions. We truly appreciate it. Nothing like getting honest feedback from 100 and something people in a matter of hours regarding a baby name. The power of social networking is AMAYYYY.....ZZZIIINNNGGGG!
On another note, I'm laying in bed typing with warm compresses on my eyes because I just got back from the doctor this afternoon where they informed me that I have pink eye in both eyes. Oh joy! We are having fun now. And even better...the doc won't give me medicine for it because I'm pregnant. Now that is some REAL fun - no medicine for pink eye. BWWWAAAHHHH~! He told me I need to keep hot compresses on my eyes about 6 times a day over the next few days. I'm just completely slap happy over that, lemme' tell ya! Needless to say, I came home and left a voicemail for my OB nurse begging and pleading with her to give me a prescription if they can. The last thing I want to do is pass this on to Brent and the kids over the next few days if I don't have to. Anyway, I'm waiting on a call back from the OB to see if she is against the eye drop prescription like my family doc was. I'm keeping my fingers crossed that I get some sympathy here and she writes me something for it.
Lastly, I wanted to mention that I have just 7 seats left for my next photography class beginning August 1st. It is a beginner online photography class that lasts 4 weeks. If you'd like to register for one of those final seven seats or at least read more info as to what the class entails, click HERE. We'd love to have you join us. For now, I'm off to go soak up the Florida rain - in bed - with my hot compresses over my eyes like a freak - this afternoon. Between my big ol' pregnant belly and the green guk seeping from my blood shot eyes, I'm looking real sexy. Don't hate! I know you all want these beauty attributes too. hee hee!
Big pregnant belly hugs, Ang
Labels: 19 weeks pregnant, It's a boy, pink eye, ultrasound photos