IT HAPPENS IN A BLINK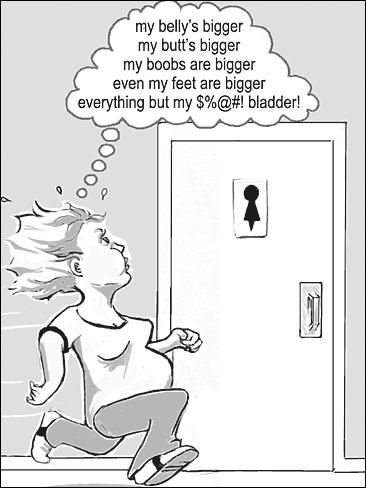 Oh yes...this cartoon says it all.
It is very fitting at the moment.
Pregnancy takes a toll on your bladder and I had forgotten just how many bathroom breaks we have to endure as pregnant women. I got out of our neighborhood and half way down the street the other day and decided I'd better go back home and take "another" bathroom break before embarking on my morning. So, I whipped it around, did an infamous Florida u-turn, and headed back home. Story of my life these days. However, I wouldn't have it any other way.

In other news, last night was the final night of my most recent photography class. All of the students did such a wonderful job. I couldn't have been more pleased. They each deserve huge pats on the back for the jobs well done and their incredibly devoted hard work over the past four weeks. As mentioned, due to our upcoming vacation as well as just being pregnant in general, I'll be taking a 2 month break from instructing any classes throughout June and July. However, I've decided to open the class registration back up for an August 1st class. Should you be interested in signing up for the August class, feel free to click HERE. We'd love to have you.
We have 7 days of school left here in Southwest Florida. Thank goodness because my kids are busting at the seams. Kenidi has already checked out mentally and is so ready just to be home doing her own thing each day. Brennen's 5th grade graduation is next Thursday. It's hard to believe that he is graduating from elementary school and will be a big, bad, 6th grader this Fall. Brent's Mom (Debbie) is flying into town next Wednesday and will be spending the week with us. Luckily, we convinced the school to allow her to attend Brennen's graduation with us even though they were only supposed to be allowed 2 adults per student at the graduation ceremony. We'll be so very glad to see her and have her here with us for that week. Summer is so close that I can taste it. Yes, I'm in a summer state of mind.
Speaking of school...I got a very sweet note from a friend and sweet teacher from Brennen and Kenidi's old school back in Indiana. We have managed to keep in touch with many of their teachers from back home and Jennifer happens to be one of our favs. She was actually an aide in one of Kenidi's classes before we moved south. I just had to share her note with you - (hoping she doesn't mind). It brought instant tears to my eyes. Call it pregnancy hormones - or just emotions in general - it broke my heart and lifted me up all at the same time. This is what it said...
"

Hi Angie(and #3!) First off congratulations to the whole family on your wonderful new blessing. We will definitely be praying for you and the baby for the rest of the pregnancy! I know that GOD knows what he is doing in your life and the life of your family. As we are wrapping up the school year, I've had numerous reminders of your children. Kenidi's name on a box or mailbox makes me miss her all the more. It's always such a blessing to stop and think of her. I think of her smile and say a prayer that all is well with her. I also wanted to let you know that Brennen had several pictures from Flatrock in the end of the year video presentation for 5th grade recognition today. It was so great to see his smile and the kindness that radiates from his eyes. I wanted to let you know that we miss you all at WCE still and that I think of you all often. Jennifer

" As you can imagine, I'm a sap right now. And this email made me that much more sappy. There are many days where I question whether our move to Florida was the right thing for Brennen and Kenidi. However, I've recently been made very aware of why we are here and not back in Indiana. All of a sudden it clicked the other day why God pulled us from Indiana and had us move 5 states away. When I reflect on the big picture, it had nothing to do with our love for the beach. It had everything to do with God knowing what was best for our family as the past few months have played out. There is one particular individual who still can't seem to let go of our family and just relish in her own. After another bout of her text messages came across my phone recently - even on holidays such as Mother's Day for Gods sake (I've since called AT&T and paid extra for a service that now blocks her multiple number(s) of choice from getting thru my phone), it suddenly became very apparent to me why we are here and not in Indiana. God knew where we needed to be as this individual works thru her massive issues. God knew that I had no business being within a 14 mile radius of this individual nor she within a 14 mile radius of me. Our move was protection from God for our family and the distance we needed to overcome others who fail horribly at trying to bring us down. Our move South was Gods way of ensuring I'd keep my sanity through it all and it worked. After I read Jennifer's email, as much as it hurt me for Brennen and Kenidi to not still be in Carmel at the schools they loved (and we loved with them), I knew without a shadow of a doubt that God knew best. I knew we were in the right place and that the thought of moving back to Indiana was a distant memory. I'm so content here. We are content here. Brent and I went on a date night the other night and we were talking about what a beautiful place we live in. It's like living in paradise every day. Although living in Florida doesn't erase away your problems, it sure does help you arrive at them a bit more relaxed than you would have normally. LOL! For that, I'm thankful that God plucked us up out of the cold Midwest and moved us to the tropics on a whim. Yes, he knew best. His plan wasn't our plan but we listened and we followed the opportunity and the opening of the doors. We are here now and things are better because of those opportunities. Oh and Mother's day...well it ROCKED the house. The text messages that day reminded me how thankful I was for the ability to pray. I prayed that God wouldn't allow that individual to ruin my Mother's day even though she was attempting to. And he didn't. My Mother's day this year turned out to be better than any thus far. Amazing how God works, isn't it? And Karma...oh yes...rumor has it that Mrs. Karma herself has paid some nasty visits to said texter in recent months. Funny how life comes full circle, isn't it? Oh the irony of it all. I'd be lying if I sat here and told you that I didn't find some enjoyment in it so I won't. Christian or not...it feels good to confirm that God serves up consequences for ones actions. Maybe not punishment but definitely consequences.
So...as you can imagine...life feels good right now. I know life goes in spurts and in phases so I'm not nieve to think the feelings will last forever. However, I'm grasping onto the feelings of good, great, awesome and incredible right now and throwing my hands in the air while screaming hallelujah to the world. Yes, even when suffering thru morning sickness. You'll find me hugging the white goddess and thanking God out loud for the vomit, for the nausea, for the headaches, for the big ol' heavy veiny boobs, and for the beautiful life growing inside of me. God is good! He deserves all of the glory as my life - our life - is nothing without him. Thank you Jesus for the unexpected blessings you continue to bestow upon this family. Thank you for standing by us even when your company isn't deserved. Thank you for life and all the lessons we've learned within it. Here is to a summer chalked full of surf and waves, salty sea air, soft white powdery sand, golden tan skin, the laughter of two beautiful children, new travels to far away lands, the right to crave crazy concoctions, incessant bathroom breaks, and 6 more months of bliss as we plan and organize the welcoming of our early Christmas gift this year. I praise you for it all. The good, the bad, the ugly, the pain, the bliss, and the many moments of being unable to breathe in good and bad situations because life took your breath away when you were least expecting it. It all happens in a blink. Life ROCKS!

...Angie, God's forever student
Labels: baby seaman, Florida, It happens in a blink, Karma, Life rocks, move, pregnancy