SPECIAL DEAL FOR UPCOMING PHOTOGRAPHY CLASS
My 35th birthday is this weekend. And in honor of that, I'm feeling the need to celebrate a few days early. As most of you know, I will only be offering 2 more photography classes this year due to the birth of our new little one come the beginning of December. One of those begins on August 1st. Typically the class costs $159 per person. However, I thought I'd do something fun to celebrate my 35th birthday as well to celebrate the fact that the 1st anniversary or the inception of these classes is now 1 year old. The students I've had come thru these classes over the past year are totally worth celebrating. So...for the next 36 hours - (special offer ends at midnight on Friday, June 25th), I'll be offering the August 1st class at $99 instead of the normal $159 cost. If you are interested in signing up for the class, jump on this deal and get a seat while you can. As a reminder, this is an online class for beginners. No experience necessary. We will discuss the ins and outs of your camera as well as teach you the basic steps of beginner photography. Here is what some of my most recent students had to say about their experience in the class...
Angie, I am so completely and utterly grateful that you offered this amazing class! Photography has been a passion of mine and you have definitely helped me fine tune it and truly learn how to use my camera! I can't begin to thank you enough for the time that you took to critique pictures to make them better and for all the questions that you answered. You made this an amazing experience and I feel so much more confident now as I shoot. Thank you, thank you, thank you! ~Kathryn F.
Angie, Amazing job! You were always available for any questions and so helpful. Amazing since we all had different cameras. You made it so easy to understand how to operate the camera and as a bonus I was not expecting, how to take great shots! It has been really helpful! I will certainly refer you class to my friends. Thank you once again for being such a positive, motivating leader for us all! This class was great! ~Kara
Angie,
Your class was the best thing I've done towards learning more about photography! Thank you sooo much for offering it and sharing what you know! You did a great job teaching and making it easy to understand! Thank you! ~Sonda :)
Thank you Angie for this class. It really forced me to "get to know " my camera in more detail. I learned so much. Would highly recommend this class to anyone I know! ~Emily V.
You do not have to have a digital SLR to participate in our class. Any point and shoot will work as well. We discuss the pros and cons to both styles of cameras as well as the ins and outs for both designs. Next, the course is done online. There are no specific times each day that you must check in or anything. You will be given private access to a forum/discussion board where you could log in at any time throughout the day - as much or as little as you'd like. You make your own schedule with it. Some people check in everyday, others just check in a couple of times of week. We have one lesson a week that is posted on a certain day. Once posted, you are then given an assignment to do which pertains to that weeks lesson. All questions and notes will be posted on the forum for everyone to read so that we are all learning together. It is a very laid back atmosphere with no/zero pressure. You can participate as much or as little as you prefer. Of course the more you participate, the more you learn. You have one week to turn in each assignment. I then "constructively critique" your assignment and let you know how great the shot is and/or how you can improve for next time. Some students were really involved, some hung out and chimed in from time to time, and then there were some who didn't say much of anything on the forum but checked in for the lessons and the "silent" learning throughout the four week time period. I am on the board/forum everyday so I'm always there when someone has questions or needs additional help. As for what I'll discuss or teach during the 4 week class, here is a list of topics that we'll go over and learn:
1) Getting tight and close with your images
2) Uncluttering a photograph
3) Framing your images in camera
4) Composition (rule of thirds) when shooting
5) ISO
6) White Balance
7) Changing up your angles
8) Aperture Priority Mode
9) Avoiding and forcing the flash
10) Your cameras highlight warning & what it means
11) Learning your histogram
12) Exposure compensation
13) What is burst/continuous mode?
14) Shutter Priority mode
15) Graduating to "manual mode."
To sign up for this class, shoot me an email at Angie@AngieSeamanPhotography.com. I'll then send you a pay pal invoice for the discounted $99 rate. Remember, the $99 special only lasts for 36 hours - until tomorrow at midnight. After that, the class goes back up to $159 per person. PLEASE NOTE: This is for the August 1st class only. The last class of the year does not qualify for this special rate. Hope to see all of you in class soon. Blessings, Angie Seaman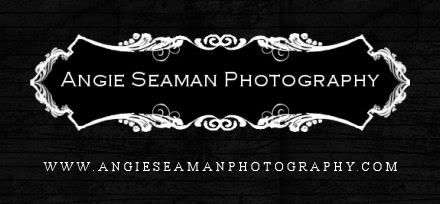 Labels: Angie Seaman photography class, discount, online beginner photography class