REFLECTIONS - ROCKY BALBOA STYLE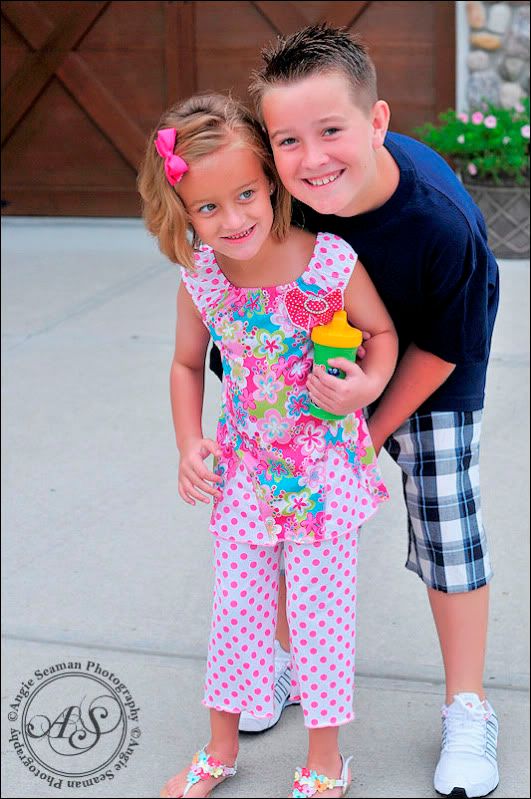 This was Brennen and

Kenidi

back in August of last year. It was one of their first few days of school as Brennen entered the 5

th

grade (and

Kenidi

entered 1st). I remember being so nervous - worrying that the year would fly by and that Brennen would soon be a 6

th

grader before I could even blink.

Sure enough...it happened. I blinked and he is now a middle

schooler

. This was Brennen today - outside his 5

th

grade classroom - following his graduation...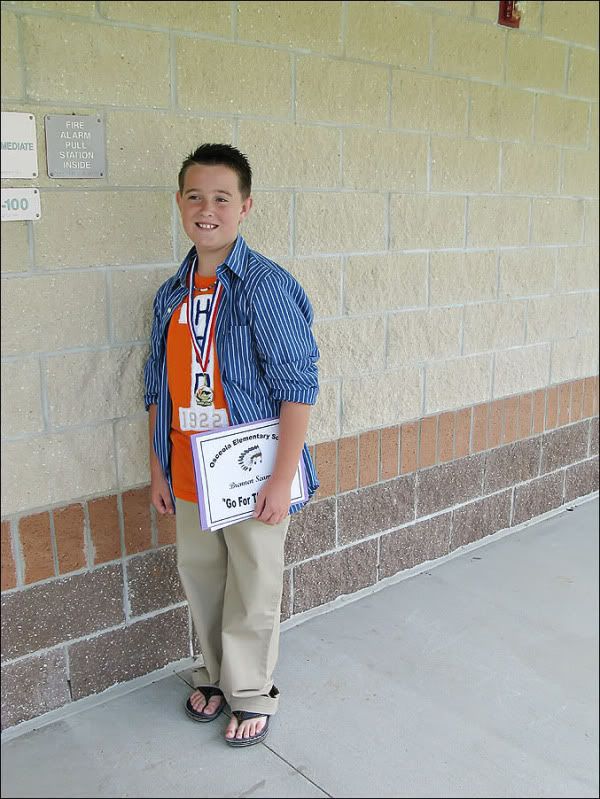 Now, crank up your volume on your computer or you won't be able to "feel" how this post came to be. Insert the memories of the movie, Rocky IV right about now. Que the song, "no easy way out." You know the scene...the one where Rocky gets in an argument with Adrian as she stands at the top of the stairs in their beautiful home. He ultimately leaves in his

Lamborghini

and begins flying down the road, shifting gears at the speed of lightening after Adrian yells "YOU CAN'T WIN!" He's speeding down the road - all the while he's reflecting back on his life. He's having flashbacks of every event. Every important moment. Every circumstance that lead him to where he was then. Are you "feeling" this yet?
As I drove Brennen to school this morning, I was an emotional mess. I had to drop him off at 7:50am and then be back to the school in an hour to watch him graduate from the 5

th

grade. I was reflecting on his

pre

-K years and how I worried that at the age of 4 there was just no way he would ever be able to find his way back to his classroom on his own. I remember the first day (after months of walking him in myself when all the other Moms had already let their child begin doing it alone), I finally let him embark on that maze of a school and and walk on his own toward his class. I worried myself sick as I pulled away thinking that he'd get lost and not be able to find his way. I worried that the teachers wouldn't notice him wondering and that he'd just vanish. Yes, I am a worry wart. But in the end, I called the school a few minutes later just to ensure he would make it to class and low and behold...he did. Without me.
At that moment, this ROCKY IV song came on my radio. I loved this song from the movie and began telling Brennen what a great tune it was. He laughed at me and I caught myself treasuring the moment when I could tease him and yet still make him laugh at me. We have great moments in the car together - especially enjoying music together. Music is one of our similar loves. As the Rocky song played on, I then began to remember his 3rd grade year. It was the first time he ever rode a bus to school. We had moved him from the private Christian school he had always known and he had begun going to my

alma

mater

. Center Grove. The Christian school never had buses but Center Grove did. He was so excited to ride that

twinkie

. I'll never forget that sinking feeling of when I put him on that bus for the first time. Even though he was in the 3rd grade, my heart felt like he was only 2 years old. I followed that bus to the school that day. Yes, I am that kind of Mom. The bus made it safely as it always did. He made it to school that day and many days just fine. Without me.
Then came the first time he attended a field trip without me. It was the only time I had ever not chaperoned a trip. I would have gone but the teacher made you allow other parents the opportunity to

chaperon

so I had already used up my chance for the year. Therefore, I couldn't go. I was jittery mess all day that day when he attended that museum trip without me. I worried about what would happen if he got lost - or separated from the other

chaperon's

. I was never so glad to see him come home as I was on that particular day. He did come home that afternoon and he had a ball on that field trip. Without me.
Fast forward to December of last year. We moved mid year from Carmel, Indiana to Florida. I knew Brennen would have to walk into an unknown class and find all new friends on a dime. He was the new kid on the block, coming into a new school, in a new state, in the middle of the school year. I knew it was going to be painful for him and I both. I was physically ill as I turned around and left him with all of those kids in his new class that morning. As I walked back to my car, I fought the flood of tears and prayed that God would watch over him, comfort him and bring him peace as he started out in this new world. Truth is though, I worried that the boys wouldn't speak to him. I worried that he'd eat lunch alone. I worried that no one would play with him at recess. It was a stomach wrenching day that day. In the end, he popped off the bus that afternoon and proclaimed that he had made 7 new friends. Without me.
I started to sob today at the end of his graduating ceremony. His principal had an eloquent way with words as she described our children and their journey ahead. I had held it together

thru

the whole graduation - fighting back the tears - until that moment. It was the end. Her final speech about the 5

th

grade graduation class of 2010. I knew it was the finale - the end of his elementary school career - and the end of life as we once knew it.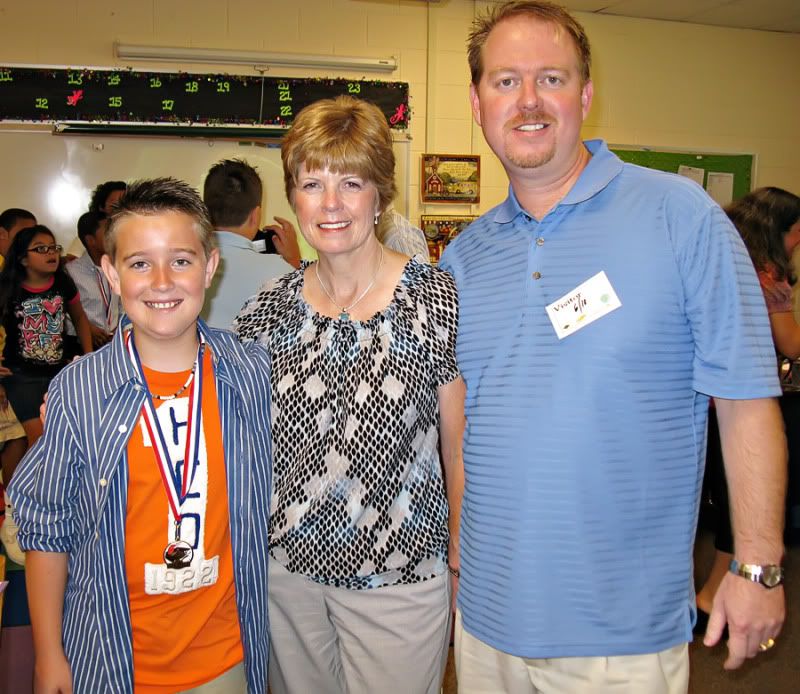 The above image is 3 generations. It's Brent, his Mom (Debbie), and Brennen. These images were all taken on my crappy point and shoot canon camera so please excuse their poor quality. It's definitely no "Nikon" like his cousin -- Big

Pappa

.

LOL

! Either way, this shot was taken in Brennen's classroom after the ceremony. Brennen of course was ready to go after a quick bit of mingling but I found myself wanting to linger - attempting to hold onto this journey for just a while longer. I was battling with the thought of walking out that classroom door and saying goodbye to my little boys last 7 years of elementary school. That chapter was now over. He had reached his right of passage - his promotion into 6

th

grade. He was ready - I wasn't.
I made him gather with a few of the little girls that were circling around him for a photo op. The little girl to his right (our left) is his supposed girlfriend. His grammar school crush.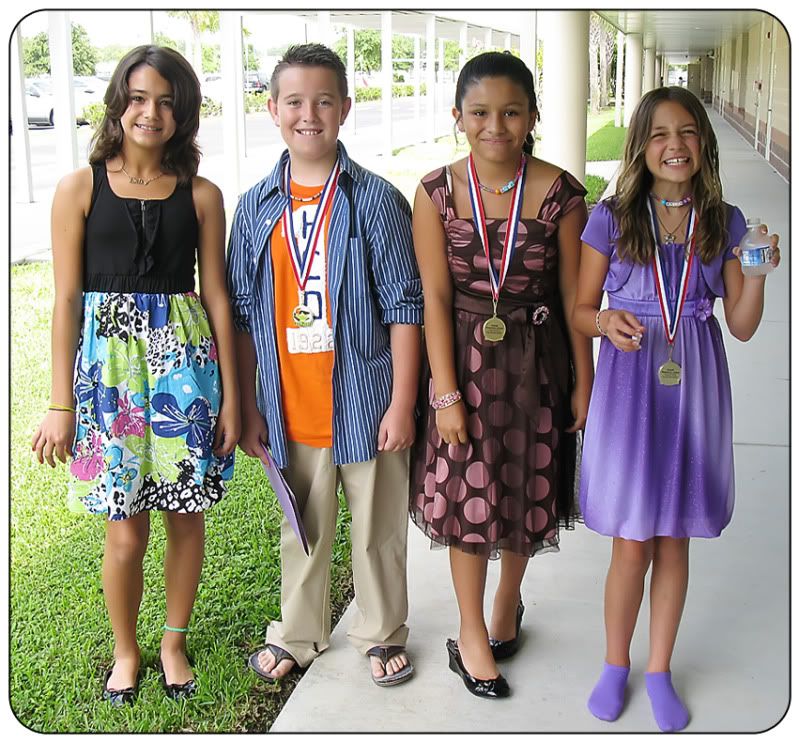 She was a beautiful little girl and so I asked if I could get a photo of just the two of them.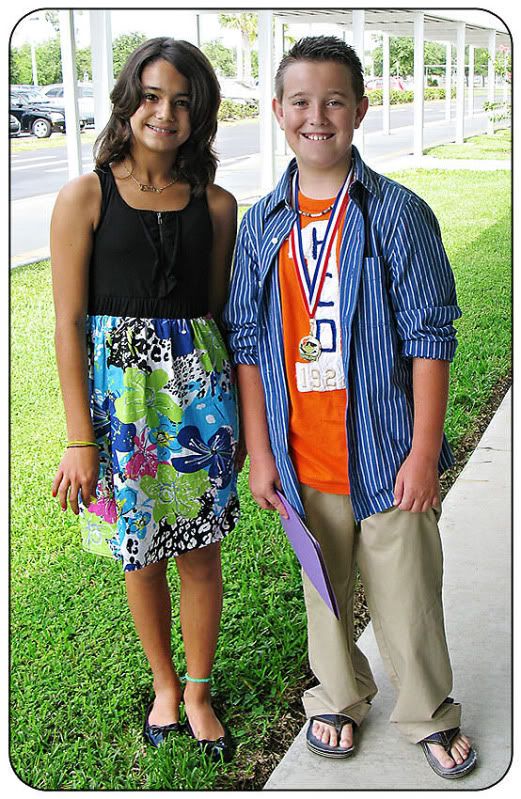 The good news is...I survived the day. I survived the last 7 years. I have a wonderful son whom his teacher confirmed/said to us today..."Everyone wants to be his friend." I couldn't be more proud of him. He's done so well and has a bright future ahead. Here I am...praying that I don't blink and that the next three years don't fly by like I think they will. The thought of him entering

high school

, getting his drivers license, etc. is all too much for me to bare. Maybe I'm a sap because I'm pregnant right now. But maybe...I'm just a sap because I'm a Mom and know that the reality is...he's growing older. He's getting bigger. He's accomplishing things. Lots of things. Without me. There is no easy way out of that realization. There is no short cut back to home. Reflections are powerful. Especially when you are cruising down the road having flashbacks while the Rocky IV song blares in your background. Reflections are intense. Real. Painful many times in life - in good and bad ways. Today was a tough reminder that you can never get back your days. That those days will go on - no matter how much you attempt to

stall

and hang on to the past. :( Hugs to all of you that are experiencing your own "Rocky style reflections" at the moment. Good thing God makes us Moms tougher than nails, eh? You know...tough like "Rocky Balboa tough."
...Angie
Labels: 5th, Brennen, fifth grade graduation, No easy way out, Reflections, Robert Tepper, Rocky IV