PREGGIE POPS & A SUNBURN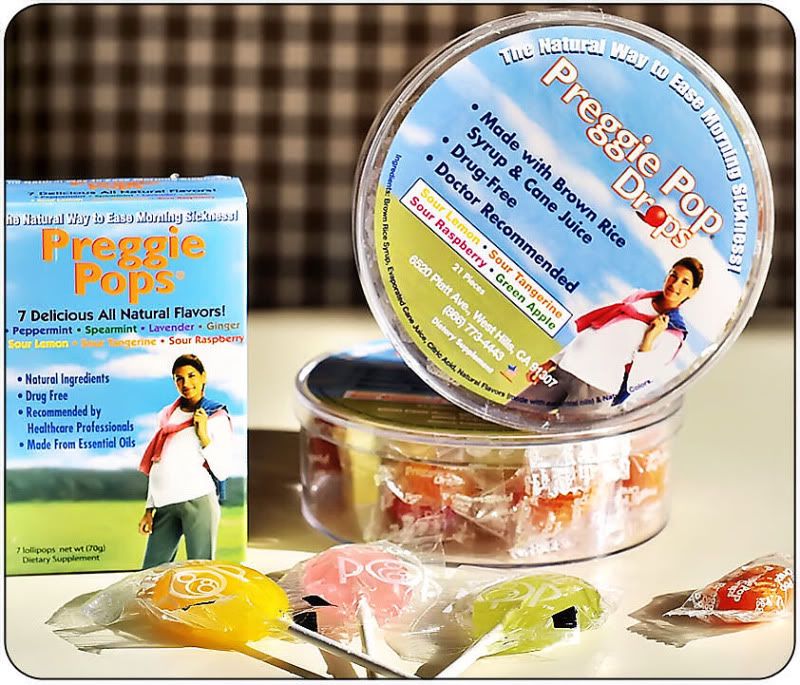 Meet my new B/F/F's.
Preggie Pops
Thanks to a fellow photographer friend here in Naples, her recommendation for me to try these in regard to my ongoing nausea has helped a lot. I found these at the Motherhood store here in our mall. I went thru the first pack within like 4 days. Although they aren't a complete cure, they do help take the edge off and slow down the intensity. Thank you Jesus! (and thank you Jennifer G. for turning me onto these) I'm sure that these have been out forever by now but beings that I haven't been pregnant in 7 years, they are new to me. I'm behind the times. I know. I've got lots of catching up to do. :)
It's Friday evening. I'm curled up in the bed, overcoming one of those nauseated days as well as a sun burn that competes with something straight out of a horror flick. Oh yes, my intelligent self decided to go sit at the beach yesterday with my mom for 3 straight hours after having not been in the sun for several weeks now. (thanks to the morning sickness all day and all night long) I was Miss pasty which is unusual for me because I am a born, bled, and raised sun girl. However, the heat has been too much to handle since becoming pregnant and I haven't visited the beach in like 7 weeks. My mom convinced me to go yesterday though so we loaded up a cooler with iced down wash cloths as well as a cold spray bottle & parked ourselves 2 feet from the shore line so that I could easily get up and take a dip if I needed to get cool. For the most part, it was doable. I survived. Now though, I could pass as one of the Lobsters in a restaurant that was just recently boiled up to serve table side with hot melted butter. My base tan was gone and I over did it. Imagine that - me over doing the sun. My knuckles are burnt (again) and my knees hurt so bad that they are stiff as stone. I can barely bend them to walk. And my face - oh yes - sooooo not pretty. I look like botox gone bad with swollen puffy eyes and such. I'm back to looking like a true tourist here in Florida again.
Because of this beautified state I'm in, I'm freezing and covered up under our big down comforter with no relief. Chills. Goosebumps. And let's not forget the pregnancy nausea. All that makes for a pleasant afternoon. NOT! It's my own fault. I knew better. :(
With that said, I'm off to enjoy the weekend. I'm hoping to get a photo shoot in tomorrow and then some girl time with a gur-fren Sunday evening. (Dinner and Sex & the City 2 movie) For now though, here is to visions of aloe trees dancing thru my head tonight. Enjoy your weekend. It's June - my favorite month of the year. Enjoy every second of it. It's going to be a great 30 days. Sunburns, nausea, and everything else in between.
Happy weekend! ~Angie
Labels: preggie pops, pregnancy, pregnant, sunburn