MY REVIEW OF ECLIPSE
Most of you know that even if Edward wore a paper bag around on his head in the Twilight movies, I'd still adore him. Thankfully for all of us RPATZ fans, he doesn't wear paper bags on his head. And thankfully, last nights midnight viewing of the movie ECLIPSE just ROCKED! It was by far the best movie of the three thus far. I loved Twilight and I also liked New Moon a lot even though Edward was M.I.A thru most of it. However, the movie Eclipse really sealed the deal for me. Taylor, Rob, and Kristen really nailed this performance...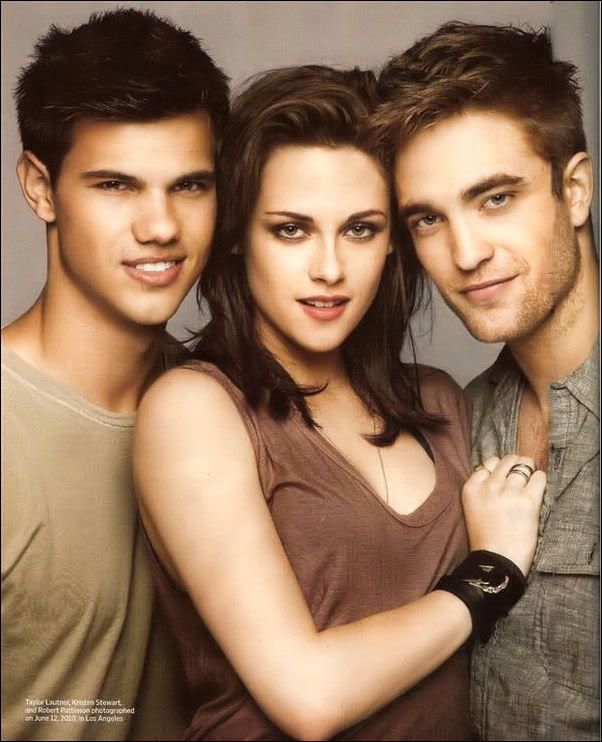 I found Kristen to be much more relaxed, not near as jumpy/jittery with her words as she normally is, and she was much more done up - especially at the beginning of the film. Her hair (the wig she was wearing because she was shooting the Joan Jette film/Runaways at the same time) was gorgeous. They had make-up on her and the difference really proved that she had deep beauty when pulled together. And yes, even when wearing those dreadful plaid shirts she sports around in. I really liked Taylor in New Moon once he cut that long hair of his off. But in last nights film, I really fell in love with Taylor/Jacob in a way that I never thought I would. The producers did a great job of creating a massive love triangle amongst him, Kristen and Rob. You felt his pain as he knew he was loosing Bella. There were two kissing scenes between him and Kristen in Eclipse and the 2nd one could be felt around the world. No joke. The entire theater clapped and cheered when we watched it play out on the big screen. It was the moment where Bella cheats on Edward for a split second but yet just long enough to confirm that she is also in love with Jacob. The moment broke my heart for Edward but I found myself silently cheering for Jake at the same time. For the first time, you really feel what Bella is dealing with. I'll love Edward forever but Jake really pulled his weight in this third film. Just sayin'! Back to Edward though...oh yes...that Edward Cullen. Shall I refresh your memory for you???

Now that my friends...is what I'm talkin' about. He is why I'll love Edward "forevah!"
The chemistry between Edward and Bella is so much stronger and so much more real in the Eclipse film. They seem to be very relaxed and extremely natural during their romance scenes. I'm hoping that it might have something to do with them dating in real life. Yes, I'm still praying that rumor might be true. If I can't have him, I think Kristen should be next in line. LOL! Their love doesn't seem so painful or forced in this recent movie. There are a lot more scenes with them kissing in general which had the theater on the edge of their seats the whole time. The movie opens with a gory newborn vampire scene and then leads into a part with Edward and Bella in their ever famous meadow. That in turn goes right into a romantic kissing scene. Loved it!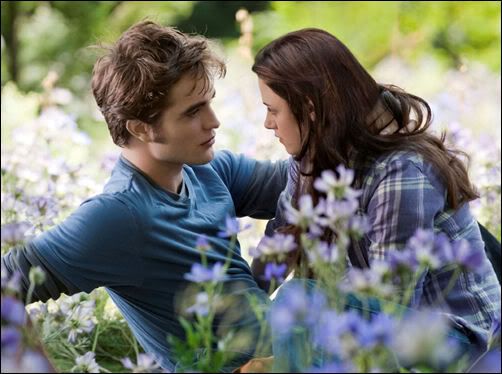 The producers also did a phenomenal job with upping the tension between Jake and Edward regarding their love for Bella. There are some intense scenes amongst the two of them as well as some humorous moments that made the whole theater laugh out loud at certain moments. Eclipse brings a lot more humor to the table in comparison to the very serious New Moon and Twilight films. The humor in the film is good humor too - not corney whatsoever! How can you keep from laughing with these two hotties though...???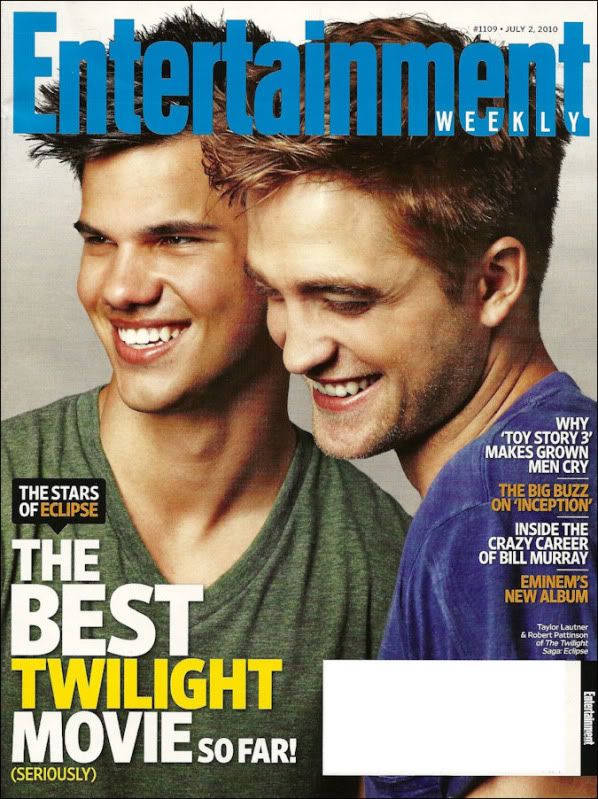 In fact, the entire cast of Eclipse really ROCKS the house this time around. Jasper does A LOT more talking and some deep introductions of himself and how he came to be in this one. So does Nikki Reed(Rosealie). I loved hearing her story of how she became a vampire albeit shocking and painful to see. I will have to say that the ones we didn't see a lot of in this film were Ashley Green (Alice) and Emmett. I'm unsure why their roles were lessened in this one but I really felt that they were. The entire Cullen family is amazing so I like seeing each of them as much as possible. Make me choose though and I'll pick Edward over any of them any day of the week. :0)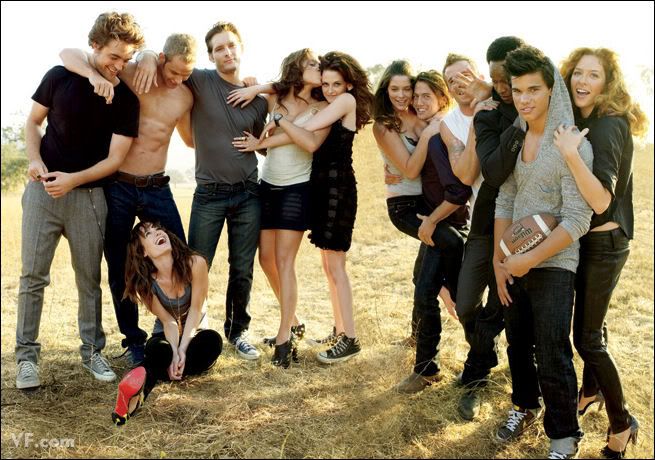 In the end, this film made for a great night. Brennen and I had a ball at the theater. We showed up right around 11:30pm. We lucked out when they cut the line in half and sent our section to the other side of the building which put us up at the front of the line. In turn, we got great seats in the theater and loved every minute of it. We saw women dressed in red vampire capes, black vultori cloaks, Edward Cullen pajamas, Team Jacob tees, etc. There were guys there. Lots of them. Some were with their wives and girlfriends but I also spotted large groups of guys together. Some high school aged - some college age. I was shocked! I thought it was cool to see them there though. Brennen ran into a couple of girl classmates from school and of course he suddenly had to act like his Mom "drug him there kicking and screaming." I tried to explain to him that girls would love it if they knew he liked the Twilight films. He didn't go for it though. So for now, I'll keep it our little secret that it was because of his begging and pleading to get the tickets to last nights premiere, that we ended up there. I loved the fun in it all and enjoyed seeing all of the diehard twihard fans at their finest. We didn't get home until almost 3am due to our late night run to McD's after the movie ended. And yes...I'm paying tremendously for it today. My friend Heidi called it an "Edward hangover." If you are going to have a hangover, oh what a hangover to have. LOL!
All in all, after what I saw between Edward and Bella in this film...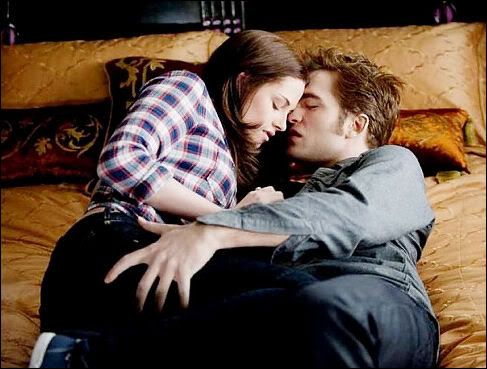 I just can't wait for November 18th, 2011 to roll around so that we can see the wedding and honeymoon action between the two of them in the movie Breaking Dawn. Did I mention how thankful I am that they are splitting Breaking Dawn up into two films? Let's drag this thing out as long as we can, right?
Lastly, somewhat off topic, I forgot to mention last week that our gender ultrasound for baby Seaman has been scheduled for the morning of July 14th. Yes, we have just two more weeks until we find out whether we are having a girl or boy. Please keep us and baby Seaman in your prayers as that date approaches. I am 17 weeks along now and am completely astonished at how fast that 5th month mark is coming. I pray God keeps the clock moving in warp speed. :0) When picking what to wear for last nights Eclipse episode, I ultimately ended up going with my "Team Edward Forever" t-shirt. However, I wish I would have had one of these rockin' maternity tees to wear for the big event...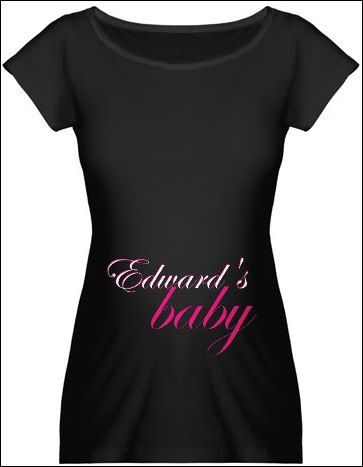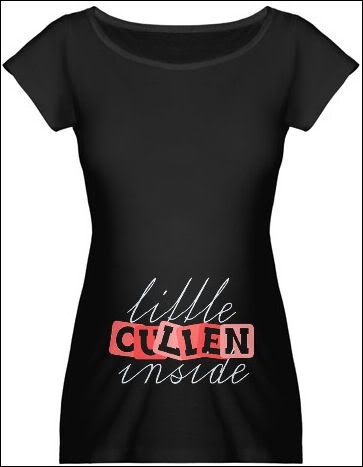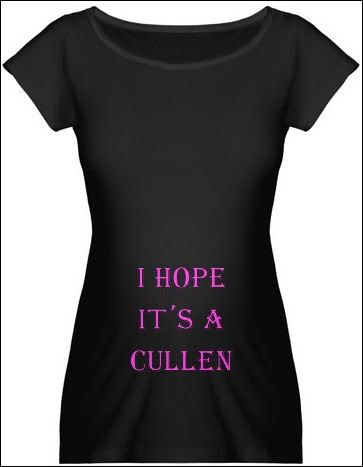 Never fear...I WILL own one of these tees before my December run is up. I can promise you that. LOL! Oddly enough, I begged and pleaded with Brent to let us name this baby "Cullen" if it turns out to be a boy but unfortunately...he just isn't going for it. I even offered to spell it with a "K" but it still didn't fly with him. Ha ha! Instead, we have about three other boys names we will have to narrow it down to. He seems to be so convinced that this baby is going to be a girl that he isn't even worried about boys names right now. Me on the other hand...well, I have found more boys names than girls to use. I guess we'll find out what to do in two more weeks, eh? :)
Until next time...get to the theater and see ECLIPSE - ASAP!!!
Much love, Angie
Labels: Eclipse, Kristen Stewart, Rob Pattinson, Robert Pattinson, Taylor Lautner