MORE DISNEY & SOME "EDWARD"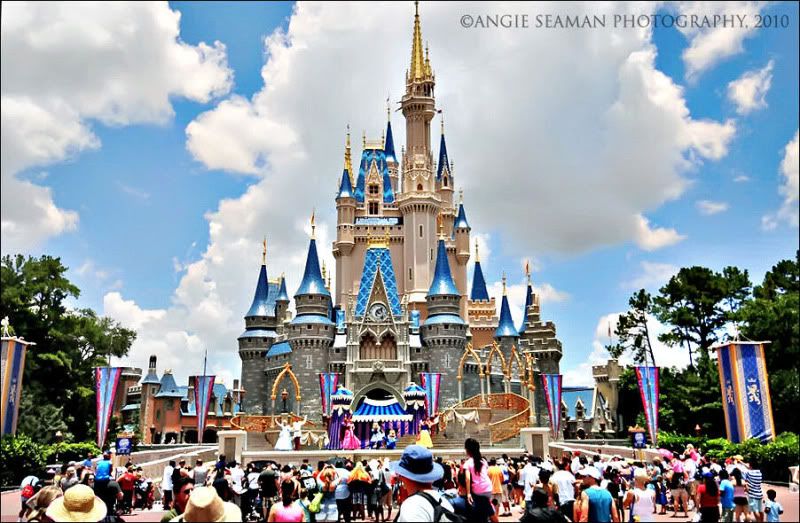 The Magic Kingdom really is "magical." As I look back on these photos from our Disney vacation, I'm still floored by its beauty and all that the parks there in Orlando have to offer. If you look closely at this shot above, you can see that zip line I mentioned in my earlier post below which stems from that tip top tower point all the way over and across the park. I'm still amazed at the girl they lit up in lights and sent zip lining over the top of us during the fireworks show on that thing. Very cool stuff!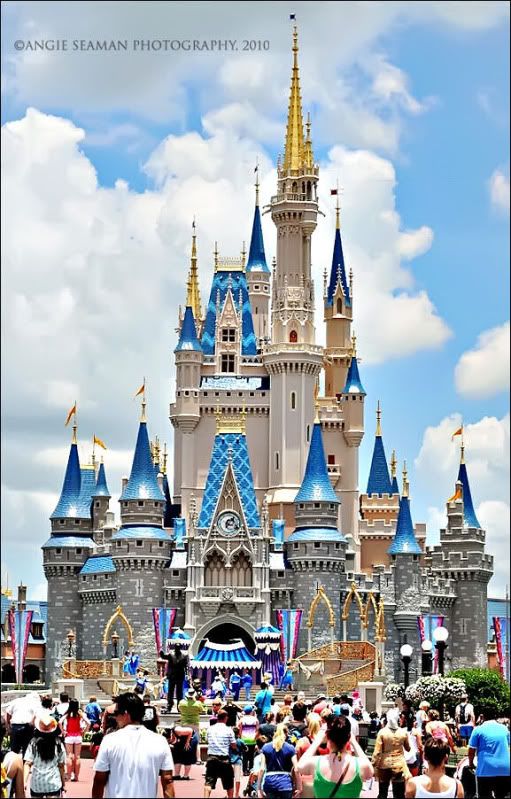 The sky was extra perfect on this day. The clouds made for some added texture in each of the images. Love me some bright white clouds on a blue sky day. Everyone knows that I love color and I look for it in everything that life holds. Being at Disney was no different. There was color EVERYWHERE and I absolutely loved it. The bouquets of balloons being sold around the park made my heart happy up against that brilliant blue sky...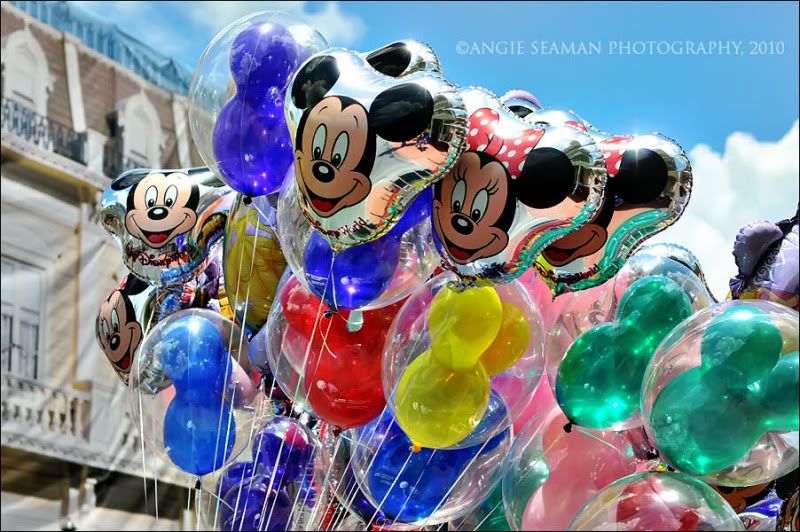 I did forget to post this night image of the castle yesterday when I posted the other night photos. Therefore, here is a peek at it for you: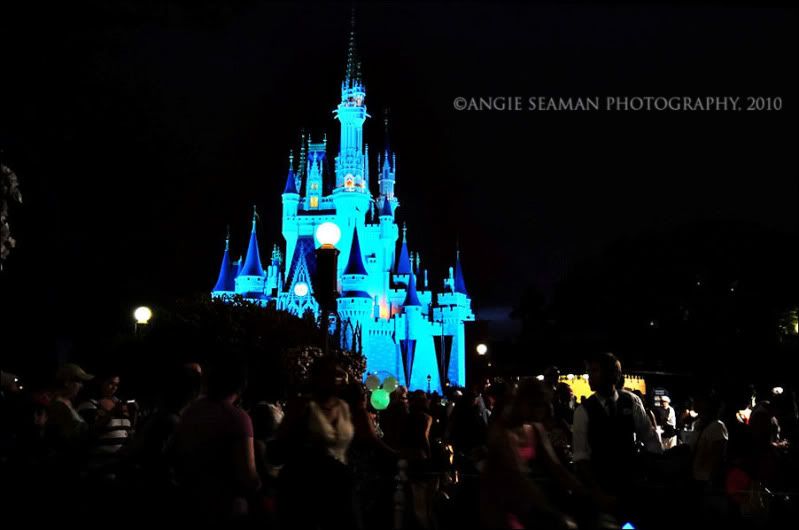 Enchanting, isn't it?
One day we headed over to "Downtown Disney" and hit all the shops and restaurants. Downtown Disney was a really cool place and was right up my alley. These are some shots I captured when we first got there...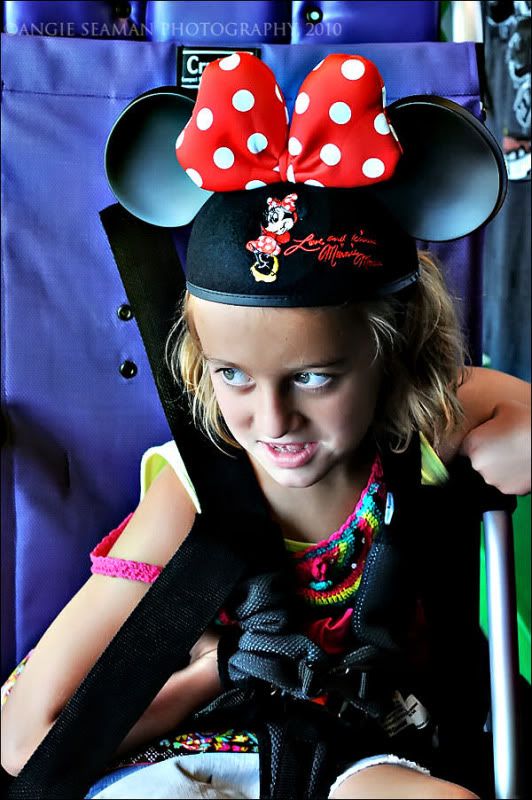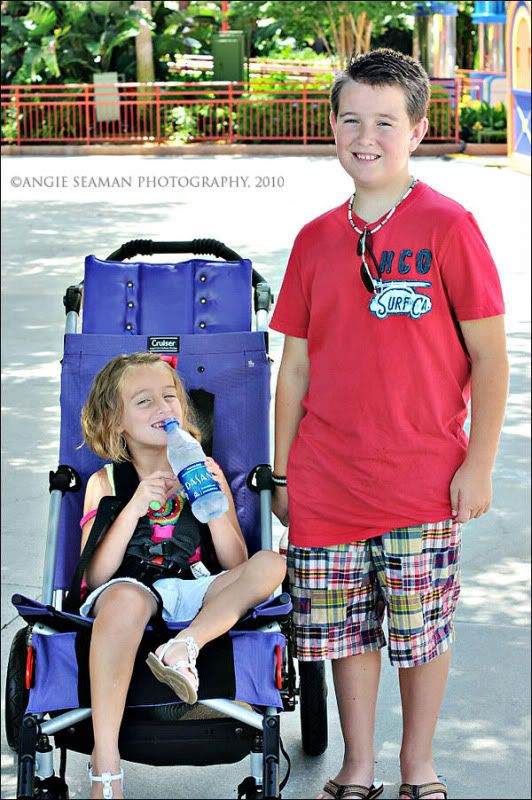 Can you tell how much Brennen hated me at this moment in the shot above? He dispises having his photo taken(especially in 98 degree heat). By this point, he was over my camera and I. He couldn't have even faked a smile here if I had paid him. He was beyond frustrated and I can't say that I blame him. And yes, this is Kenidi's special needs stroller. Many of you emailed me about it after my last post. It attracts quite the attention. I have yet to figure out why but it does. I'm unsure if they look at it and feel "sorry" for Kenidi or if more people look at it and wonder what in the world type stroller it is. We've gotten both sets/types of questions about it and we got stopped numerous times during this trip regarding it. This purple-licious stroller has been a life saver for us. A huge thanks to blog friend, Eloise, for turning me onto this type of stroller for Kenidi. She has a daughter, beautiful Vivian, who has the same condition Kenidi does. Eloise directed me to go thru our local hospital in Indiana (Thank you Riley) and through our Insurance company to get one of these strollers for Kenidi. It took almost 6 months to get it once she was fitted for it and it was ordered but it has been well worth the wait. It also took lots of prayers regarding whether insurance would pay for it or not as well. Can you believe the medical supply places charge $3000 for strollers like this one? Without our insurance, we would have never been able to afford this on our own. It breaks my heart that there are so many families out there like us who need this type equipment but might not have the insurance option to pay for it. I find it appalling actually. In the end, we were thanking the good Lord above for pulling this one thru for us on our insurance because it has been such a HUGE help for our family and mainly for Kenidi. Although big and bulky and sooooo not convenient, it works and works well. She loves it and so do we.
While at downtown Disney, I found tons of things to take photos of. They had an area that made my heart swoon when I first laid eyes on it. I grabbed my camera and went to town. If there is one thing I miss about living in Florida instead of Indiana, it is old beat up buildings. Old urban settings. I like rough, ragged, and distressed. In Naples, everything is just so clean, well manicured, pristine, and new. I'd kill for some beat up old downtown buildings with graffiti down the sides of them here in Naples. Therefore, when I saw that Downtown Disney had some old areas - totally built new and meant to look distressed and not truly old - I still had a hay day behind the lens...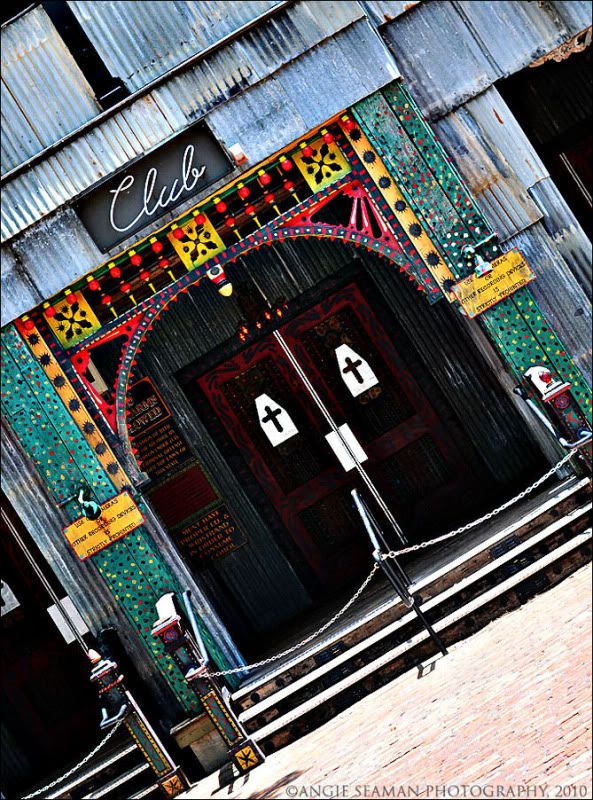 I loved the doors with the crosses on this building above. Radness at its finest! The colors, the crosses, the doors themselves, loved it all!!!
Then I stumbled across the house of blues area. Oh yummy!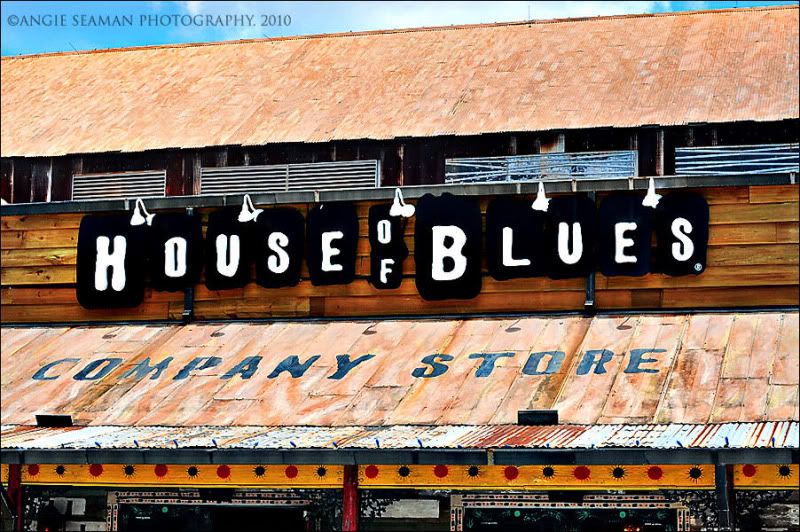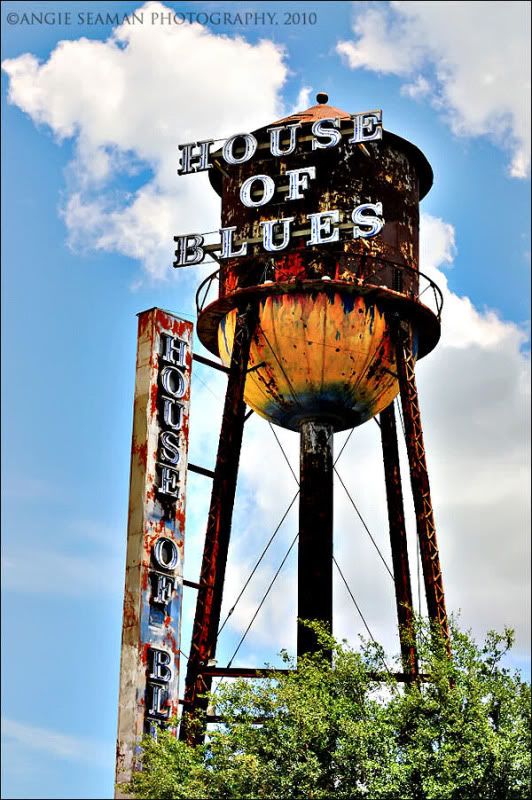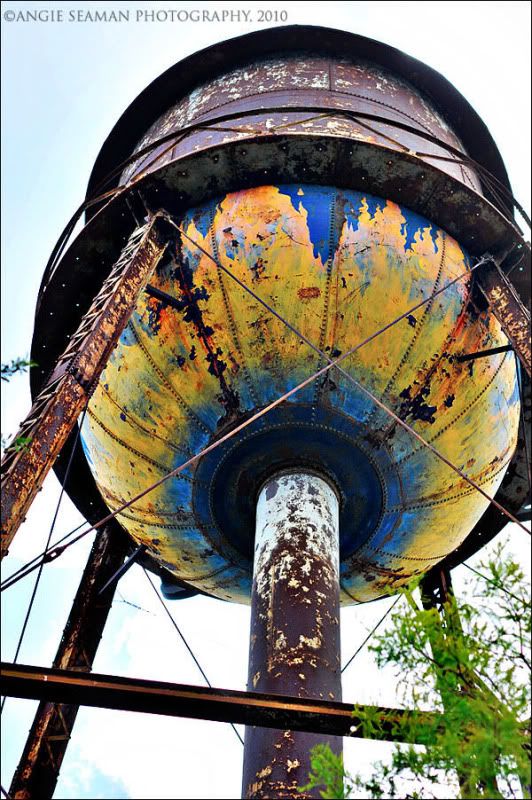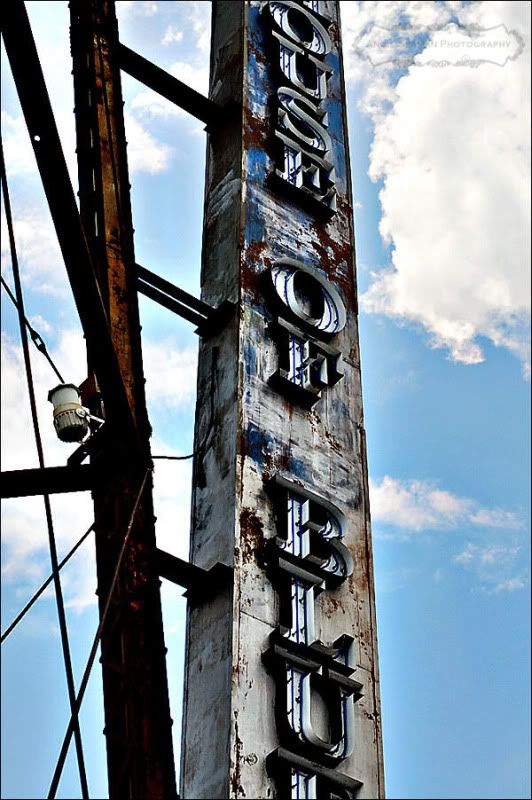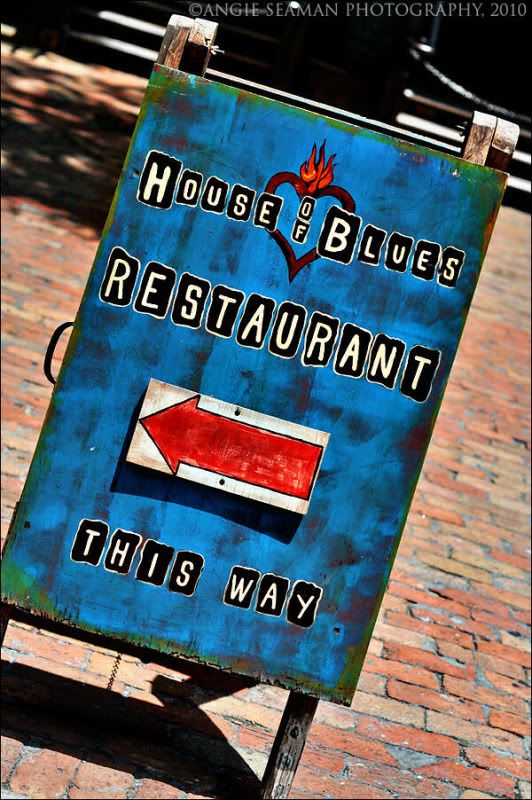 This area screamed "URBAN DECOR" and it had my name written all over it. We went into the House of blues gift shop and it totally ROCKED! They had the neatest stuff in there. Totally awesome and eclectic.
For now, I am getting ready to hit the town tonight with my handsome young stud of a son as we head to the theater for the 12:01am premiere of the movie "Eclipse." I've been waiting for months to see this film and have heard that it really is the best one yet. Brennen has watched the other two films previous to this one with me so it has become a ritual for us to do the "Twilight thing" together now. He and Brent fought over who was going to go to the midnight showing with me tonight but Brennen won that one. I assured Brent that I'd have no problem whatsoever going back to see the film a 2nd time with him. LOL! I hope to take my camera and get some pictures of all the other crazy Mamas in line such as myself - just dying to see "Edward" on the big screen again. I won't mention how much I love that Burger King is doing a special right now to do with Eclipse merchandise when you buy from them. Brennen keeps teasing me that I need to buy Kenidi another kids meal so that I can get her "Edward" toys out of it. My son knows me all too well. My husband brought me home an extra big box of "Edward" sweet tarts the other day too. Needless to say, the box is proudly displayed on my kitchen counter right now. Uh huh...Robert Pattinson is da' bomb!

Until the next blog post...

Angie
Labels: Disney World, Downtown Disney, Eclipse, Edward, House of Blues, Magic Kingdom, Robert Pattinson