MONDAY RANDOMNESS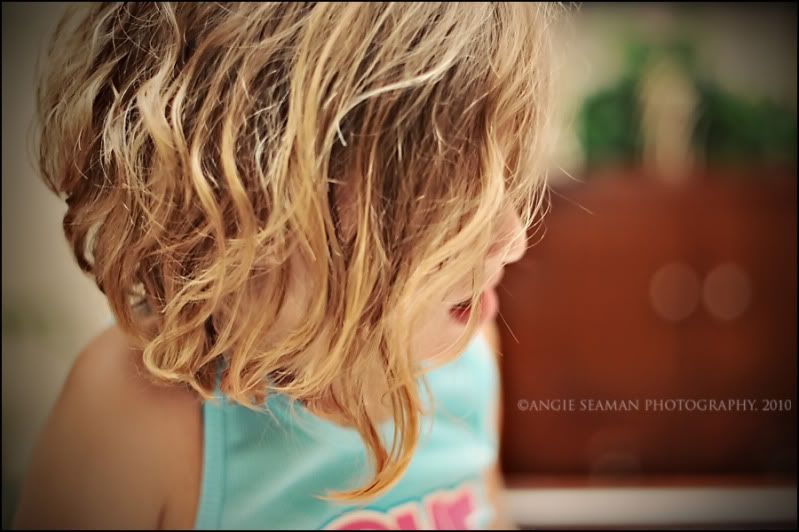 Kenidi was sitting in front of me the other morning as she woke out of bed and I snapped this shot of her hair. I like to call her "Goldilocks" as the summer season begins to strike because her hair moves from a dark brown to a summery golden blond with the most natural of highlights that I'd kill to have within my own hair. She actually needs a hair cut right now because her style has lost the shape of that angled bob that works so easily for her. However, laundry, packing, and organizing for our vacation this week has taken over the front burner which means Kenidi's hair cut most likely will not happen until we get back after the July 4th holiday. Her hair can handle it. Mine on the other hand would be an absolute mess at this stage if I didn't keep up with haircuts and such. So not fair!!!
As I work on my laptop now days, I see less and less of my toes. I noticed the other night that my stomach must be showing more lately because as I prop my computer on my lap, I'm beginning to less of my feet and toes. It cracked me up the more I thought about it so as my camera was laying beside me (like it generally always is - attached to my hip), I snapped a shot to prove it to all of you.
I go back to my OB doctor this Wednesday morning for my 4 month appointment. Hard to believe we've hit that 4 month stage in my pregnancy already. The last month seemed to just fly by. No complaints there. While at my appointment this week, I get to make my gender ultrasound appointment for next month. Therefore, we should hopefully be finding out what we are having in the next few weeks. I'm excited and nervous all at the same time. I guess that always comes with the territory though. I want to see our little one and find out whether it is a boy or a girl but I also want to make sure that he/she looks healthy and that everything is progressing as it should. During that ultrasound appointment next month, the docs will also be conducting the 2nd half of the nuchal screen test which is the test that shows possible signs of downs, trisomy, etc. Thankfully the first test I had came back with great results but they compare those results with the 2nd test that I'll have next month. From there, they will then make a more definitive confirmation on what they see after combining the two test scores and the two blood tests together. Needless to say, I pray every minute of every day that God has hands wrapped around this baby and that everything will stay healthy and safe over the next 5 months. I'll definitely update each of you on when our gender ultrasound appointment is set for so that I can have my prayer warriors drowning prayer around that date as it approaches. We've promised the kids that they can attend that appointment with us so Brennen is especially excited. He of course is still rooting for a boy. Brent still wants a girl. Kenidi is just now beginning to learn that there is something inside my belly. She has begun climbing up on the bed and kissing my stomach when I'm laying down. Well...in all honesty...she kisses my boobs on the outside of my clothes because she thinks the baby is in there. HA! We are trying to explain to her that the baby is in mommy's tummy and not in my breasts. God love her, my chest is larger than my stomach right now so I could easily see how she'd be confused. I laughed the other day when a fellow pregnant December mommy referred to her boobs as having reached "porn star status" due to their overwhelming amount of growth. It's crazy what pregnancy can do to a woman's upper half, isn't it? Painful I say. Painful!
For now, I'm off to finish a round of laundry that I'm planning to pack away in the suitcases. Most of you know where we are headed for vacation. Some don't yet know. Stay tuned...I'll divulge where as we head out on Friday. I'll be marking one of my items off my "bucket list" thanks to this upcoming vacation. I cannot wait to get there and capture it all for you via my camera. My body wants to go into convulsions as I think about it. :0)
Have a superb week...Angie
Labels: Kenidi, monday randomness, pregnancy, sand between our toes