WHAT I'VE LEARNED FROM MY DAD...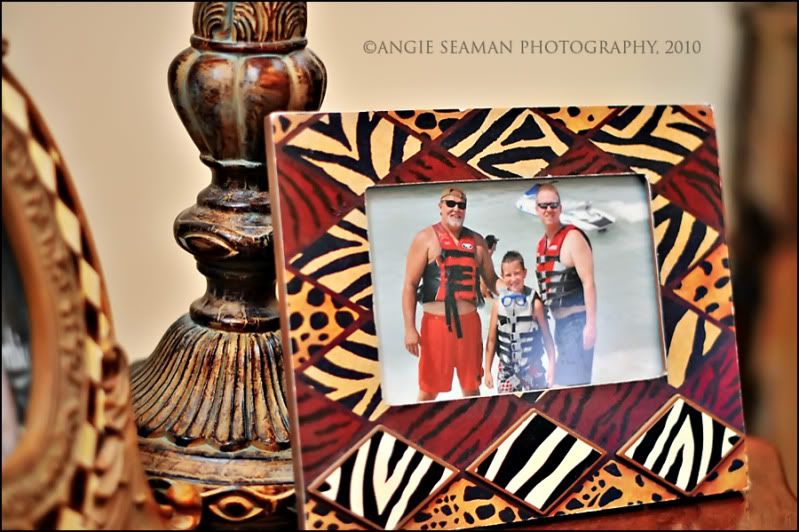 "The older I get, the smarter my father seems to get." ~ Tim Russert
Beings that this is the first time in almost 35 years that I've ever spent Father's Day away from my Dad, I'm having serious withdraws from him today. We've spoken already this morning and it was definitely great to hear his voice but it isn't the same as being there and getting a hug from him in person. The photo above sits on my night stand next to my bed every day and every night. Some might find it odd that a daughter would keep a photo of her dad near her bed side. However, I do and I wouldn't have it any other way. The image is of my Dad with Brent and Brennen while we were vacationing down here in Florida about 2 summers ago. They were just getting off wave runners and I snapped it. It's always been one of my favorite photos.
Although my Dad has his Father's day gift from me already, I thought that I'd write a blog post just for him today since I'm 951 miles away from his front door. Somehow it is therapeutic and helps me get thru the day if I can at least talk about him/write about him. So...these are the things that I've learned from my Dad amongst my almost 35 years of life. These are the things he has taught me and that I value more than anything. They are the morals and the lessons that I hold close to my heart and that I think are priceless because they came from him. Here we go Dad...you ready for this????
1) No matter what environment you grew up in, you are in charge of your destiny. Excuses regarding your childhood and those days being "all you ever knew" aren't enough to keep you from lifting yourself up and out of that mold if you wish to. You can do better for yourself if you so desire. 2) That there will be days when you find yourself standing in front of your son or daughter asking him/her what their boyfriend or girlfriends "intentions" are even though you yourself used to be mortified when your Dad would ask your boyfriends or you the same question.
3) That there is no better and quicker way to make grilled cheese sandwiches than by doing so in a toaster rather than the normal skillet just as long as your Dad is there to enjoy them with you. (My Dad made me grilled cheese sandwiches this way when I'd be over visiting on the weekends - right after my Mom and him divorced. I call it the "single dads way to making a ROCK STAR style grilled cheese for his daughter." LOL!)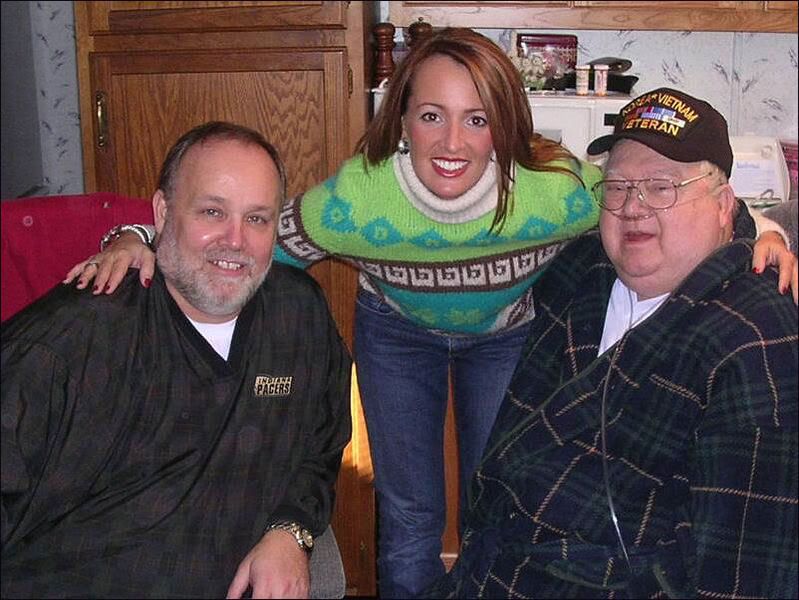 My Dad and I with my Grandfather right before his passing (my Dad's Dad)
4) That even though you might not have been reciprocated with love and support in your life, it doesn't stop you from being able to break that mold and do just the opposite for your own child when it becomes your turn.
5) I've learned that Red Lobster restaurants and Big Lots stores CAN be fun - as long as your Dad is there to share in the experience with you. hee hee!
6) My Dad has taught me to invest in friendships and treat them like the priceless gift that they are. His circle of friends are proof every day that he is respected and adored amongst many.
7) I've learned by watching my father back away from drama and remain quiet when everyone else is gossiping or stirring the pot that quiet and reserved is always best whenever possible.
8) My Dad has taught me that you can make up words/nicknames like "Buckethead" and they will stick - over time - for years and years to come. Same goes for the "poke me-stick me" hair term that he coined for me during my high school years in the early 90's. 9) My Dad has taught me that if you want to better yourself in life and you want to get up and out of the environment you grew up in, you need to show up for work on time, every day, and give 150% as well as give respect where respect is due.
10) My Father has shown me thru loving my own children with all his heart that he can be the Grandfather to them that I never had. Again, it's all about breaking the mold.
11) My dad has shown me that there is such thing as Father's being a daughters best friend. He listens. He supports. He encourages. He hurts when I hurt. He makes me laugh when no one else can. He's my rock when my solid ground has become unstable.
12) I've learned the epitome' of loyalty from my father. He is loyal to his friends. Loyal to his employer. And most of all, even when he could have been a ladies man 100 times over again throughout his lifetime, he has stayed loyal to my Step-Mom (approaching almost 25 years now). I'm thankful for his devotion to her and for his confirmation that there are couples still who do it right in this world. I'm grateful that their relationship is strong and solid. They prove to me and everyone else every day that marriage matters and that when you take those vows - you better mean them - live them - breathe them - and sleep them. Thank you to both my Dad and Cathy for instilling in me "the right way."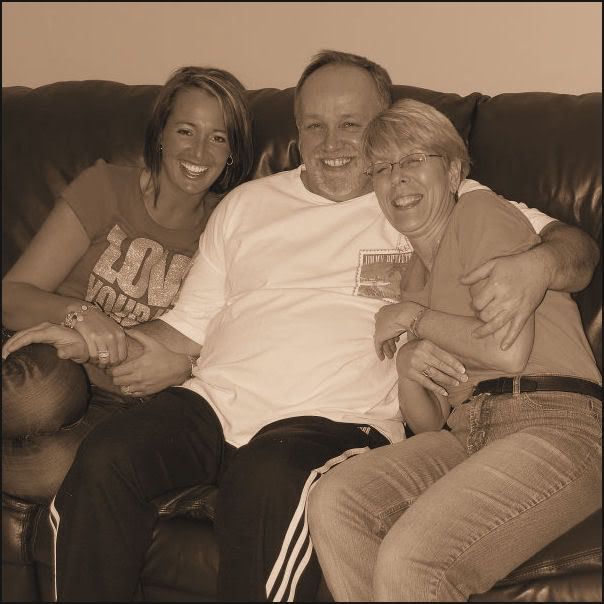 Me with my Dad and step-mom, Cathy
13) My Dad has taught me that no matter what decision I might make in my life, whether he agrees with it or not, he'll ALWAYS be here for me. ALWAYS!
14) I've learned that even though I hated watching John Wayne movies or the show MASH with my Dad as a kid that I'd contently sit and watch any of those with him now and relish in every second of it. :0)
15) I've learned that if you should ever end up with a pool in your backyard, my Dad is waayyyyy better than any pool company sales rep/instructor, etc. in regard to teaching you how to run that pool and take care of it. My Father is the guru of pools and I am forever indebted to him for his knowledge of helping me learn the ins and outs to maintaining ours. Like a father would teach a son to do handy-man work, my Dad taught me how to run a pool and run it well if I do say so myself. :)
16) I've been taught by my father that everything has its place. Everything can be organized. Everything should be organized. I've learned that if you are near my Dad or I and you happen to have a drink or something similar laying around, you'd better keep it in your hand because if we find it sitting, it's wiped up and put in the trash immediately. Organization is key. You should see my Father's garage and his den. Amazing!
17) I've learned that my friends can nickname me "V.O.R" thanks to my Dad. In my circle amongst my girlfriends, my tag name given to me from them is V.O.R - which stands for "Voice of reason." They call me that because I'm the one with the voice of reason for each of them whenever things begin to get shady or questionable. Ha ha! I get that voice of reason from my Father and his morals/values.
18) My Dad has taught me that he can take any child's name and suddenly replace it with his own middle name (Anthony) and yet still make it sound politically correct no matter what the sex of the child is and no matter who that child belongs to (i.e., Brennen Anthony, Kenidi Anthony, Luke Anthony, etc.) I've learned that my Dad needs a child who has the legal middle name of "Anthony" just like his. Thus why should we have a boy this time around, Brent and I have decided that our 3rd child will legally carry the middle name "Anthony" after my Dad, his grandfather. SURPRISE DAD!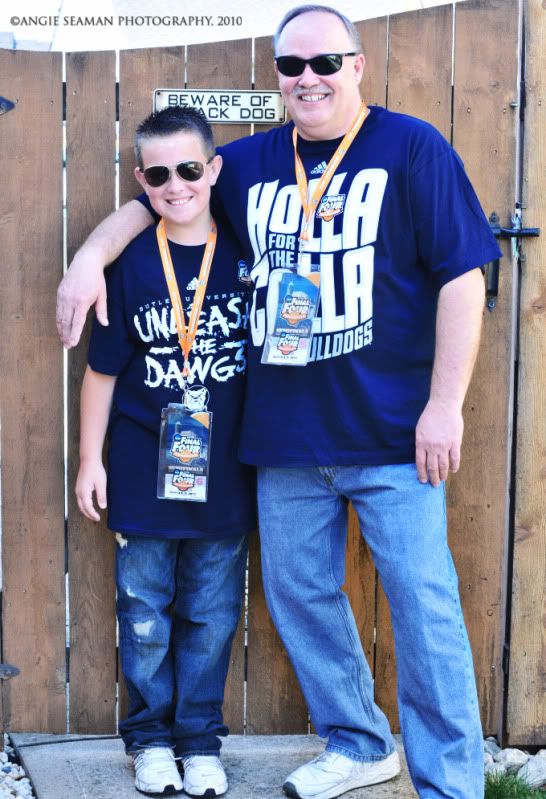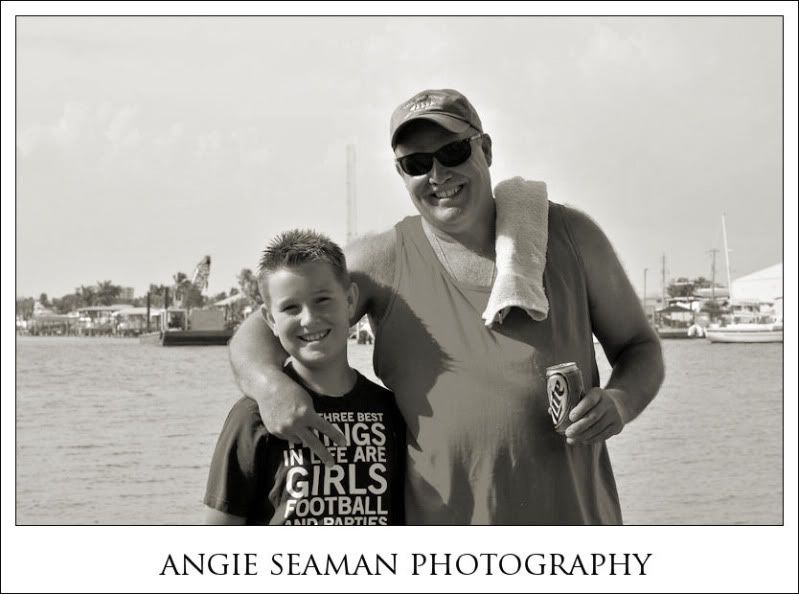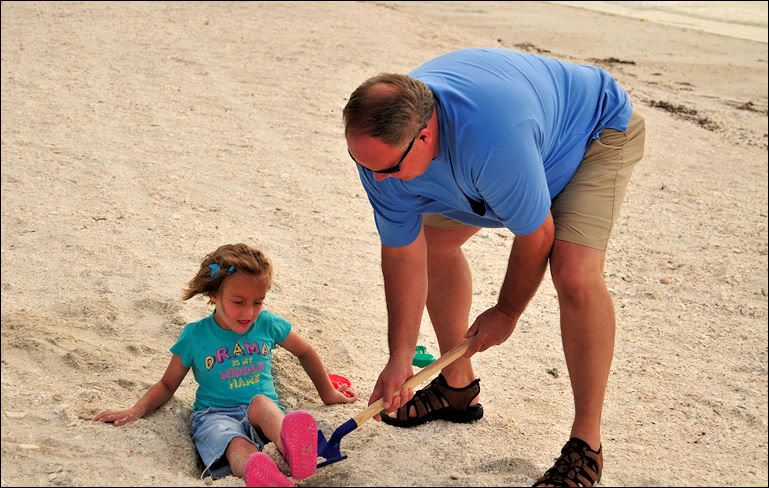 Dad, your integrity and character inspire me. I look up to you more than I can begin to express. You make me want to be a better person today - every day - more so than I was the day before. Thank you for being so instrumental in my world and for doing the right thing when you could have followed the ways of the world and done the opposite many times. Thank you for being the kind of Dad that even to this day...all of my friends still love and adore. Thank you for being faithful to your wife, to me - your daughter, to your grand kids, to your family, to your friends, to your in laws, to your job, to mowing the grass, to taking care of the pool, to taking care of your cars-keeping them clean-the oil changed, etc. Thank you for being you. I learn more and more with each passing day how wonderful, incredible, and amazing my Dad is. This is something I've always known but I realize with each minute that escapes just how lucky and fortunate I am to have a Father like mine. I love you with all my heart Dad. Happy Father's Day! Can't wait to hug you in person next month. ...love your buckethead daughter
Angie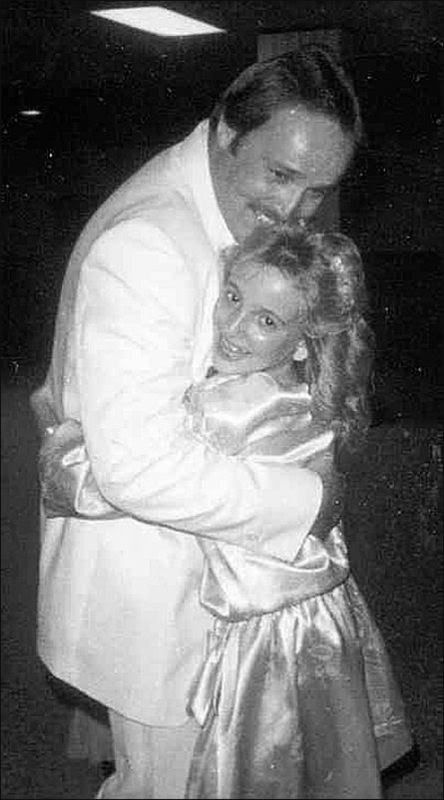 My Dad and I at his and Cathy's wedding
Labels: Father's Day 2010, Missing you Dad, what I've learned from my Dad