I HAVE A SECRET...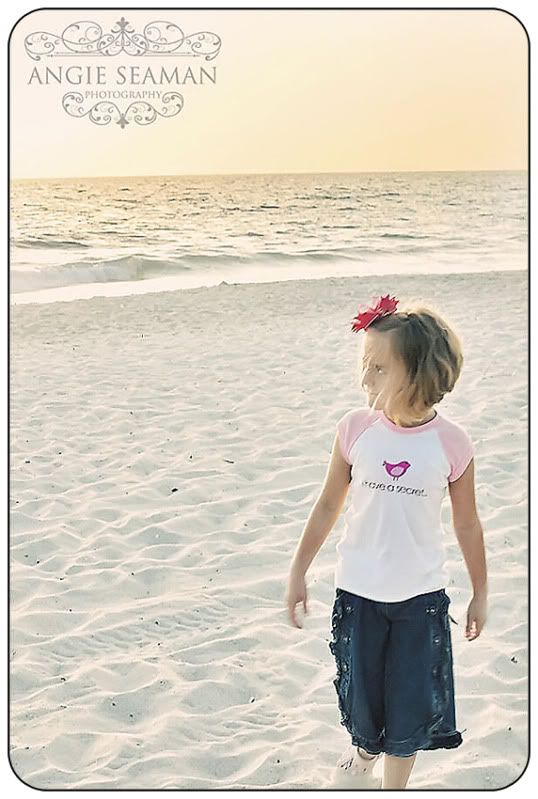 These photos are horrendous.
But they are the only three I managed to capture that weren't blurry or ruined because Kenidi wouldn't sit still at the beach the other night.
That child ran and ran and ran some more. She threw sand in my cameras direction then when she was done throwing it, she "kicked" sand in my cameras direction too. After 15 minutes of chasing her in the 95 degree Florida heat...I was done. You couldn't have paid me to stay there one minute longer. I looked at Brent, handed him my camera gear/bag and then asked him to go get the car and pull it around. I lifted her up as best I could and carried her almost 50 lb. frame kicking and screaming (oh and pinching) off that beach. She was furious. So was I. It was not a pretty sight. In fact, it was quite ugly. LOL!
I'd love nothing more than to be able to take Kenidi to the beach and let her play but she just doesn't. If she sits down in the sand, it is only to grab a few hand fulls and throw it at someone near by. When she isn't throwing sand, she is running away from us - almost like someone was running for their life. In the end, it just isn't worth the scene that gets caused. She hasn't grasped the whole concept of "we go to the beach to relax - not to exhaust ourselves even more." One of these days she might calm down and become mellow near the sea side. For now though, I just don't see it happening anytime soon.
With that said, can you read what her shirt says in the top image? It says..."I HAVE A SECRET." And on the back side it reads: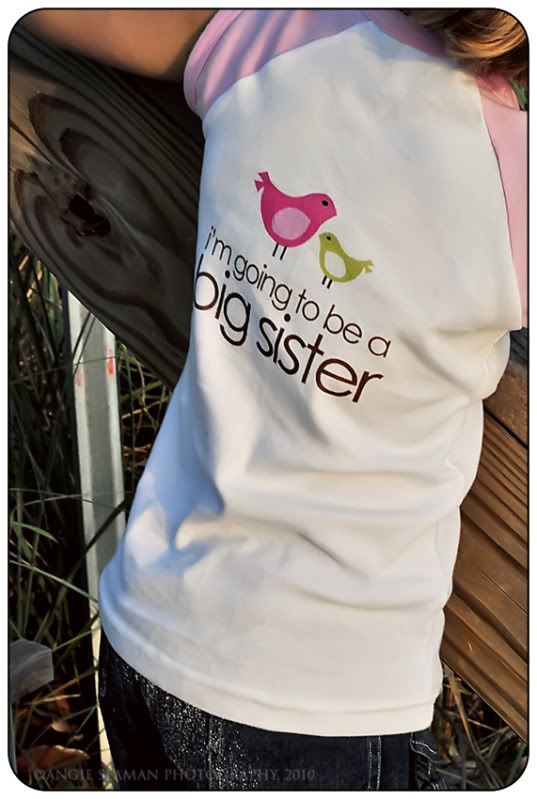 Cute, eh? Between her tee and her big sister bow, she just looked too cute. Even being the monster that she was. Don't let that innocent face fool you...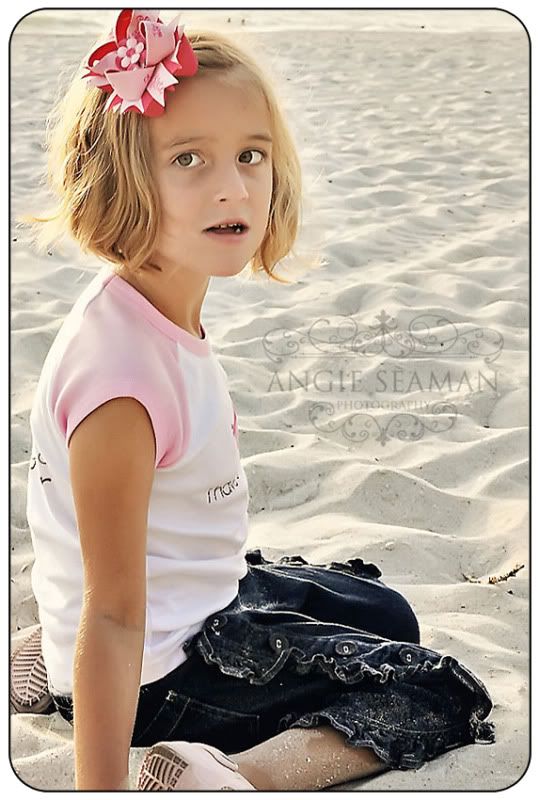 She is rotten to the core. Rotten I say.
Oh yes, I am more or less "screwed" when this baby comes along. Harshly put but I'm keepin' it real. I have no idea how I'll function. I'll never be able to go in public with the three of them again. Kenidi will make sure of that. She let out a loud scream - on a total whim - inside a restaurant the other night and I'm almost certain that the staff ended up having to wheel one lady out on a gurney due to how bad Kenidi scared her with that yell from out of no where. No joke. Funny thing was, the lady screamed just as loud right back - out of pure fear - when it happened. I looked at Brent when I heard her scream and when I heard her follow it up with an "OH MY GOD!" comment and said to him, "Doesn't she know we already have one drama queen in this restaurant? (a.k.a. Kenidi) We definitely don't need another!" I think Brent panicked for a second and began to worry that my pregnancy hormones might kick in and that I was about ready to approach her and ask her if she wanted to "take it outside." You know...like throw down with the gal out in the restaurant parking lot or something. He quickly said to me, "Calm down - remember you are carrying our baby in your belly." (as if thru all of the nausea and vomiting I had suddenly forgotten that I was now a baby making machine and growing another human being inside of me) Normally it's him that we have to worry about when someone is unforgiving regarding Kenidi. Lately though, I think he is concerned that my hormones will push me over the edge rather easily with anyone willing to engage me. HA!
Kenidi is a handful. We are the first to admit it. As she gets older, it only gets harder. However, we wouldn't have it any other way. And even if we never see the inside of another restaurant again, she is still worth it all. I mean seriously, what would I have to laugh about if I didn't have Kenidi to scare the H - E - double hockey sticks out of the unsuspecting elderly here in Florida? (who clearly, in their old age, have forgotten what it was like to raise children - let alone one with special needs.) One of these times I'm going to convince a hidden camera crew to come along with me - to capture the rudeness and the comments from others. Then, I'm going to walk up to them with the said camera crew in tow and proudly proclaim..."Guess what? You're on CANDID CAMERA, Dateline NBC, 60 minutes and Call Wink News-channel 6 for help. Welcome to your 15 minutes of fame!!!
That would definitely bring me some belly laughs.
Fo' Sho' Snizzel!
....To Kenidi and the fun she helps create.
xoxo, Angie
Labels: I'm going to be a big sister, Kenidi, new baby