FIX IT FRIDAY - I HEART FACES
I haven't participated in a "Fix it Friday" over on the I heart faces blog in a while so I thought I would this week. As you might well know, each week a person submits a photograph that they want fixed. Then...photographers submit there image once they've post processed it in a way where they feel it is fixed. Same for this week. I don't know the person who turned this image in but to the human eye, it looks like a great "before" shot. However, in the world of photography, the first thing a photographer sees is how "red/orange" the baby's skin tones are as well as how the image could use a bit of brightening overall. It appears to be unexposed by just a very slight bit.
Now days, photographers go after that white, creamy, skin tone for portraits - especially on babies. Thanks to photo shop, we can now easily remove all of the reds, blues, and oranges within a persons skin. We all have them in the color cast of our skin tones. It is up to the photographer to draw those out and give a smooth look and a creamy tone. I remember when I first began working in photo shop, I hated how photographers changed the color of skin tones. I honestly didn't like the look. However, many workshops with the pros later and after many talks with photographers way more experienced than me, I realized it was the way of the world. The must do in professional photography. I eventually had to conform to the style and the trend it was setting if I wanted my images to reflect a professional appearance. It took me a long time to be able to look at a photo and see the color casts in an educated way. I'd look at an image and go..."It looks fine - I don't see what they see (the pros)." Over time though, I took plenty of classes that trained my eye and my brain how to immediately look at an image and see those skin tones that needed correcting. Even now I still struggle from time to time though. Ever so often, it's just obvious which color must be pulled out of the skin. I look at photos now and it's the first thing my brain focuses on and is the first thing I want to "fix." Here is the BEFORE photo that was submitted on the I heart faces blog for fixing. Take note of the red/orange tones in the baby's skin color...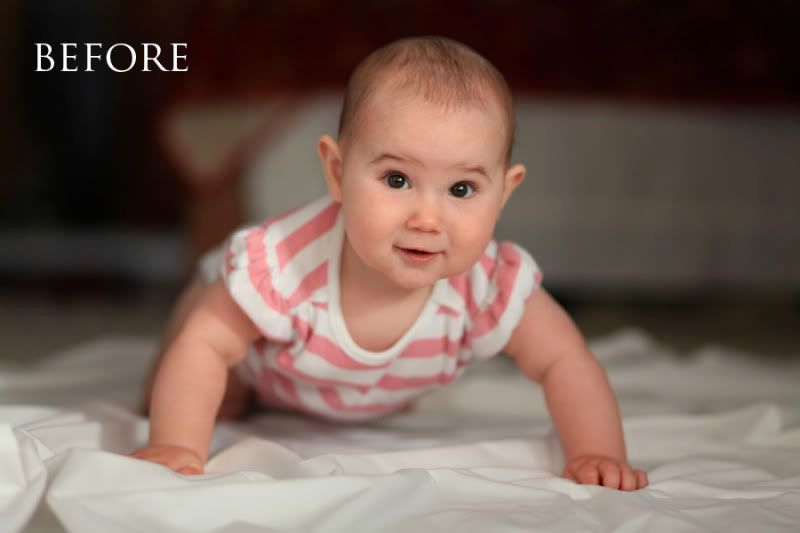 And here is the AFTER photo once I lightened the exposure, removed the red and orange colors from the skin as well as added a vignette around the image to draw more focus on the baby rather than the baby and the background as a whole...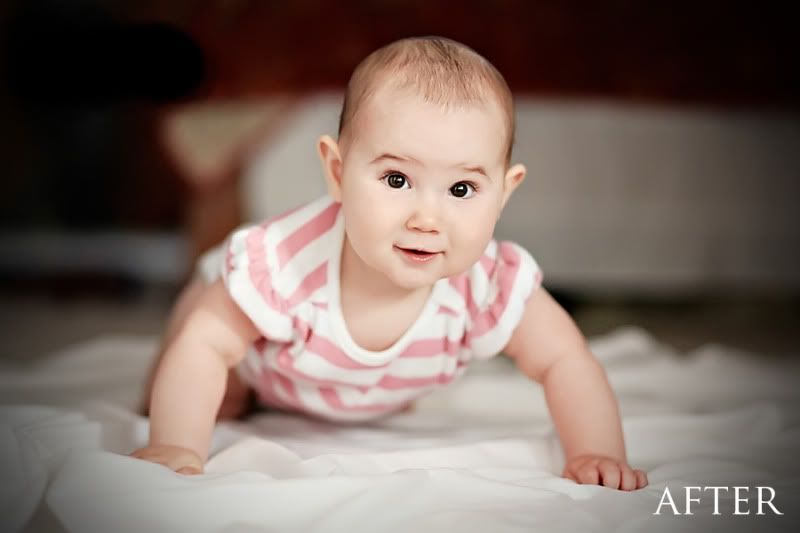 The good thing/good news is...I'm still learning. Each day is a new day in photography and one that I take very seriously. Because it is a passion of mine, I embrace learning new things and the realization that I still have a long way to go. In the mean time, I soak in any and all constructive critique amongst my peers and just have fun with the day to day education within the realm of photography.
To see more, I heart faces - fix it Friday submissions, click HERE. Thank you to the owner of this image for allowing us to play around with it and fix it. No matter what, it is still an adorable baby and a great image all together. Hope everyone is enjoying their weekend. We are off to chill by the pool for the afternoon.
Much love, Angie
Labels: fix it Friday, I heart faces