THE DISNEY ELECTRIC PARADE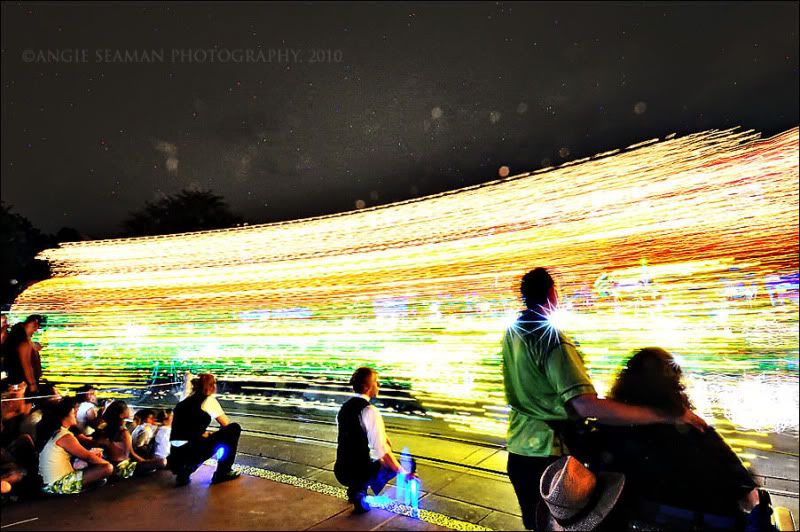 We spent the day at Magic Kingdom yesterday. It was the first time I'd been back there since I was about 10 years old. Fast forward 25 years and there I stood in front of Mickey's castle with my own two children. Amazing. Where did the years go?

The heat eventually kicked our butts and won. We literally crawled our way back to the monorail around 4pm and proceeded to stick to the seats as we sat there with sweat dripping off every inch of our bodies. It was the grossest moment of my life as I envisioned whose sweat I was sitting in when following whomever sat there before us. YUCK! We did manage to purchase water bottles that had fans and misters attached to them. At $17 a piece there on the Disney grounds, I almost choked up a lung as I paid for them. However, with me being pregnant and

Kenidi's

seizures acting up due to the heat, I didn't hesitate. We had to have them. Those little suckers literally saved our lives yesterday. :)

After reaching the car and feeling like an idiot for ever attempting Disney in the heat of June/Summer, we made it back to the hotel looking like something the cat had drug in.

Kenidi

crashed on the bed and took a long nap while we vegged out and recovered from the sweat pit state we were in. As 8pm approached, we cleaned back up and headed back to the Magic Kingdom for the Electric Parade and the nightly fireworks show which always begins at 10pm. The image shown above was taken during the Electric Parade. I got out my tripod, slowed my shutter speed way down, and captured some really cool light shots of the event. When I wasn't slowing down the shutter speed, the normal floats looked something like this: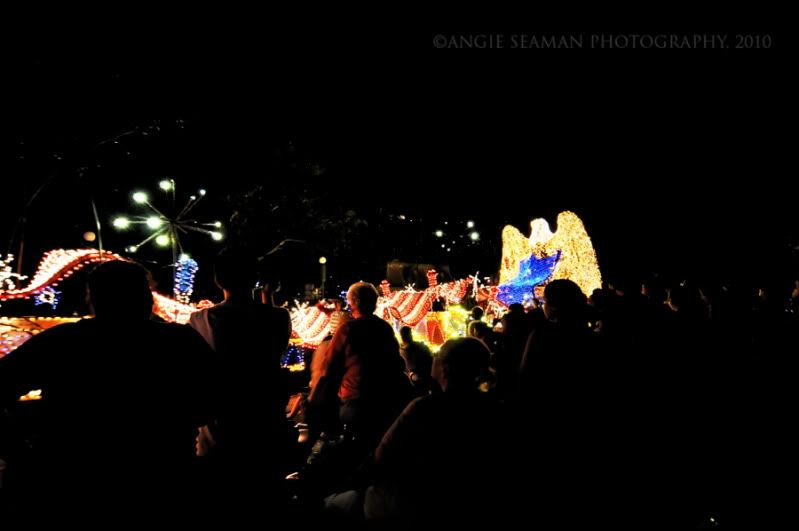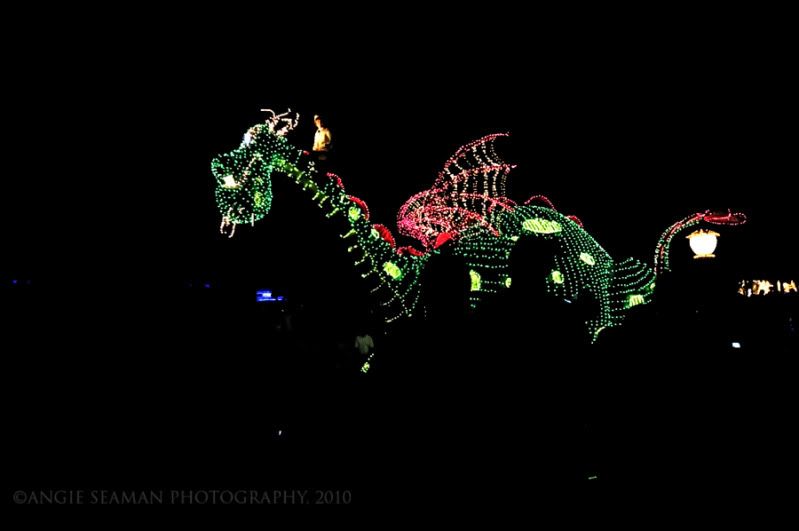 When the parade starts, they shut the entire park down -meaning all of the lights within the park so that it is pitch black. Brennen taped most of the parade on his phone and we've watched it over and over again. Kenidi was mesmerized by it all. And Brennen, well he loved it as well. And the fireworks show...well it just ROCKED!!!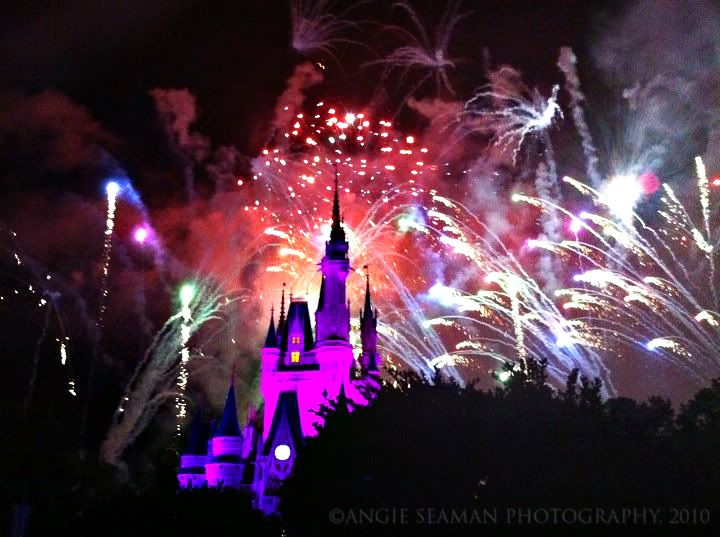 Unfortunately, I didn't get my tripod back out to take photos with Big

Papa

during the firework show. However, I did manage to get the shot above with my cell phone. They had a girl all lit up in lights zip line from the tip top point of that castle all the way over the top of us in the crowd and across the park. It was the raddest thing ever. She was so high up and just went zipping over the top of us right along side of all those fireworks in the sky. I can only imagine what it looks like at her view. Amazing stuff!
I learned several things during our experience at Magic Kingdom. One was, we were STUPID with a capital "S" for going there during the day in the middle of summer. Next time we go, it will be in the fall months here in Florida. Secondly, Magic Kingdom is way cooler at night than it is during the day. I'd much rather skip the daytime hours and just visit at night. Then, I learned that Disney really caters to the disabled and they really have it down pat - and do it well.

Kenidi

received many options that most people didn't due to her disability. We were able to enjoy the park and its festivities much more thanks to Disney and how they have everything set up for the handicapped.

Kenidi

would have never lasted like she did or been able to enjoy it as much as she did without those extra touches for children and adults like her. And lastly, I learned that I'd fight any crowd at 11:30pm at night in any Disney gift shop for a bag of pink cotton candy. I must confess that I might have taken out a few peoples heels on the back of their feet with

Kenidi's

special needs stroller in the process but hey...I got my cotton candy and that was my goal. Mission accomplished.

LOL

!
I'll blog with more photos of our experience at Disney as the week progresses. In the meantime, thanks to all of you who emailed,

facebooked

,

texted

, called, sent me cards/gifts etc. for my 35

th

birthday yesterday. You will never know just how special you made my day thanks to all of your kindness, love, and support. Your birthday wishes made my already magical day at magic kingdom that much more awesome. Thank you, thank you, thank you!
PS...To the "anonymous" commenter who left the comment on my blog the other night...Yes, I will pray for you about the issues/struggles you mentioned and then some. I'm so very sorry to read that you are facing such trials and tests of faith. On the other hand, you might try to refrain from being judgmental or hateful toward others who aren't struggling in your same shoes. You just never really know what shoes they "are" walking/struggling in. No one leads a perfect life. No one. Ever! In the end, even when the negative gets the best of you, you should stop and ask yourself "What is my gift or gifts in today?" "What gifts has God blessed me with amongst all of the pain and heartache?" I personally found myself having to ask the same questions last week when my plans weren't going as I had hoped. The gifts are always there - sometimes it is just harder to see them during specific moments of trial and tribulation. Sometimes we have to improvise and make our own "gifts." Either way, find them. Find those gifts! Know them, love them, and thank God for each and every one of them because there are many if we are just willing to open our eyes and embrace them. Again though, definitely sending up those prayers. Good luck to you and your faithful husband.
Much love, Angie
Labels: Disney Electric Parade, disney fireworks show, Disney World, Orlando, vacation