RAMBLINGS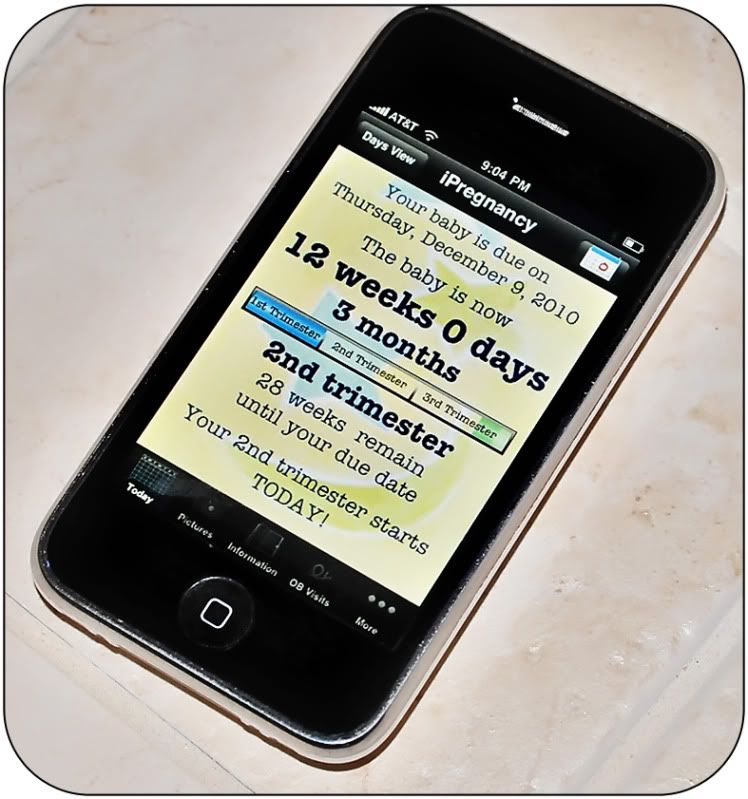 What in the world did we used to do before iphones? I mean seriously. How on earth did we function? This alert popped up on my phone the other day. It was a great visual confirmation that my 1st trimester is behind me and that my 2nd trimester was beginning that day. I needed that reminder. Even though I knew the date in my head and knew that I was ending that first 12 weeks of hell...it was still good to see it in a visual presentation. This same iphone app also gives me a weekly photo of what the baby looks like in utero. It's great for the kids to see. My favorite part is when it sends me little notes reminding me what pregnancy symptoms I should have at this stage in the game. (exhaustion, nausea, sore chest, dizziness, and so forth) It allows me to realize that I'm not crazy and that these symptoms aren't just mental.
Anyone who is friends with me on facebook probably read late last night that we tried out our fetal home doppler for the first time yesterday evening. Within 60 seconds of touching the doppler to my belly, we picked up the babys heart beat going strong at 171 beats per minute. It was an exhilarating sound. That swoosh, swoosh, swoosh gets me every time. This is the first time I've ever used the home doppler machine. They were just coming out with them to rent when I was about to deliver Kenidi. Therefore, this is a new experience for us. I managed to find a brand new one at a bargain price on eBay instead of having to rent one for $40 a month from one of those doppler supply places. Score! I thought it would take me a while to find the heart beat beings that I'd never used one before and had no idea where to place it. However, after stumbling on my own heart beat first, I then found the baby's. I guess I'm far enough along now that it was pretty easy to locate. Thankful for that.
Next, I just had to give a HUGE thank you to all of you who commented here on the blog regarding my announcement post and to those of you who've facebooked me, sent me direct emails, tweets, etc., in the past couple of days. I've been bombarded with well wishes and prayers that are too priceless to count. I can't even begin to express what that means to me - to us. You guys are the best encourager's, supporters, and friends a girl could ever ask for. I loved reading your stories and comments about your own "surprises" or how your family has handled baby #3, a special needs child plus, and so forth. Your accounts of your own lives and how they've mimicked mine help me tremendously. It gives me the "girl power" I need to tell myself...I CAN DO THIS! So thank you. Thank you. Thank you. Thank you for taking the time to be here for me. To be excited for me. For us. I cried and cried when I read some of your words. Gosh knows I am an emotional and sappy mess right now but something about your support and well wishes for our family just had me melting into my keyboard over the past couple of days.
Along with the emails regarding well wishes came a ton of emails inquiring about the HCG diet I was on. Many of you had questions or wanted my opinion of it. So...here it is. Yes, I lost weight on the diet. However, looking back - it is no wonder. The diet is restricted to just 500 calories a day. If you go over that 500 calories, the HCG hormone stops working and you have to start all over again the next day. I realize now that I don't know that it was so much the HCG hormone that was helping me to loose the weight as it was the fact that my body was starving in general. (although I got used to it - the 500 calories a day was a nightmare in the beginning.) Our bodies aren't meant to consume that little amount of calories each day. It's not healthy and it's not realistic. I've worked with great trainers and known the ins and outs of fitness that "works" for a long time. However, I've gotten lazy in my old age and was looking for a quick fix. Well this is where the quick fix got me. Pregnant! LOL! I had to give myself the HCG in a shot form in my stomach every morning. Initially, that was intimidating. However, I quickly learned that the shots were a piece of cake compared to the lack of food I was having to adjust to each day. The needle was small - very tiny - and I never even felt so much as a prick when I gave myself the injections. I literally felt nothing. No pain whatsoever. Was it an inconvenience? Yes. Again, I lost weight on this plan but in hindsight...it is not something I will be doing again and I wouldn't recommend it to anyone I know. (for multiple reasons) So...there you have a quick overview of my two cents. My OB, old trainer, and family doc all gave me negative opinions of this diet. I now know to listen to people like them. Ha ha! Stubborn I say. Stubborn. My OB has referred me on to some prenatal yoga classes as well as some Mommy to be water aerobic classes here in Florida. I start those next week. I've never done yoga in my life and am a bit concerned about what a tool I'm going to look like in there attempting to do yoga while big and pregnant. I know some people swear by it. The doc thinks that the yoga and the water aerobics will help with my heart/blood pressure issues too. So, we'll see what kind of a cheese ball I can make of myself while in these classes. I don't even have anything to wear to a "yoga" class. And the swimming...oh God help any on lookers who have to witness me in a maternity swim suit. Looking toward the positives though, maybe I'll meet some new Moms. Some new friends. I'm always up for meeting new friends. And the really good news...in a pool I will fit in. You know...Shamu belongs in water. BWWAAAHHHHH!
Lastly, no...NO TWINS on board. I got that question several times in a few emails in the last week. The doctor has assured us that there is only one bambino in there. That was actually the first thing they checked for with my first ultrasound. They said sometimes multiples are a result with women who were on the HCG hormone. OMG! Can you imagine if they would've told me I was having twins? I can't even go there. LOL! The fun part that was a common statement in many of your emails is that this baby will be a natural "born-ified" Florida beach bum. Being born a Floridian, this child has no chance of not loving the beach. It is odd to think that we have two Hoosier born and raised children and will now have a true blooded Floridian baby as well. Best of both worlds! I can't wait to make this new little one the subject of my camera lens. Get ready for a ton of newborn photography come December. This poor child has no idea what he/she is getting ready to be born into. It will come out thinking it's famous - due to all of the paparazzi like camera shooting. Wink wink! ;0)
Happy Memorial Day weekend everyone. And all you Indy people, soak up the Indy 500 festivities for us this weekend, will ya? We will be missing that little piece of home come race day. :(
Hugs, Angie
Labels: fetal heart rate doppler, HCG diet