THE GOOD LIFE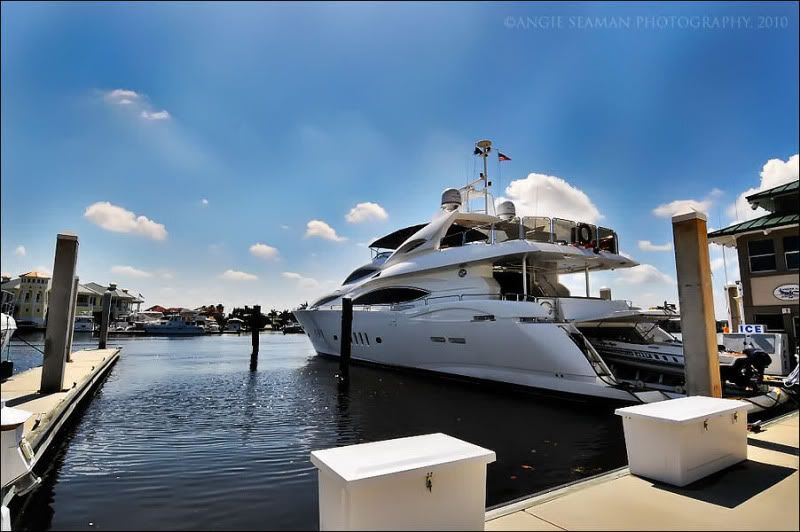 Oh yes...this is how some of the rich and famous live here in Naples. Another one of my favorite boat docks/marina's, this local has some super duper mega yachts. Their size and their beauty just aren't done justice in my photos. I was unable to truly capture just how mammoth these boats are in person. As you walk past most of them, they have their own staff on board taking care of everything from the cooking to the cleaning - inside and out. Notice in the shot above how this particular boat has a garage underneath it for its own smaller boats. Wowzers!
The sleek windows, sunning decks up top, and even the anchors themselves are something to be seen. Each boat is so very different and beautiful in its own right.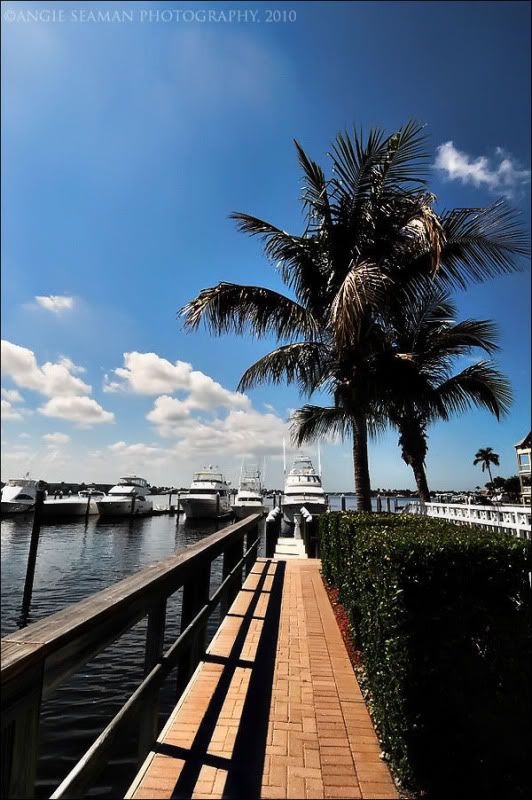 As you pass these boats, some of the owners are sitting on board having lunch, or reading a book on the top or back decks. These individuals dock here and port from all over the world. When you pass by their "good life" in action, you wonder what it is they do for a living or what brought them to today. Everyone has a story - good and bad stories which make up their life as a whole. I'd be so fascinated to sit and talk with some of these couples and just learn what helped and what hurt them along the way. Life lessons from those who've experienced it first hand is true knowledge. And knowledge is power.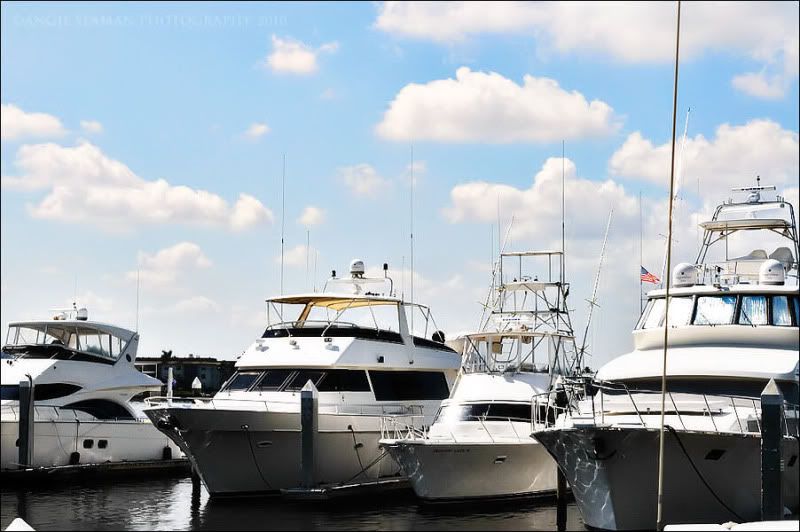 I had Brennen with me on the dock this particular day. He was doing his own shooting with his own camera. Like cars, he is infatuated with these boats. He notices every minuit detail on each one. My first born is a very observant individual.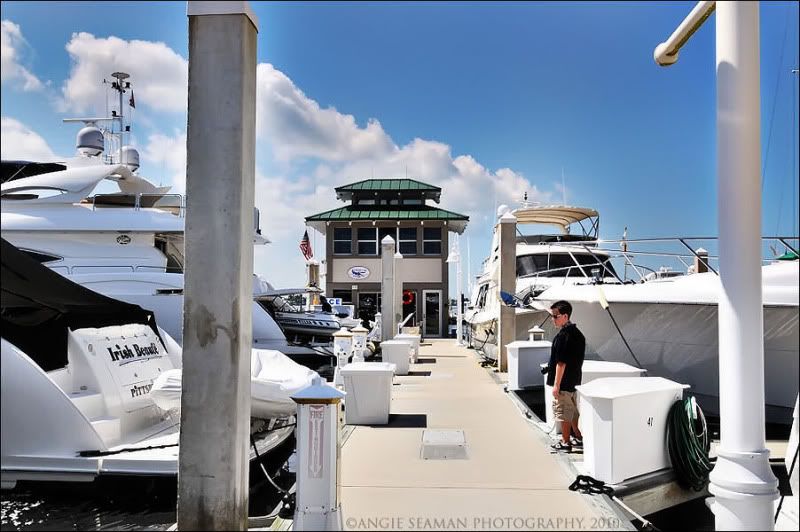 One of my favorite things to do is read the names of each boat. It makes you wonder how they came up with that name and what the "story" is behind it. I know when Brent and I used to boat, we had fun naming them. We stopped boating when we had Brennen. Brent and I have talked about having another boat again now that we live here in Florida and the kids are older. Boating in the gulf of Mexico is way different than boating on Lake Monroe though. I think that is my biggest fear - getting stranded in the ocean somewhere and then praying to God that Sea Tow (like triple AAA on water) is able to help us. We see at least one story on the news every week of someone who went out boating and the boat capsized killing or injuring those on board. Inexperienced ocean boaters get out there and think it is just like boating on a lake and they quickly learn otherwise. People are cruising along - not paying attention and run up on sand bars - throwing them over board and so forth. Then you have the idiots who get out there drinking and run head on into another boat. The gulf is a scary place unless you are experienced.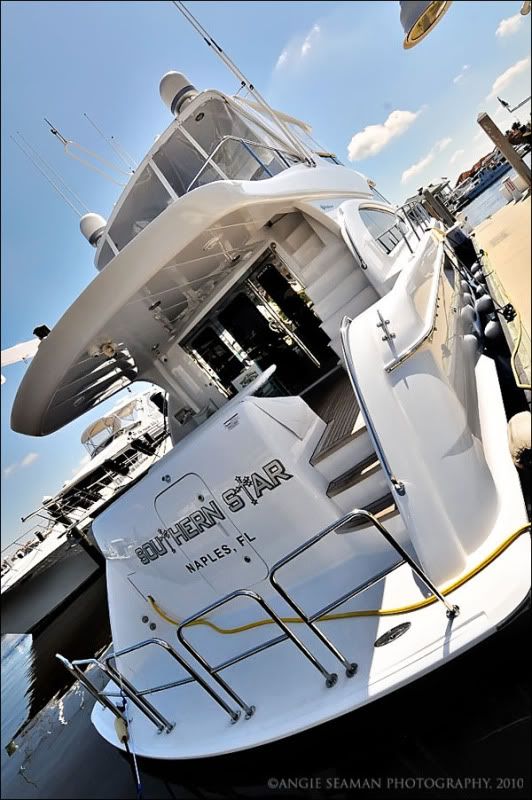 I love how this boat above used crosses as the T's in their boats name. Very cool!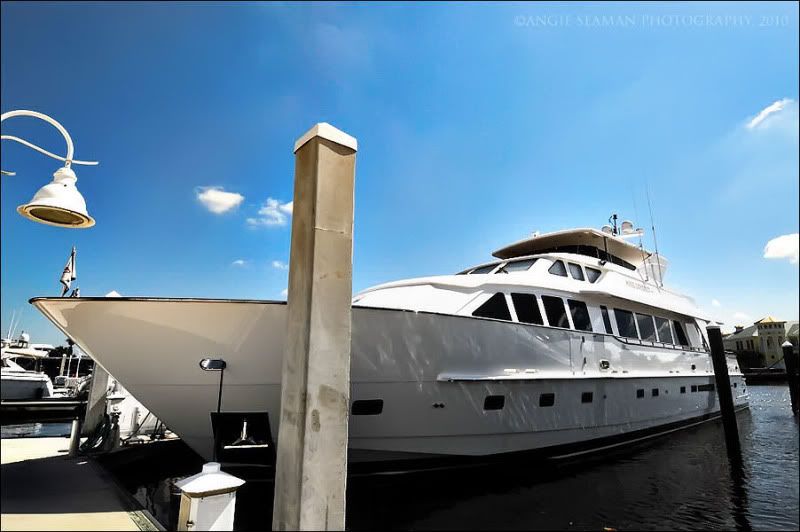 This big bad boy above was so big that my lens couldn't even fit the entire boat in the shot. I needed my wide angle lens on this day and didn't have it with me. Go figure!

Same with this biggin' below. Too big to fit him all in.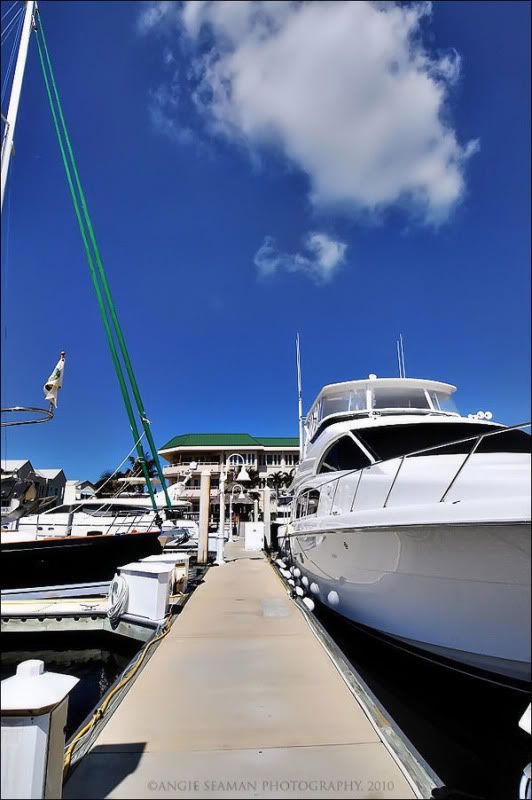 And check out how this boat below has it's own diving board (right over top of the wave runner) off the back. Too fun!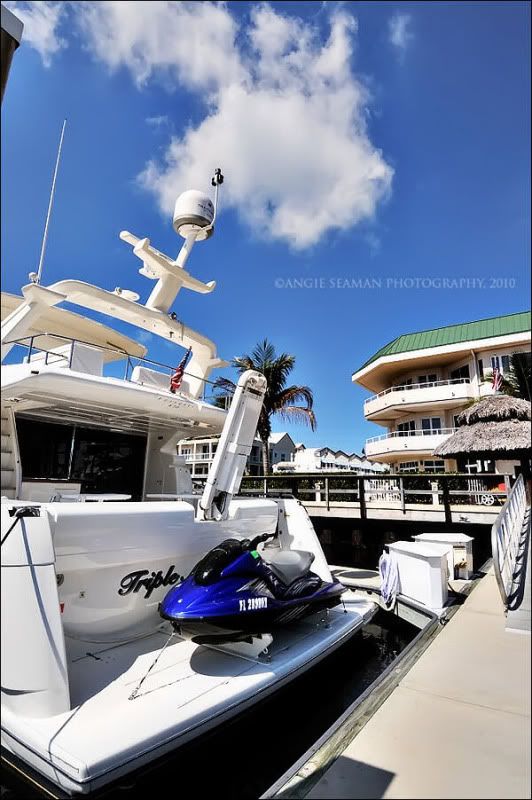 The sail boat in the shot below was gorgeous. It was made of the most gorgeous wood from end to end. It had clearly been well taken care of. I only wish I would have grabbed a close up shot of the wood detail itself. It was nothing short of amazing.

And just because this boats name was too good to pass up...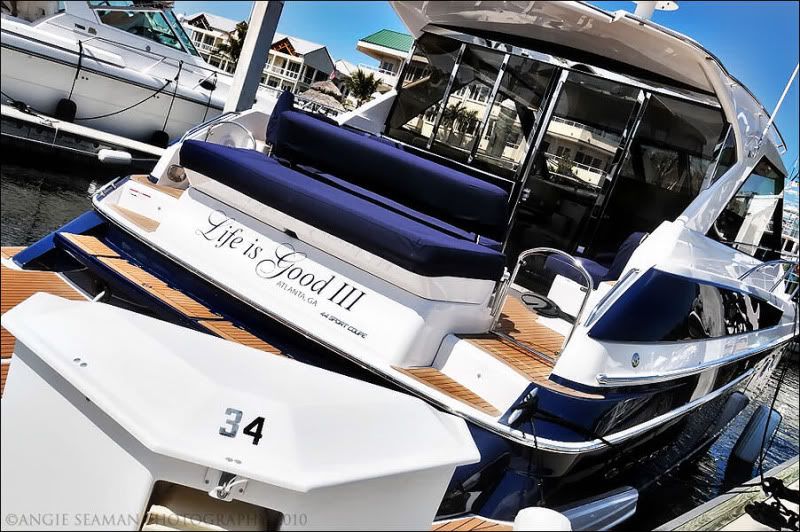 Notice it reads...Life is Good III. Yes, three. Wonder where the Life is Good 1 and 2 are, eh? Are they cars, more boats, a home in the Caribbean, etc.? Again, they all tell a story and it is hard not to be intrigued with their meaning. Touring these docks are just another way to pass time here in Naples. The adventure makes for a great afternoon or evening. It's just one of the many fun things to do on a whim. There is always tons to do. Naples is a community that definitely offers plenty of excursions and extra-curricular activities aside from the already incredible beach days and nights.
On another note, I'm headed off to bed. Brent and I just returned from date night out this evening. We enjoyed crab stuffed mushrooms, Caesar salad, the best filet's in the world, garlic mashed potatoes and an upside chocolate souffle for dinner. I tossed my cookies a couple of times already earlier today so I was praying that I made it thru dinner. Thankfully, God knew that "we" had been craving this particular restaurant so I managed to eat like a pig and enjoy every second of it without tossing it back up into the white porcelain goddess. :) However, after hitting downtown 5th avenue following dinner, my heiney is exhausted. Hope all of you had a fabulous weekend and that your Monday is off to a great start. Huge hugs, Angie PS...Be sure to check back in a day or two for a BIG announcement. Yes, the one you've all been waiting for. Wink wink! ;)