THE ANNOUNCEMENT YOU'VE ALL BEEN WAITING FOR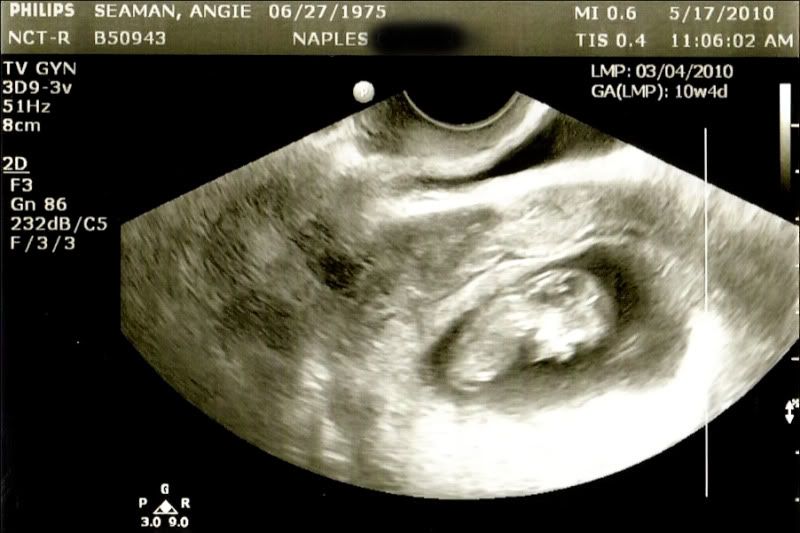 (Baby Seaman at 10.5 weeks)
As I type this "formal" announcement, it still seems so surreal. Although the reality of it all has finally sunk in, I'm still in awe of God's great plans for us in this life. Every time I think, "I've got this," he quickly reminds me just how much I really don't "got this!" Our most recent chapter I am now penning in our life is no different. Not planned, never even within our radar but God knew better. He knew otherwise.
It didn't take a rocket scientist to pick up on my hints, my sickness, and my one liners over the past few weeks. I knew that most of you knew the "announcement" even though I hadn't confirmed or denied it in my own words as of yet. My parents have been bombarded with questions and I left them dodging bullets as much as they possibly could until recently. I get daily emails from those of you out there in cyber land begging for a direct answer from me. Many times in the past though, some of you have assumed I was maybe pregnant with our different announcements but instead those announcements had to do with moving or something as far away from pregnancy as possible. Given the issues last year within our family and my medical diagnosis concerning my heart and such, I never imagined having another child at this point. I knew I'd always wanted more some day but my thoughts of that "some day" were quickly erased from my options last year. I put the idea behind me and rarely did the thought cross my mind. I was coming to grips with the fact that it was quite possible that my child bearing days were over. Again, God knew better. There I was again - thinking I knew it all. How wrong I was.

With a miscarriage in my history (which happened with our first child back in 1998), I am always hesitant to spread the word before the end of our first trimester when pregnant. Those who have lost a baby early in pregnancy understand this completely, I'm sure. And even though I knew that all of you "knew," I still wasn't ready to mutter the words from my actual lips per say. So...here we are...and here are the words from my own mouth...We are indeed pregnant and expecting our third child. Meet baby Seaman...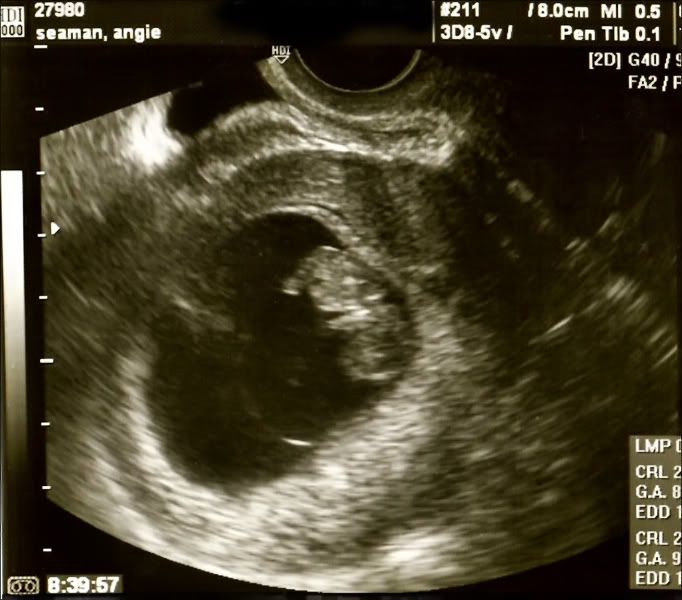 (Baby Seaman at 8.5 weeks)
I found out "for sure" back on April 9th. I had been on a diet called the HCG diet. I'd lost 20 lbs. thus far and was feeling good about getting some excess weight off that I had gained in the past year due to stress and the issues with my heart. After always being regular, I quickly realized that my cycle wasn't on time. I was in denial initially because the hormone that I was taking for this particular diet was the same hormone that your body releases when you are pregnant. Therefore, I thought the diet hormone just had my body thinking that maybe I was pregnant and thus delaying my cycle. I truly wasn't at all thinking that I was actually pregnant. Finally, the doctor who was observing me on the diet told me I needed to take a home pregnancy test. So I did. I remember thinking, "I know this is going to come up positive no matter what because I have the HCG hormone running thru my veins right now." And sure enough...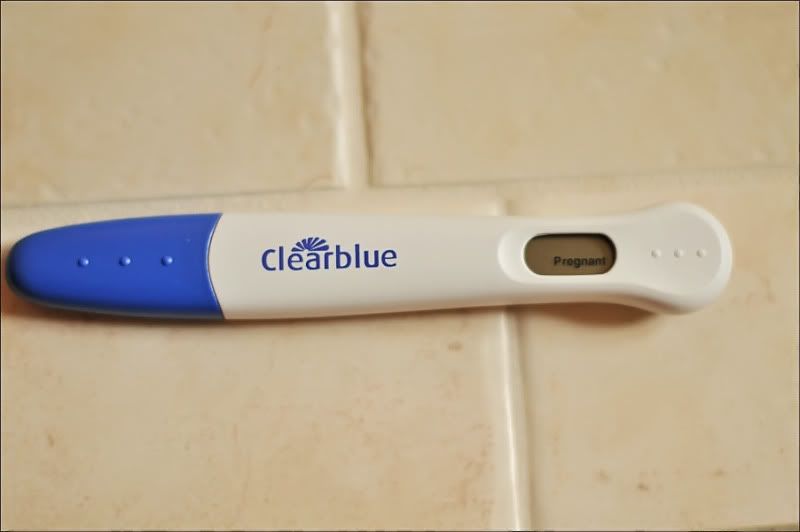 It was positive.
No shocker there though. The doctor told me that many of his weight loss patients see positive pregnancy tests due to the hormone they were taking. So again, I'm in denial, just believing that my body is now late because of the hormone. I gave it a few more days - still no cycle. Suddenly I began to feel symptoms. Yes, those type of symptoms. Sore chest, nausea, you know the drill. At that point, I start to think..."Oh Angie you are loosing it. Now your body is feeling this stuff and it's all mental because you've had pregnancy on the brain the past week." I continued to remain in denial. It wasn't until the doc finally decided that an actual blood test was best that I began to panic. Yes, I panicked. A baby was not in MY plans. Although Brent had just weeks earlier mentioned wanting another child, it was definitely not on MY list of plans. I am raising a beautiful special needs child that is a second by second hour by hour job. I have an 11 year healthy and wonderful son getting ready to start middle school in a few months. I just knew that there was no way God was laying a baby in my lap right now. I knew he knew better. I knew he knew our events last year. I knew he surely realized that a baby was not a good thing right now. He is our all knowing and all powerful God. He knows everything, right? Therefore, he definitely knows the struggles I've endured over the past year. I fully anticipated that blood test to come back just showing HCG in my system from the diet I was on - meaning that there wouldn't be enough HCG present to reflect a real pregnancy. If it was just the diet, the nurse told me the HCG level would be less than 5.
Waiting on the blood work to come back was horrific. It was the most agonizing week of my life. They lost part of the blood test - had to go back in and do a 2nd round of testing, etc. What should have been an answer within 24-48 hours took a full 7 days to get back to me. I was beyond nuts at that point. Everyone who knows me well knows that I suffer from having any kind of "patience" in life as it is. So to put me thru that waiting for a week was a cruel joke. I knew God had his hand in that because he knows how bad I suck at waiting on HIS answers. He knows I am horrible about waiting patiently for anything. I know the big man upstairs laughed at me all week as I cried, squirmed, worried, prayed, paced, etc. He's been known to have a little fun with me like that in moments past. I had been on heart medication that could be dangerous during pregnancy. I was also on a daily aspirin regimen per my cardiologist which is not good during pregnancy either. I was worried that if I was truly pregnant that I'd already done damage to a fetus because I was completely clueless to the fact of a baby being in there. Needless to say...I was nothing short of a basket case that week. Finally, the office had me come by for my blood work results. When the nurse handed me my sheet, she smiled and said..."Angie...normal HCG diet numbers are less than 5. Your HCG numbers came back at two thousand one hundred and twenty one." Yeap, 2121. Clearly the number was way more than just 5. And clearly I was pregnant.
My knees went weak. I could barely hold the paper with my test results which read...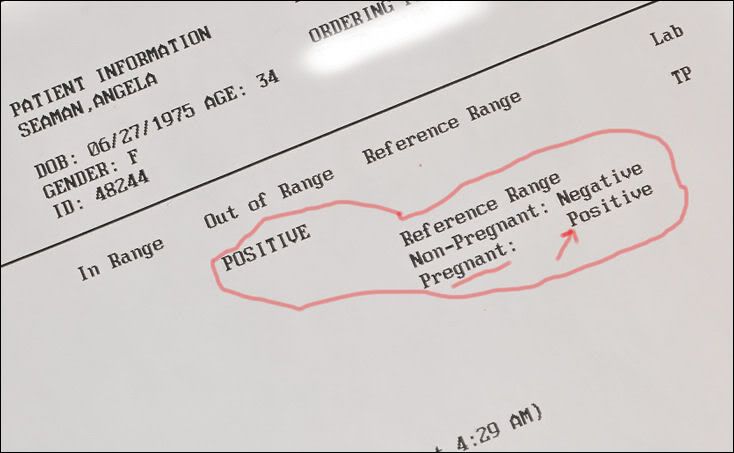 I don't even remember my drive home that day. Everything was a blur. I didn't know how to be happy at that moment because Satan had me filled with so much worry and what if's that I could barely see past his dark cloud. I was worried about Kenidi and how this would affect her. I was worried about my age - 34 - yet I will be 35 next month. I know there are increased risks for down syndrome and such at an "advanced maternal age" such as mine. Given Kenidi's unexplained health issues, I worried about the what if's should we have another child with more special needs. I worried about my heart stuff and how this would affect a baby and my long term health. I worried about my weight which is no where near where I would want it to be before starting out a pregnancy. I worried about how I would devote the necessary time to Brennen as he enters middle school this fall. It is going to be such a change for him and I want to be there for his every need. Kenidi takes away from a lot of my time with Brennen. We all know it. It is life when it comes to raising a special needs child. So to think about throwing a newborn into that mix really frightened me. Not only all that but last year was rough. Real rough. How would this baby affect not just me, but "us." I walked around in a daze unable to function. I was flooded with emotions. One minute I was crying and asking God how this could possibly fit into MY life plan and the next minute I was on my knees thanking God for unexpected blessings such as a third child. At times I felt so selfish - reminding myself that some women NEVER get to feel the life of a baby growing inside them and here I get that blessing 4 times in life. As I would start to panic again and start to stress, I'd tell myself how much of a gift this baby was - planned or not. One blog reader friend of mine reminded me that there are no surprises with God. He knows everything before it happens. Although it was a huge shock and very much a surprise to me, it wasn't to God. (Thank you Amanda!) She was right. Even though this wasn't MY plan, it was definitely God's plan.
Fast forward a few months. Here we now sit, 12 weeks in saying asta lavista (sp?) to the first trimester. Numerous OB appointments later and seeing baby Seaman wave to us on repeated ultrasounds the last few weeks, I'm elated and excited about this child. I am madly in love with this being growing inside me and can't even remember the days in the beginning now where I had such worry filling my mind. It has also slowly but surely sunken in that I'm going to be changing diapers again for another few years at least. I'm also reminded that I'm going to be one of the oldest Moms in the MOPS groups, that I'm going to have a child starting kindergarten again in five years, and so forth. Brent has been excited from the get go and walks around saying "I still can't believe there is a baby in there." He had expressed his want for another child especially concerning Kenidi's needs when we are both gone from this earth. He had been expressing an uneasy feeling about her care should something happen to the both of us later in life. Weeks before finding out I was pregnant, he had said to me that he thought we should have another child to help Brennen - help take care of Kenidi some day once we were gone. We both act like rookies or something because it has been so long since I've been pregnant. (seven years ago basically) Brennen is on cloud nine and just can't wait. He has been asking for a baby brother for at least the last 4 years that I can remember. Of course he is pulling for a little brother even though he swears he won't try to give the baby back if it is another girl. Brent has stated that he wants another girl and me...well I just want a healthy baby and a healthy pregnancy. Whomever this little being is inside me, it has definitely given me a run for my money over the past 12 weeks. I've been sicker than a dog - something I never really had to endure with Brennen and Kenidi's pregnancies. Every day I battle nausea throughout the day and night but thankfully have gotten past most of the vomiting after those first few weeks. (although I was hugging the porcelain goddess again this past Sunday) The doc took me off prenatal vitamins and put me on adult gummy vitamins each day so that helped tremendously with the vomiting. The nausea has stuck around for the long haul though. I've sucked down more peppermint dinner mint candies in the past 8 weeks than I have in my whole 34 years of life. Rumor has it that they are supposed to help with the nausea. I think the rumor is a sick joke myself but I keep eating them in hopes that they will one day make a liar out of me. My blood pressure is crazy and my pulse is even crazier right now. They've switched my heart meds that were working so well and placed me on something that isn't working fast enough. My OB just upped the dosage again yesterday because my blood pressure is still somewhat high. Will you please pray about this with me? I have two more trimesters to go and the heart issue will only get worse if they don't get it under control now. Because of the new meds, my headaches and migraines are back pretty consistently again. I haven't had to battle those for over a year now since my cardiologist got everything under control with my PFO heart condition last May. Yes, this is the same heart condition that celebrity Brett Michaels was just recently diagnosed with after his stroke. Needless to say, this baby is already off and running when it comes to keeping me on my toes. He or she is making it known that they are in there and raring to go. :)
Oh and before I go any further, don't let me forget the funniest part to this whole story. After learning that I was definitely pregnant, the weight loss doctor informs me the HCG diet hormone I was taking is actually what they give women who are infertile and trying to conceive. HA! No wonder why I got pregnant. Not that I ever needed help getting pregnant anyhow beings that I'm Miss Fertile Mertyl (sp?). With all three of my past pregnancies, we got pregnant the first month we tried with each of them. You go adding HCG hormones to that mix and I'm really gonna end up preggers. I just wish someone would have warned me about that before I began the diet. Again, that would've ruined God's plans though I guess. Well...probably not. He's got mad skillz. LOL!
My actual due date is December 9th, 2010 - An early Christmas present this year. My OB has informed me that I will not be allowed a VBAC and that I have to have another c-section. Therefore, they are already throwing out the date of December 2nd for a "birth" day. (they like to do c-sections a week prior to your due date) Our world is getting ready to change drastically and Kenidi's world is about to be ROCKED to the core. She is our baby in the house - always will be - and she knows it. She really loves babies so she will either really love this child or she is really gonna hate it. :) Time will tell. She has been the center of the universe here in the Seaman household for the past 7 years. We pray she doesn't handle the baby as she did Sydney - our toy yorkie puppy. As we taught her to be "gentle" with the puppy, she would at times bring the dog into us as she had it hanging by its hind legs in her hands. She'd look up at us and mutter the word..."Gentle???" as she either had the puppy in a choke hold by its neck or was about to break her legs by holding her upside down like a chicken she was about to slaughter. No joke! We pray she handles this transition well and that she doesn't end up feeling threatened or acting out in any way. Kenidi act out???? NEVAH! LOL!
So there you have it. The confirmation. The gossip. The goods. The 411. The low down schmo-down. For those of you who've emailed me and asked or hinted, I apologize for not addressing it with you. I just felt the need to wait. I know you were all frustrated with my consistent..."If I tell you, I'll have to kill you" response. If you posted something specifically about being pregnant on my facebook page recently only to find it deleted later, I apologize. Again, I was just waiting to spill the beans in my own timing. I appreciate all of your patience and all of your support. It means more to me than any of you will ever know. Gosh knows the next 6 months are going to be a hoot to say the least. And while I'm thinking about it, I need baby name ideas and cute maternity clothes. I'm clueless on what is out there now days. Like I said, I thought my child rearing days were pretty much over. As for the baby names, I don't like common names or names that can be shortened. I like names that can't be found on sticker or pencil rounder in a toy store. You know, I like names that your kids get ticked about because every time they find key chains in a souvenir shop, they never have their name listed. I don't want a name that starts out as Sophia but then some relative starts calling them Sophie instead and then everyone else follows suit. Names like Brennen and Kenidi are just that - Brennen and Kenidi. There isn't an option to have a nickname or shorten their names. Love that! So...if you have some really cool ideas on different and unique names in the next 6 months, by all means send them to me. And if you know of some cute maternity stores online or something, forward me the link. I need all the help I can get with this one. Apparently God didn't want me loosing weight after all. He instead wanted me to look like shamu the whale had escaped from Sea World here in Florida. We are traveling at the end of next month and God forbid the sight when I have to go in public with a bathing suit on now that I'm pregnant. Scary stuff! Thank God I can laugh at myself though. What is life without a good sense of humor, right?
Before I sign off on this post, I must give Glory to God for this new chapter in our life. Although I had a hard time digesting this surprise, I'm now dumbfounded by the gifts that God continues to bless my life with. I am humbled by his ability to think that I can handle more on my plate. I am grateful for his plans and not mine. I am thankful for his games of "shock and awe" even though he about knocked my knees out from underneath me with this one. In the end, God clearly knows something I don't. This child has a purpose and from the moment I saw him/her waving on the ultrasound, he/she in that instance left a permanent mark on my heart - forever. We saw the little bean on the ultrasound at the doctor again today. Either it is going to be a boy - maybe the next Sugar Ray Leonard due to all the punches and kicks it was throwing or it is going to be one beautiful and gorgeous little girl with mad dance skillz. Either way, I'm in love.
I'm having another child. WE are having another baby. Brennen and Kenidi are having another sibling. My parents are going to be grandparents again. In fact, my Dad show the ultrasound photo today and is already pegging the resemblance to him considering all the hair. HA HA!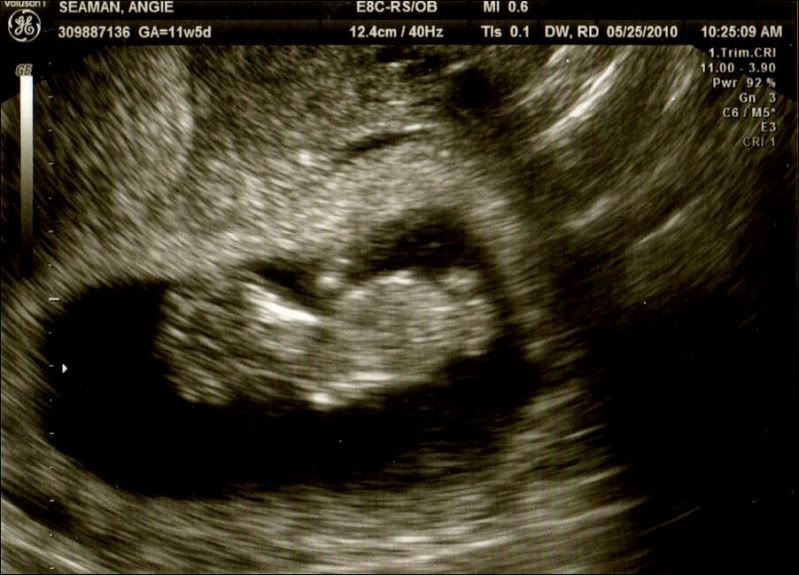 (Baby Seaman at 11 weeks 5 days)
Change. It follows me everywhere. I need to have a permanent tattoo placed somewhere on my body that reads..."Change - it's my life motto." Let's face it...change has become a constant in my world. I'm learning to embrace change a lot these days. Change. It's a good thing, right? Especially when a baby is involved. The pain and recovery of a c-section, the sleepless nights in the beginning, and so on are all worth it in the grand scheme of things. Life will suddenly become instantly harder for me while raising a newborn, a special needs child, and an 11 year old son in middle school but I just keep reminding myself that none of this was a surprise to God. It was truly meant to be.
Lastly, I can't thank all of you enough for your prayers this morning as we embarked on our 12 week appt. Today was the day that we had the preliminary testing done in regards to any signs which might point toward down syndrome or any other genetic abnormalities. God is good~! The ultrasound test (called an NT scan) revealed good news at this point. The technician and the doctor said that they don't see anything as of this moment that points to anything of concern. I will have two additional blood tests as well as another ultrasound scan to combine with this result that will hopefully reveal a more for sure answer around 18-20 weeks. This NT scan is something fairly new and was not offered back when I had Kenidi and Brennen. In the last 7 years however, it has been added as another way to pre-determine the presence of genetic abnormalities. There are some chances of false positives as well as false negatives. At this point, I'm praying that God has his hands wrapped around this child, our pregnancy in general, and my heart issues so that everything progresses smoothly. It's going to be one hot and sweaty summer. LOL! :)
Thanks for your support. Much love, Angie & baby Seaman
Labels: announcement, baby seaman, pregnant, ultrasound