PENNY FOR YOUR THOUGHTS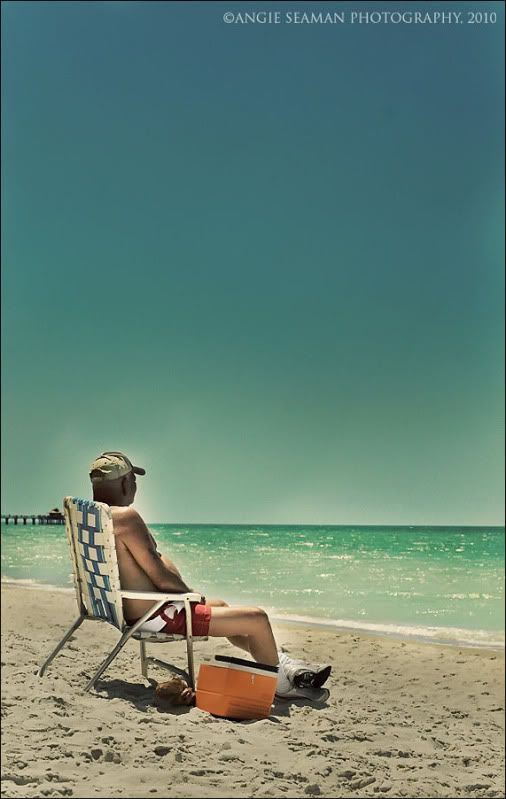 A couple of weeks ago I was at the beach - alone - and happened to have my camera with me that day. Imagine! Just me and big papa (a.k.a - my camera). While there that afternoon, I noticed an elderly man who came walking by with his orange cooler and his 1980's beach/lawn chair. He caught my attention because one...he reminded me of my Grandpa who passed away - 2 months before my wedding - back in 1994. If he was alive today, I know without a shadow of a doubt that he'd be on that beach with me - fishing up a storm. And two, I noticed this man because of how he just plopped down in the sand and immediately began staring out into the ocean. I was taken by his ability to sit down and expel his "goings on" that fast. Normally it takes me an hour just to wind down and quit fidgeting. I was close enough to him that my lens was able to capture his demeanor. I sat there for three hours watching this man watch the sea. At times, I wish I'd had a penny for his thoughts. For most of the day his outer appearance gave me every indication that he was a content man. Very still. Just taking it all in. Then at other times though, he seemed sad, lonely, and run down. I noticed him looking down - into his lap a lot. It broke my heart. You could tell he was troubled.
I began to wonder how much time God had planned for him here on this earth. I wondered what kind of man he was. Was he a father, a husband, a widow, etc.? My mind raced with anxiety for him when I began to dissect how much of his life is already over. I got to thinking about how when I was 15, 30 seemed so old. Here I am now 34 years old and isn't funny how 80 seems so young? I don't know how old this man was but it was clear that he was in the final 1/3 of his time here on earth.
I admired how he wasn't a dirty old man that would watch all of the young girls in bikini's. Their existence never even phased him. Most men would have had tongues hanging out of their mouth as they sat and watched the pretty passer by's. I admired how he came prepared for a relaxing day in the sun. No books. Just his 80's lawn chair and his old orange cooler with a sandwich, chips, and a frosty cold beer inside. Actually he had a couple of frosty cold beers during his time there. I guess more than anything though, I admired his love for the sea. You could tell it was embedded in every fiber of his being. I don't know if he is a Florida native or if he moved here later in life. Either way, like me, he had a love affair going on with the ocean. He was clearly there to soak it all in with no interruptions. No, not even a book.
As God blessed me with the reality of an unexpected surprise today, I look back on the image of this man and just pray that I do all I can for this world and within this world before my time expires here on earth. I pray that one day when I'm his age and sitting in front of the sea, I can look back on my life and know that I lived it to the fullest extent. I want to look back and know that I built a firm foundation for myself with the bricks that others happened to throw. I pray that I will have fulfilled God's purpose for me here on this earth and that when I get to heaven he will reward me not with riches but instead....a reward that involves discovering he has the most incredibly gorgeous ocean and blue sky ever none to man up there. I pray that he will reward me with a reserved beach chair for not only myself but chairs lined along side mine for my loved ones too. I pray he has been to Target and found me a good pair of cheap rubber flip flops for that magnificent beach he is hiding up there. And who knows, he might even stop off by the beauty supply house and pick me up some "afro sheen" to help me with a good ol' fashioned sun tan. :) Ya never know. I have faith - don't hate! :) I pray that the clouds that line that sky up there are the most awesome of white pillowy clouds and that somehow I'll be able to continue photographing beauty. Eternal beauty.
I don't know who that man was on the beach that day. I don't know what kind of life he has lead. I don't know how much "time" he has left to sit in front of our seas here on earth. However, I took the time to pray for him, myself, and many others that afternoon. My visual of this man left me praying about the fact that I hope he knows you God. I hope he loves you. And in the end, I hope you have a 1980's beach chair and a cooler, no matter the color, waiting for him in heaven. I know, I know...we'll scratch the cold frosty beers. ;)
Praying that you all know "Him" and love "Him" today too. In his grip, Angie
Labels: Angie Seaman, beach, Florida, Naples, ocean, penny for your thoughts