LIGHTHOUSE BEACH - SANIBEL ISLAND BEACH PHOTOGRAPHER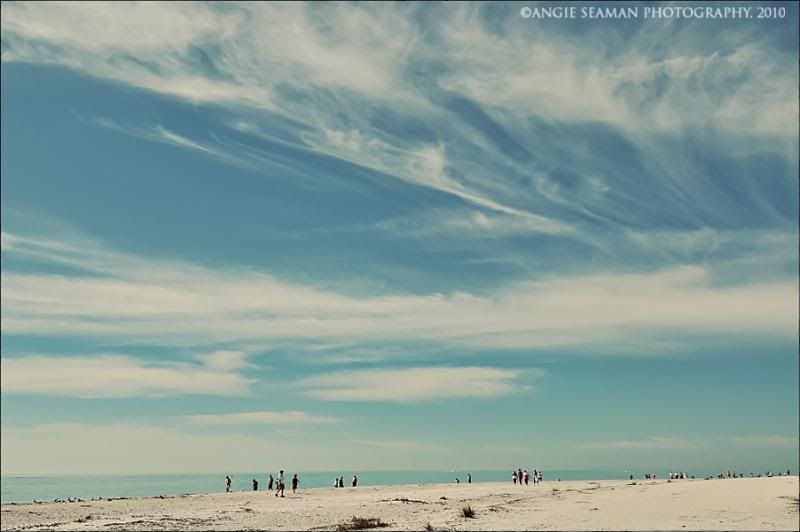 Last week I hit Sanibel Island and Captiva for some shelling as well as for some "shooting" time that was just for me. More often than not I hear professional photographers talk about how you should take certain days and just make them "your" days to shoot whatever you want. They explain how these "whatever" days really keep you inspired and your creativity flowing. I love to go shoot by myself and for myself. I enjoy taking my time and photographing things as many times as I want at as many different angles and such as I want. I don't have to hurry as you would in the middle of a scheduled session. I can take my time and see things at my own pace. On this day, the clouds/sky were incredible. The top image above is just proof of what a beautiful day it was. I teach my students in my photography classes that you should never take an image with the horizon line dead center in the middle of the photograph. You should always either pick the sky, the ocean, or the sand as your subject. One of them needs to be your main focus. Therefore, the horizon line should always end up in the bottom third of the photograph or in the upper third of it. In this case, can you tell what I chose my subject to be? Scroll up there and look. What is your answer? If you chose the sky/clouds, you are correct. When you look at that image, I want your eyes to focus on the sky. I want you to see the beauty in the clouds so I place my focus point on that area. I even went a bit more drastic and placed the sand in less than a 1/3 of the image so that the sky is basically screaming at you. You didn't know you were gonna' get a little photography lesson here today, did ya? LOL!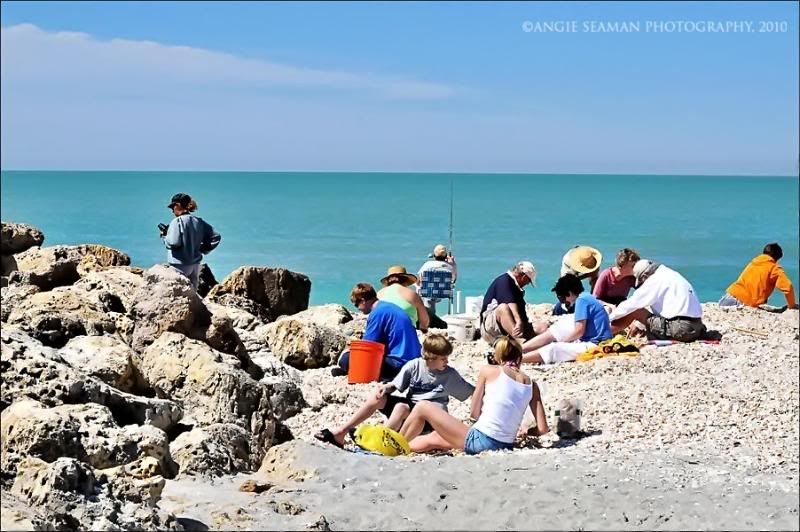 Notice how the shot above has the horizon line in the upper 1/3 of that image? Yeap, now I'm trying to direct your eyes to the beach and the sand. I want you to focus in on the fact that all of those people are sitting on top of a pile of sand that is infested with nothing but shells. They are combing that mound looking for all kinds of different type shells. This particular spot is called blind pass. It is the area where Sanibel Island and Captiva Island split. It's a gorgeous spot. I love it there. There are always tons of "shellers" there. Great fun.
There are really cool rocks on the corner of this beach. They make for great texture in an image...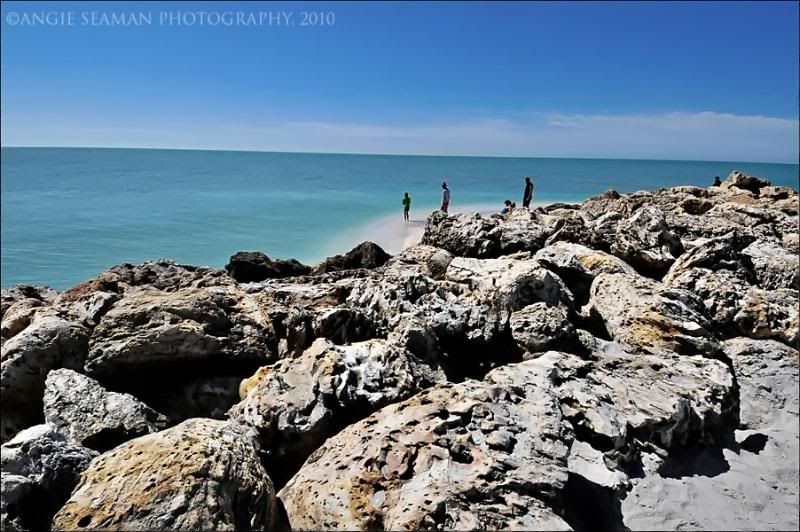 I have a thing for photographing signs. Some of you might have picked up on that before. Signage always has great color. Love me some signs...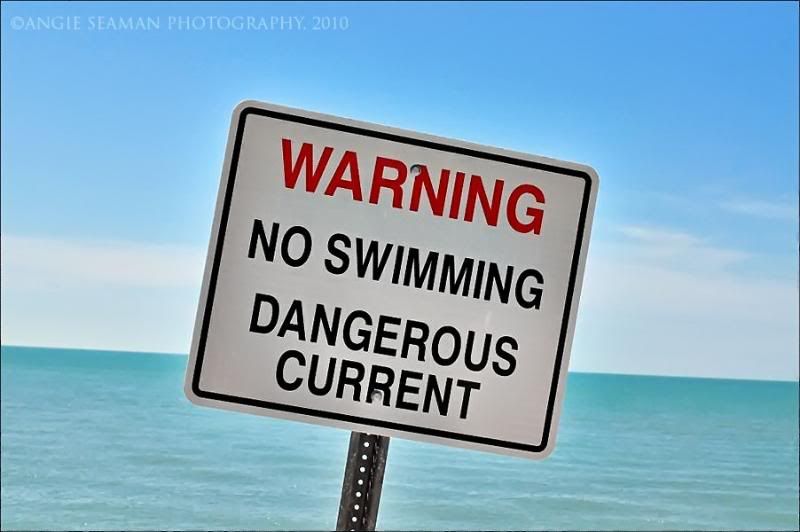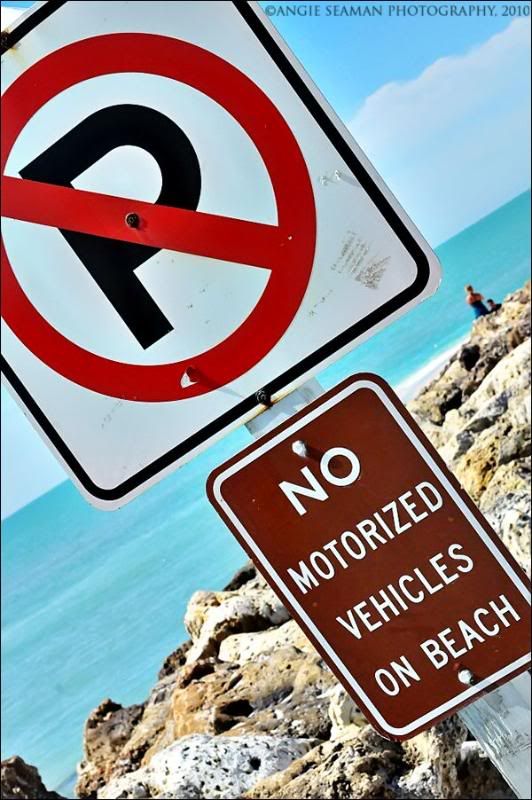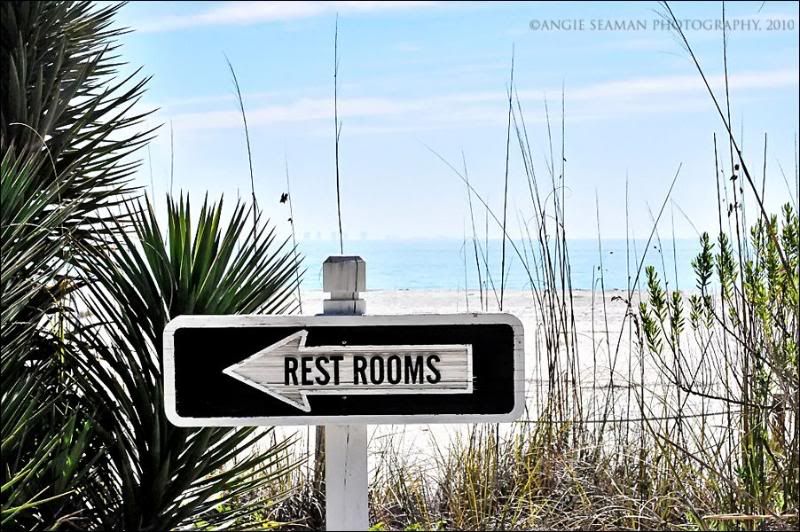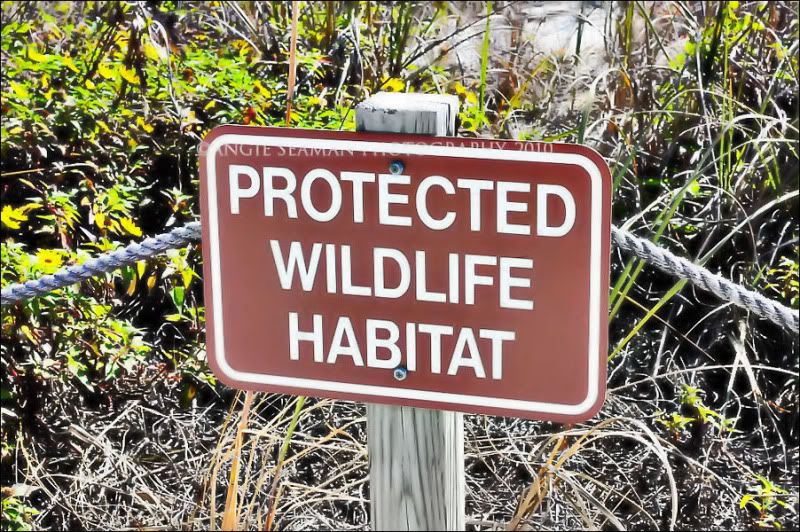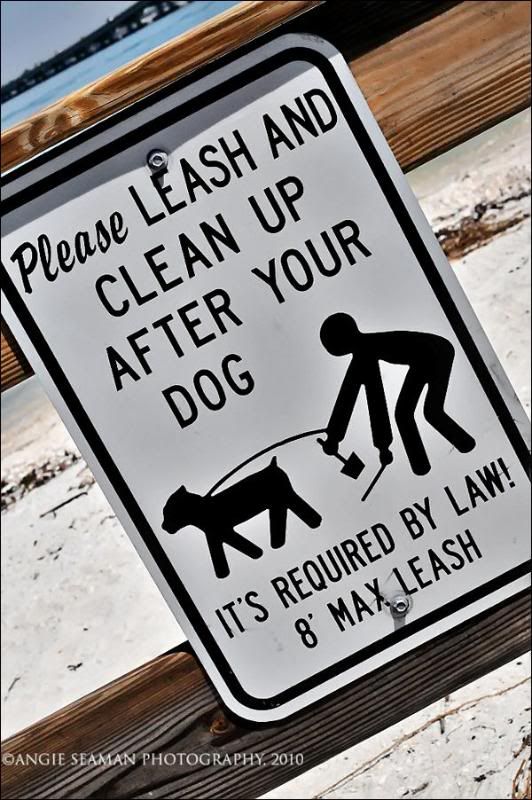 And I'm still confused by this one...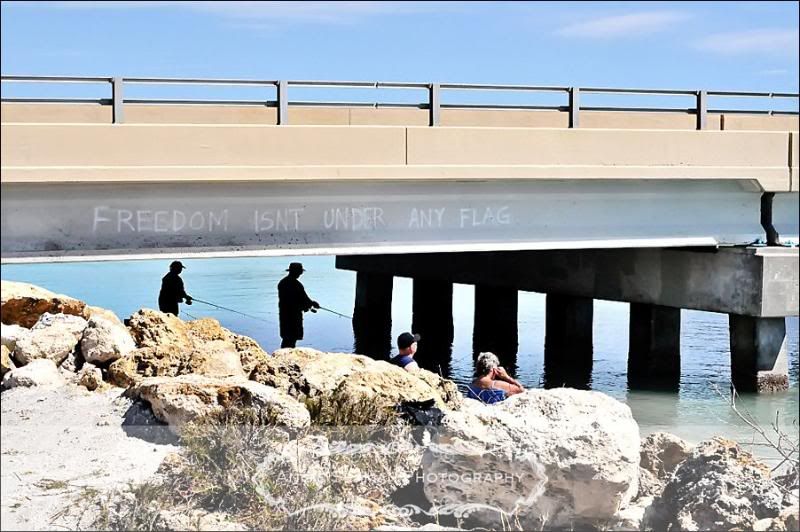 Here is one I just had to grab because of the angle within it. Angles can do so much for a photograph. Love the shadows from the nautical ropes here...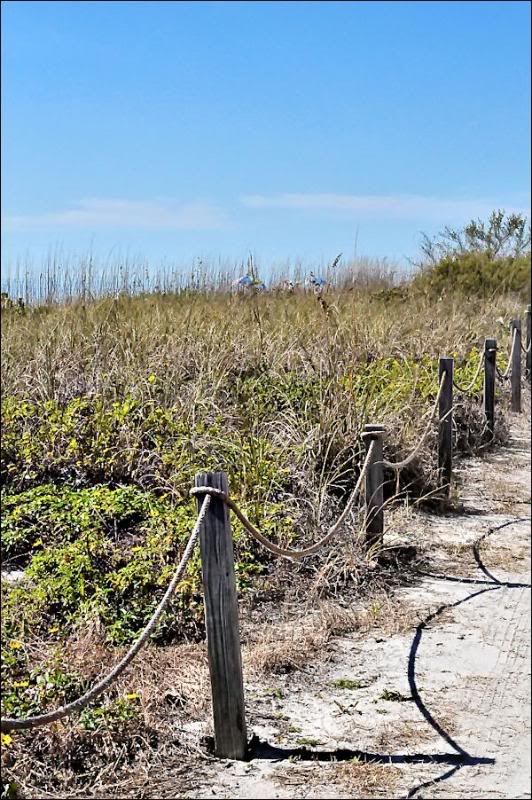 I managed to get some great shots of the Sanibel lighthouse that day too. It really popped on top of that blue sky. This lighthouse is one of the most unattractive lighthouses I've ever seen but I still love it. I am obsessed with its rustic, old, vintagey feel.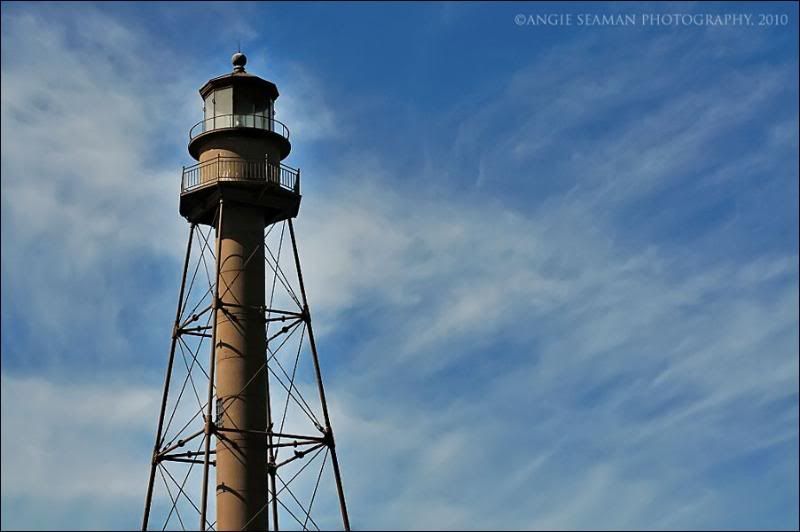 I love wondering about the nights it lead and directed those at sea. I envision this powerful beacon that is the epitome' of all things "sea" related. It was first lit with a kerosene lantern on August 20th, 1884 and the rumor is that the light is still operational. The lighthouse itself is 98 feet tall and totally brown in color. It took them three months to build the structure itself. It sits on the southern most tip of Sanibel Island. The beach it rests on is poignantly named "Lighthouse beach."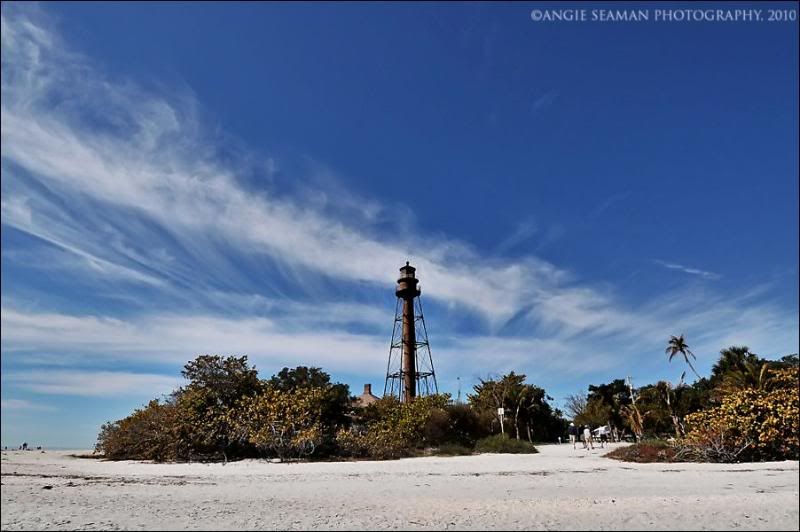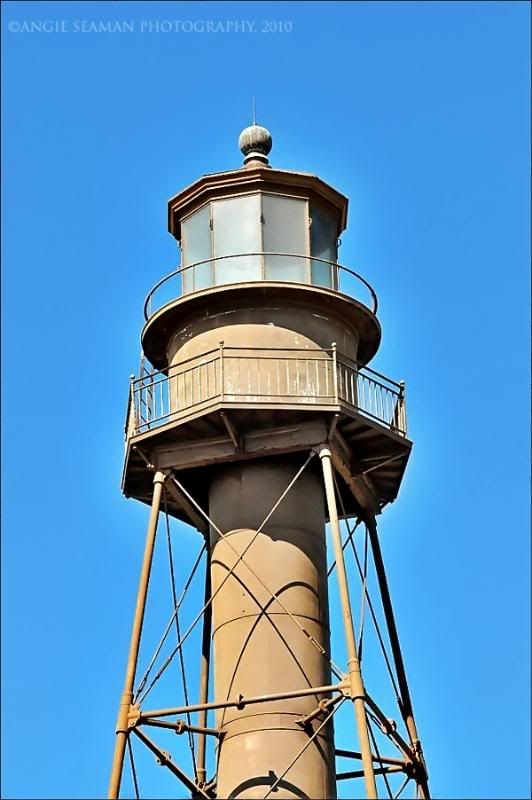 Although the building itself is not open to the public, many visit the site and photograph it on a daily basis. The beach surrounding the lighthouse is gorgeous and well worth any day spent there.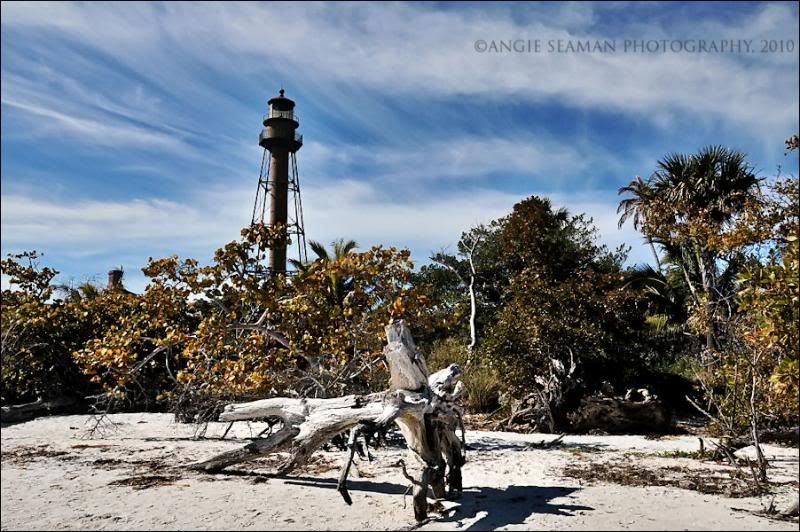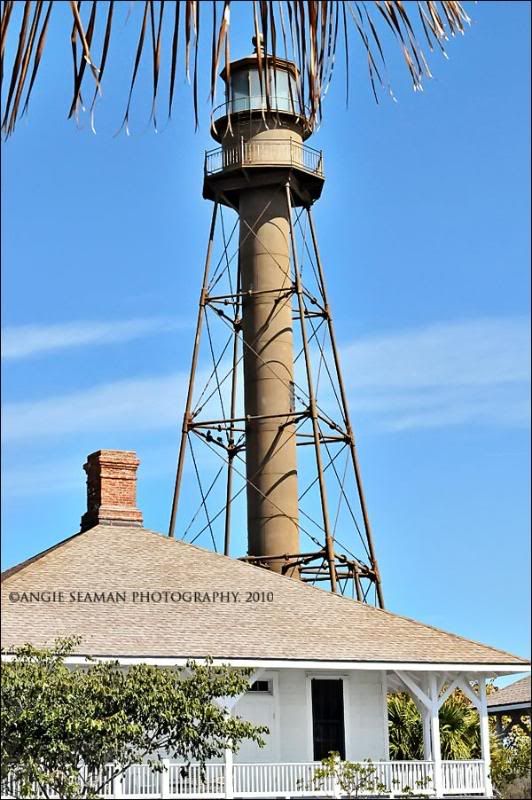 As you can tell, I had a great time exploring the lighthouse grounds as well as lighthouse beach there in Sanibel. This whole moving experience has been great fun for me because I enjoy learning the history about all of these areas. Even though we vacationed here for more than 10 years before moving here full time, I never knew any of the main details surrounding the islands. It is a treat to research this stuff and then be able to photograph it as well.
I'm signing off for now in order to tend to two sick children I have tucked under my wings here at home today. Yeap, Kenidi is home now too. We are bundled up in my bed watching cartoons under the down comforter as the sultry Florida rains pound the seaside outdoors. I used to detest when it rained in Indiana. However, now that we live here and see such little rain, I have found that I enjoy a good downpour to help cool off the humidity. Storms here are so much more powerful as they roll in off the ocean - way different than Hoosier land. We are enjoying those pelting's on the clay rooftop today. It's a welcoming sound as we nurture our way thru this sick spell. Hope you all have a fabulous weekend. Talk soon...Angie
Labels: Florida, Lighthouse beach, Sanibel Island, sanibel island beach photographer, Sanibel Island Children's photographer, sanibel lighthouse