HIGHLIGHTING - BY AGD
Catch your breath. Don't pass out! Yes, we are talking about jewelry designs from AGD. :) I've had too many of you to count - email and ask me when I'd be releasing some new designs again (clothing and jewelry). I know it's been forever. Truth is...I've battled this question myself. I'm sure many of you have noticed that I stripped my website down to just the items made by me - the items that got me to where I am - the items that started it all. The boutique clothing designs and my jewelry designs. There are a few items still on the site that were made by friends and vendors but they are only a couple of jewelry pieces. I've battled with where AGD is going at this point and I still don't know for sure. What I do know is this. I love photography and I enjoy beading jewelry. Those are my passions. Photography heads that pack. I enjoy the design process of my boutique outfits but I detest sewing. My sewing employee and friend, Karen, lives 977 miles away now. She isn't down the street from me to where we could do midnight runs to one anothers mailboxes with new orders like we used to. I miss that. However, I don't miss the sewing. Kenidi is also getting older (almost 7 now) and growing out of the frilly, ruffly, designs that she used to model so well. I don't want to use another child over my own for my designs. I just won't. I'm weird that way. The sewing also took a back burner to personal issues in my life over the past year. Medical/health issues to do with my heart, the personal junk, our move from Indiana to Florida back in the fall, and just the overall fact that my photography business has moved up to my #1 priority when it comes to my hobbies/passions within my business goals. So for now...I guess you could say that the boutique clothing designs will be a thing of the past. I've been there, done that, got a thousand t-shirts. I'm proud of the accomplishments I reached via the AGD clothing designs and am humbled and blessed by my loyal clients which have also become some of my dearest friends over the past 6 years. Should I decide to re-ignite the line one day, you guys will be the first to know. I promise.
With that said, you are probably wondering where that leaves my jewelry line. For now, I plan to keep my website up and feature my jewelry designs as I get new ones listed as well as continue to sell my older creations too. Like with my boutique clothing line, I have tons of loyal clients that have stayed by my side and enjoyed the jewelry pieces I've created thru the years. You guys are in luck. I plan to begin designing all new never seen before designs in the coming months. The beach is a great place to drag a chair to with some bead supplies. I'd love nothing more then to sit by the seaside and let its beauty inspire my new creations. I can't promise how often I'll list new items here on the blog and website but whenever I do finish a new piece, I'll introduce it here as I've always done in the past. In the meantime, I will continue to forge forward in regard to my photography career. Like with my AGD designs, I know my photography journey has a purpose within my life and I'm eager to see where it leads me.
Before I get started on introducing new jewelry designs though, I wanted to highlight some of the most popular pieces in my collection. One of them being the winged cross and winged guitar pearl strand necklaces. Here are some older images of them...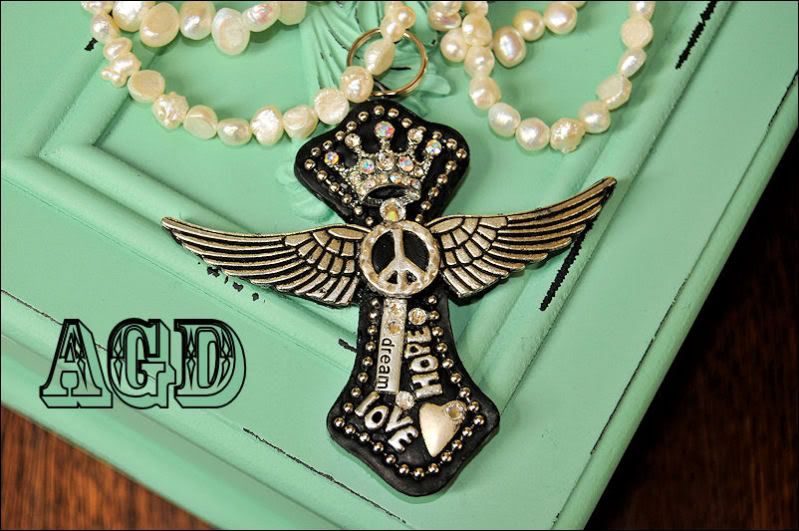 I've had an over abundance of these being ordered again all of a sudden and thought I'd showcase them here for those who might not have seen them before. They are big, bold, chunky pieces that are designed for my statement making clients. They definitely aren't for the shy. When I wear these, I can't get 10 feet without being stopped and asked where I got it. It's truly one of my favorite AGD designs EVAH! As you all know, I get into funky and out of the box looks and these take the cake. I have 3 winged crosses left and 2 winged guitars left. To order one before they are all gone, click

HERE

.
Thanks again for all of your support over the past 6 years. Each of my clients/customers from around the world mean so very much to me. Thank you for helping to breathe life back into me at a time when my world seemed to be crumbling all of those years ago. AGD was started and created out of a need to focus on something positive - something other than all of the negative to do with Kenidi after she was born and we discovered she had health problems. Your support carried me thru many difficult moments all those years ago and I'll never be able to thank you enough for that. You guys were the light in those dark moments. Thank you, thank you, thank you.
Much love, Angie
Labels: angelica grace designs, boutique, custom designs, jewelry, winged cross necklace, winged guitar necklace