UPDATE ON KENIDI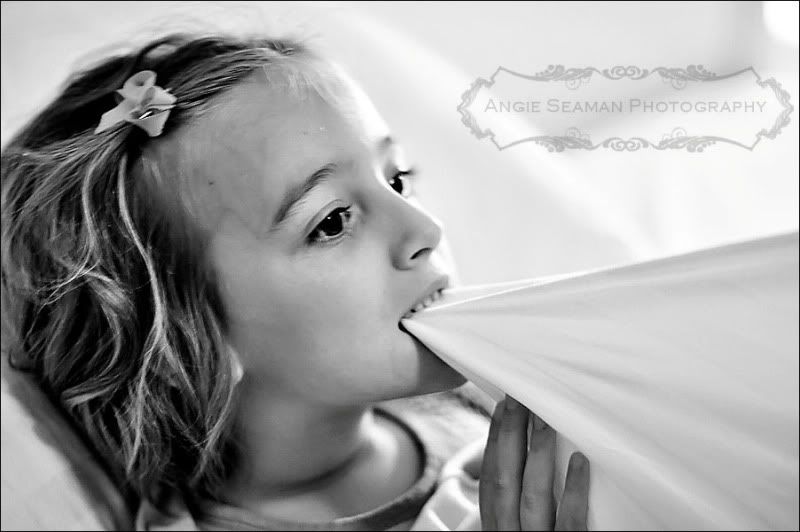 No time for a "real" photo today. However, I managed to snap this very blurred and out of focus shot the other night and thought I'd use it anyway. This is how I found Kenidi on her bed the other evening. She was intent on watching her "Bear in the Big blue house" potty training video. Even though she is enthralled with that DVD, I'm about to fire Bear in the big blue house because his potty training videos aren't helping Kenidi get anymore excited about learning the technique herself than when we began. Grrrr! Still trying...
Speaking of Kenidi, many of you have requested that I start putting more photos of her and family back on the blog again. I can honor your request for photos of her because most times she is still a willing participant in front of a lens. Brennen detests my camera now days and I have to physically bribe him to cooperate. LOL! As for Brent and myself...as you know...I rarely post photos of my husband on here and NEVER post images of myself - well almost never. I have decided to keep him and any details concerning him and I as private as possible. I'm sure you've noticed that in the past 8 months. There is a certain individual who reads my blog "hourly" and therefore, I like keeping that person in the dark as well as any others out there who feel that they need to get up in my business or know what is going on in my life. People still think that just because I blog about one millisecond of my life each day that they are owed every detail surrounding us, our family, our children, our lifestyle, etc. Wrong! Don't think so. Believe it or not, there is a HUGE part of me that is a very private person. What you see here is a 20 minute snippet of something that my day held each time I post. That doesn't mean I should have to give a full account or run down of my life to anyone. So...I appreciate all of you who want to see more family photos. You are so very sweet. Again, I can arrange that regarding Kenidi's images. However, for the other three of us...it might be pretty tough. Ha ha! I'm not saying I won't share images of us - EVER - but as you know, it is rare. We like it much better this way. God for bid Kenidi ever turn on the camera. Who knows what I could blog about then.

Speaking of Kenidi, she is doing phenomenally well. Eloise, I know you and several others have asked me how she was doing with her new school. She is doing GREAT! Her teacher is an amazing woman with great patience and unending knowledge when it comes to working with special needs children. We love her. She does well on the bus too - has a great driver and an awesome aide on there each morning and afternoon with her. Kenidi has made great strides since starting at the school back in November. She is a completely different child than she was the first half of the year when she was back in Indiana at her old school. We are so thrilled at the smooth transition she made into the Florida school district. God is good!
We have enrolled in equestrian therapy here in Florida just as we did back in Indiana. She looks forward to it every week. Her horses name is "Dotty" and she is completed obsessed with her. The trainers at the barn have commented on Kenidi's exceptional posture and how she has caught on to riding so much quicker than they've ever seen in a child. They are very pleased with her skills and we thoroughly enjoy watching her tell "Dotty" to walk on as she shakes her reigns and then pulls back on them and says "OP" for stop. It is the cutest thing ever. I have some photos from last week that I'll share here on the blog for you guys soon. They are of her riding Dotty. Fun times!
We have begun visiting a new pediatrician down here and he has been a big help in getting us acclimated and introduced to new therapists, a new well known neurologist in Miami, etc. for her. Again, the transition has gone unbelievably well. God is good!
Speaking of horse therapy though, that is where we are headed now. She visits there every Thursday after school - armed with her riding helmet and pink cowgirl boots that every adult there wants for themselves. Problem is...they only come in kids sizes. :( Trust me, I would've already had a pair for myself if they had come in my size. LOL! After we get back from therapy, a good friend of ours from Indiana is coming over for dinner. I'm cooking lasagna for the crew. It's great to have a "Hoosier" in town visiting us down here. Wonderful to see familiar faces. So for now...have a wonderful Thursday evening. Thanks for always inquiring about Kenidi and the rest of our family. My blog readers ROCK!

Much love, Angie
Labels: Kenidi