PEACE OUT, IT'S FRIDAY!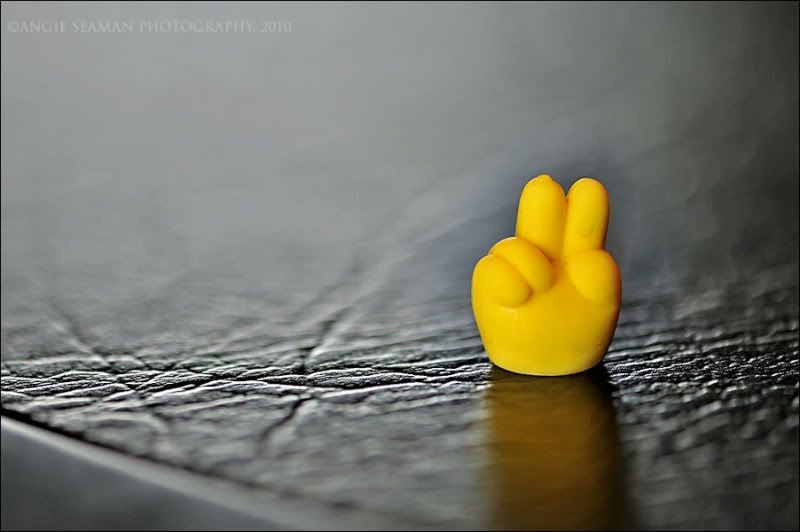 Peace out...It's Friday.
Hot diggity dawg!
We had a great dinner last night with Joe (our friend from Indiana). Although we missed Tamara and Derek - his wife and son - whom we hope will be back down to visit here real soon. Their family is looking to purchase a vacation home down here in the Cape Coral area so we are pretty stoked and excited about that idea. Derek is one of Brennen's best little pals that he has known since his early elementary school days. We adore their family and hope that they'll be joining us down here as residents soon. It would be great to know that they could "beach it" with us whenever they are in town. :)
That little yellow hand in the photo above is Kenidi's. I think she got it from school. She carries it around in her hand and as small as it is, I always find it sitting or laying somewhere. It's literally about the size of an eraser on a pencil. So tiny. It always makes me laugh though because I've been trying to teach Kenidi how to give the peace sign forever but she just can't figure out how to get only the two fingers up and the others kept down. It's too much coordination for her little hands at this point. She did learn to give two thumbs up the other day though and we've had a hoot with her ever since. She walks around giving everything two thumbs up now. I decided to break out the macro and photograph the chubby little peace sign hands because they remind me of Kenidi so much. Love em'! Love her!
And speaking of love...did I tell you guys how much I love that son of mine too? (even though he NEVER lets me photograph him...he gets it naturally I guess) Yeap, for those of you who aren't friends of mine on facebook, you probably hadn't heard that Brennen made the honor roll here at his new school. I'm so proud of him. It brings me such joy to see him excited about school, his grades, and doing well overall. He came home with a certificate the other day for his honor roll accomplishment and let me know that he got to participate in a special luncheon/party for making the school honor roll. Again, we are thrilled with his transition just as much as we have been Kenidi's. He has a wonderful teacher who has really encouraged him in writing. He loves to write and she's noticed that - and has since promoted his want to keep on writing. His grade level took the "Collier Writes" test here this week. It's part of a test that is similar to our I-Step testing back in Indiana. It had a big portion of the test which centered around writing. The top score you could get was a 6. She let it be known that after skimming quickly over Brennen's test, she felt he had scored either a 5 or 6. I was so pleased and yet again so proud. His grandparents spoiled him with cards and letters in the mail for his hard work. Inside those cards...yeap you guessed it...money. He loves the "green" and I just love their support and the unending encouragement they give my kids. (and me) We are so blessed with the family we have. So very, very, blessed.
On another positive note, please keep my Mom in your prayers. She had a job interview this morning and we are hoping that it went well. She should know something within a week to ten days if they decide to hire her. Please pray for favor in this area with us. We are desperately lifting her up in hopes that she gets some good news and lands this job with benefits, insurance, etc. She needs this and it would be a perfect position for her. Thank you in advance for your prayers. We can't begin to tell you guys how much we appreciate them.
For now...I'm off to go take a 30 or so minute walk/run before coming back to edit some images. The palm trees are swaying here in Florida today and I love getting outdoors to here their actual rustling as they sway back and forth like that. I'm weird - I know. However, they have a sound just as the sea has a sound when its waves come rolling ashore. Happy Friday everyone! Have a superb weekend!

xoxo, Angie
Labels: Brennen, friday, honor roll, Kenidi, Peace out