ORIANTHI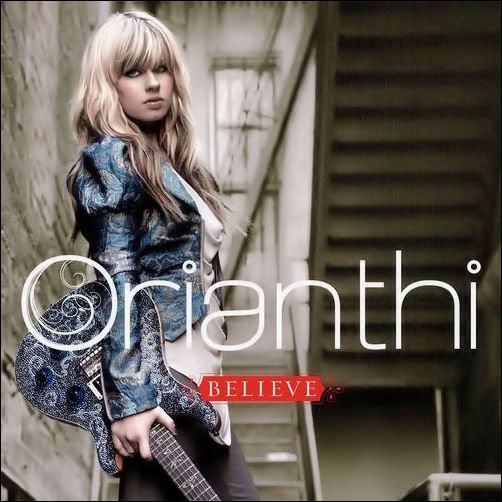 You guys know how much I love to share my music with each of you. I'm an animal of variety by nature. I love all different types of music and not one do I love really more than another. If you listen to my playlist at the bottom of this blog page or check my ipod/iphone, or pulled out the CD's in my car, or examined my preset radio stations...there is one thing you will notice in common amongst all of them. Variation. I have a HUGE variety of music within my soul and will jam out to anything I feel is deserving. When I say jam out, that is nothing short of blaring it with my top rolled back and my windows down. That "jam out" list includes Frank Sinatra all the way down to Metallica and everything else in between. Be it Christian music, rap, jazz, blues, hip hop, pop, country, etc. I love it all. Well I don't love all of it but certain tunes within those categories anyway. For example, I struggle with country. Country really has to have songs that grab me and pull me in - otherwise it sounds like a bunch of whining and crying to me. Y'all know how much I dislike whiners. :)

With that said, I wanted to introduce you to one of my newest fav's. Orianthi. Some of you might have already heard her tunes here on my playlist as of late. You might have also heard about her due to the fact that she landed a spot on Michael Jackson's "This is it" concert tour as one of his lead guitarists. Yes, she was the ROCKIN' little blonde that piped out all of that brilliant sound in his "This is it" movie. If you saw the movie, then you know EXACTLY who I'm talking about. When I took Brennen to see that show in the theater, I came home that night and researched her name only to learn that she had her own CD about to be released in the fall of 2009. And what a CD it is. Orianthi is a 25 year old Australian born singer and guitarist who has crossed over into America with an astounding impact. She was hand picked by Michael to play lead guitarist for his tour after he found her on YouTube.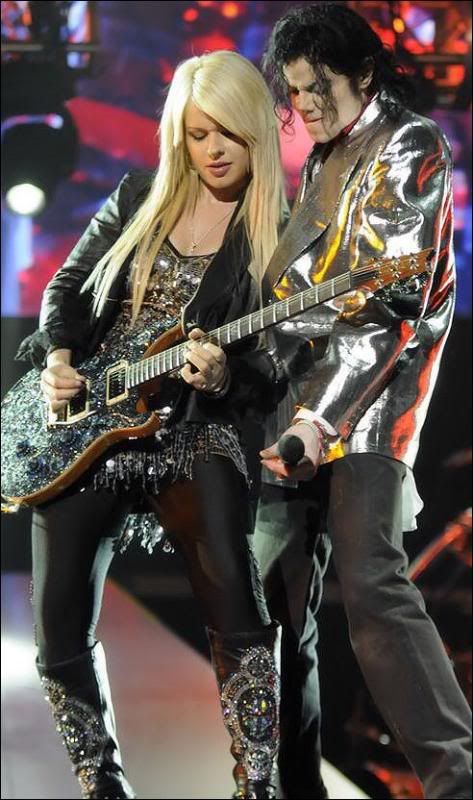 Orianthi is gaining notoriety and attention quick. Her first single, "according to him" is climbing the charts and happens to be one of my favorite signature songs of the moment. It's currently playing at the top of my playlist right now if you have your volume turned up. This is a girl after my own heart. I admire a woman who can throw on a pair of blinged out black cross encrusted boots and some black fringe but yet can still carry and pull off a classy look rather than morph into a Goth or heavy metal chic. I admire a woman who can wear knee high biker boots one minute and then turn around and wear stunning heels with a pair of well fitting jeans and a tee the next. All while continuing to be true to herself as well as 'sophisticated' no matter that the attire she dons at that moment. This girl is beautiful and can ROCK it out with the best - such as Carlos Santana and Eric Clapton. She is one I definitely feel is deserving of my windows being rolled down and the roof rolled back while jamming to her tunes at notch 25. Yes, I am the "Mom" who still resembles a teenage kid by blaring my music as you pull up beside me at the light. Yes, I am the "Mom" who still cruises into her neighborbood and pulls up in her driveway pumping out the base from which thumps the walls in the garage due to such loud octives before shutting off my car engine. Don't hate! It's how I roll. Oh yeah...the elderly here in Naples really love me. LOL! Some of my favorite Orianthi tunes/tracks right now - aside from the already mentioned "According to him" single include "Suffocated, Believe, & God only knows."

Go download her CD from iTunes or go buy her CD from the store. No matter how you get your hands on her music, you won't be disappointed. I promise.
xoxo, Angie
Labels: Believe CD, guitarist, Michael Jackson, Orianthi